Jim Abercrombie
Sep 11, 2013 01:02PM ● By Style
Although Jim Abercrombie got his start as a civil engineer, he quickly realized that number crunching was not all there was to life. He preferred working with people, and he soon found ways to move away from fieldwork and into positions that would let him interact with others. These days, Abercrombie is general manager for the El Dorado Irrigation District, and the best part of his job is the ability to treat his employees with respect and provide for the water needs of his customers.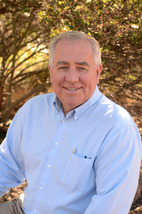 Yet Abercrombie's concern for others extends beyond his working life. "Thankfully, I've been successful in my career," he explains, "so I try to give back and get involved." Abercrombie participates in numerous volunteer organizations, including Placerville Rotary and the Sheriff's Posse of El Dorado County, an organization that provides financial assistance to families of police officers killed in the line of duty. In addition, he is on the board of directors for Marshall Medical Center, a non-profit community health care facility. For Abercrombie, it's  all about working together to improve the quality of life for all area residents. "Good communities just don't happen," he insists. "It takes community folks to continue to make it a good place to live."
— Amber Foster
---
For more about Jim Abercrombie and other local happenings and information, be sure to pick up this month's copy of Style – El Dorado County Foothills edition. Click on the Get Your Copy link for some of our newsstand locations; click on the Subscribe link to become a regular subscriber, or to order a copy of this issue or one of our back issues.