Community Endeavor
Sep 11, 2013 12:56PM ● By Style
by Hiliary C. Simon
Tucked away in the green rolling hills of Placerville, nestled against Weber Creek, lies one of the Sierra foothill's best-kept secrets. Today the Cold Springs Golf Course and Country Club is a beautiful 18-hole stretch of pristine grass and trees—boasting a clubhouse and facilities for weddings and other special occasions—but things weren't always so green. The idea for a golf course in Placerville became a reality when the original eight-member board—Bob West as president, Stanley Barker as vice president, Claude Markle as secretary/treasurer, and James Hoffner, Al Briggs, Jack Graves and Don Shannon as directors—purchased the land from Jerry and Lois Brown in September of 1960. The property, which had once teemed with activity during the Gold Rush, had been sitting vacant and hidden in brush for more than 100 years.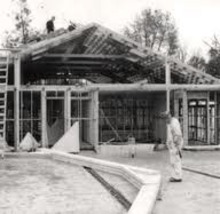 With funding from Mother Lode Bank, the board worked tirelessly to build membership, trying to increase revenues to pay for the development of the property and loan. A year later, the members, frustrated that they still couldn't use the planned facilities, began working alongside the board members to install irrigation, landscape, remove rocks and essentially build their own golf course.
On November 5, 1961, opening day was held at the then nine-hole course. More than 100 members participated in the event and created a positive reaction throughout the community.
The club continued to grow, eventually reaching its goal membership of 200 people. The permanent clubhouse, designed by Al Briggs, opened in 1964, replacing the original 12-foot by 12-foot trailer. The driving range opened soon after, increasing options for players and guests.
The Club has been active within the community, following in the footsteps of its first president, Bob West, who volunteered with numerous charitable causes, including the El Dorado County Chamber of Commerce, Boy Scouts, Rotary Club, Masons, and El Dorado County Juvenile Justice Commission.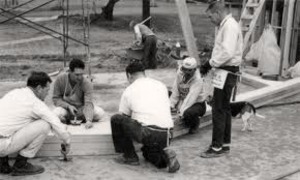 Harley Weir originated the idea of holding an invitational and helped create the first Hangtown Open. Other community activities included an Easter egg hunt, a Christmas party for children, an annual fashion show and a luau. Members reminisce how the club felt more like a welcoming and warm community center—in which members took an interest in serving each other and their community—rather than just a country club.
In 1979, a second nine-hole course was established. Designed by Bert Stamps, it doubled the size of the golf course to 18 world-class holes.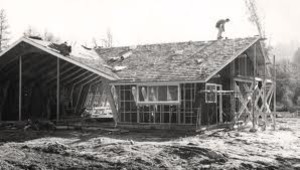 Currently, the Cold Springs Golf Course and Country Club boasts almost 500 members (of all skill levels), many of whom still participate directly in maintaining, expanding and improving the fairway and facilities. The welcoming atmosphere continues to define the course. Laurie Earl, wife of the Club's General Manager Kevin Earl,  says, "It's tucked away, not surrounded by houses, [and it's] very likely you'll see deer, wild turkeys and geese as you play."
Visit coldspringsgolf.com for more information.