Fall Fashion Inspires Design
Sep 06, 2013 10:57AM ● By Style
Interior design is where fashion meets the home; therefore, it makes perfect sense that the top trends in fall fashion and interior design would see significant overlap. Here are some of the most exciting designs to keep you "on trend" for the balance of 2013.
ALL THAT SHIMMERS IS METALLIC
For a touch of small-scale glamour, pump up your interior with metallic finds. Dotty metallic linen pillows can provide a kick for any space. Alternatively, you can really commit to the runway look by incorporating copper lighting, brushed brass faucets or even metallic tiles for kitchen and bath areas.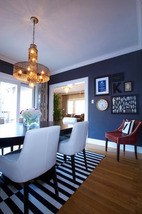 BLACK, WHITE AND BOLD
Walls, ceilings and floors are black, white and bold all over. Stripes have made a major comeback via wallpaper and area rugs. Lines and patterns are playful and can create a dramatic effect for both large and small spaces. To achieve a luxe look for less, try painting stripes or other contrasting patterns on a focal point wall or ceiling treatment. Daring types can consider painting a bold stripe or chevron motifs on wood or concrete floors.
COLOR BLOCKING
All it takes is a visit to The California Museum in downtown Sacramento to understand how Charles and Ray Eames kicked off this look. Mid-century modern designs seen today deserve some serious attention. These simple furniture lines and splashy blocked motifs are no doubt en vogue and definitely here to stay. The combination provides an optimistic aesthetic that is full of life while creating a modern vibe, too.
SOFT, NATURAL NEUTRALS
Natural fabrics have been used for eons. Linen, wool and fur (we suggest faux) have been draped on everything from beds and chairs to outdoor benches. With sustainability in mind, a good portion of the interior design industry is going back to its natural roots, using elements sans dyes and toxic finishes. Major retailers have offered up organic designs that keep spaces approachable and cozy.
GETTING GEOMETRIC
While leading trends include murals, coverings with an aged elegance or textured pieces, others are pushing the design envelope—adding graphic patterns and all sorts of tactile dimensions. In fact, most clients are asking for a bolder approach, even in small spaces. A shabby-chic space can be quickly updated by adding a contrasted effect via fabrics or wall treatments.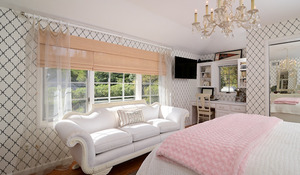 Kerrie Kelly is an award-winning interior designer, author and multimedia consultant. She has authored two books: 'Home Décor: A Sunset Design Guide,' published by Oxmoor House, and the newly released 'My Interior Design Kit,' with Pearson Professional and Career Education. To contact her, visit kerriekelly.com or call 916-919-3023.