4 Gluten-Free and Flavor-Full Recipes!
Jul 30, 2013 09:35AM ● By Style
Excerpted from The Complete Gluten-Free Whole Grains Cookbook by Judith Finlayson © 2013 www.robertrose.ca
Zucchini Fritters
Serve these fritters as part of an antipasti spread. They are great on their own or, if you like to gild the lily, even better with a bowl of tzatziki alongside.
Preheat oven to 200°F
4 cups shredded zucchini (about 3 medium)    
1 tsp coarse salt    
4 oz. Feta cheese, crumbled    
6 green onions, white part with a bit of green, minced
1⁄2 cup finely chopped fresh dill fronds
2 cloves garlic, minced    
2 eggs, beaten    
1⁄2 cup sorghum flour    
1 tbsp. cornstarch    
1⁄2 tsp. gluten-free baking powder    
1⁄4 cup vegetable oil (approx.)    
1. In a colander, placed over a sink, combine zucchini and salt. Toss well and set aside for 15 minutes to sweat. Using your hands, squeeze out as much water as possible. Spread on a clean tea towel and press to soak up as much liquid as possible, using a second tea towel, if necessary. (Zucchini should be as dry as possible; otherwise your fritters will be mushy.)
2. In a bowl, combine Feta, green onions, dill and garlic. Add zucchini and eggs and mix well. Sprinkle sorghum flour, cornstarch and baking powder evenly over mixture and toss well.
3. In a large heavy skillet, heat oil over medium-high heat. Scoop out about 1 heaping tbsp. of mixture at a time and drop into hot oil. Repeat until pan is full, leaving about 2 inches between fritters. Cook, turning once, until nicely golden, about 5 minutes per batch. Drain on paper towel–lined platter and keep warm in preheated oven while you complete the frying. Serve warm.

Tips
To expedite preparation, shred zucchini and set aside to sweat while you prepare the remaining ingredients.
For ease of preparation use your food processor fitted with the shredding blade to shred the zucchini. Makes about 2 dozen.
Coconut-Spiked Pork with Quinoa and Peanuts
Serves 6

I love the unusual combination of flavors in this one-dish meal. It's easy enough to make for a weeknight dinner and particularly colorful if made with red quinoa.
1 1/2 cups (reduced-sodium chicken or vegetable stock or water
1/2 cup coconut milk
1/4 cup dry-roasted peanuts
1 tbsp. olive oil
12 ounces pork tenderloin, thinly sliced
2 leeks, white parts only, cleaned and sliced
4 cloves garlic, minced
1 Chile pepper, minced
2 tsp. ground cumin
1/2 tsp. saltFreshly ground black paper
1 can (14 ounces) no-salt-added, diced tomatoes with juice
1 cup quinoa, rinsed and drained
1 cup sliced green beans
1. In a blender, combine stock, coconut milk, and peanuts. Process until smooth. Set aside.2. In a skillet, heat oil over medium-high heat for 30 seconds. Add pork, in batches if necessary, and cook until lightly browned, about 1 minute per side. Transfer to a plate and set aside.3. Add leeks to pan and cook, stirring, until softened, about 5 minutes. Add garlic, Chile pepper, cumin, salt and black pepper to taste, and cook, stirring, for 1 minute. Add tomatoes with juice and reserved peanut mixture and bring to a boil. 4. Stir in quinoa and green beans and return to a boil. Reduce heat to low. Stir in pork and any accumulated juices. Cover and simmer until quinoa is tender, about 20 minutes.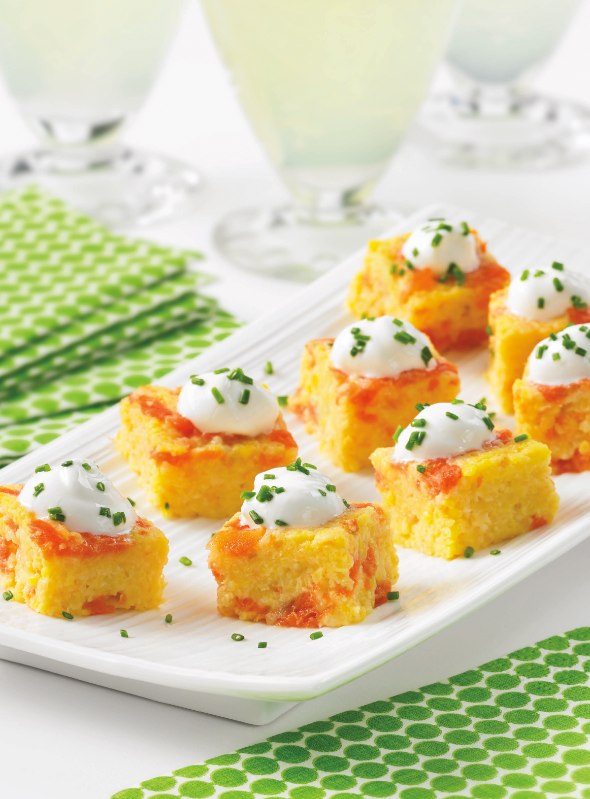 Smoked Salmon and Grits Cakes
These savory squares are very easy to make and deliciously different. They are great finished with a small dollop of sour cream and a sprinkling of chives, as the recipe calls for. If you're looking for another flavor sensation, try topping each square with diced roasted red peppers, tossed in olive oil.
8-inch (20 cm) square pan, lightly greased
1 1⁄2 cups chicken or vegetable stock    
1⁄2 tsp. salt or to taste    
1⁄2 cup white or yellow stone-ground corn grits (see Tips)
1⁄4 cup heavy or whipping (35%) cream    
2 tbsp. unsalted butter    
1 egg, beaten    
1 tsp. finely grated lemon zest    
2 tbsp. freshly squeezed lemon juice    
1⁄2 tsp. hot paprika    
4 oz. smoked salmon, diced    
Sour cream
Finely snipped chives
1. In a saucepan over medium heat, bring stock and salt to a rapid boil. Add grits in a steady steam and cook, stirring frequently, until smoothly integrated. Stir in cream. Cover, reduce heat to low and simmer gently, stirring occasionally, until grits are soft and creamy, about 40 minutes. Remove from heat.
2. Add butter and egg and stir well with a wooden spoon. Add lemon zest, lemon juice and paprika and stir well. Stir in smoked salmon. Spread evenly in prepared pan and let cool.
3. Cut into 1-inch squares and using an inverted spatula remove from pan. Serve at room temperature, topped with a small dollop of sour cream and garnished with chives.
Tips: If you don't want to stir your grits frequently, use a nonstick saucepan. An occasional stir will be fine so long as the heat is low.
If you can't find stone-ground grits, use coarse-stone ground cornmeal. Do not use the finely ground grits that come in boxes. They are not whole grain.
Always check dairy products such as whipping cream and sour cream to make sure they are gluten-free.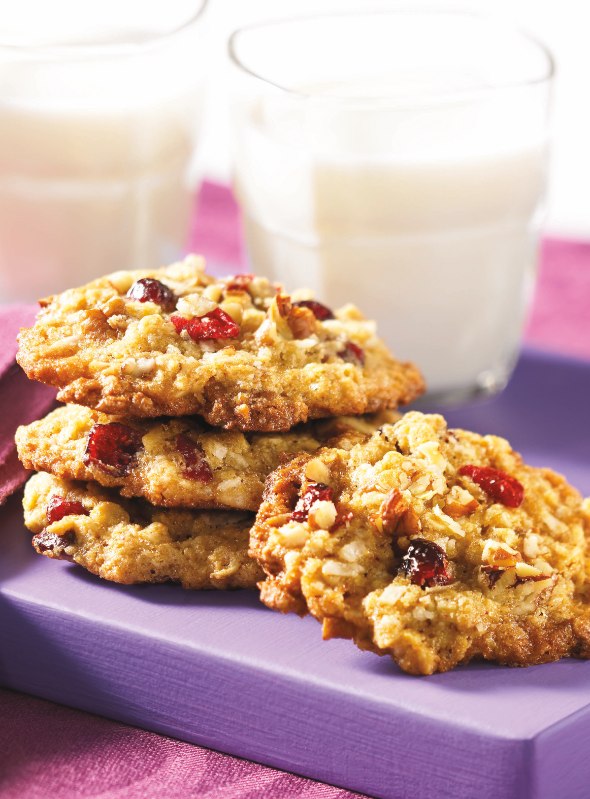 Chewy Oatmeal Coconut Cookies with Cranberries and Pecans
Makes about 48 cookies
VEGETARIAN FRIENDLY
The luscious cookies are appealingly chewy with just a hint of honey flavor. Once you've had one, it's hard to resist another.
Tip: These cookies are a bit soft when they come out of the oven, but they firm up while cooling. Make sure they are just golden while baking — they continue to cook on the sheet after removal from the oven.
Preheat oven to 350°F
Baking sheets, lightly greased or lined with parchment
1 cup sorghum flour    
1⁄3 cup coconut flour    
2 tbsp. cornstarch    
1 tsp. gluten-free baking powder    
1 tsp. xanthan gum    
1⁄2 tsp. salt    
1 cup butter, softened    
1 cup packed Demerara or other raw cane sugar     
2 eggs    
1 tsp. vanilla extract    
1⁄2 cup liquid honey    
2 cups gluten-free old-fashioned (large flake) rolled oats
1 cup sweetened flaked coconut    
1⁄2 cup dried cranberries    
1⁄2 cup chopped pecans    
1. In a bowl, combine sorghum and coconut flours, cornstarch, baking powder, xanthan gum and salt.
2. In a separate bowl, beat butter and sugar until light and creamy. Add eggs, vanilla and honey, beating and scraping down the sides of the bowl until blended. Gradually add flour mixture, beating until smooth. Stir in oats, coconut, cranberries and pecans.
3. Drop dough by tablespoonfuls, about 2 inches apart, on prepared baking sheet. Bake in preheated oven until tops begin to brown, about 12 minutes. Let cool for 5 minutes on sheets, then transfer to a wire rack and let cool completely.

Variations
If you don't like nuts, eliminate the pecans and double the quantity of cranberries. Similarly, if you don't like cranberries, leave them out and double the amount of pecans.