Shanghai Restaurant
Jul 08, 2013 10:33AM ● By Style
Photography by Dante Fontana, © Style Media Group
Located not in San Francisco, but in the Goldorado Shopping Center in Cameron Park, sits a Chinese restaurant whose quality rivals those in the City.
Upon entering, my dining partner and I were greeted as friends and immediately seated. Soft background music played as our eyes noticed the eatery's cleanliness and traditional Chinese décor.
After selecting the "Family Dinner for Two" and an order of sweet and sour pork, our water and tea were promptly delivered (and continually replenished throughout the meal).

Lemon Chicken
The first course was a hot and savory egg drop soup. After an appropriate amount of time (too often multiple courses are delivered without allowing diners to enjoy each one), the appetizers followed: egg rolls and shrimp showcased on a bed of Chinese cabbage. The house-made egg rolls were crafted using fresh ingredients, while the panko-crusted butterflied shrimp were cooked perfectly—crunchy on the outside and succulent inside. Despite being deep-fried, both dishes were void of grease.
The entrées arrived next—filling our table with wonderful aromas and a bevy of colors. The house chow mein was brimming with tender and well-seasoned pork, beef and large shrimp (a rarity and unexpected treat), while the fried rice was freshly-made and prepared correctly: no overcooked egg or vegetables.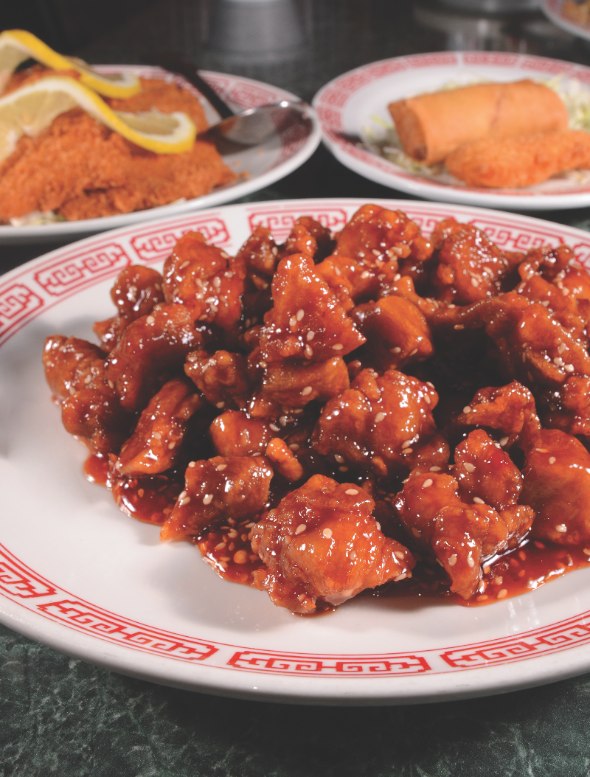 Sesame Chicken
Our addition of sweet and sour pork was a hit—tender with a generous amount of plum sauce. The greatest enjoyment, however, was the lemon chicken: breasts coated with panko then sliced and garnished with lemon slices on a bed of Chinese cabbage. Accompanying the dish was a light lemon sauce, allowing us to customize our plate and avoid oversaturating the delicate meat. After helping myself to thirds, it's safe to say I'll return for fourths another day.
During our banquet, a stream of regulars—who knew and were playful with the staff—constantly picked up to-go orders. It became clear why as we finished our final bites. Between the accommodating and unhurried service, reasonable prices and generous portions (we had enough food leftover to ensure another tasty meal), I slept happily knowing I had found a quality Chinese restaurant that I'd expect in the City…right here in Cameron Park.
---
Shanghai Restaurant, 3440 Palmer Drive, Suite 8, Cameron Park, 530-676-9041.