Literary Legacy
Jul 05, 2013 09:43AM ● By Style
Photo by Dante Fontana, © Style Media Group
At the Folsom Public Library—which is celebrating its 20th anniversary on July 10—there's no "shhhhh."
Inside the award-winning Georgia Murray Building at the city's civic center, patrons of all ages can be seen playing games, listening to lectures, discussing books, tutoring kids, browsing the Internet, watching a movie, even petting a reptile. "The Folsom Library," says City Manager Evert Palmer, "brings people together. It is a dynamic place. In some cases, it is a noisy place."
More than simply a purveyor of literature, the Folsom Library today is a community partner. Its 37,000 cardholders have access to free books—millions of them through an alliance with the Sacramento Public Library—and can also participate in scores of free activities that promote literacy, education and community fellowship.

Nancy Bohnsack (a.k.a. Mrs. B)
"We've gone from being a gatekeeper of information to actively engaging our patrons," says Library Manager Lisa Dale. "We're continually evolving in how we provide for the community's needs." Those needs are addressed for every age, with story times to foster reading readiness, free Internet access for students who don't have computers—and many don't—or technology classes for seniors. They can be informative, such as a Folsom Zoo Sanctuary presentation on animal behavior or talks by best-selling authors; instructive, such as after-school homework help and college prep courses; or fun, like watching movies, building with Legos or toe tapping to a lively band. Summer reading, which offers prizes and incentives to keep hundreds of youngsters' faces in their books while school is out, can be all of the above. The program is so popular that there is now an adult version.
On April 20, in one of the most moving events ever held at the library, 47 people were sworn in as new American citizens. Folsom was one of eight libraries in the country chosen to host a naturalization ceremony. In this era of austere budgets, many of the library's activities are possible because of donations from Friends of the Folsom Library. This year, Friends gave funds to replace 27 outdated public computers, which are free for public use.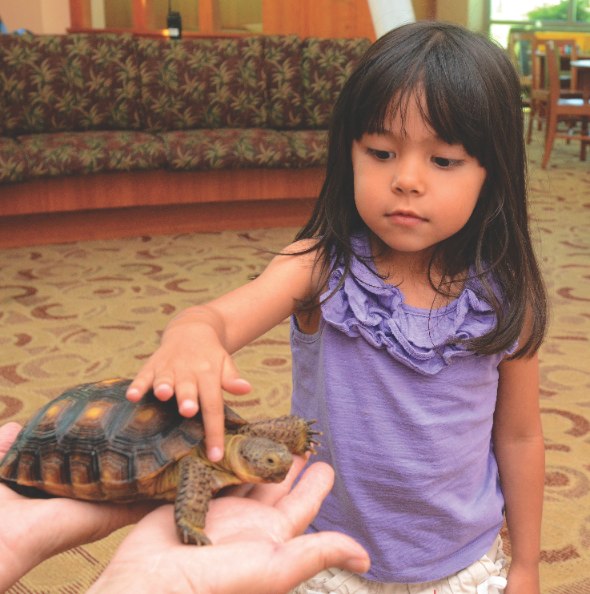 Kalea Ocampo
Beyond the books and activities, the library, Palmer says, "is a place to be part of this community." Patrons often write thanking the staff for their kindness and helpfulness. A favorite was three words: "You guys rock!"
Folsom's first public library was a Sacramento branch built in the 1890s. When the branch closed in 1992, determined residents, led by octogenarian Georgia Murray, acted quickly to replace it. "We didn't want to live in a community that didn't have its own library," says Gail Kipp, a co-founder of Friends. Doing most of the work themselves, the residents created a library out of an old fire station. The building was dark and sometimes leaked, but patrons loved it. Fourteen years later, the library moved to its new building, named for Murray. There, as Lisa Dale expresses, resides "the heart of the community…with something for everybody."
---
A celebration to mark the Folsom Public Library's 20th anniversary is currently slated for the fall. For more information, visit folsomlibrary.com.