Hartsong Ranch
Jul 05, 2013 11:03AM ● By Style
Photos by Dante Fontana, © Style Media Group
It all started with three blind horses and a cow named Number 37.
"The horses were living in horrible conditions on another rancher's property, stuck in the same stall together for two years," says Kathy Hart, who owns Hartsong Ranch with her husband Jim. "I was like everyone else at first—I walked away—but after thinking about them during a terrible storm, I had to offer them something better."
This was Kathy's impetus to do more for discarded and defeated farm animals. The idea became a cause, however, after Number 37.

Jim and Kathy Hart
When the Harts bought the 30 acres that would become Hartsong Ranch, it was overgrown, so they arranged for a local rancher to graze cattle on it as "organic lawnmowers." Of the 17 cattle that arrived, everything was normal except for that one cow, Number 37, who was in quite a panic. For two days she ran the fence line, calling out, in distress. "I called the rancher, who chuckled, 'Oh, she's just looking for her baby,'" Kathy says. "It hit me like a brick. Her baby was only a week old. I told the rancher to take her back or bring the baby here, but it was too late. The calf had already been sold to a veal farm."
The inhumanity of the rancher motivated Kathy and Jim to set up Hartsong as a non-profit sanctuary for farm animals that need special care. Now, six years later, and with a mantra that "Every Life Matters," the ranch is a forever home to more than 60 animals, including horses, cattle, sheep, pigs, dogs, chickens, goats and rabbits.  
More than a sanctuary, however, the ranch is also geared toward education, and hosts several field trip groups ranging from school kids to senior citizens. The goal is to enlighten the public about the vivid emotions and feelings of farm animals, encourage kindness toward animals, and even foster more compassionate food choices.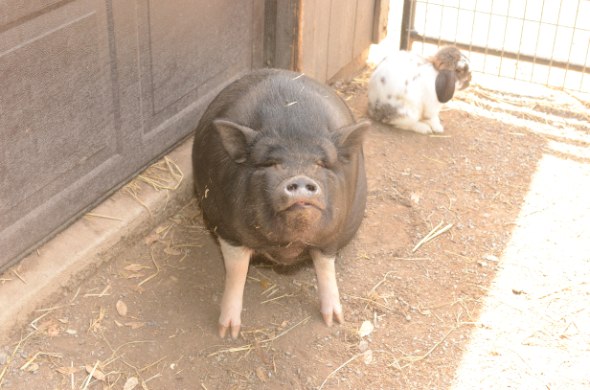 "I'm not interested in telling horror stories about factory farms; frankly if there wasn't consumer demand for farmed livestock there wouldn't be horror stories either," Kathy says. "I just hope by showing people these animals do have real emotional needs, maybe they'll consider the choices they make next time they're at the grocery store."
As a working ranch, there are endless chores, so Hartsong welcomes volunteers who enjoy giving love to animals and being loved in return. In particular, a large fence building project—taking place this month and next—could use able hands. Monthly sponsorships and administrative volunteer options are also available to those who want to get involved.      
Day to day though, the chores are a labor of love. Even "Number 37," who found her way back to Hartsong after five years, with a new baby in tow, is happy and healthy here, and that's what gives Jim and Kathy joy.
"These animals are happy; they love to play, frolic, kick up their heels and just celebrate that they're so content to be alive," Kathy says. "Therein lies the reward."
---
For more information, visit hartsongranch.org.