The Land of Plenty
Jul 03, 2013 03:49AM ● By Style
Images by RJM
This sign greeted us at the Auckland Airport after a 13-hour overnight flight from San Francisco.
After months of planning and anticipation, our dreams of spending a month in New Zealand were about to come true.
\\   GEOGRAPHY AND HISTORY
New Zealand is a land of volcanoes, earthquakes, geysers and fjords (long, narrow inlets with steep sides or cliffs, created in valleys carved by glacial activity). We experienced each of these as we traveled from the Bay of Islands, at the top of the culturally rich North Island, to Fiordland and the scenic beauty of the South Island.
Polynesian explorers first discovered the islands. Legend says when they saw the Southern Alps, topped with an unfamiliar white substance (snow), they called the country Aotearoa, or "Land of the Long White Cloud." Hundreds of years later, in 1642, the islands were formally "discovered" by Dutch explorer Abel Tasman, who named the land Nieuw Zeeland, after the Netherlands province of Zeeland. This small country, similar in size to Great Britain or Japan, is now known as New Zealand.
\\   IN A NUTSHELL
We were a small group of 11, ranging in age from early 50s to late 70s. With the exception of our group leader, who had been to New Zealand many times, this was a first-time visit for each of us.
Traveling in a 12-seater van, we began our adventure in the Bay of Islands—at the northernmost part of the North Island—where we spent three days becoming familiar with Kiwi hospitality, Maori culture, and driving on the "wrong side" of the road! We then traveled south to Auckland, where we enjoyed the Auckland Museum and Sky Tower (the tallest free-standing structure in the Southern Hemisphere).
Next, we visited Rotorua, voted the "most beautiful city in New Zealand." Built on the edge of a volcanic crater, Rotorua is known for its thermal activity and Maori culture. A stop at Napier followed, famous for its art deco architecture, as well as the nearby wineries of Hawke's Bay.
Our final North Island stay was in the capital city of Wellington, often compared to San Francisco for its cosmopolitan lifestyle, ethnic diversity, busy waterfront and cool, windy weather.
Crossing Cook Strait by Interislander Ferry, we spent the next 15 days on New Zealand's South Island. Here we were amazed by the beauty of the glaciers, rainforests and waterways of Fiordland, shopped for jade in Hokitika, explored our thrill-seeking side in Queenstown, and witnessed the optimistic attitude of post-earthquake Christchurch.

Auckland Sky Tower and sailboats
\\   REST YOUR EYES
We stayed in a variety of hotels, ranging from modern high-rises (Ibis Wellington Hotel) to family-run (Jade Court Motor Lodge in Hokitika) and "cabins" (Bay Snapper Holiday Park in Napier). Breakfast, whether continental or full buffet, was usually included and Wi-Fi was generally available for a fee. Since most of our hotel rooms had kitchenettes, we periodically shopped at local grocery stores and prepared our evening meal—while enjoying a glass or two of wine—in-house.
\\   EAT
It has been said that there are 15 sheep for every one person in New Zealand, and while this is no longer true—as of 2008 the ratio was eight sheep per person—lamb is a common menu item. Roast lamb was offered during the traditional hangi (the Maori method of cooking food using heated rocks buried in a pit oven) feast at Tamaki Maori Village, and lamb salad got rave reviews in Rotorua and Christchurch. We even found barbecued lamb burgers at McDonalds in Auckland!
There is a strong British influence in New Zealand, so fish and chips, mussels, and bangers and mash were common menu items. Another local favorite was "mince pie," a puff pastry filled with minced beef, lamb or steak and cooked in savory gravy. This "takeaway" treat made a tasty lunch, especially when enjoyed with a glass of New Zealand beer (Tui or Speights).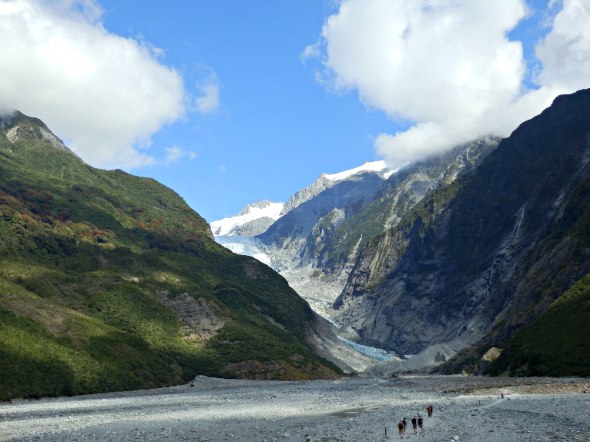 Franz Josef Glacier
\\   EXPLORE
For museum lovers, the Auckland War Memorial Museum was a favorite. We needed a full day to enjoy the many displays depicting New Zealand's geology, history, culture and peacekeeping philosophy. We also enjoyed the Rotorua Museum of Art and History, Wellington's Te Papa Museum, and the Canterbury Museum in Christchurch.
Learning about and experiencing the Maori culture was an ongoing part of our journey, especially in the North Island. Early in the trip we toured the Waitangi Treaty Grounds, where our Maori guide gave his people's perspective of this important transaction between the natives and the British. Here we witnessed the traditional Maori greeting: a fierce look with tongue fully extended, eyes opened wide, and elaborate posturing to demonstrate ferocious warrior abilities. We marveled at the intricate carvings on meetinghouses and war canoes, learned that diamonds are the only stone harder than jade, and discovered that Maori "tattoos" are actually facial carvings.
We also visited the Tamari Maori Village near Rotorua, where we played games designed to teach warrior skills, were entertained by Maori song and dance, and enjoyed a traditional hangi buffet feast—a favorite experience from the trip.
On the South Island, the group's hikers made a half-day trek on the Abel Tasman Coast Track, a fairly easy two-and-a-half-mile walk ending with a refreshing swim in the Tasman Sea.
At Franz Josef we walked for more than a mile along an open riverbed to get a close-up view of the glacier. (For safety reasons we were unable to actually touch the glacial ice.) However, one group member took a helicopter ride over the Southern Alps and glaciers, enjoying a spectacular view!
We drove through the mountains and rainforests of Fiordland National Park, arriving at one of the most beautiful places in New Zealand: Milford Sound. Boarding our Real Journeys vessel, we cruised through the stunning glacier-formed canyons to the Tasman Sea. Along the way we passed waterfalls, sheer cliffs and Mitre Peak, believed to be one of the world's highest mountains to rise directly out of the sea. This two-hour cruise, which included lunch and informative commentary, was a trip highlight.
During our stay in Dunedin we enjoyed a half-day guided tour around the Otago Harbor, where we viewed nesting royal albatross, visited a sanctuary for yellow-eyed penguins, and were entertained by a pod of Hector's dolphins jumping near the boat as we cruised the harbor.
Throughout our trip we had many opportunities to express our inner thrill-seeker. Various group members walked across Buller Gorge on New Zealand's longest swing bridge, returning via zip line; sped through the narrow canyons of the Shotover River in a jet boat; rode a gondola to Bob's Peak, overlooking Queenstown, before racing down the mountain in a luge; rolled down a hill strapped inside a plastic Zorb; and visited the birthplace of bungee jumping near Queenstown. (No one in our group was brave enough to try bungy jumping, but we watched other—younger and more adventurous—people do it, which was pretty thrilling!)
For some members of our group, shopping was a favorite pastime. Many sheep means lots of wool, and woolen shirts, scarves and socks were well priced at the Kiwi Sock Factory in Norsewood, in the southern part of the North Island. The gift shop at Te Puia in Rotorua offered woodcarvings, woven flax handbags, and many other traditional Maori pieces; some of the proceeds support the adjacent schools where Maori youth learn their ancestral arts. Hokitika, on the South Island, is "the Jade Capital of New Zealand." Some of the most beautiful pieces were found in a shop called Te Waipounamu, which only sells local jade. (Other shops sell imported jade for a lesser price.) And we were glad to spend some of our tourist dollars in Christchurch, supporting a local economy struggling to rebuild after the earthquake of 2011. Since Christchurch was our last stop before returning home, this was a great place to pick up last-minute gifts.
Throughout our trip we found the people to be friendly, helpful and eager to ensure that we enjoyed our time in New Zealand. Our visit was a dream come true, and inspired our desire to return. As one traveler said, "New Zealand cannot be captured by pictures...it cannot be captured by words. You have to experience it."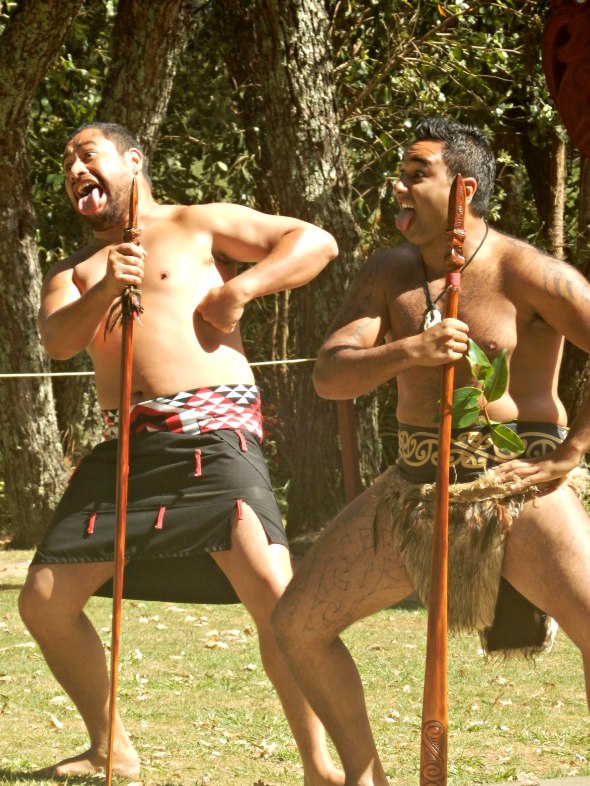 Maori warriors
\\ KNOW BEFORE YOU GO
A tip about tipping. In a word, don't. It is not expected and, in fact, tourists are discouraged from tipping at hotels and restaurants. The exception? If a tour guide provides excellent service, tipping is appropriate.
 
Don't get burned. Because of a hole in the ozone layer over New Zealand's southern neighbor, Antarctica, sun protection (hats and sunscreen) is strongly recommended.
 
Make a wish! You will see stars like never before. The Southern Hemisphere is tilted toward the center of our galaxy, so you'll be looking into the heart of the Milky Way.
 
Ouch! Sandflies, found in the rainforest in Fiordland, are nasty pests. While they do not carry diseases, their bites will make you itch. A lot. Buy insect repellant and use it liberally.
 
Garden delight. From dahlias, begonias and roses to cabbage trees, kauri and flax, we found a wonderful botanical garden in nearly every city! Best of all, they're free to visit and a great respite.
 
Got wine? A half-day wine tour of Hawke's Bay, known for Pinot Noir and Sauvignon Blanc, is a relaxing way to explore the area.
 
Don't overspend. We were advised not to shop in high-priced Auckland and Wellington.
 
Hungry for home? We found at least one McDonald's, Starbucks and Subway in every city we visited.
---
 Jeri also writes a travel blog with a focus on accessibility. Check it out at anythingispossibletravel.com.