Soil Born Farms
May 31, 2013 04:08AM ● By Style
Photos by Dante Fontana, © Style Media Group.
Looked at a food label lately?
Then maybe it was you I saw in utter confusion trying to decode ingredient lists on aisle nine. The palpable sense of panic—the same horror I felt after watching the documentary Food, Inc., then dissecting ingredients in the, ahem, "food" I was feeding my family—was all too familiar. Turns out, a lot of "food" is just a modified version of something else pumped up with chemicals to make it look like the real deal.
If conscious-raising documentaries are planting seeds, they're being cultivated for change at places like Soil Born Farms, a non-profit urban farming outfit in Sacramento and Rancho Cordova that's stewarding a back-to-the-land mentality. Homesteading this return to urban agriculture—from its 55-acre American River Ranch headquarters—is the organization's co-founders, Shawn Harrison, Marco Franciosa and Janet Whalen Zeller.
Now thriving, the sustainable food supplier is a highly touted beacon of community agriculture, tending a more sustainable and accessible food system. Running a community supported agriculture (CSA) program, Soil Born Farms bestows its 80 CSA members, all of who have purchased "farm shares" to cover cultivation costs (four different payment options and three pickup spots, including one in Rancho Cordova, are offered), with fresh, seasonal and organically grown produce every week.
Delivered with the nutritious farm-to-fork bounty is the knowledge that it has not been manipulated for profit. Filling CSA boxes are a bevy of 8-10 seasonal veggies (and a newsletter explaining ways to prepare them), with luscious fruit making its debut this year. On occasion, meat, honey, eggs and even wool are available throughout the season.
Growing awareness is also a specialty of Soil Born—its education arm extends a wide reach through the staging of community events and classes on everything from beekeeping and container gardening to organic growing and the basics of starting a small farm. Putting a particular emphasis on edifying local youth, kids are invited to get their hands dirty at Soil Born's summer day camp. The operation also hosts a crop of youth field trips. The happy by-product of all these efforts is a "more you know, more you grow" approach. Kids who are invested in their health are more likely to sustain the land and its abundance, and continue to make healthy food choices throughout their lives.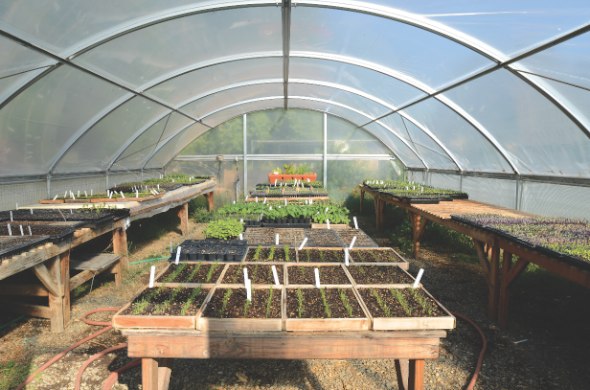 "As more individuals choose locally grown foods, over time access to fresh, healthy foods will grow in all communities, including underserved neighborhoods," explains Soil Born Farms' Communications Manager Alicia Oldfield. "Fresh, rather than processed, foods will be the norm, not the exception."
Even if you literally can't roll up your sleeves, you can dig in to support Soil Born Farms' work related to food, health and the environment by purchasing a farm share, picking up goods at the Midtown Farmers' Market, or visiting the American River Ranch Farm Stand and similar independently owned and operated offshoots throughout the Sacramento Valley. Now that's homegrown.
---
For more information, visit soilborn.org.