Tiburon
May 03, 2013 10:11AM ● By Style
Photo courtesy of Tim Porter
Tiburon may be a tiny, often-overlooked dot on California's tourist map, but the historically rich seaside city packs a lot of punch in its 4.5 square miles. Located off Highway 101 in Marin County, this enchanted enclave of the Golden State isn't marked by fanfare; blink and you may miss the exit (Tiburon Boulevard). Just 10 scenic minutes from the highway and you'll be welcomed to the "Sunny Side of the Bay." In addition to vitamin D, this quaint coastal town—reminiscent of a nostalgic fishing village—will grace you with sweeping views of the Golden Gate Bridge and Angel Island, waterfront restaurants, plus miles of paved paths and a groomed greenbelt. Welcome to paradise without the people.  
CHECK IN
Fresh from a facelift, The Lodge at Tiburon, a clean and crisp 103-room craftsman-style property—dusted with immaculate attention to detail in every nook and cranny—offers guests an intimate experience that can be difficult to find at larger hotel chains. Shuttered balcony doors, a calming palette of ocean-inspired hues, and an array of in-room amenities (complimentary Wi-Fi and newspapers, plush robes, in-room DVD player with a library of rentals, and the list goes on), leaves guests little to be homesick about. If a breath of fresh marine air beckons you outside, head to the SkyDeck, heated pool and spa, or cozy up at the fire pit; then sit back, relax and enjoy the sublime surroundings.

Smoked Salmon at Tiburon Tavern
Photo courtesy of Tiburon Tavern.
CHOW DOWN
Breakfast: Considering breakfast is the most important meal of the day, it's fundamental to find a locale that can cater to your a.m. cravings. Thanks to big portions, al fresco seating and stellar service, New Morning Café is an eggs-celent option. Order the house-made biscuits and gravy (made with chicken apple sausage), apple-pecan flapjacks, or the breakfast burrito stuffed with cheese and chorizo. Morning's never looked brighter.
 
Lunch: Visitors on a budget or those who prefer picnic-style lunches, should walk to Woodlands Market and pick up deli sandwiches with the appropriate accoutrements, then take it for the road (or dig in on the market's sun-soaked outdoor tables). Fancy something…fancier? Servino Ristorante, specializing in Southern Italy's culinary delights, is your spot. Wine in one hand, house-made pasta (I recommend the gnocchi Mediterranea) in the other, and beautiful bay panoramas; now this is la dolce vita.
 
Pre-Dinner Snacks & Drinks: Whether you arrive on foot, by bike or by boat (they have guest docks), Sam's Anchor Café has been a local favorite since the '20s. Relax on the outdoor patio with a stiff cocktail and their famous cioppino, while soaking in the sunshine and San Francisco skyline.

Dinner: With soft lighting and a cozy vibe that's equal parts industrial as it is chic, plus live music on the weekends, it's no wonder Tiburon Tavern's diners are a convivial mix of locals and hotel guests. The public-house ambiance and entertainment don't stand alone, however. A farm-to-fork approach on comfort food favorites pleases palates of every genre. Many flock to the roasted chicken (with upland cress, frisee, radish, bacon, French beans, an organic egg and mustard vinaigrette), macaroni and cheese with Parmesan breadcrumbs, or the smoked salmon (served on grilled Panorama bread and topped with avocado, radish, pickled red onion and lemon oil).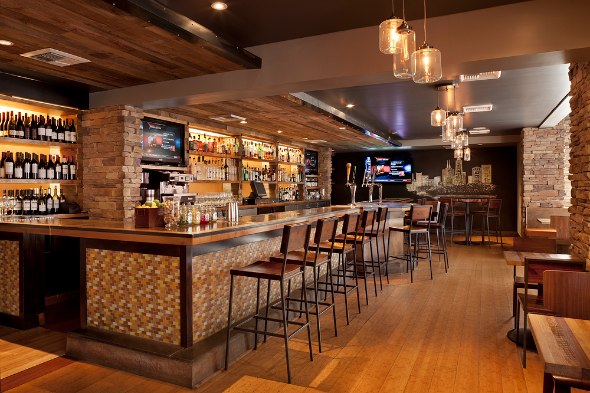 Tiburon Tavern
Photo courtesy of Tiburon Tavern.
DID YOU KNOW?
In 2004 Tiburon became the first city in the U.S. to eliminate trans fats from all of its restaurants.
The name Tiburon—derived from the Spanish word tiburón, which means shark—was most likely inspired by the prevalence of native leopard sharks in the peninsula's surrounding waters.
CHECK OUT
Set sail on a 15-minute ferry ride (departs from downtown Tiburon) to the Bay Area's hidden gem: Angel Island, a state park teeming with history, outdoor activities and unsurpassed vistas of the San Francisco skyline, Marin County Headlands and Mount Tamalpais. Rent a bike and cruise around the island's five-mile perimeter, take a guided tour on a Segway, or huff and puff while hiking up Mount Livermore. History buffs won't want to miss the U.S. Immigration Station, often referred to as "The Ellis Island of the West," and listed on the National Register of Historic Places. Before ferrying back to the mainland, grab a dozen oysters and a brew while listening to live music at the Angel Island Café and Cantina.
More Must-See Sights
Old St. Hilary's Church and Open Space Preserve. This restored, stark white Carpenter Gothic chapel (built in 1888 and one of the few to survive in its original setting), perched hillside and overlooking the bay, is worth adding to your itinerary. Stroll the surrounding 122-acre preserve and catch a glimpse of the extremely rare black jewelflower, which is in full bloom this month.
 
Paradise Drive Bike Loop. Whether you're a spandex warrior or a two-wheel novice, this 21-mile ride (one way) from Tiburon to San Francisco is well worth the pedaling. The relatively flat, mostly paved trail takes you through Mill Valley, Sausalito and across the Golden Gate Bridge—offering take-your-breath-away views the entire way. Refuel (on liquid or food) at one of the many cafés or pubs you pass along the way. Too tuckered out to make the return trip? Hop on the ferry in San Francisco (departs at Pier 41/Ferry Building) for a relaxing ride home. Note: Families with little ones should stick to the shorter (approximately 2.5 miles one way) Tiburon Bike Path, which is both stroller and dog friendly. The scenic route winds through Blackies Pasture, Linear Park and Shoreline Park (perfect stopping points for a break or bite to eat).