Backyard Retreat - Spruce Up Your Fresh Air Space
May 02, 2013 05:24PM ● By Brian O
Photo courtesy of Janus et Cie
BY KERRIE KELLY

Outdoor areas are often the last to receive design attention, but they shouldn't be—especially in California.
You can plan space for your lifestyle by incorporating ample seating, table surfaces, cushions, play areas, eating spots and sunning areas. By carrying your design style outdoors, you can turn a patio, deck, porch or even a balcony into another room of the house.
Many outdoor spaces have become quite elaborate, including seating areas with state-of-the art audiovisual elements, fireplaces and fire pits, al fresco showers, full-size kitchens, and draped-off dining areas. If you have a pool, consider incorporating a cabana, or create a basketball court, a spot for bocce ball or croquet. Even if your space isn't elaborate, you can still craft a relaxing spot for lounging and entertaining.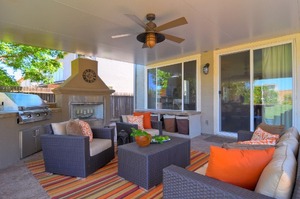 Your overall design should be able to accommodate your family's favorite activities, from relaxation and casual gatherings to children's games, barbecues and entertaining. At the same time, it's important that your outdoor space provide the same sense of privacy as interior rooms do. Use evergreen plants and trees; their year-round foliage helps encourage outdoor living during colder months. An increasing number of options are available for furnishings designed to look like indoor furniture, while upholstery and drapery fabrics—and even indoor-outdoor rugs—are sturdy enough to handle outside conditions. You can also use indoor furniture outdoors, but, to protect it from bad weather, you may need to seal it, keep it under cover, or bring it indoors at times.

Even in a small space, delineate different areas for different activities. Build a patio with multiple levels—one for dining, another for gathering around a fire pit—or turn a side yard into a gravel-lined retreat with a cutting garden. A table and chairs set may sit near the barbecue while, on the other side of the space, lounge chairs, chaises, and even a repurposed bed can offer a spot for relaxing, chatting with friends, or spending nights under the stars via an outdoor movie night. An enclosed bench can provide hidden storage as well as seating, while a small water feature will add a sense of calmness and peace to the area. Plants and flowering vines can act as screens, as well as create a sense of depth and add fragrance along the perimeter.
Above all, an outdoor room should flow naturally from your home. Use colors and materials that blend well with your interior design. Keep the styles similar, choosing traditional Adirondack chairs for a cottage look or sleek and low lounges for a more contemporary feel.
---
Kerrie Kelly, ASID, is an award-winning interior designer and author. Her design studio, Kerrie Kelly Design Lab, is located at 3252 J Street in Sacramento. Her work can be found at kerriekelly.com.