Goings on in the Folsom & El Dorado Hills areas
Apr 02, 2013 06:07AM ● By Style
All photos courtesy of their respective organizations.

John Hernried, M.D.
Congratulations to John Hernried, M.D.—medical director of the Sutter Weight Management Institute (SWMI)—for being one of 226 physicians across the U.S. who is now board certified in obesity medicine. As the medical director of the SWMI program, Dr. Hernried adds the certification to his specialty training in weight management and in his work to have a closer partnership with patients and their primary care physicians for patients' greater health.

Comcast Spotlight, the advertising/sales division of Comcast Cable, has opened a third Sacramento-area office in Folsom's Iron Point Business Park. The opening at 1130 Iron Point Road, Suite 160, will likely mean the hiring of more employees locally by the end of this year, according to the company.

As well, Iron Point Business Park owner, Newport Beach-based KBS Strategic Opportunity Real Estate Investment Trust Inc., recently finalized a 23,761-square-foot lease with the CorVel Corporation.

On February 19, non-profit agency WellSpace Health (formerly known as The Effort)—which focuses on the needs of the community and strives to provide access to health services for patients with Medi-Cal and Medicare—held opening ceremonies at their new Rancho Cordova Community Health Center (10423 Old Placerville Road). The location houses a primary care medical clinic for all ages and a state-of-the-art children's dental clinic. For more details, visit wellspacehealth.org.

In late February, Los Rios Community College District closed escrow on its purchase of 2.2 acres at Folsom Boulevard and Mather Road for what ultimately will become a 75,000-square-foot branch location of Folsom Lake College. The district is also purchasing parcels from other owners for parking. The Los Rios branch center will replace a smaller (13,000 square feet) educational facility known as an outreach center.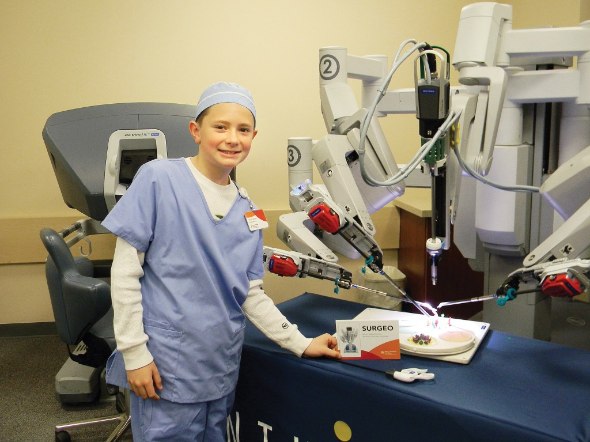 Hunter McGee at Mercy Folsom
On February 20, Oak Meadow Elementary 5th grader, 10-year-old Hunter McGee became a "Surgeon for a Day" at Mercy Folsom after winning its Name the Robot contest. More than 200 students from the Folsom-Cordova Unified, Rescue Union and Buckeye Union School Districts entered the contest to name the da Vinci Si Surgical System; McGee won with his suggestion "Surgeo." In addition to testing out the system, he earned a $50 Target gift card and Oak Meadow Principal Barbara Narez received a $500 check. Since acquiring it last summer, Mercy Folsom surgeons have completed 126 surgeries using the da Vinci Si Surgical System.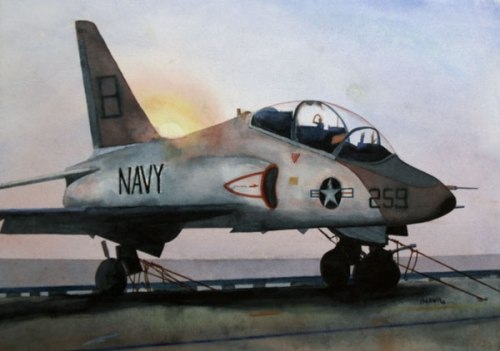 Parked for the Evening, watercolor by David Kalbach, on exhibit at the Wild Blue Yonder: The Art of Aviation show
Want to find out more about current Gallery at 48 Natoma exhibits without staying after hours? Stop by on the last Thursday every month at 10 a.m. for a quick 15-minute visit with Gallery Director Cindy Abraham. Enjoy a brief guided tour of the latest exhibit (this month's show is Wild Blue Yonder: The Art of Aviation); coffee is included! For more information, visit facebook.com/thegalleryat48natoma.

Close by, seniors can enjoy the Senior Lounge at 48 Natoma. Whether you're interested in books, puzzles, games, making new friends or greeting old acquaintances, the center is open for your enjoyment. There is no membership required and the coffee is always hot! For more details, call 916-351-3510.

KydZonE is the perfect after-school place for your kids! Children in grades K-5 will enjoy the El Dorado Hills Community Services District's gymnasium and playground. Buckeye Union School District provides buses from Silva Valley, William Brooks and Oak Meadow Elementary Schools to drop your child off in the CSD parking lot every afternoon. For more information about KydZonE programs and to register your child, visit edhcsd.org/kydzone.html.

Sacramento's Haggin Oaks Golf Course received a new state-of-the-art adaptive golf cart—dubbed the Paramobile and donated by Anthony Netto of Stand Up and Play—designed to aid in the rehabilitation and recovery of stroke survivors and other disabled golfers. Haggin Oaks intends to use the cart as part of their joint effort with the American Stroke Association's Saving Strokes Golf Fore Health program, and for any golfers with disabilities who are interested in golfing.

The Ramona "Moni" Gilmore Senior Center in El Dorado Hills (990 Lassen Lane) offers seniors nutritious meals for a reasonable donation of $3 for those ages 60 and better, and $5 for those under 60. Lunch is served Monday through Friday at noon in the Garden Café; closed on major holidays. For menu details, call 916-358-3562 between 11 a.m. and 1 p.m.
What's Happening at Palladio at Broadstone?
The College Planning Center—located in suite 1311 of the shopping center—celebrated its grand opening on Friday, March 1, with music, food and prizes. The College Planning Center provides guidance to families for keeping high school students on track during the college admissions process...In June 2013, Roosters Men's Grooming Center, a nationwide franchise with more than 50 locations in the U.S., plans to open their new location. Roosters specializes in creating a real barbershop atmosphere and is committed to the best in men's personal grooming. This will be the second location for owner Toney Sebra, who currently operates a Roosters in Roseville.
---
That's all for now, but check back next month for Style's annual Our Kids feature!