Roaring to Serve
Apr 01, 2013 10:35AM ● By Style
Photos by Dante Fontana, © Style Media Group.
The Mother Lode Lions Club and others in the region, including the Placerville Lions Club, are carrying out a pledge made almost 100 years ago in 1917, when a Chicago businessman decided all people should take the time to give back to their communities.
In the early 1920s, it was Helen Keller who challenged the Lions to become the "knights of the blind," says Becky Bell of the Mother Lode Lions Club. "Our main mission then was to help those with impaired sight," Bell says. "As the years went by, we expanded ourselves; now we help people with diabetes, especially children, and we have a wilderness camp where we have deaf children come in the summer."

Leos (L to R): Gage Fox, Jillian Murphy, Kimberly Jassowski and Emerson Herrmann
From its humble beginnings, the Lions have grown from a small club to an international organization that today counts themselves as the world's largest service organization. The local Lions carry on that tradition, and one of the main focuses continues to be helping those with impaired sight. Collecting used eyeglasses, the Lions then send them to Folsom Prison, where a very exclusive group of inmates painstakingly measures the magnification and refurbishes them; later, optometrists take the spectacles to places such as Mexico, where people in need of glasses have no means of getting them. "The prescription isn't always perfect, but they are able to see," Bell says. "Sometimes, they say it's the first time they've seen their grandchildren." Closer to home, the Lions team up with doctors to give eye exams for those who can't afford them.
Related to eyesight is the struggle to end illiteracy, which is the international focus of the organization for 2013. Last year, the goal was to plant one million trees worldwide—a goal the organization achieved. "We're [also] connected with the schools," Bell says, adding that the connection can be supplying eyeglasses to those who can't afford them or even bringing young Lions on board for community service. "Colleges really look at what community service you've done, and it lets [students] get involved in something they can really be proud of," Bell says.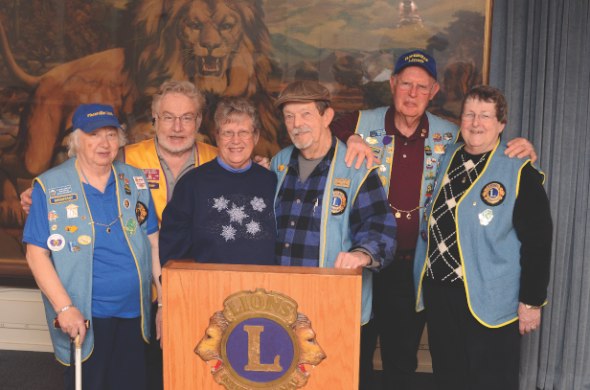 Placerville and Pioneer Lions
The younger Lions are known as Leos, and most come from high schools, but home-schooled Leos are welcome as well. "I'm trying to make it more community-based," Bell says. And community is one of the major reasons people join the Lions.
Bell shares that after she retired, she was sitting in her front room, watching a stretch of Highway 50. "I was looking at the semi trucks and cars, and I thought, 'There [has to] be more to life than looking at a freeway,'" she says. "I asked a friend about it, and he said the Lions are a wonderful organization, and he invited me to come. Now the Lions are like my second family."
---
For more information, including how to become a Lion, visit e-clubhouse.org/sites/placervilleca or e-clubhouse.org/sites/motherlodeca.