Top Area Doctors
Mar 06, 2013 07:12AM ● By Style
Advances in medicine happen at an astonishing speed these days, and thankfully, our community has professional, high-quality health care providers who are helping to drive these medical advances forward.
These accomplished medical professionals have made an impact in our neighborhoods through education, leadership, innovation and genuinely caring for their patients. Style invites you to celebrate these exemplary local doctors for their achievements in medicine, and in the community.
---
SPECIAL PROMOTIONAL SECTION
---
Vitality Medical Laser & Skin Clinic
Celia Remy, M.D.P.C.
1891 E. Roseville Pkwy., Ste.170  |  Roseville
916-797-1131
700 Oak Avenue Pkwy.  |  Folsom  |  916-508-8640
www.VitalityMedicalLaserandSkin.com
Vitality Medical Laser & Skin Clinic is owned and operated by Celia Remy, M.D.P.C.  Dr. Remy began her career with UC Davis Medical Center holding two positions as Medical Director for a child abuse clinic and as a pediatrician with specialty interest in pediatric dermatology. This work piqued her interest in laser technologies and led her to study non-surgical aesthetic reconstruction techniques. She applied this knowledge in the treatment of scars, wound healing, tissue regeneration and non-surgical reconstruction for injuries or trauma to the face. She studied laser treatments extensively as she developed her expertise in assessment and treatment of burns, wounds and traumatic injury.  This led her to pursue training in advanced aesthetic treatments, where the overlap allowed Dr. Remy to bring a fresh and unique perspective to the field of cosmetic medicine.
 Dr. Remy works with laser engineers to refine and improve treatment effectiveness and utilize combinations of developing technologies to get the best results possible. She is a certifying instructor for physicians and nurses learning laser technology and advanced sculpting techniques.
At Vitality Medical, "it is our paramount responsibility to provide safe, effective treatments appropriate for patients needs and desires.  We focus on each patients unique and specific needs based on the structural characteristics of the body and dynamic movement of the face.  Now that we understand the changes that happen over time, we are able to utilize the best treatments available to achieve the most natural appearance possible.  We strive to offer our patients the most cutting edge technology and state-of-the-art techniques in the industry while providing a caring environment with a focus on minimizing discomfort."

Services Include:
Awake liposuction & fat transfer to breast, buttocks, face and hands
Advanced skin tightening with exclusive Trilogy protocol, no downtime
Facial sculpting with dermal fillers and fat transfer
Effective treatments for difficult acne and scars
Botox and Dysport
Laser treatments for hair removal and veins
Prescription skin care customized for your needs
Complimentary consultations
---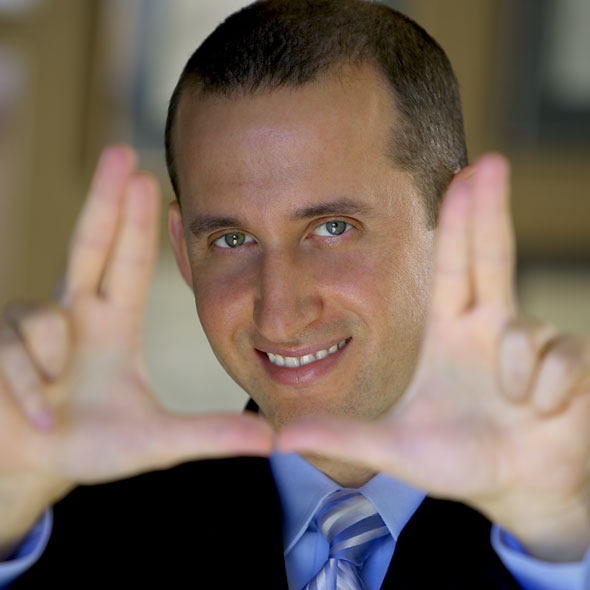 Toft Facial Plastic Surgery
Kenneth M. Toft, M.D.
959 Reserve Dr.  |  Roseville
916-782-8638  |  www.toftfacialsurgery.com
Kenneth M. Toft, M.D. is the Director of Toft Facial Plastic Surgery in Roseville, California. He dedicates 100% of his practice to facial cosmetic surgery. This is in contrast to many surgeons that perform liposuction and breast augmentation, who can spend as little as 20% of their time on the face.
Complete dedication to facial plastic surgery is very important for several reasons: the complex anatomy of the face, the need to keep up with the latest techniques of facial rejuvenation, and the importance of facial features in defining individuality. The results of facial plastic surgery are not hidden under clothes; they are seen every day by friends in public and by oneself in the mirror. For these reasons, only the most specialized and highly trained facial plastic surgeon should be selected.
Throughout his career Dr. Toft has demonstrated a commitment to excellence. Dr. Toft graduated from college in the top 3% and medical school in the top 10% of his class at the University of Michigan. He then underwent surgical training at Stanford University, with four years completely focused on the face and neck. Dr. Toft was then selected to be a UCLA Clinical Instructor in Facial Plastic and Reconstructive Surgery where he studied with world experts in cosmetic surgery. In 2000, Dr. Toft moved to the Sacramento area to become the Medical Director of Facial Plastic and Reconstructive Surgery at Mercy San Juan and to open the Toft Facial Plastic Surgery Center.
Dr. Toft believes the goal of cosmetic surgery is to create improvement while maintaining a natural and balanced appearance. This natural appearance is achieved through the use of modern techniques to make his patients look younger, refreshed, and healthy, never overdone or "operated." The natural balance of facial features is what creates identity, displays emotion, and establishes level of health. Because each face is different, the goals of surgery for each person is individualized. Dr. Toft draws on his extensive training, aesthetic sense, and personal touch to achieve better balance and improved symmetry for all of his patients' unique facial features.
---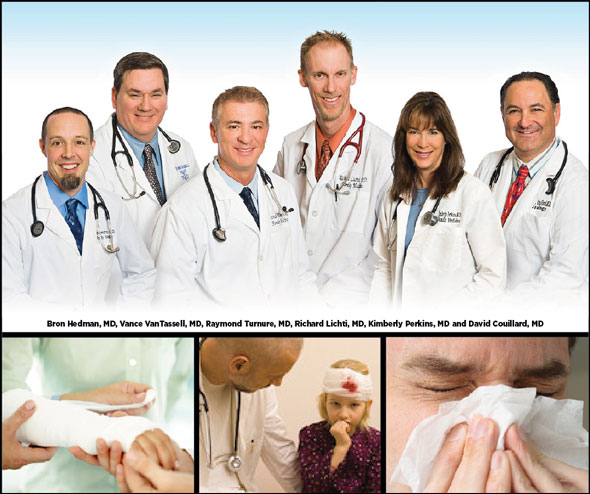 Turnure Medical Group, Inc.
6805 Five Star Blvd., Suite 100  |  Rocklin
916-624-3500
www.TMGmedical.com
Open: Monday-Friday 8:30am-9pm
Saturdays 9am-9pm
Turnure Medical Group is a team of physicians committed to YOU and the health of your family….
We are dedicated to providing the highest quality of medical care with the "whole person in mind" while doing so. With Board Certified physicians that specialize in Family Medicine, Sports Medicine, Emergency Medicine, Urology & Medical Weight Loss, our team is here to service you in all your medical needs.
Turrnure Medical Group is now offering Urgent Care Services in the evenings and on Saturdays.  Appointments are available or on a walk-in basis.  Some of the services available in Urgent Care are the following:   
Laceration Repair
Treatment of Broken/Fractured Bones-splinting & casting
Abrasions/Burns/Debridement
EKG
Nebulizer Breathing Treatments
Catheter Insertion/Removal-for infections
Foreign Body Removal
DMV or Sports Physicals
for administrative purposes
Work Related Injuries
Lab & Drug Testing
Ultrasound
Our Ugent Care staff is ACLS certified and our Urgent Care Physician is board certified in Emergency Medicine.
---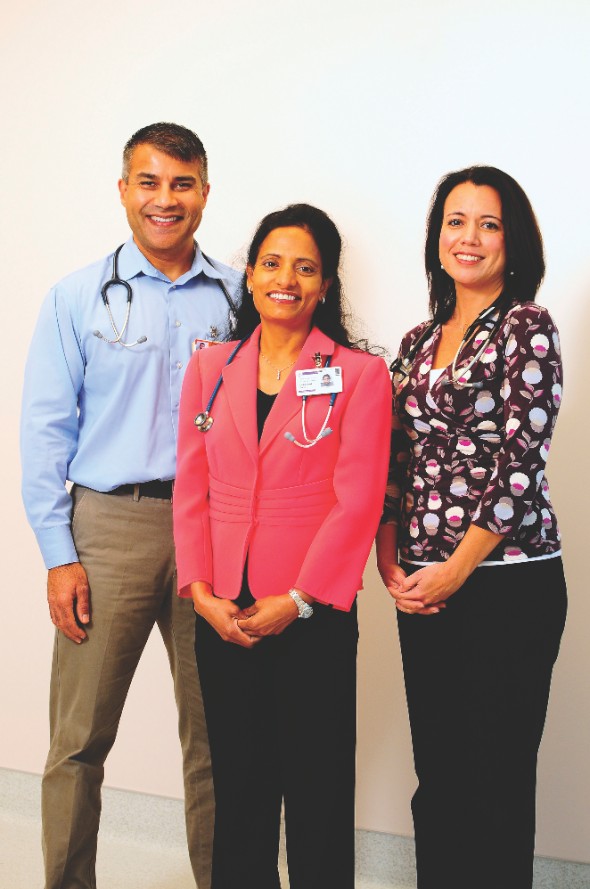 Dr. Khaira, Dr. Avala and Dr. Arca
Roseville Pediatric Medical Group, Inc.
Doctors Khaira, Avala and Arca have recently relocated their practice to 902 Cirby Way in Roseville and are open to new patients. Their practice is limited to infants, children, adolescents, and young adults. Their primary focus is on comprehensive patient care including regular checkups, preventive care, sick visits, and coordination of care. The Doctors along with their staff of nurse practitioners are fluent in multiple languages to better serve the community and their patients. In addition the practice provides education and support to first time parents, breastfeeding and lactation support and asthma related services. There is also a strong focus on dietary counseling, nutrition education, along with many other concerns.
Dr. Khaira is actively involved in the community and devotes free time voluteering his time and educating children on healthy eating habits and safe exercise routines.  Dr. Arca is better known for her weekly article in the Sacramento Bee 'Confessions of a Dr. Mom', and maintains an active award winning blog by the same name.  Dr. Avala volunteers at local community centers and provides free medical exams for impoverished children who otherwise receive no healthcare.
What sets our pediatric clinic apart from the big corporate healthcare providers is that we are local, home grown, and fiercely independent. Our doctors work with one focus, you and your child. The comprehensive approach to our care makes your child's health our number one priority. Many of us have forgotten the advantages of having a pediatrician that you know will always be there for those late night fevers, and coughs. Our office is fully integrated and utilizes all available advances such as chartless medical records.  Parents can access their childs records online, and can view labs and make requests thru My Health Online, or Relay Heath.  Come by and take a tour.
Roseville Pediatrics accepts most major insurance carriers, and our Doctors are active providers at all area hospitals. Give us a call 916-789-1798, or check us out on the web at www.rosevillepediatrics.com.
---
SPECIAL PROMOTIONAL SECTION
---
If you would like to be included in one of Style's Special Promotional Sections, please contact Debra Linn at 916-988-9888 x114 or [email protected].
---
SPECIAL PROMOTIONAL SECTION
---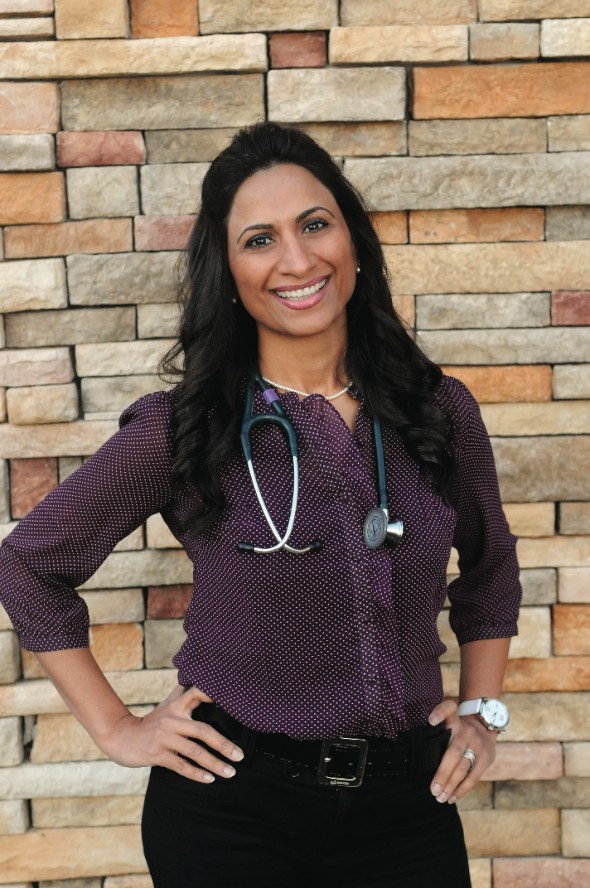 Jaiwant Rangi, MD, FACE
Board Certified in Diabetes,
Endocrinology and Metabolism
3106 Ponte Morino Dr., Ste. C
Cameron Park
530-677-0700  |  www.capitolendo.com
Welcome to a New Year and a New You!  Dr. Rangi introduces her new Medical Weight Loss Program. Started in June of 2012, this program has successfully helped patients lose 10 to 30 lbs. in the 6-12 week program.  The program is tailored to each individual's medical conditions, needs and limitations.  In some cases the patients have also lowered or even stopped medications such as insulin, blood pressure and cholesterol medications. The Center for Medical Weight Loss offers individualized plans and strategies not available to non-physician weight loss programs.  To help bring in the New Year with a commitment to better health, Dr. Rangi is scheduling initial consultation for only $39 which includes evaluating medical history, understanding limitations, obtaining a Body Composition Analysis and offering information on available programs. Dr. Rangi is a board certified endocrinologist also offering comprehensive Diabetes management and care of endocrine disorders, and offers the latest technology including use of Insulin pump and continuous glucose monitoring.
---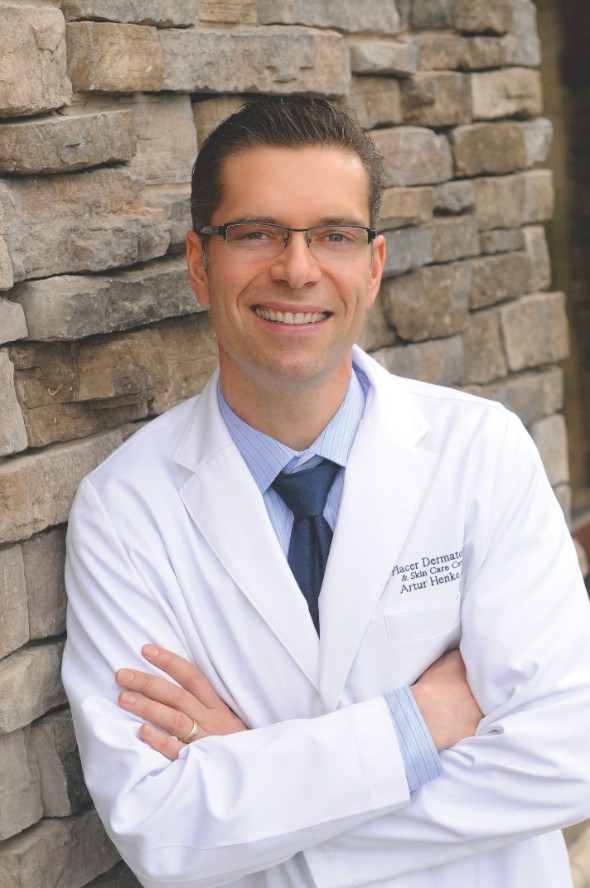 Placer Dermatology
Artur Henke, M.D.
9285 Sierra College Blvd.  |  Roseville
916-784-3376 (DERM)
www.placerdermatology.com
Dr. Artur Henke, a board certified dermatologist, has extensive experience in medical, surgical, and cosmetic dermatology. He did his training at UC Davis Medical Center, where he was Chief Resident. Dr. Henke has been a Northern California resident for 26 years, and in 2008, realized his dream of building Placer Dermatology & Skin Care Center, a state of the art dermatology practice in Roseville, California. Dr. Henke volunteers as Assistant Clinical Professor at UC Davis, and is an active member of several medical societies, including the American Academy of Dermatology.
Dr. Henke specializes in the recognition and management of all types of skin cancer including melanoma, pre-cancers, benign skin growths, acne, skin infections, and skin diseases such as eczema and psoriasis. Dr. Henke performs surgery on all areas of the body and offers cosmetic procedures such as Botox. By addressing your skin condition in a timely and expert manner, Dr. Henke can alleviate many symptoms and prevent complications. Dr. Henke looks forward to providing you with his expert care while addressing your entire family's dermatologic needs in a comfortable and friendly environment.
Dr. Henke and his wife, along with their two children are active members of the community and enjoy living in the area.
---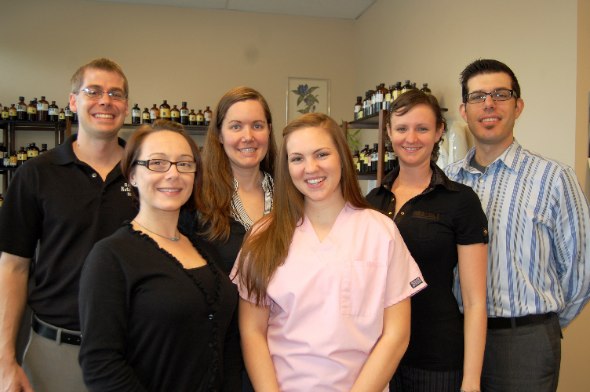 Front Row: Dr. Niki Young, ND; Britania Baird (Naturopathic Assistant)
Back Row: Justin Raithel (Office Manager); Dr. Anita Larrow, ND;
Dr. Michele Raithel, ND; Dr. Joel Morgan, ND
Revolutions Natural Medical Solutions
189 Blue Ravine Rd., Ste. 110  |  Folsom
916-351-9355
www.revolutionsdocs.com
Our Naturopathic Doctors specialize in safely coordinating natural therapies with your current health plan.  While our doctors use many of the same physical exams and laboratory tests as medical doctors, their intention is to take care of the whole person and treat the cause of disease, not just the symptoms. Treatments include botanical medicine, diet, nutritional supplementation, intravenous and injection therapies, bio-identical hormones, hydrotherapy, homeopathy and other science-based natural therapies.  Our team of doctors provide expertise in a wide range of health needs including pediatrics, autism spectrum disorders, developmental disorders, gastrointestinal issues, chronic disease, pain management, detoxification, women's medicine, bio-identical hormones, peri-menopause, menopause and weight loss.  Revolutions Natural Medical Solutions is a family clinic where the individual is respected in the process of healing which we feel is the "next step in the evolution of modern medicine".
If you would like to meet one of our doctors and learn more about naturopathic medicine before becoming a patient, please call 916-351-9355 to schedule a free 15 minute consultation.
---
SPECIAL PROMOTIONAL SECTION
---
If you would like to be included in one of Style's Special Promotional Sections, please contact Debra Linn at 916-988-9888 x114 or [email protected].
---
SPECIAL PROMOTIONAL SECTION
---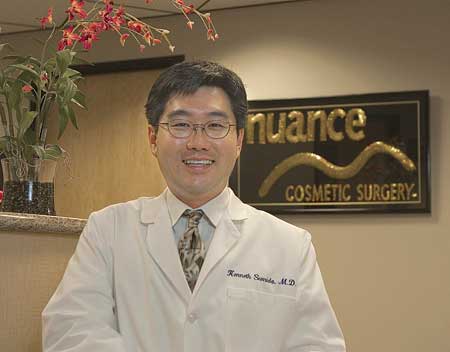 Nuance Cosmetic Surgery Center
Dr. Ken Sumida
1641 Creekside Dr., Ste. 100  |  Folsom
916-984-4242  |  www.nuancecs.com
Dr. Ken Sumida and the staff at Nuance Cosmetic Surgery Center aim to improve your natural appearance and reverse some signs of aging. Nuance offers surgical and non-surgical procedures, including face lifts, eyelid lifts, breast enhancements and tummy tucks, facials, medical facials, Botox, restylane, and chemical peels. If you're not sure if cosmetic surgery is for you, Dr. Sumida offers seminars that allow patients to explore the various methods of looking younger. Dr. Sumida encourages first time patients to seek out a number of plastic surgeons so they can find the one where they feel most comfortable.
---
SPECIAL PROMOTIONAL SECTION
---
If you would like to be included in one of Style's Special Promotional Sections, please contact Debra Linn at 916-988-9888 x114 or [email protected].