Nature's Keepers
Mar 01, 2013 09:40AM ● By Style
Photos by Dante Fontana, © Style Media Group.
This month we welcome the return of the vernal equinox.
Spring has sprung, and bright skies and warming temperatures beckon us onto our trails and lakes. In the Sacramento region, four million people a year head to Folsom Lake State Recreation Area (SRA) to bike, hike, swim, fish and camp. This treasure in our backyard – 6,000 acres of western beauty – is the most visited state park in California.
Maintaining and protecting the park is the job of the budget-strapped state Department of Parks and Recreation, but now there's a local organization committed to helping. Four years ago, avid trail users Linda McDonald of Fair Oaks and Crystal Tobias of Folsom formed the nonprofit Friends of Lakes Folsom and Natoma (FOLFAN) to support the Folsom Lake SRA. As an official State Parks Cooperating Association, FOLFAN is chartered to support and help raise funds for park programs, including education and interpretation.
Though still a fledgling group, FOLFAN has racked up an impressive list of accomplishments. The organization founded and runs the Adopt-the-Parkway program within the Folsom Lake SRA and sponsors Kids Don't Float, which lends free life vests to children at Beals Point in Granite Bay. The group also participates in Earth Day and the annual Great American River Cleanup – using kayaks to clean the Lake Natoma shoreline – and last year took part in the Electricity Fair at the Folsom Powerhouse, a historic site within the park.
FOLFAN's portion of the Adopt-the-Parkway program covers the 15 miles of paved trail from Lake Natoma to Beals Point, the only paved trail in the park. Volunteers – who each take responsibility for one mile – can be financial sponsors, donating $1,250 a year to help pay for trail upkeep, or stewards, who devote at least 20 hours each quarter to cleaning and repairing their mile.
McDonald, who is the group's president and also a steward, says she has found "anything and everything" when cleaning her portion of the trail. Wrappers for rehydrating gels are the most common items, she says. The most unusual articles she has come across were two identical religious statues found under different bridges.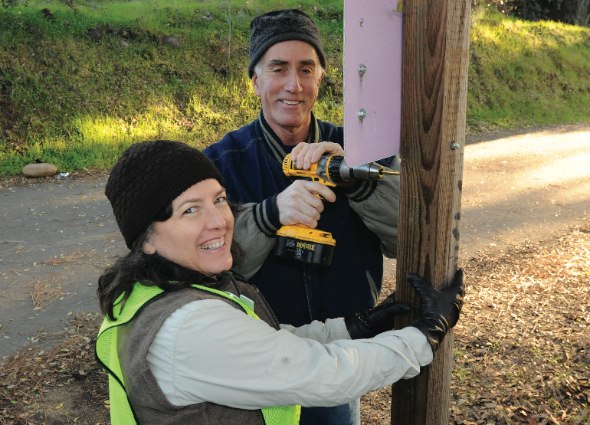 Keeping the trail clean makes for a better experience for users and safer for wildlife, too. Especially dangerous litter includes plastic bags, which can resemble jellyfish and clog animals' digestive systems when swallowed, and fishing line, which entangles birds.
Without FOLFAN, says Rich Preston, sector superintendent for Folsom Lake SRA, "there would definitely be a lot more garbage on the trails that folks would have to contend with. Our maintenance crew is pretty small right now, and with FOLFAN we're able to focus on our busiest areas." If cleaning trails sounds like work, McDonald is quick to point out that FOLFAN is a "fun group, too."
"We appreciate the great recreational resources we have in our backyard," she says. "We are planning more social opportunities where our members can get together to bike or do group recreational activities."
---
For more information, visit folfan.org.