Distinctive Dentists
Feb 04, 2013 03:27AM ● By Style
Presenting Style Magazine's Distinctive Dentists special advertising section.
Some of our area's best dentists and orthodontists have chosen to highlight their practice within the pages of the area's most read community magazine. Each month Style plans on choosing a different industry to give these businesses a unique opportunity to stand out and highlight their products and services. And when you visit these businesses, make sure you tell them you saw their profile in Style!
---
SPECIAL PROMOTIONAL SECTION
---


Standing (left to right) Frank Resch, DDS; Barry MacDonald, DDS – pediatric dentist;
Mark Arena, DDS Seated (left to right) Mark Weiner, DDS – oral surgeon;
Michael Gade, DDS; A. Randy Wilkes, DDS
Blue Oak Dental~Rocklin
5410 Park Dr.  |  Rocklin
(near the corner of Park & Stanford Ranch Rd.)
916-435-2475  |  www.blueoakdentalrocklin.com
Providing over 20 years of dental excellence in the community, Blue Oak Dental ~ Rocklin's philosophy is simple: provide exceptional and comfortable dental care that is honest, compassionate and respectful to our patients and their families.
We have four experienced and caring general dentists to provide all of your general dentistry and cosmetic needs.  Our office also features a board certified pediatric dentist, Dr. Barry MacDonald.  He and his team provide excellent care and concern for children.  Additionally, we have a board certified oral surgeon, Dr. Mark Weiner to take care of all of your oral surgery needs.
We invite you, your family and friends to be part of our dental family.  We are certain that you will enjoy our professional staff and friendly atmosphere.
The group offers flexible financing and is currently accepting new patients.  Please ask about our $50 new patient certificate.
---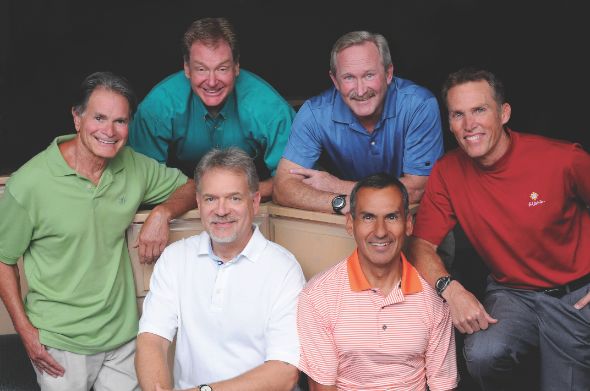 Standing (left to right)  H. Michael Balch, DDS; Michael Gade, DDS; A. Randy Wilkes, DDS;
Dwight Miller, DDS, MS ~ orthodontist; Seated (left to right) Jeffrey McClure, DDS; Ronald Milla, DDS;
(missing) Gregory Steiner, DDS, MS – periodontist
Blue Oak Dental~Roseville
"Care for a lifetime" is the cornerstone upon which Blue Oak Dental ~ Roseville was founded over 20 years ago in Roseville.  Our friendly staff and dentists provide quality dental care with an emphasis on esthetic, tooth conservative dentistry. They are committed to the integrity of their profession and honesty of their treatment recommendations.
The office is open extended appointment hours – 7 a.m. to 7 p.m. each weekday, and 7 a.m. to 1 p.m. on Saturdays to accommodate your busy schedule.  Blue Oak Dental ~ Roseville offers general dentistry, implant dentistry, orthodontics (traditional braces and Invisalign), periodontics and cosmetic dental services.
At Blue Oak Dental ~ Roseville, we strive for more than just a beautiful smile.  Healthy teeth and gums are essential to good health and that's why our office features an in-house periodontist, Gregory Steiner, D.D.S., M.S., and an in-house orthodontist, Dwight Miller, D.D.S., M.S.
"We are committed to helping our patients look and feel their best through optimal dental health," say the doctors of Blue Oak Dental ~ Roseville.
The group offers flexible financing and is currently accepting new patients.  Please ask about our $50 new patient certificate.
---
SPECIAL PROMOTIONAL SECTION
---
If you'd like to promote your business on Stylemg.com, please contact Debra Linn at 916-988-9888 x114, or via email at [email protected].
---
SPECIAL PROMOTIONAL SECTION
---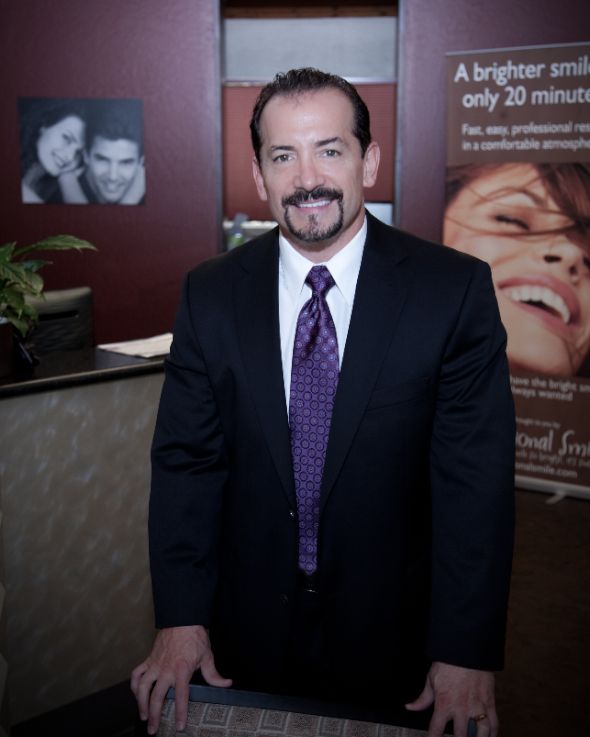 Barry N. Mercer, D.D.S.
Dr. Barry Mercer provides compassionate, caring, individualized cosmetic and family dentistry using the latest dental technology and cosmetic artistry with an extra gentle touch. Dr. Mercer has been providing exceptional care from his warm, comfortable, conveniently located office in Loomis, since 1992.
Trusted by "Generations" of his patients!
Consistently voted by his loyal patients as "Best of The Best" in the Loomis News
Dedicated, Professional, Friendly Staff
"Providing modern, quality dentistry in a relaxed, friendly atmosphere is the hallmark of my practice! I want my patients to feel that they have my undivided attention and that their dental needs and concerns are heard and realized!"
A graduate of Creighton University Dental School, decorated officer in the United States Army Dental Corp and co-founder of the Loomis Center of Cosmetic Dentistry; Dr. Mercer and his exceptional staff, welcome you and your family!
To learn more about Dr. Mercer's practice please visit our Website at www.drbarrymercer.com.
---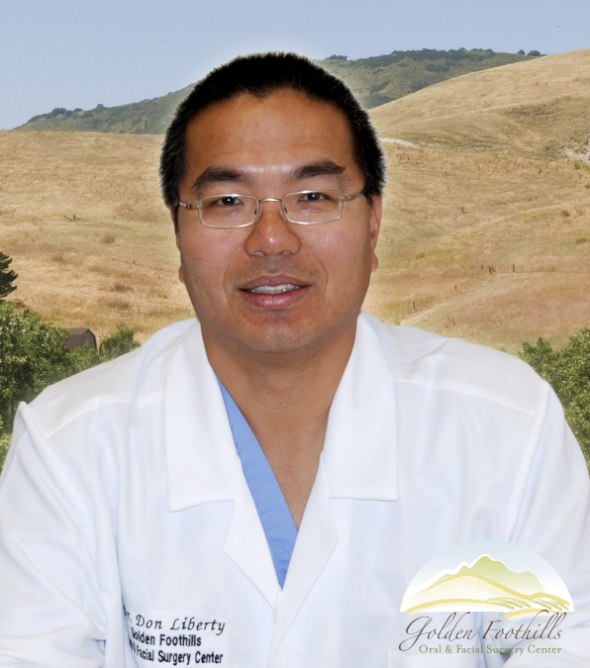 Donald R. Liberty, D.D.S., Inc.
Golden Foothills Oral & Facial Surgery Center
I was born in Seoul, Korea and moved to Guam after the age of two. I was educated on the island and after completing high school, obtained a BBA with major in Finance and Economics from the University of Guam. After obtaining my BBA degree, I left the island to attend dental school.
 My DDS degree is from Indiana University School of Dentistry followed by a four-year residency in Oral and Maxillofacial Surgery at Indiana University Medical Center in Indianapolis, Indiana. After residency, I was a Visiting Assistant Clinical Professor at Indiana University School of Dentistry, and then spent seven years as a Maxillofacial Surgeon for The Permanente Medical Group. I have been a Major in the US Army Reserve in the 328th Combat Support Hospital for 11 years.
I practice full scope oral and maxillofacial surgeries which include: dentoalveolar extractions (wisdom teeth), dental implants, orthognathic surgery, facial trauma surgery, TMJ disorder surgery and obstructive sleep apnea surgery. It is my philosophy to "treat patients just like I would like to be treated as a patient."
My office hours are from 8:30 a.m. to 5 p.m. and  most insurance plans are accepted.
My wife, Diane, and I have three children. Our family enjoys outdoor activities including: sailing, boating, golf and attending soccer games.
---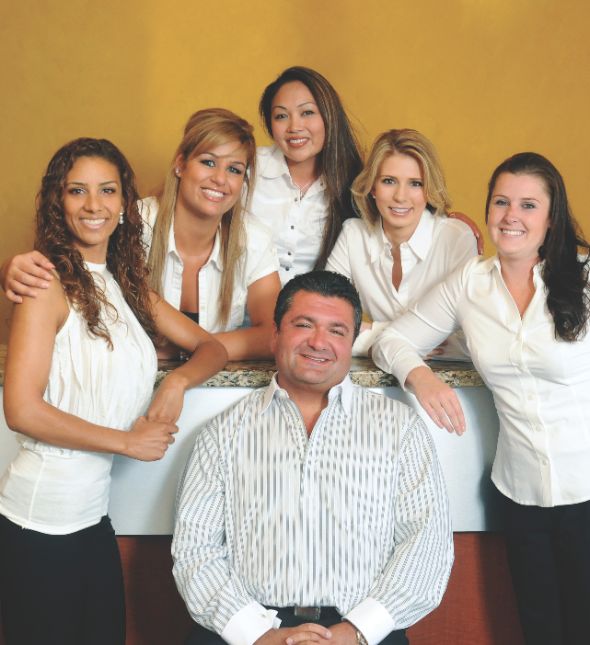 (left to right) Toriyana, Nejla, Emilynn, Kelli, Jessica and Dr. Khodai in the middle
Dream Smiles in Roseville
Shahram Khodai, D.D.S.
3984 Douglas Blvd., Ste. 170
Roseville
916-771-0330
www.rosevilledreamsmiles.com
At Dream Smiles in Roseville we believe that a healthy mouth and a sparkling smile are your best assets.  We believe good dentistry is more than excellent clinical skills and state of the art equipment and that establishing lasting relationships with our patients, based on mutual trust and open communication, is an important factor.  We take great satisfaction in helping you maintain optimal oral health.  Our practice is devoted to comprehensive and preventative as well as cosmetic and sedation dentistry.
Dr. Sherman Khodai at Dreams Smiles has been committed to making your experience the very best for over 17 years.  Our office offers a full spectrum of procedures to enhance and brighten your smile including teeth whitening, crowns, implants, custom dentures, and our patient's favorite, sedation dentistry.  Sedation dentistry will provide you a way of getting your dental work done while totally relaxed and completely comfortable.  Why not sleep through your dental appointment? With Sedation dentistry you can regain your health and have the fabulous smile you always wanted comfortably every time.
---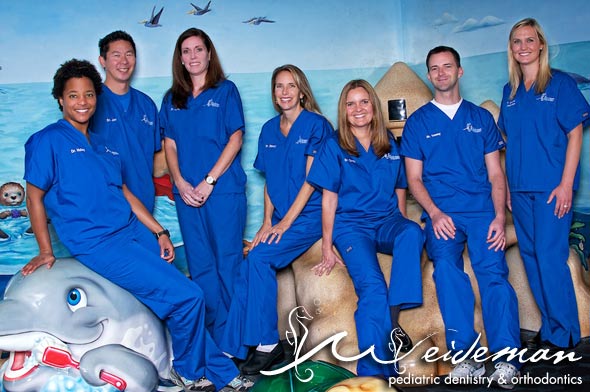 Weideman Pediatric Dentistry & Orthodontics
Sunrise Dental Plaza
7916 Pebble Beach Dr., Ste. 101
Citrus Heights
916-962-0577
916-962-0581 (New Patients & Tours)
www.SacChildrensDentist.com
TRIED, TRUE, AND TRUSTED!
Voted Top Pediatric/Orthodontic Dental Practice in Roseville, Granite Bay, Folsom, El Dorado Hills and Sacramento
4 Board Certified Specialists in Pediatric Dentistry
Specialist in Orthodontics  
2nd Generation Family-Run Pediatric/Orthodontic Practice
Trusted by Parents for Almost 40 Years
Thousands of Happy Children
Advanced Training in Treating Patients with Special Needs
Office Specifically Designed for Children
New Innovative and Fun Orthodontic Suite Now Open
---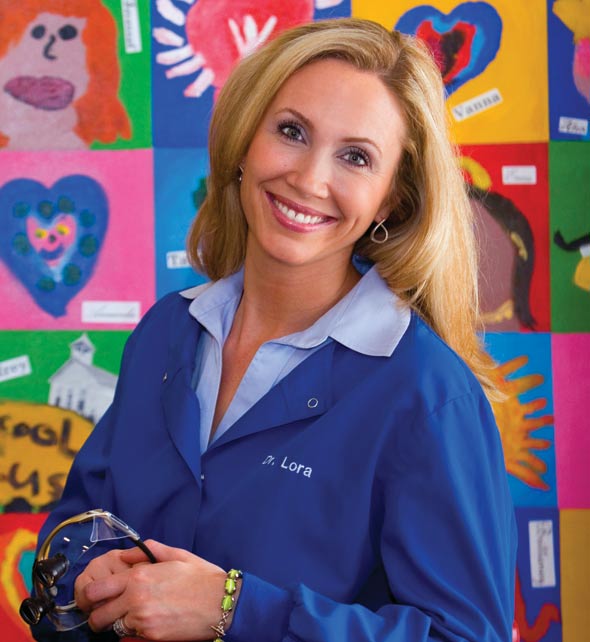 Rocklin Pediatric Dentistry
Lora Foster Rode, D.D.S.
2221 Sunset Blvd., Ste. 101  |  Rocklin
916-435-9100
www.RocklinPediatricDentistry.com
Dr. Lora Foster Rode is living her dream! As a young girl growing up in Fair Oaks, her own childhood dentist inspired her to practice dentistry. After graduating from Cal Poly in San Luis Obispo and UCLA School of Dentistry, she completed a two-year residency specializing in pediatric dentistry at the Children's Hospital Medical Center in Cincinnati, Ohio. Returning back to her hometown as a board certified pediatric dentist, she reintroduced herself to the community and married Jim Rode, a Sac State graduate who also attended Earl LeGette Elementary School in Fair Oaks. Dr. Lora then joined the community concert band at Sierra College with two of her fellow Bella Vista High School band mates. In her dental practice, Dr. Lora's philosophy is to promote health and wellness through education and personalized care, and to create beautiful smiles for Sacramento's young people. Her passion is working with kids, and you can tell by the walls of her new dental office in Rocklin, which are lined with artwork painted by local school children. Dr. Lora has accomplished her goal of creating Rocklin Pediatric Dentistry, and she's doing exactly what she dreamed of as a little girl!
---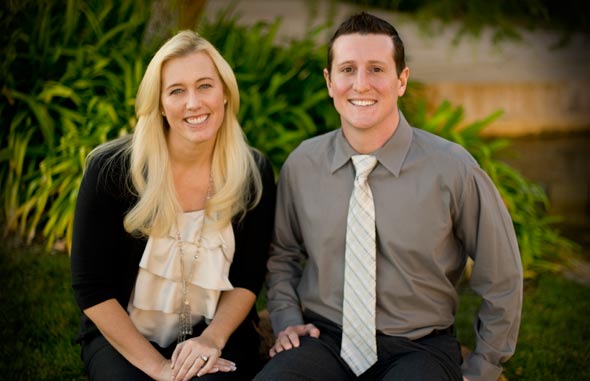 Shellie Edwards, D.D.S. and Ryan Everhart, D.D.S.
1192 Suncast Ln., Ste. 3  |  El Dorado Hills  916-939-9912
www.edwardseverhartdental.com
Congratulations! After working together for over 2 years Drs. Edwards and Everhart are pleased to announce their partnership is official. They truly believe that working together as partners allows them to provide exceptional care to their patients while maintaining a balanced family life. As partners their focus is to continue to develop personal relationships with their individual patients, but also provide the flexibility to all patients to schedule with either doctor when needed. Their office is now open Monday-Friday with a doctor on call at all times. This new schedule can accommodate multiple family members at one time making your dental visits more convenient.
Described as approachable and honest, these doctors focus on patient education and preventive care. Drs. Edwards and Everhart are skilled in all aspects of dentistry which include: Cosmetic bonding and veneers, crowns and fillings, wisdom teeth extractions, implant placement and restoration, root canals, dentures and pediatric procedures. Their state of the art office is equipped with the most modern dental and sterilization techniques.
The entire office strives to create a gentle, caring and comfortable environment that patients appreciate as soon as they walk through the door. Drs. Edwards and Everhart are passionate about life, family and their profession. This makes patients of all ages look forward to coming to the dentist.
---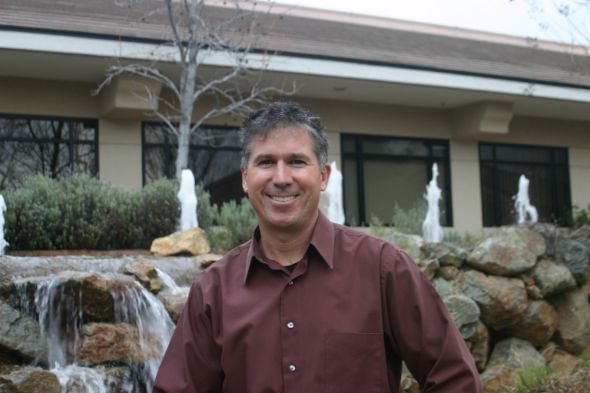 David Lopes, D.D.S.
1150 Suncast Ln., Ste. 6  |  El Dorado Hills
916-933-4646
www.davidlopesdentistry.com
Doctor David Lopes would like to welcome you to a new standard of dental care. By combining the most advanced dental technology and a personalized, one-on-one approach to your care, Dr. Lopes and his team will make you and your family more comfortable than you ever thought possible.
Smile Designs by Dr. David Lopes is a new concept in modern dentistry. His post-doctoral education places him in the top five percent of all dentists nationwide. Being an expert in some of the most advanced dentistry available, Dr. Lopes is both a published lecturer and guest speaker. Yet, despite all of the clinical accolades, Dr. Lopes' most compelling feature is something even rarer in today's rushed world...he listens.
Your needs, desires and concerns are our top priority. It is our goal to help you and your families create smiles that will last a lifetime.
We take every step to deliver a first-class dental experience; warm freshly scented towels are provided after your appointment. Our new massaging dental chairs help you relax and rejuvenate you during your dental appointment. For the kids, we have an awesome treasure chest, balloons, and our "Kid's Zone" makes every visit enjoyable for your kids and for you.
---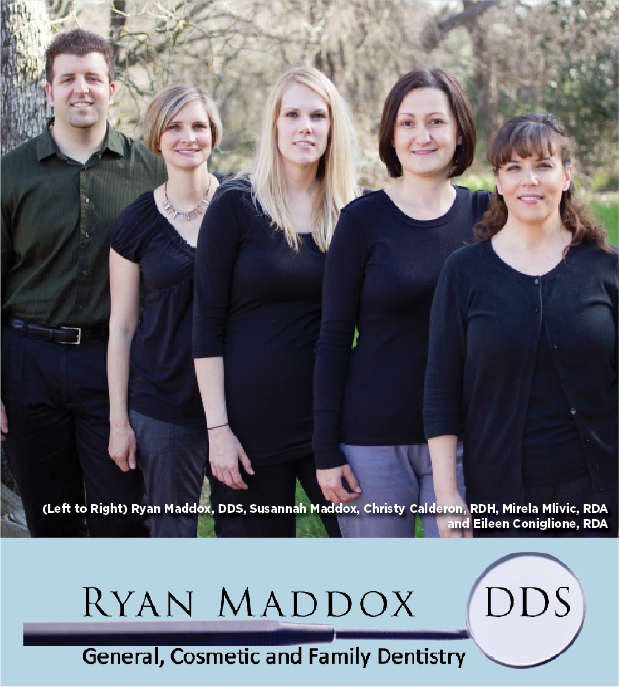 Ryan Maddox, D.D.S.
General & Cosmetic Family Dentist
1568 Creekside Dr., Ste. 202  |  Folsom
916-983-1862  |  www.maddoxdental.com
Meet Dr. Ryan Maddox! He is proud to call Folsom home!  
Dr. Maddox cares deeply about each patient and goes the extra mile to ensure that each person receives the best care possible. He is passionate about practicing dentistry that is high quality and lasts over the long term through the use of state of the art technology and the best dental supplies and labs.  
The goal of Dr. Maddox and his staff is to put patients and their needs first while having fun working in a harmonious and compassionate environment. They strive for each patient to have the most comfortable possible experience at each visit.
Dr. Maddox has received excellent reviews from patients that are extremely satisfied with the quality of care and service they receive. Reviews range from the ease of scheduling an appointment to the friendly staff to the lack of waiting time to be seen.  The practice is currently accepting new patients and Dr. Maddox would love to welcome you and your family into his dental family.    
Dr. Maddox is a graduate of Loma Linda University where he received top recognition for clinical excellence. He enjoys spending time with his wife and kids and restoring his 1967 Buick Riviera.
---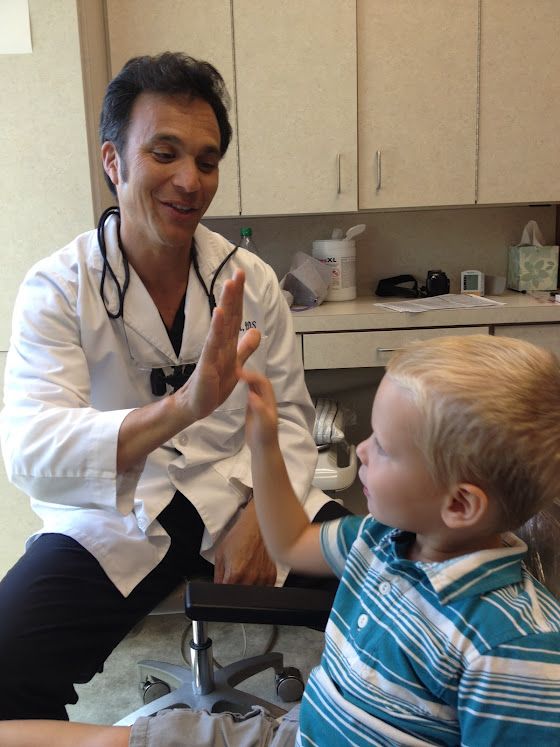 Dr. Chen and his new little buddy celebrate a great first check up!
George D. Chen, D.D.S.
Esthetic Reflections In Dentistry
785 Hana Way, Ste. 103  |  Folsom
916-983-6051  | 
www.folsomdentist.com
As a parent, you want the very best for your kids.  You desire to grow happy, healthy and successful children and to provide them the tools to grow into a thriving adult.  Finding the right dentist for your children is part of that, too.  "My desire is to make our little patient's experience fun and happy, while helping them stay cavity free so they grow up looking forward to going to the dentist."  Dr. Chen and his staff strive to make all of their patients – especially their littlest ones – comfortable and relaxed while giving exceptional service and the highest quality care.
Dr. Chen provides general and cosmetic dental care for the entire family. He is State Certified in Adult Oral Conscious Sedation and focuses on esthetic and implant dentistry.  Dr. Chen has a philosophy of preventing disease both in dental and whole body health.  As a result, he works closely with his patients' physician when signs of disease are noted.   "Patients and their needs come first when determining their care. We want to help improve their self-image with a beautiful smile and excellent oral health in a kind and caring environment."

www.folsomdentist.com
916-983-6051
---
SPECIAL PROMOTIONAL SECTION
---
If you'd like to promote your business on Stylemg.com, please contact Debra Linn at 916-988-9888 x114, or via email at [email protected].
---
SPECIAL PROMOTIONAL SECTION
---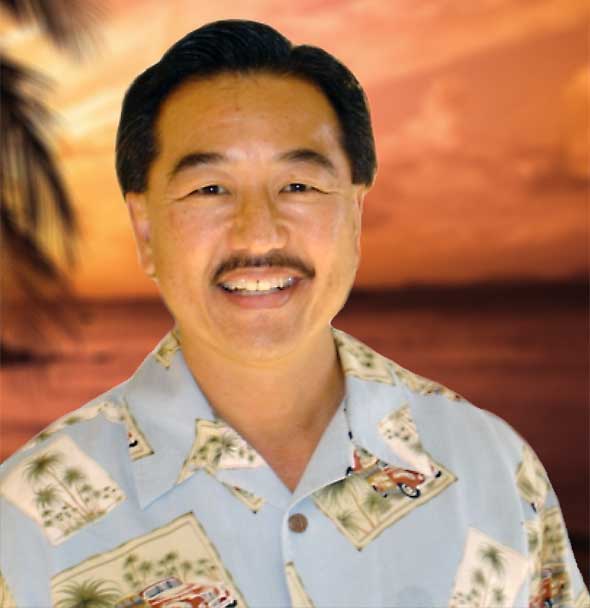 Aloha Family Dental
Wayne K. Tsutsue, D.D.S.
1020 Suncast Lane, Ste. 103  |  El Dorado Hills
916-941-2447  |  www.alohadentaledh.com
If his Japanese last name is too difficult to pronounce, call him DR. WAYNE!  Born and raised in beautiful Hawaii, Dr. Wayne brings the "Aloha Spirit" to dentistry in his state-of-the-art office.  Dr. Wayne, a graduate of USC School of Dentistry, caters to each patient's individual needs in a skilled, gentle and caring manner.  Come visit Dr. Wayne and his dedicated staff with your dental concerns and questions.  Serving your comfort, safety, and health is the number one goal at Aloha Family Dental.
---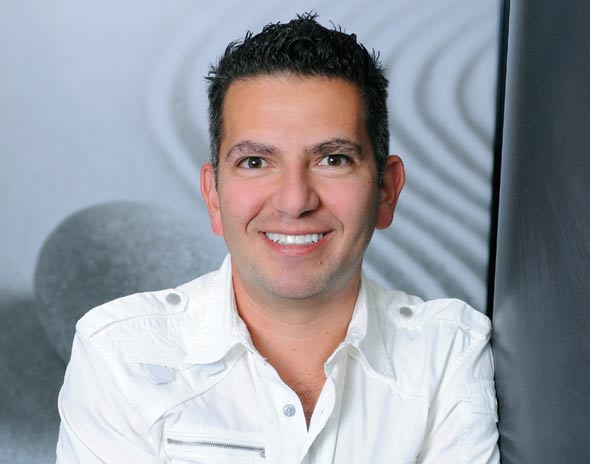 Rocklin Gentle Dental
Sevan Yergatian, D.D.S.
6000 Fairway Dr., Ste. 16  |  Rocklin  |  916-632-2000
www.gentle1.com
Outstanding cosmetic and general dentistry in a comforting environment is a reality at Gentle Dental Rocklin. Dr Sevan Yergatian focuses on providing his patients with a healthy smile that radiates confidence and beauty.
Dr Yergatian is a preferred provider for most dental plans. To learn more about Gentle Dental Rocklin and see what their patients are saying about them, please visit online at www.gentle1.com.
A beautiful smile is only a phone call away!
---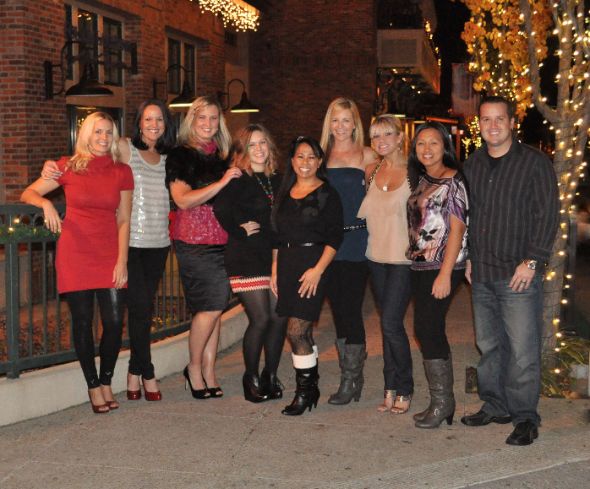 Ryan Higgins, D.D.S.
2180 E. Bidwell St., Ste. 150  |  Folsom
916-984-9933  |  www.dentistinfolsom.com
At Dr. Higgins office we are a fun and skillful group. We go to great lengths to ensure the best possible treatment available. "My goal was to build a dental office where quality family dentistry meets a high cosmetic result in a comfortable environment," says Dr. Higgins. "Everyone who comes to our office is treated with a warm welcome and paramount customer service." Dr. Higgins office is equipped with the best – from massage chairs to overhead plasma screens to the latest in digital technology including Intra oral cameras, digital x-rays, soft tissue lasers and same-visit crown milling capabilities. We also have a kid's room with video games, toys and movies. We hope to see you soon!
---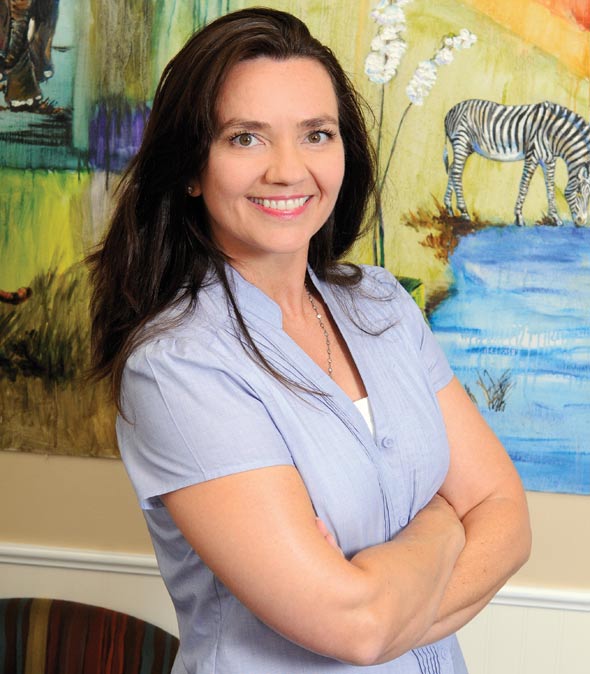 Sydney J. Moore, D.D.S.
Dr. Sydney Moore understands how worrisome it is for parents whose children need dental treatment. "Will it be hard for them?" "How will my child be cared for?" Dr. Sydney has three little ones of her own, ages 3 to 9, and brings all her "mommy's" gentle patience and experience to her practice. A Board Certified Diplomat  Specialist in Pediatric Dentistry, Dr. Sydney's practice (est. 1991) is small, friendly and relaxed. Dr. Sydney graduated from University of The Pacific School of Dentistry, San Francisco, and then completed the two year residency in her specialty. She and her exceptional staff will take the best, most gentle care possible of your child.
---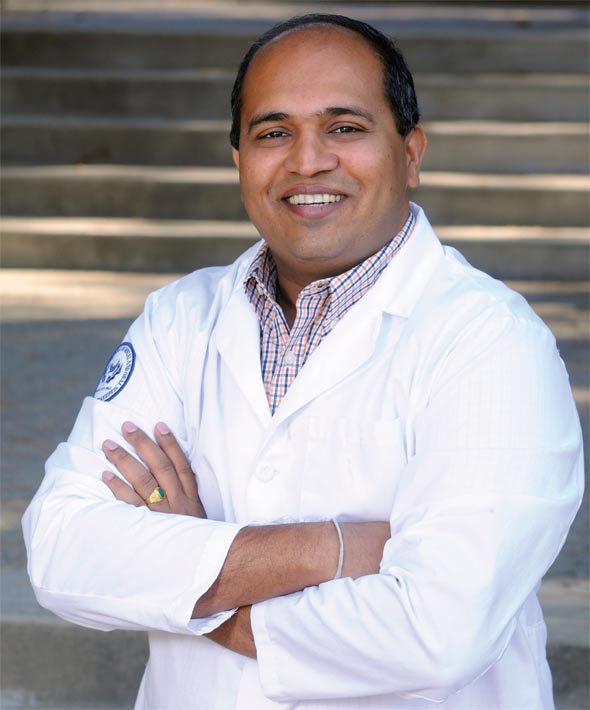 Amar Pawar, D.D.S.
Dr. Pawar is a graduate of Columbia University School of Dental & Oral Surgery plus has additional training in Advanced Education in General Dentistry from the University of the Pacific, San Francisco. Dr. Pawar and his family reside in Folsom. He has a passion for travelling and enjoys visiting different parts of the world. Dr. Pawar is always being applauded by his patients for his "soft touch" & his gentle clinical skills. One cleaning with him will change your perceptions of harshness associated with dentistry. Dr. Pawar has been practicing in Folsom for more than 6 years.  He is happy to offer Saturday and evening hours for your convenience. Give them a call.
---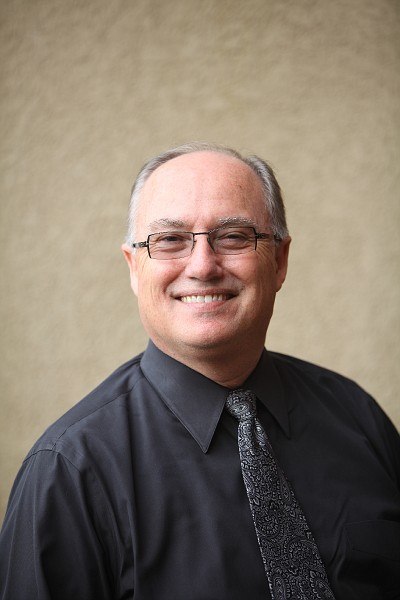 Image Orthodontics
Sidney Wisdom, D.D.S., M.S.
1271 Pleasant Grove Blvd., Ste. 100  |  Roseville
916-783-5239  |  www.imageorthodontics.com
At Image Orthodontics, Dr. Wisdom provides children and adults high quality orthodontic care in a comfortable environment. Dr. Wisdom, practicing in Roseville since 1986, continues to deliver superior orthodontics through his and his staff's expertise. He holds a genuine concern for his patients, in part due to raising five children. We use the latest technology including, Invisalign, SureSmile and self-ligating brackets to truly turn precision into art at Image Orthodontics.  We are within the top 1% of doctors providing Invisalign in North America. 0% financing, various payment plans and flexible hours are available.  Call 916-783-5239 to schedule your complimentary consultation!
---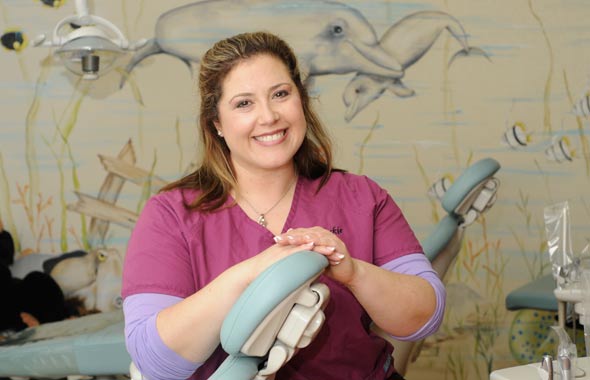 Victoria Sullivan, D.D.S.
Magic Smiles Dentistry for Children and Young Adults
5009 Windplay Dr., Ste. 1  |  El Dorado Hills
916-941-2341  |  www.magicsmilesdds.com
As a certified pediatric dentist, and Diplomate of the American Academy of Pediatric Dentistry, Dr. Victoria Sullivan has 17 years of experience and offers a wide range of services. Her caring and gentle staff is sensitive to children with special needs and has a variety of toys and comfort objects to assure their visit is calm and reassuring. Young patients are treated in a child-friendly, state-of-the-art office. Digital charts and X-rays are kept on file, and sedation options include IV, oral sedation, and nitrous oxide are available. Laser treatment is also available. Every child deserves to be treated by the best, in a relaxing and friendly atmosphere. The best is Dr. Vickie.
---
SPECIAL PROMOTIONAL SECTION
---
If you'd like to promote your business on Stylemg.com, please contact Debra Linn at 916-988-9888 x114, or via email at [email protected].