The Glass Slipper
Dec 31, 2012 07:47AM ● By Style
Photos by Dante Fontana, © Style Media Group.
Hearing a woman refer to the Mariposa Hospitality House – the primary training site of the Citrus Heights-based nonprofit, Glass Slipper – as her "dream home" (one that provided the now volunteer with an opportunity for self-improvement as a girl, and a place that she hopes will one day host her nuptials) is the fondest memory of the organization's director, D. Jacqueline Guzman.
"The house is lovely," Guzman confesses, "but the fact that she envisions us in her life is what touched my heart."
Fitting, you might say, as the Glass Slipper – run 100 percent by volunteers – is all about touching hearts and transforming lives. Since its inception in 1997, the nonprofit's mission is "to inspire women and girls to discover their true identity in a not-so-fairy-tale world and empower them for a brighter future." The organization believes that every girl should have the opportunity to discover her inherent value and full potential.

(L to R) Alex, Adriana and Selena
This belief drives Glass Slipper's wide, purpose-driven scope of services: a comprehensive slate of enrichment activities, self-development programs, life skills and coaching that represents the nonprofit's commitment to moving at-risk girls ages 12-18 in foster care toward self-sufficiency. The results are on display at Mariposa Hospitality House, which operates a culinary program while offering merchandising and customer service training through the IMAGE Boutique. Most crucially, perhaps, is that Mariposa provides positive role modeling in an on-the-job setting the organization calls "the ideal learning laboratory."
Spanish for butterfly, "Mariposa" signifies Glass Slipper's emphasis on internal and external transformation. Emotionally, programs address core issues related to restoring one's self-esteem. In support is a beauty salon that supplies complimentary, confidence-boosting cosmetology services. Particularly significant to the overall success of the nonprofit is arguably its very backbone: mentorship. "As a gender-specific organization, we understand girls," Guzman explains. "We know having someone to trust and share life with is critical. So, we serve as positive role models who genuinely care about their future… Mentoring has always been a key part of our program and is the glue that holds everything together."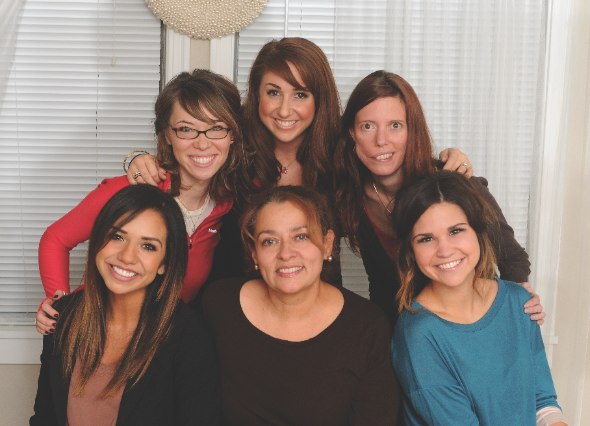 (L to R)
Top Row: Adrianna, Holly and Judi
Bottom:  Jennifer, D. Jackie Guzman and Christina
The arrival of 2013 finds Glass Slipper expanding its reach. Currently operating the IMAGE Academy, a self-development program at multiple community locations, the nonprofit will roll out an after-school program in the Sacramento City Unified School District this month. In March, plans call to rebuild Mariposa Hospitality House's old garage; upon completion, the new structure will boast a commercial kitchen and more than double the square footage to expand its culinary training, as well as a great-room concept with seating for more than 40 girls at dinner. Replications of Mariposa Hospitality House, including a residential housing component (transitional housing) for young women aged 18-24 emancipated from the foster care system in multiple communities, is also in the works.
The Glass Slipper's ambitions are impressive, but no more so than its ultimate goal. "Our hope," Guzman says, "is to create beautiful memories of their youth, and to be in their lives [through] adulthood."
---
For volunteer opportunities, more information, or to make a donation, visit glassslippergirls.org.