Snowy Retreat
Nov 01, 2012 06:20AM ● By Style
Photo courtesy of Lake Tahoe Cruises
Californians are blessed with so many winter holiday options, including Lake Tahoe's spectacular North and South Shores.
This stunning body of blue surrounded by Sierra Nevada peaks is the largest alpine lake in North America and serves as a mecca for outdoor recreation enthusiasts, foodies and lovers of mind-boggling scenic beauty. For families on the go and snow bunny beginners, Lake Tahoe resorts are waiting.   

Downhill skiing or snowboarding may not be your obsession; thankfully, sledding, tubing, ice-skating, dog sledding, sleighing, snowshoeing and cross-country skiing are also offered throughout the region, not to mention helicopter tours. Or, simply kick back with a cup of hot chocolate – virgin or spiked – and breathe in the view. Many Lake Tahoe visitors come just for the scene and scenery. Adults: Leave the kids with the Lake Tahoe Sitters (laketahoesitters.com); offered in both North and South Shore, advance reservations are recommended. 

Squaw Valley's Aerial Tram

Squaw Valley Tram photo courtesy of Nathan Kendall.
UP, UP AND AWAY!
Visitors soar to new heights and breathtaking vistas aboard Lake Tahoe trams, where they enjoy wintertime pleasures beneath snowcapped mountains.

Squaw Valley's Aerial Tram offers extraordinary views of Lake Tahoe. The tram carries riders 2,000 feet to High Camp, where visitors will enjoy skiing or relaxing at one of this year-round facility's fabulous restaurants or lounges. You'll also find the Olympic Heritage Museum and memorabilia from the 1960 Winter Olympics; admission is free with your aerial tram ride. Ice-skating at the Olympic Ice Pavilion boasts superb views of the lake as well.

The Gondola at Heavenly, located in Heavenly Village, also carries visitors 2,000 feet above Lake Tahoe year-round. But it's not the thinner air that will take your breath away – it's the views. Besides the spectacular panorama, amenities include restaurants, a cocktail lounge, accessory shop, skiing and an observation deck. Merely a half-block from the  California-Nevada state line, the gondola is just steps from major lodging. From the California base, the Heavenly Tram is for skiers and riders only.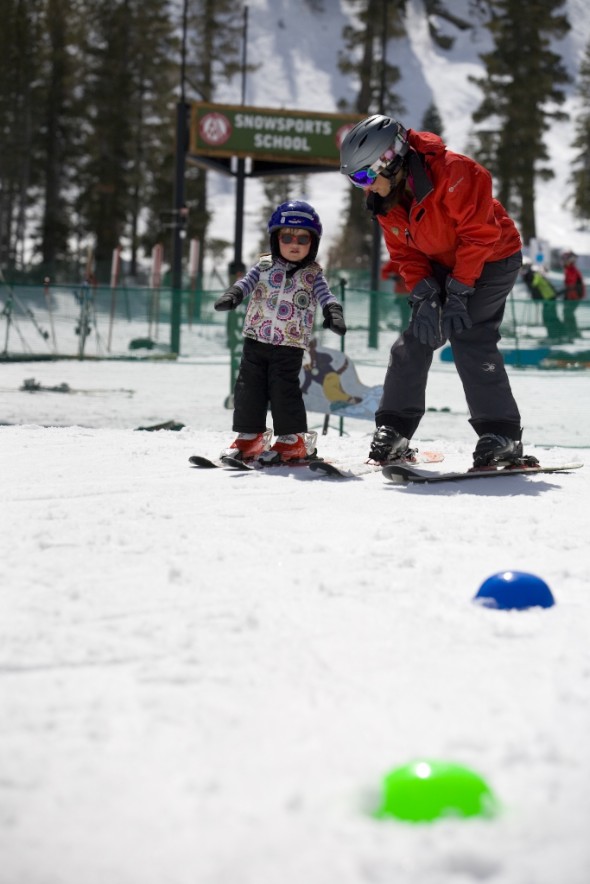 Snowboarding lessons at Alpine Meadows
Alpine Meadows photo courtesy of Ryan Salm.
SNOWPLAY
North or South Shore, there's plenty of cross-country skiing and snowshoeing locales, including Hope Valley Outdoors, Tahoe Cross Country, and Royal Gorge. Rental companies can guide you to locations that aren't organized.

The Tahoe Super Pass offers one pass with accessibility to two resorts: Alpine Meadows and Squaw Valley. A free shuttle lets you ski or snowboard both resorts in one day. Alpine Meadows' latest snowmaking advances deliver more snow and better surfaces. Partnering with Snow Park Technologies, Tahoe's only mile-long terrain park opens this season, plus a beginner progression park and a new base jib arena with four new beginner boxes. Squaw Valley's new Big Blue Express – a high-speed six-pack chairlift – gives skiers and riders access to beginner and intermediate terrain previously unreachable via the High Camp chairlift. Kids ages 6-12 will love the mini-snowmobile course at the new SnoVentures Activity Zone. The Burton Learn to Ride Center at both Squaw Valley and Alpine Meadows offers specially designed equipment for beginner snowboarders, both kids and adults.

The Tahoe Value Pass offers one pass with entry to three resorts: Heavenly, Northstar and Kirkwood. Whether you ski or ride, it pays for itself in four days. Don't miss the moonlight, stargazing and family snowshoe tours offered at Northstar.

Heavenly Ski & Ride for kids is at the base of the gondola. Relinquish your kids at the ski school and then head up the mountain for a day on the slopes. Black Bear Hollow, the latest kids' zone at the top of the gondola, features a meandering, low-angle skiing and riding trail with groomed whoop-de-doos, entry-level progression park features, small rails, gentle jumps and boxes designed to help youngsters improve. South Shore's only outdoor ice-skating rink is located at Heavenly Village, and Ripperoo, Heavenly's loveable mascot, leads a Saturday Snow Parade there through March 24.

Sierra at Tahoe has fantastic family-oriented offerings: for $39, learn to ski or ride. Themed Adventure Zones are designed to educate and entertain. Blizzard Mountain – tubing and snow play – provides snow recreation for even the youngest snow lovers. The "Star Wars Experience" helps kids as young as 3 years old learn to ride; be sure to check out the R2-D2 helmet. New this year, take advantage of Ski, Stay and Soar, plus Kids Ski Free packages. Information is available online.

Moonlight snowmobile and paddlewheel boat tours, plus lakefront cabin rentals, make Zephyr Cove Resort your all-purpose destination. Just minutes away on the California side, the new Lakeview Commons provides lake access and picnicking options even in winter.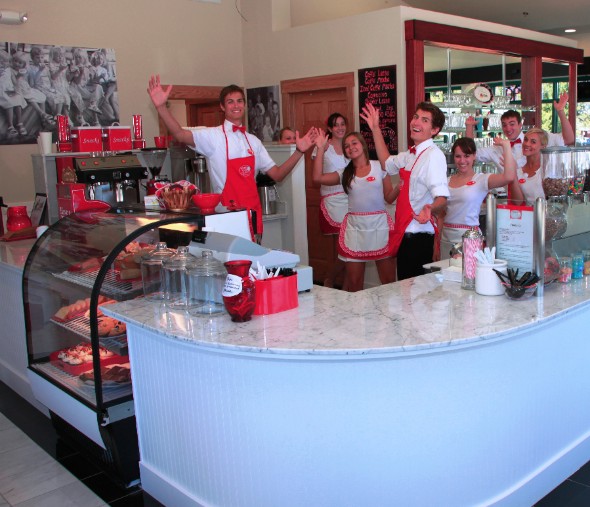 Soda jerks and servers at Red Hut
Photo courtesy of Brian H. Williams
RATIONS
Hunger seems to grow at higher elevations, and luckily, there's no shortage of provisions on either shore. Locals suggest Red Hut – a family-style favorite for more than 50 years with multiple locations – serving marvelous breakfast and lunch fare. The Ski Run Boulevard location serves dinner with an ice cream fountain and soda jerks year-round. (Ask about the breakfast "usual.") Himmel Haus, near the California Base Lodge, serves up German dinner delights and Base Camp Pizza, located at Heavenly Village by the skating rink, opened this past spring.

Historic Downtown Truckee is full of distractions, including food. Best of all, it's pedestrian friendly. Squeeze In is as popular as they come, especially for breakfast. Best Pies Pizzeria is New York-style, has a kids' menu and Monday night football specials. Don't miss the framed children's art and creative kids' menu at Dragonfly Restaurant & Sushi Bar! A new sweet-lovers essential, Cake Tahoe, is homemade to the core: think cookies, cupcakes, pies and cakes, plus it's home to  local Tahoe Creamery's gourmet ice cream. The California Welcome Center is also there to help guide your every move, seven days a week.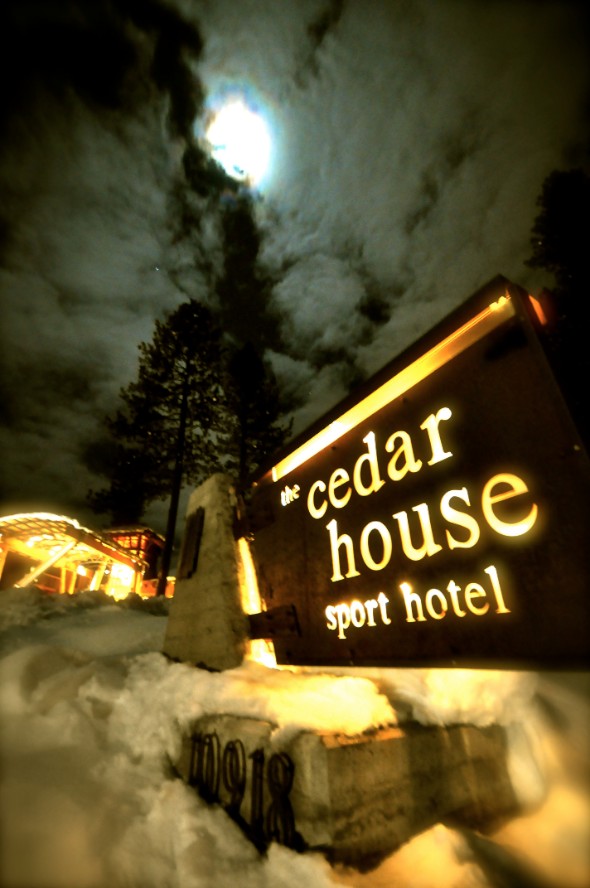 Cedar House Sport Hotel
Photo courtesy of Cedar House Sport Hotel
HIBERNATION
Major resorts, condo and vacation home rentals, brand-name chains, and casinos provide every possible slumbering option including ski-in and ski-out.

At Camp Richardson Historic Resort & Marina, cozy up in cabins, the historic hotel or a beachside inn. Marina Duplex and Richardson House are perfect for groups, offering restaurants and a sports center, plus a lakefront vista.

The family-oriented Tahoe Lakeshore Lodge & Spa has a private beach and multiple lodging choices – all with a full lake view, and within walking distance to dining, shopping and paddlewheel cruises.

The Cedar House Sport Hotel has a grown-up feel, but kids love its hip vibe; not to mention, it's exceedingly dog friendly and a full breakfast is included. Ask about snowshoe tours.

Snowy Lake Tahoe is the ideal romantic getaway. The Shore House at Lake Tahoe, 20 minutes from six ski resorts, provides gourmet breakfasts, homemade cookies and an afternoon "happy hour." Dazzling lakefront views make this a grown-up retreat.