Readers' Choice Hall of Fame 2012
Oct 30, 2012 05:43AM ● By Style
Presenting Style Magazine's Readers' Choice Hall of Fame special advertising section.
Tracking down that breakfast spot you heard about can be tricky. So can finding the perfect boutique... but once you've found it, chances are you've told all your friends and then some! It's you – our readers – who really know the best of what this region has to offer, and it's your turn to share your favorites with us. From golf courses to playgrounds, artists and leaders, Style presents to you Readers' Choice winners and chart toppers and invites you to celebrate them with us!
---
SPECIAL PROMOTIONAL SECTION
---

Dr. Michele Raithel, ND, Dr. Joel Morgan, ND and Dr. Anita M. Larrow, ND
Revolutions Natural Medical Solutions
189 Blue Ravine Rd., Ste. 110  |  Folsom
916-351-9355  |  www.revolutionsdocs.com
Our Naturopathic Doctors specialize in safely coordinating natural therapies with your current health plan. While our doctors use many of the same physical exams and laboratory tests as allopathic medical doctors, our intention is to take care of the whole person and treat the cause of disease, not just the symptoms. Treatments include botanical medicine, diet, nutritional supplementation, intravenous and injection therapies, bio-identical hormones, hydrotherapy, homeopathy and other science-based natural therapies. Our doctors will spend as much time with you as necessary to put together an effective treatment plan to ensure you receive the best comprehensive care.
Our team of primary care doctors provides expertise in a wide range of health needs both chronic and acute. Dr. Michele Raithel, ND focuses on detoxification, chronic disease, natural pain management and anti-aging medicine. Dr. Anita M. Larrow, ND focuses on women's health, bio-identical hormones, peri-menopause, menopause and weight loss. Dr. Joel Morgan, ND focuses on pediatrics including autism spectrum disorders and developmental disorders and adults with gastrointestinal issues. Dr. Niki Young, ND (not pictured) has recently joined the team and will focus on women's health, bio-identical hormones, chronic disease and preventive medicine. All four of our doctors are California licensed Naturopathic Doctors (ND) and received their 4 year post-graduate naturopathic medical degrees from Southwest College of Naturopathic Medicine.   
Revolutions Natural Medical Solutions is a family clinic where the needs of the individual are the targets of the treatment process. We feel that this patient-centered model is the "next step in the evolution of modern medicine". If you would like to meet one of our doctors and learn more about naturopathic medicine before becoming a patient, please call 916-351-9355 to schedule a free 15 minute consultation.
2012: Doctor
2011: Doctor, General Practictioner Doctor
2010: General Doctor
---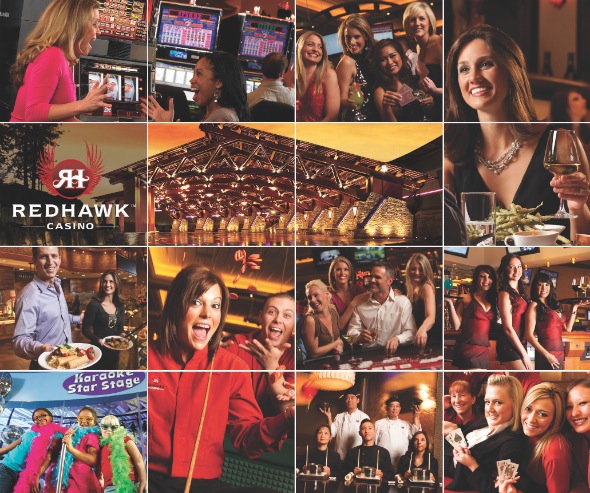 Red Hawk Casino
1 Red Hawk Parkway  |  Placerville  | 888-573-3495  |  www.redhawkcasino.com
Thank you Style Magazine Readers for voting Red Hawk Casino your "Favorite Casino" Four Years In a Row
Red Hawk Casino is pleased to provide the best dining and gaming experience for our guests.  Our Team Members are dedicated to delivering world-class casino excitement and top-notch customer service to all of our guests.  
Find your game at Red Hawk Casino, including more than 2,000 slots, all your favorite table games and a Card Room.  Red Hawk also features an entire floor dedicated to non-smoking gaming.
There are six restaurants that will satisfy every palate.  The award-winning Henry's Steakhouse provides the ultimate steakhouse experience with premium steak selections and an extensive wine list.  The Waterfall Buffet includes more than 280 selections ranging from Chinese, American, Italian and much more.  Guests to Koto Grille will enjoy Mexican-American fare with stunning views.  Experience exciting contemporary Chinese dishes tempered with an eclectic blend of international Asian cookery at Pearl Asian Cuisine.  Two Rivers Café and the all-new Hawk's Tavern are the perfect stop for a quick bite in a casual atmosphere and are both close to the gaming action.
No visit to Red Hawk is complete without joining the Red Hawk Rewards Club. It's easy and free.  At Red Hawk Casino, the more you play, the more you earn.  Earn points while playing your favorite games and redeem them for Free Play, dining at our six award-winning restaurants, at Traders Gift shop or Kids Quest ®.  Kids Quest offers hourly child care services by highly trained and fully licensed staff, for children six weeks to 12 years.
For quick and easy access to Red Hawk Casino dining, entertainment and events, download the Red Hawk Casino mobile app.  Call 888-573-3495 or visit www.redhawkcasino.com for information.
Favorite Casino • 2009, 2010, 2011 & 2012
Favorite Steakhouse – Henry's Steakhouse • 2009, 2010, 2011 & 2012
---
SPECIAL PROMOTIONAL SECTION
---
If you would like to be included in one of Style's Special Promotional Sections, please contact Debra Linn at 916-988-9888 x114 or [email protected].
---
SPECIAL PROMOTIONAL SECTION
---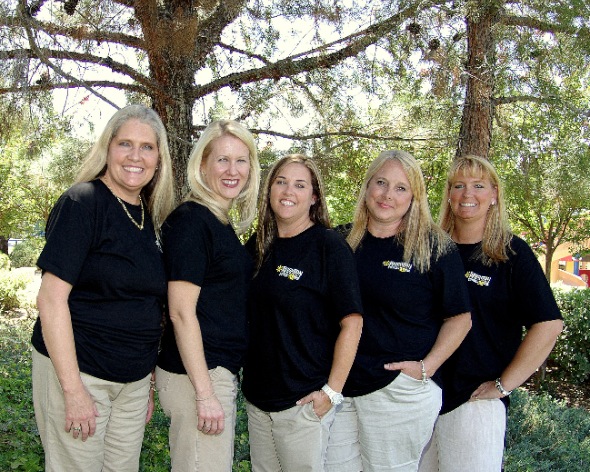 Brighton Schools
8544 Auburn-Folsom Rd.  |  Granite Bay
916-791-8050
777 Levy Rd.  |  Folsom
916-353-0777
405 Natoma Station Dr.  |  Folsom
916-985-2222
www.brightonschools.com
Celebrating 20 Years of Excellence this year! Since 1992 Brighton Schools has provided families with quality educational programs for all ages.
 Our philosophy is based in the concept of the whole child fostering self-esteem and empowerment within our program. For our infant – preschool programs we believe in offering play based experiences in tandem with high academic standards, implemented through creative programming. Our curriculums are designed to engage all types of learners and developmental levels.
 Our Private School (Kindergarten – 5th Grade) delivers our philosophy through solid , standards based curriculum, low teacher to child ratios and individualized attention. Our Private School offers the best in academic programs but also includes an intensive Spanish program, field trips, physical education, technology, music, art and character development.  Our students enjoy the perks of a small, safe and community based environment.
---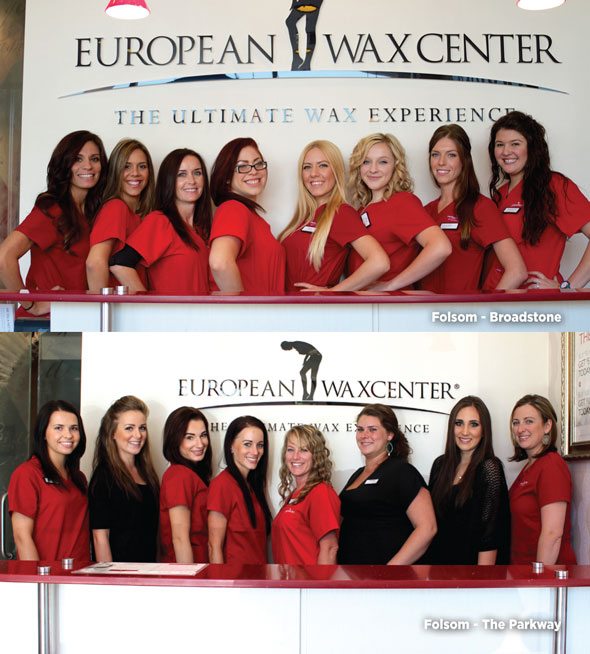 Folsom - Broadstone Marketplace
2770 E. Bidwell St. |  916-355-1929
Folsom - The Parkway
25065 Blue Ravine Rd., Ste. 140
916-984-1929
www.waxcenter.com
European Wax Center of Folsom would like to thank all of our guests for voting us the #1 Waxing Salon for the second year in a row! We offer our guests a host of services, including a complimentary service (specific services) for 1st time guests, pre-paid packages to help you save, including unlimited packages, guest loyalty programs. We specialize in all areas of waxing, including:
•    Eyebrows
•    Bikini
•    Brazilian
•    Underarm
•    Waxing for men
We are pleased to now offer you 2 convenient location's in Folsom. We are located in the Broadstone Marketplace Shopping Center, opposite Bel Air at E. Bidwell and Broadstone Parkway and in the Parkway Shopping Center, opposite Raley's at East Natoma and Blue Ravine. For more information on all of our services, please call us at 916-355-1929 (for the Broadstone location) or 916-984-1929 (for the Parkway location). Visit us on the web at www.waxcenter.com.
---
Foreign Autohaus of El Dorado Hills
4630 Post Street
El Dorado Hills, CA 95762
916-933-4002
www.foreignautohaus.com
Thank you for making us a Reader's Choice Award winner for the second year in a row. We appreciate your vote of confidence. Foreign Autohaus of El Dorado Hills strives to provide the utmost in customer service and factory level maintenance and repairs.  This is backed up by a 2 year or 24,000 mile warranty.  We want to be your dealership alternative.
Foreign Autohaus of EDH has been in business for four years with 25 years of combined staff experience and is a full service repair facility. We have factory trained service technicians who understand the inherent complexities of your vehicle and it will be repaired correctly the first time.  Our specialty is high end vehicles such as:  BMW - Porsche - Audi - Mini Cooper - Mercedes Benz - Lexus - Land Rover, etc.
Foreign Autohaus of EDH honors and values it's work and will take excellent care of your car.  We invite you to stop by and take a look at  our facility.  All of us here at Foreign Autohaus look forward to  your visit, as well as serving you as your dealership alternative.
2012: Auto Repair
2011: Auto Repair
---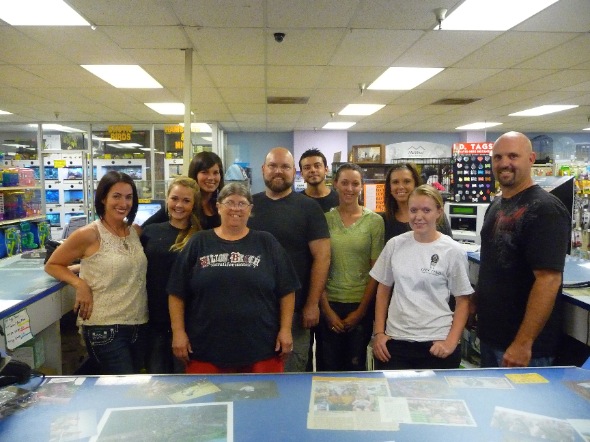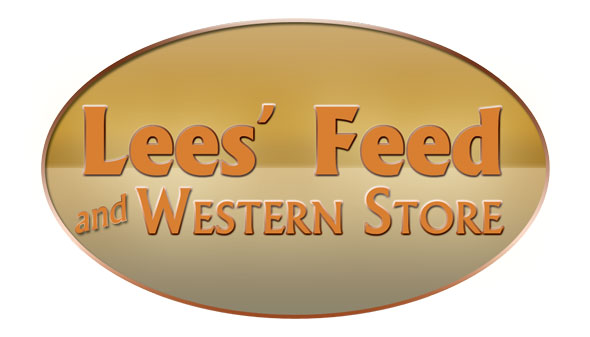 Lees' Feed and Western Store
4110 Mother Lode Dr.
Shingle Springs
530-677-4891
www.leesfeed.net
Thanks to all the families that voted Lees' Feed #1 favorite pet store. We strive to provide all your pets needs and to make your shopping experience the best it can be. Our family and staff have been serving this community for over 30 years and have been rewarded with great friends and neighbors. Live reptiles, exotic birds,baby chicks, tropical and marine fish entertain the kids while mom and dad shop for all their pet and ranch supplies. If you've never been to Lees', come in and see why we've been voted #1-again. Your pets will be glad you did.
2012: Pet Store
2011: Pet Store
2010: Pet Store
2009: Pet Store
---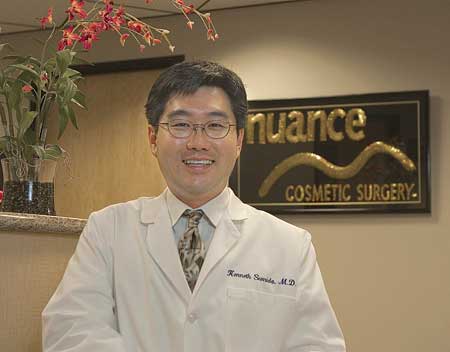 Nuance Cosmetic Surgery
Dr. Ken Sumida
1641 Creekside Dr., Ste. 100
Folsom
916-984-4242
www.nuancecs.com
Thank you for voting us your Favorite Doctor for Cosmetic Procedures once again!
Dr. Ken Sumida and the staff at Nuance Cosmetic Surgery Center aim to improve your natural appearance and reverse some signs of aging. Nuance offers surgical and non-surgical procedures, including face lifts, eyelid lifts, breast enhancements and tummy tucks, facials, medical facials, Botox, restylane, and chemical peels. If you're not sure if cosmetic surgery is for you, Dr. Sumida offers seminars that allow patients to explore the various methods of looking younger. Dr. Sumida encourages first time patients to seek out a number of plastic surgeons so they can find the one where they feel most comfortable. Dr. Sumida guarantees personal attention to all of his patients. "From the time you pick up the phone to schedule an appointment, you will be treated like a precious patient," he says. "We try to schedule our patients with ample time for their consultations. We want to answer all of their questions so that they do not feel rushed." Give Dr. Sumida and Nuance a call today!
---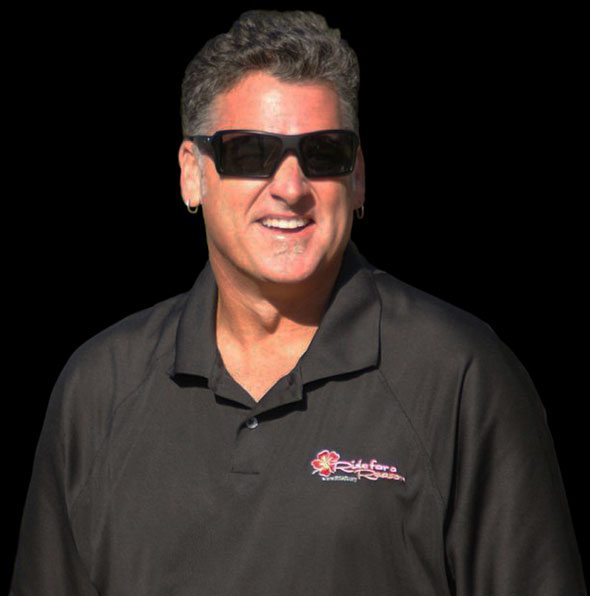 Bicycles Plus
705 Gold Lake Dr.  | Folsom
916-355-8901  | www.onlinecycling.com
Bicycles Plus is humbled to be chosen Favorite Bicycle Shop for the 4th year!  We've been in business for over 24 years and offer the region's largest selection of top brand bikes and accessories at the most competitive prices. This, along with our great staff, is why we consistently are voted on the of the Top 100 Bicycle Stores in America. We stand behind our products and our workmanship.
We strongly believe in giving back to our community by generously donating to local schools, athletes and charities. Our goals are simple: treat people with respect, have the largest inventory available for our clients and we never lose sight of the fact that we are also cyclists who strive to do the best for our clients and friends.
To celebrate our 25th year in business we are in the process of remodeling our store just in time for the holiday season. We couldn't have done it without the support of the Folsom and El Dorado Hills communities. Sign up on our online e-list to be invited to our 25th year party to help us celebrate!
Thanks again to the readers for your continued support. Remember, life's short, enjoy the ride!
---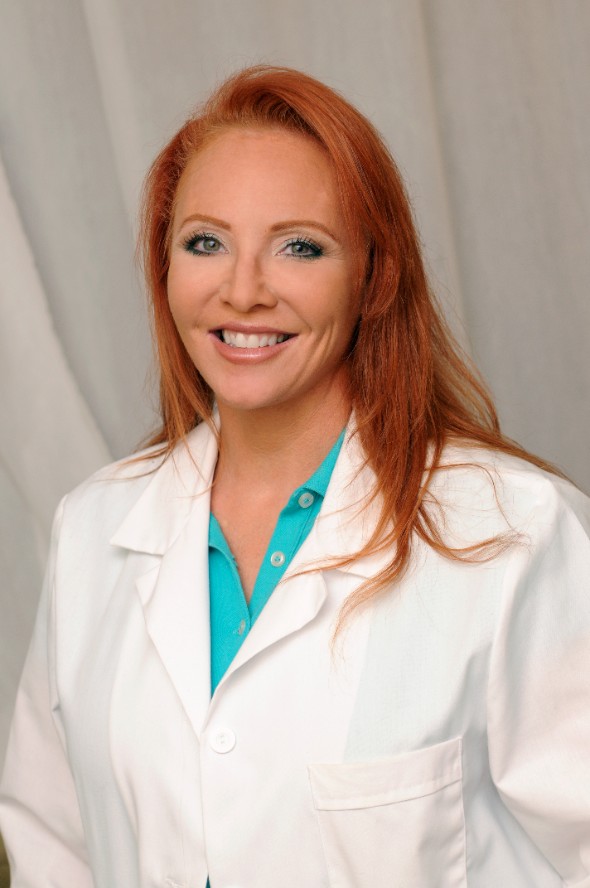 Vitality Medical Laser & Skin Clinic
Celia Remy, M.D.P.C.
1891 E. Roseville Pkwy., Ste.170  |  Roseville
700 Oak Avenue Pkwy.  |  Folsom
916-797-1131
Dr. Remy would like to thank her clients and the readers of Style Magazines for voting Vitality Med Spa the #1 Favorite Med Spa and for voting for Dr. Remy as a Favorite Doctor for Cosmetic Procedures. Vitality Medical offers the safest and most advanced, naturally based nonsurgical technology available in aesthetic medicine today for men, women and adolescents! Dr. Remy has dedicated her practice to using the latest technologies to give patients natural looking results that rejuvenate, provide symmetry, and enhance appearance. She specializes in techniques that are non-invasive and work with the body's natural healing processes. Services offered include Laser Liposuction, Natural Augmentation & Body Sculpting, Skin Regeneration, Facial Sculpting, Laser Treatments, Weight Loss, Skin Care and more.  Vitality emphasizes minimizing discomfort, and finding the best individual treatment plan to meet your specific needs. Call us to schedule your Free Consultation!
2012: Med Spa, Doctor For Cosmetic Procedures
2011: Med Spa, Doctor For Cosmetic Procedures
2010: Med Spa, Doctor For Cosmetic Procedures
2009: Doctor For Cosmetic Procedures
---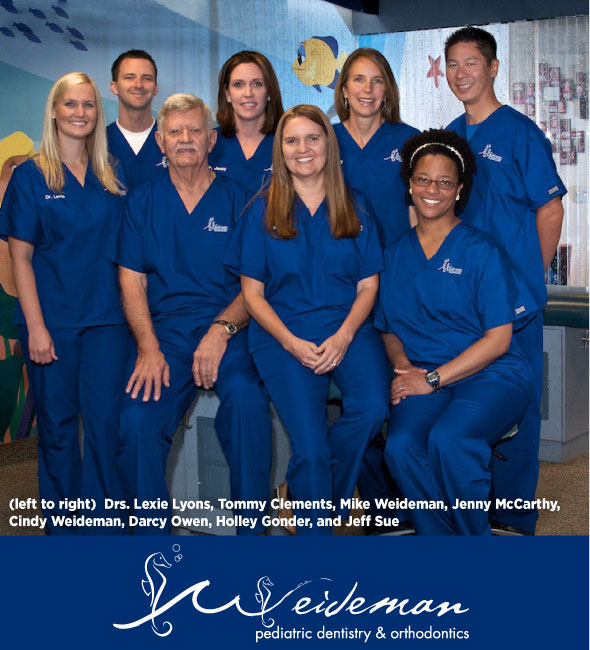 Weideman Pediatric Dentistry & Orthodontics
Sunrise Dental Plaza
7916 Pebble Beach Dr., Ste. 101
Citrus Heights
916-962-0577  |  www.SacChildrensDentist.com
Thank you for voting us Favorite Pediatric Dental Practice winner for 2012 for Roseville, Granite Bay, Rocklin, Folsom, and El Dorado Hills! We are also proud that Dr. Lexie Lyons, our Specialist in Orthodontics, won Favorite Orthodontist in Roseville, Granite Bay, Rocklin, Folsom, and El Dorado Hills! We greatly appreciate your support and feel honored to have been chosen four years in a row.  
It's extremely rare to have four Board Certified Specialists in Pediatric Dentistry in one practice. This accomplishment and rigorous training is the highest achievement a specialty trained pediatric dentist can obtain. Our doctors also have degrees in psychology and have been trained specifically to help children with special needs. Comforting children and alleviating fears is really what we focus on.  We are a 2nd generation family-run practice treating the children of the Sacramento area for almost 40 years.
Dr. Lexie works in harmony with our Specialists in Pediatric Dentistry to monitor our patients' dental health and development throughout their childhood and adolescence.  She provides FREE consultations for our patients.  
Now that school has started, call us for your FREE classroom or children's group dental health education presentation with a magical appearance by the "Tooth Fairy."
---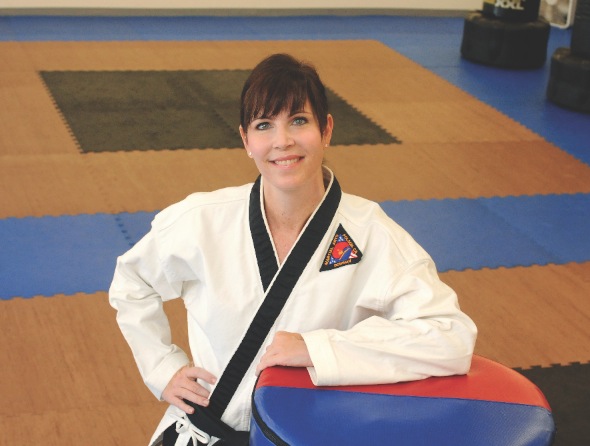 Bowman Martial Arts
Karen Bowman would like to thank all her students and their families for recognizing her and Bowman Martial Arts as the Style Reader's Choice Awards Favorite Instructor and Martial Arts Studio.
Bowman Martial Arts studio and Karen Bowman have been providing quality, family-run martial arts for over eight years and WE JUST GOT BIGGER! Bowman Martial Arts now has two workout floors to offer their students taekwondo, weapons training, sparring, self-defense, Little Dragons, tournament competition, and birthday parties. Bowman Martial Arts' goal is to build strength, discipline, confidence and fun for their students through personalized instruction and caring.
Bowman Martial Arts is also the trusted studio for all martial classes with the City of Folsom Parks & Recreation Department.
We invite you to tour the studio and meet Karen Bowman and her instructors and see why so many Folsom families have trusted Bowman Martial Arts as a key part of their physical fitness.
2012: Martial Arts Instructor, Martial Arts Studio
2011: Martial Arts Instructor, Martial Arts Studio
---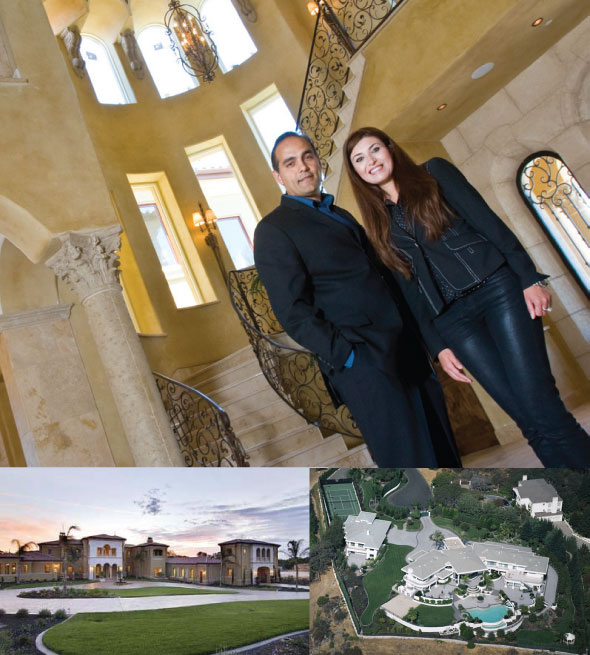 Nick Sadek — Broker
Commercial, Residential, Investments
2267 Lava Ridge Ct., Ste. #125  |  Roseville
Office: 916-784-7444
Direct: 916-966-4444


[email protected]


DRE LIC #00970410
Thank you to the readers of the Style Magazines for voting Nick Sadek a Favorite Real Estate Broker in Roseville, Granite Bay, Folsom and El Dorado Hills! NRS Luxury Estates is a premier boutique and specialty real estate firm catering to the demands of the luxury estates marketplace. The company, based in Placer County, not just excels in a down market, but are moving high-end residential homes with multimillion dollar price tags. Real estate broker Nick Sadek and his partner Dina Sadek are renowned for selling Eddie Murphy's Granite Bay mansion and currently have over $40,000,000 in listings and pending inventory of luxury estates. Nick fosters solid relationships with clients by making a point of always answering his phone, qualifying clients up-front, and being ready to preview properties right away. Nick's 20 years in business have also enabled him to refine his approach working with high-end clients in the housing market. Extensive personal networking and Internet marketing are also part of his pattern of success. He develops targeted marketing ideas for projects of special interest, providing him success in substantial deals that often close more quickly than the market average.
---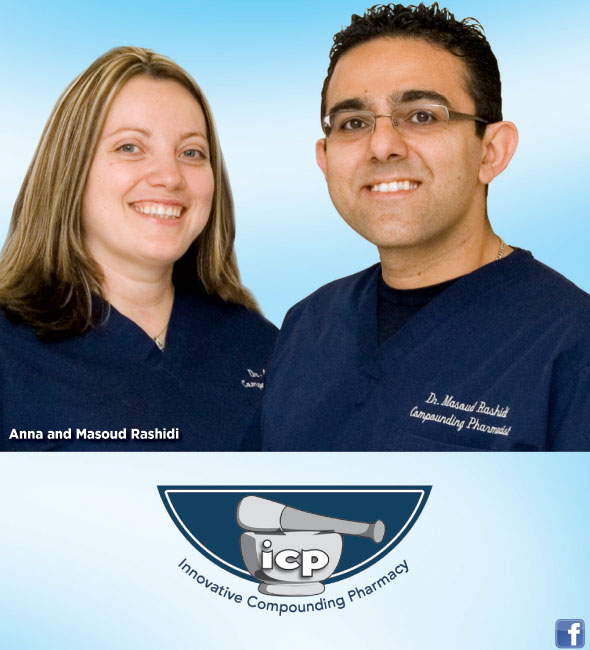 Innovative Compounding Pharmacy
Doctors Anna and Masoud Rashidi at Innovative Compounding Pharmacy (ICP) would like to thank Style Magazine readers for voting us Favorite Compounding Pharmacy in the region. Because we don't believe one-size-fits-all, we customize every medication based on your needs. Your continued support has helped us grow our business within the last six years, and now we're pleased to offer a wide variety of high-quality pharmaceutical-grade vitamins and supplements, among other great products. We are the only compounding pharmacy in Sacramento County to offer both sterile and non-sterile customized medications for the whole family, including your pets. You can also schedule private consultations with one of our pharmacists to answer any questions you may have regarding your medications or supplements. We pride ourselves on honoring our customers, and our continued commitment is to provide you with the personal, prompt and professional service you deserve. We look forward to serving all your medicinal needs!
---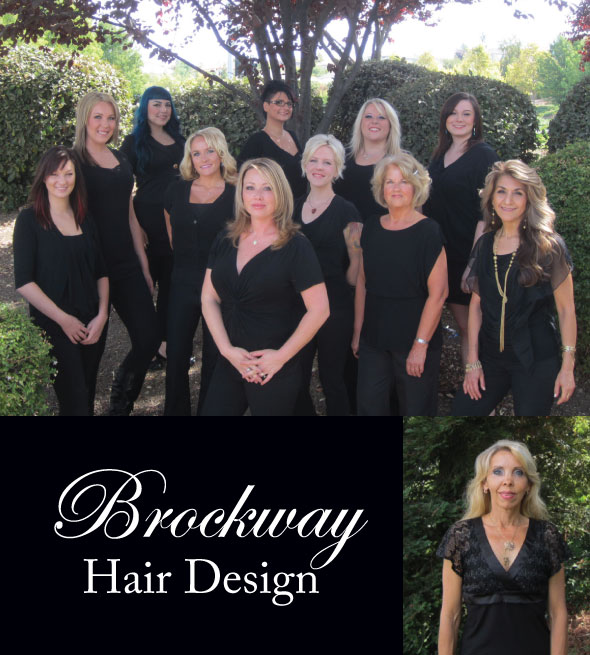 Brockway Hair Design
2784 E. Bidwell St.  | Folsom |  984-6330
3919 Park Dr.  |  El Dorado Hills | 939-0379
2121 Golden Centre Lane |  Gold River
631-4311  |  www.brockwayhairdesign.net
"Making your world more beautiful one strand at a time"
Our slogan says it all. We are Brockway Hair Design, a full service salon dedicated to creating, coloring, and designing beautiful hair for our clients.
 We are one of the leading salons in the area and work exclusively with European color line, Wella. With over 200 individual colors in our professional back bar we are able to create the perfect custom color for you. We are recognized by Salon Today as one of the top 200 salons in the country as well as having received local recognition. We continually strive for excellence in client satisfaction and customer experience. We believe learning never stops in this fast paced industry and have one of the best advanced educational programs around so that we are able to give our clients the latest looks in hair design and color. We want to be on top of the trends not behind them. Our philosophy at Brockway is simple: great hair design is not just about having the knowledge and the ability to cut, style, and color, it's about being able to create custom hair color and design for each clients personal style. We want a client's hair to be as unique and as beautiful as they are. We invite you to come and experience true salon excellence.
Thank you Folsom and El Dorado Hills for making us your salon of choice. We are very fortunate to be able to serve such a beautiful community.
---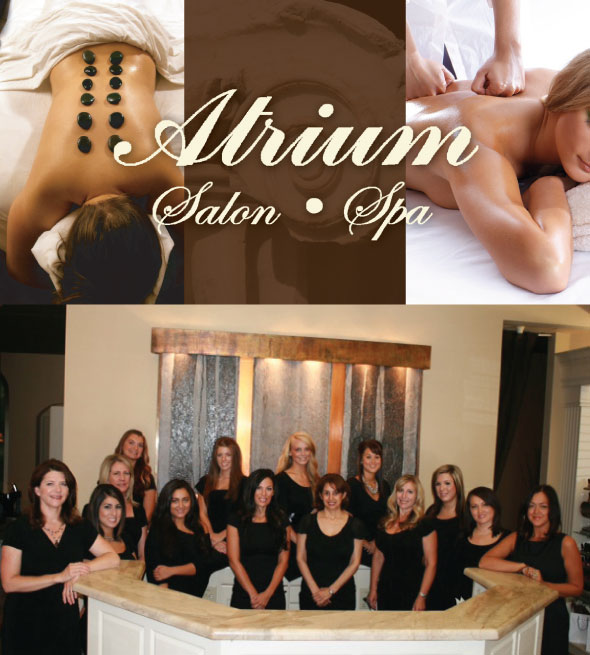 Atrium Salon Spa
6851 Douglas Blvd. |  Granite Bay
916-791-8585  |  www.atriumsalonspa.com
The Atrium Salon Spa is Placer County's premier salon spa. Experience, excellence, and their exclusive amenities are what makes Atrium Salon Spa stand apart from the other salons and spas.
 Atrium is known for superior customer service, vast menu of services, and excellence in client satisfaction. The Atrium provides clients with massage therapy, advanced skin care treatments, manicure & pedicure services, body wraps & therapies and full hair salon services. Atrium Salon Spa is celebrating 12 years of service and is excited to continue to remain strong in the salon and spa industry thanks to its dedicated team members and salon and spa managers, Lisa and Noki.
Atrium remains distinguished by its amenities and menu of services. A client does not have to go to multiple salons to receive nail, hair and facial or body services, they can do it all underneath one roof. Atrium has a vichy shower for body therapies, a shower for clients personal use and they also offer custom airbrush tanning for clients who want sunless bronzing. Atrium offers clients beverage services, a guest lounge and spa lunches for their full day package guests. Guests can spend a full day or come in for a short visit.
 Atrium carries only the best professional products for their clients such as Pevonia, Glo Therapeutics, Kerastase, Bumble & Bumble, Aveda, Wella and Pureology.
  Atrium invites you to come and experience the Atrium Salon Spa difference.
---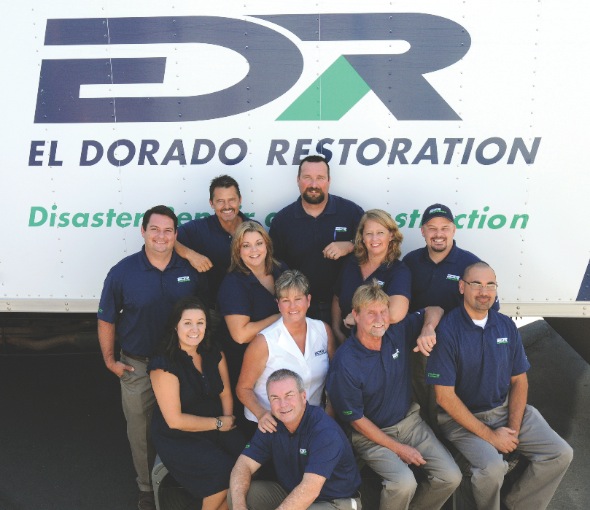 Not Pictured: All Our Wonderful Service and Field Techs.
El Dorado Restoration
El Dorado Restoration thanks you for voting us number one!

Founded in 1983, El Dorado Restoration is a pioneer in disaster repair and construction. Our deep understanding of this industry, experience in our trades, and our great commitment to continuing education are what has helped us become recognized as the industry leader.

You may never find a group of people in a commercial setting, all working for the same cause, as you'll find at El Dorado Restoration. It's because we understand the trauma of disaster. The staff at El Dorado Restoration is dedicated to providing professional service with quality workmanship and integrity to every customer.

One of the reasons for our commitment to customers is a shared desire to do more than just show up and do our jobs – we do more. We want to repair the destruction caused by a disaster. No matter what it may be – water, fire, wind, mold, you name it. And just as importantly, we want to do whatever we can do to help repair the homeowners' lives as well. We are available for our customers 24 hours a day, 7 days a week.
---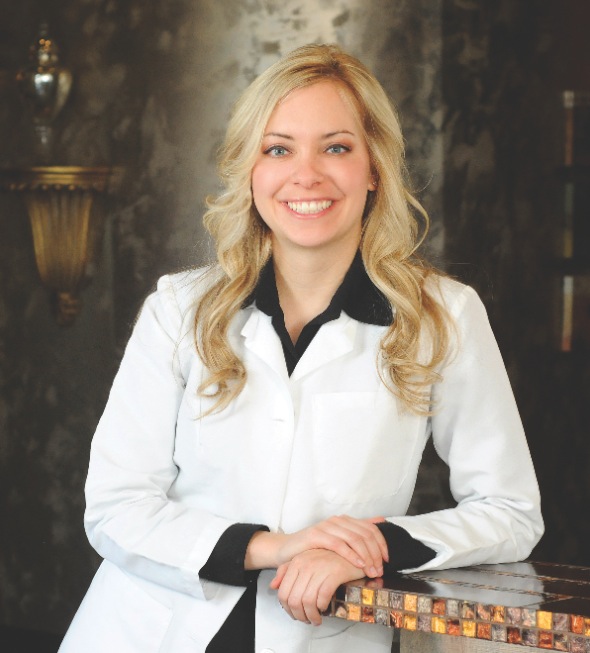 Jessica Finsley, NP
Skin 360 Medical Aesthetics
Thank you Style readers for voting Skin 360 in your top Favorite Med Spa! At Skin 360 Medical Aesthetics in Folsom, youth and experience meet to give our patients a comprehensive choice of procedures from simple to surgical. For 45 years, Dr. Robert Winslow has been dedicated to helping plastic surgery patients obtain attractive, realistic surgical results. Dr. Winslow is double-board-certified and specializes in aesthetic and reconstructive surgery, offering face lifts, breast augmentation, tummy tucks, liposuction and more. He is known for his artistry, attention to detail, and genuine concern for each patient's wellbeing. Jessica Finsley, N.P. and the Skin 360 team offer techniques to maintain your natural, youthful glow: Botox, dermal fillers, laser resurfacing, laser skin rejuvenation, microdermabrasion, chemical peels and pain-free laser hair removal.  We believe every patient should understand all the ways to reach their aesthetic goals, so we help you make informed decisions about your treatment. Style readers choose Skin 360 for our medical expertise, our relaxing spa environment and the personal attention we give every patient.
Refine, Restore and Repair at Skin 360. Call us today!
---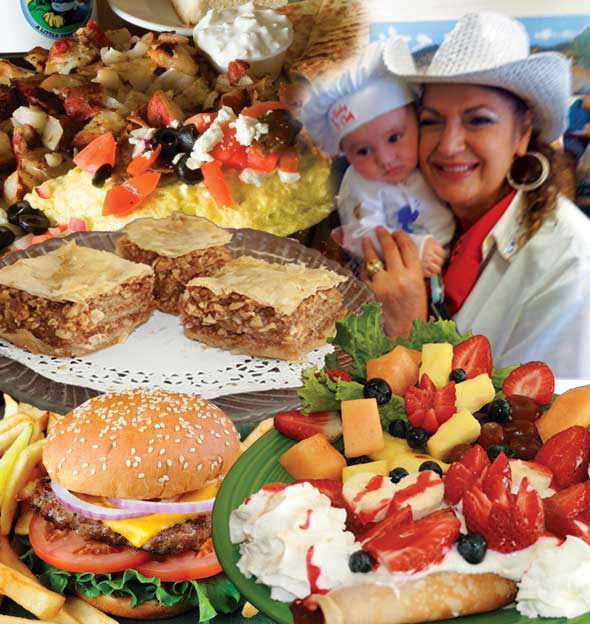 Mary's Gold Miner Café
426 East Bidwell Street  |  Folsom
916-984-4181
Open 7 days a week
For the past three decades, Mary & Dino Masouris have delighted thousands of satisfied customers with their original bay area recipes and unique Greek delicacies.

It began in 1978 in Los Gatos where they owned Mary's Patio Café, The Los Gatos Café and The Southern Kitchen.

After moving to Shingle Springs they owned the Train Station for 8 years, sold it,  then came to Folsom to open Mary's Gold Miner Café, where everyone feels at home.

Enjoy champion breakfasts such as Joys Dream Waffle, Alexandra's Eggs Benedict, Demetries Special New York Steak & 3 eggs (named after their children) plus home-style cooking and Greek specialties that Mary prepares from their family recipes. Now offering Baby Dino's Bunny Pancakes!

Serving daily specials, homemade Baklava and a great menu, no one ever leaves hungry.

On behalf of my staff, Dino, Baby Dino & I would like to thank all of our loyal customers for voting us #1 Favorite Breakfast Place four years!
---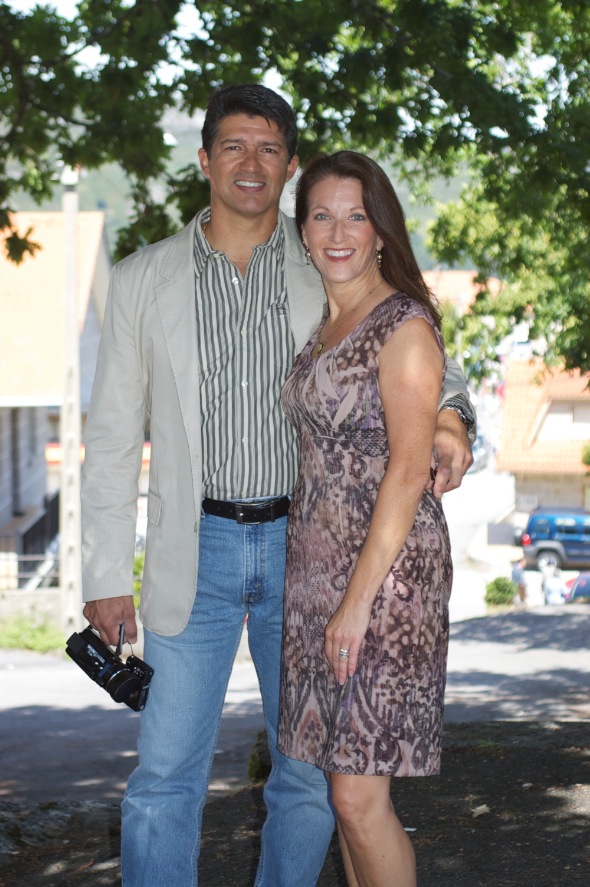 Massage Envy Spa
El Dorado Hills
4510 Post St., Ste. 340  |  El Dorado Hills
916-941-6850  |  www.massageenvy.com
Massage Envy Spa (next door to Nugget Market) in El Dorado Hills would like to thank Style readers for voting Massage Envy one of their favorite places for massage!
 With customized massages and Murad Healthy Skin facials, you can help relieve stress, decrease anxiety, increase energy and improve your skin's texture, tone and appearance. Our professional massage therapists and estheticians will work with you to customize your session every time you visit.
 Always have a million things to do before the end of the day?  No problem! Consider Massage Envy Spa your El Dorado Hills Spa. Our convenient  late night and weekend hours make it easy to fit a session into your busy schedule.  You can come in after shopping at Nugget or make a date night by including dinner and a movie right here in Town Center.
We look forward to meeting you and helping you achieve your healthier lifestyle. You can begin today by calling us at 916-941-6850 or scheduling online.
---
Make a Smile Pediatric Dental
2190 E. Bidwell St.  |  Folsom
916-984-0304
www.makeasmile.com
Thank you to the readers of Style Magazine for voting us favorite Pediatric Dentist!

Our mission is to provide you with extraordinary dental care for your growing little one. We welcome all cases, patients of a young age, children who require an extra-gentle hand with behavioral management, or children with special needs.

Your child will love the fun waiting room, designed with kids in mind! We care enough to know what kids like; movies in the treatment rooms, video games and lots of games and toys. The dentists and fun loving staff will work one on one with you and your child to fully explain diagnoses that will make you feel confident in your child's treatment options. Our philosophy of inviting parents into the treatment room is a continual source of comfort for both children and parents.

Dentists Recommend Us, Parents Choose Us, Kids Love Us
---
SPECIAL PROMOTIONAL SECTION
---
If you would like to be included in one of Style's Special Promotional Sections, please contact Debra Linn at 916-988-9888 x114 or [email protected].
---
SPECIAL PROMOTIONAL SECTION
---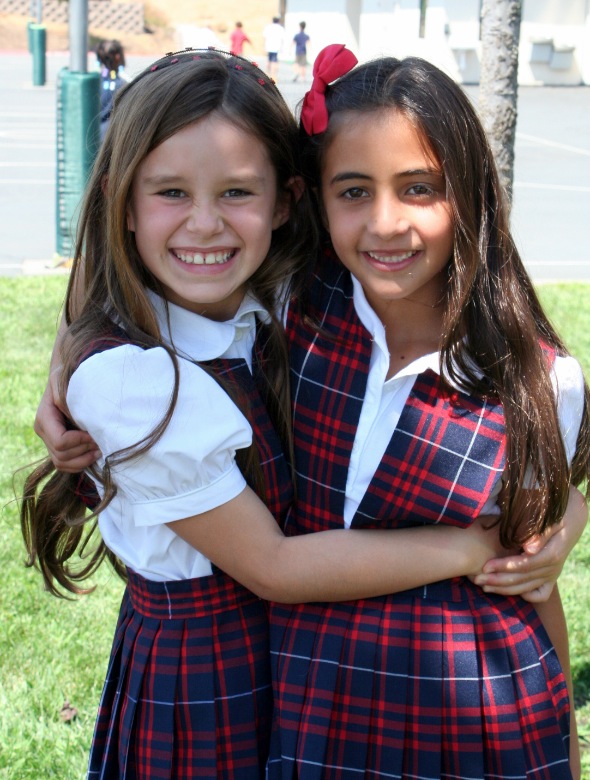 Golden Hills School (JK-8th grade)
1060 Suncast Lane  |  El Dorado Hills
916-933-0100  |  www.goldenhillsschool.net
At Golden Hills School, there is a shared purpose between parents and educators to provide our students with the very best learning opportunities. Our comprehensive curriculum includes daily P.E. as well as fine arts and performing arts, athletics, Spanish, and technology instruction. We are equally committed to our character education program for fostering confident, caring, socially-conscious young men and women. GHS teachers are fully credentialed and use their passion and experience to create a differentiated learning experience that develops 21st century skills such as creativity, innovation, and critical thinking. Thank you for honoring the hard work and commitment of the GHS faculty and staff with this award.
---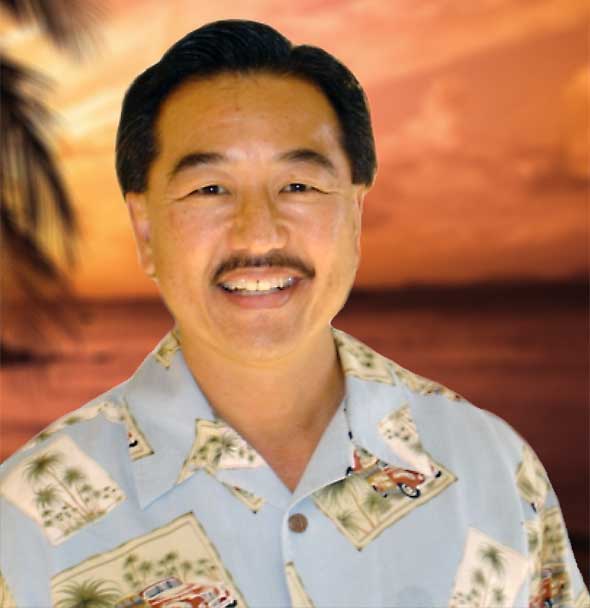 Aloha Family Dental
Wayne K. Tsutsue, D.D.S.
1020 Suncast Lane, Ste. 103  |  El Dorado Hills
916-941-2447  |  www.alohadentaledh.com
If his Japanese last name is too difficult to pronounce, call him DR. WAYNE!  Born and raised in beautiful Hawaii, Dr. Wayne brings the "Aloha Spirit" to dentistry in his state-of-the-art office.  Dr. Wayne, a graduate of USC School of Dentistry, caters to each patient's individual needs in a skilled, gentle and caring manner.  Come visit Dr. Wayne and his dedicated staff with your dental concerns and questions.  Serving your comfort, safety, and health is the number one goal at Aloha Family Dental. Thank you for voting him Favorite Dentist 5 years in a row!
---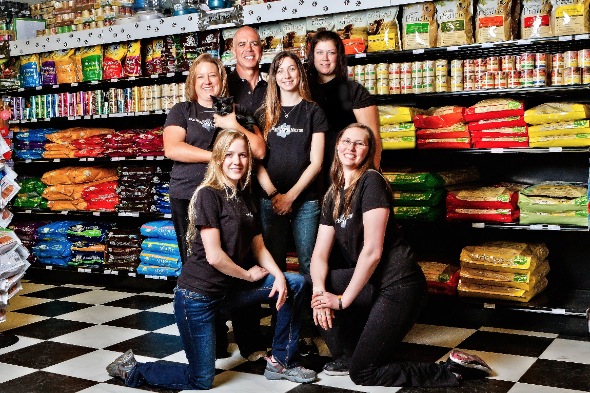 Lisa Van Dyke - EDDOG Photography
Bark Avenue
Ken and Robin Mizell
4311 Town Center Boulevard  |  El Dorado Hills
916-941-7400
Thank you to all our loyal Bark Avenue customers for voting us one of your favorite Pet Supply Stores and Grooming Salons 5 years in a row!
We are locally owned and operated store that specializes in quality pet foods and treats to make your four legged friends happy and healthy. Bark Avenue offers, a full service grooming salon, a do-it-yourself dog wash with endless warm water and waist high tubs and puppy training classes. We focus on healthy food and treat options at reasonable prices and we offer a knowledgeable staff available to answer all your pet questions.
---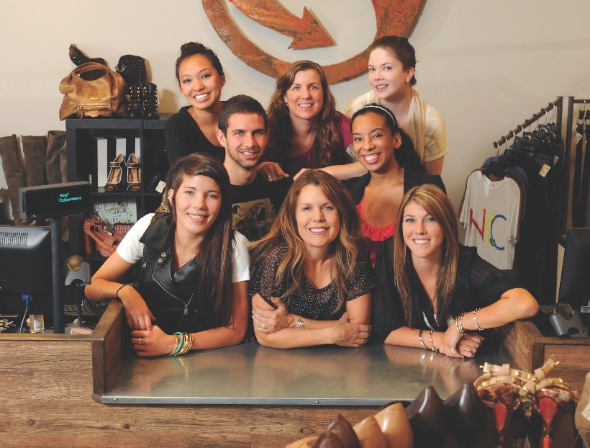 FreeStyle Clothing Exchange
Thank you Folsom for voting for us! Established in 2007, locally owned FreeStyle Clothing Exchange is the best place in the Sacramento area to recycle your style. With convenient locations in Folsom, Citrus Heights, and Midtown, you can bring your contemporary clothing, shoes, and accessories into any store for Cash or Trade on the spot! Our friendly buyers are available 7 days a week from open to close. We accept new and nearly new designer, trendy, and vintage men's/women's fashion. Visit our Folsom store today; we are located next to Trader Joes at 850 East Bidwell.
---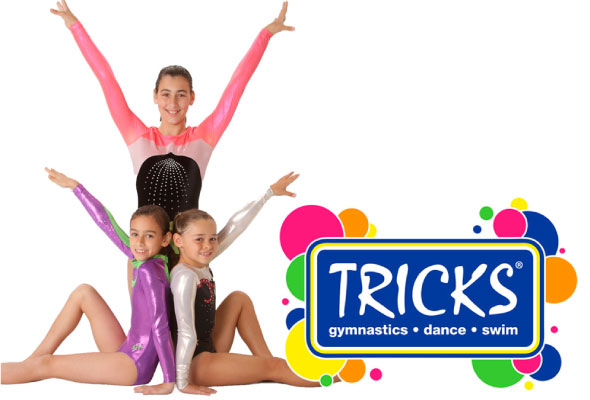 Tricks Gymnastics Dance & Swim
1370 Plaza Dr.  |  Folsom  |  916-351-0024
4070 Cavitt Stallman Rd.  | Granite Bay |  916-791-4496
4440 Marconi Ave., Ste. 100  | Sacramento |  916-481-4496
www.tricksgym.com
Gymnastics, Dance and Swim should be FUN!  At TRICKS GYM, we've been focusing on child development for over 20 years! Where else can you run and jump, twirl and curtsy or swim all in one place? At TRICKS, our first priority is that your child will have fun in a safe, nurturing environment where they will learn the fundamentals of their sport. NO MEMBERSHIP FEES! Offering classes from infant to high school, TRICKS has something for everyone! www.tricksgym.com Folsom, Granite Bay & Sacramento.
---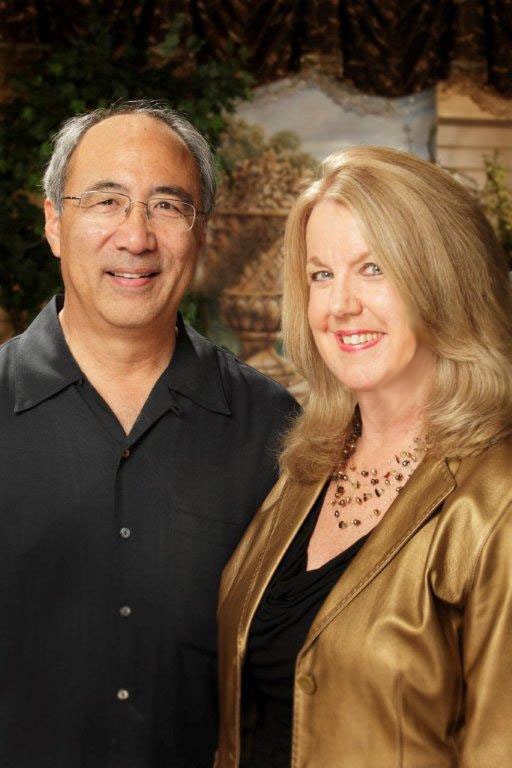 Guchi Interiors
Thank you for voting Guchi Interior Design your ultimate "one stop showroom" for all your home interior renovations and projects. Bruce and Katherine Kawaguchi combine over 50 years' experience in the home interior industry. We also feature a staff of four additional designers. One of our most popular promotions is our free initial design consultation. Our designers are either members of ASID or have interior design degrees. In addition to our design services, we offer numerous types of flooring, tile, custom window coverings, shades, shutters, faux finishes, accessories, area rugs, and kitchen and bath design and remodeling. Come by and see our beautiful showroom or call for an in home consultation!
---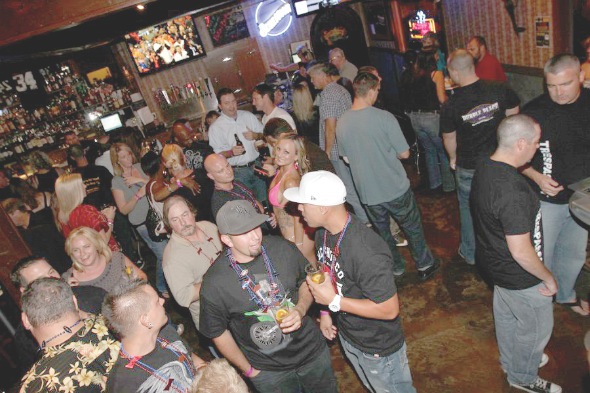 The Purple Place Bar & Grill
363 Green Valley Rd.
El Dorado Hills
916-933-2313
www.thepurp.com
Watch NFL Sunday Ticket and see all the games on one of our 10 Hi-Def TVs with over-head sound.  Be here for every Monday and Thursday night NFL game to win an Official NFL Pro jersey during our raffle, and enjoy $2 domestic pints.  Live Music on Fridays and Saturdays with no cover charge.  Make the Purp your party destination!  Happy Hour Monday thru Friday from 3p to 7p.  See you at the Purp!
---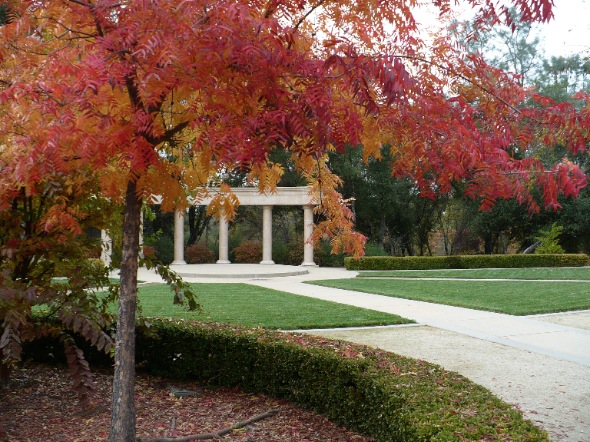 David Girard Vineyards
David Girard Vineyards thanks the readers of the Style Magazines for voting us one of your favorite wineries! Our vineyard is nestled in the Sierra Foothills where conditions combine to provide an environment ideally suited to growing the premier grape varietals of southern France's Rhone Valley. We are also honored to have been voted one of your favorite wedding venues. David Girard Vineyards is regarded as the premiere venue for wedding ceremonies and receptions in El Dorado County. With sweeping views in all directions this hidden gem is host to spectacular events.
---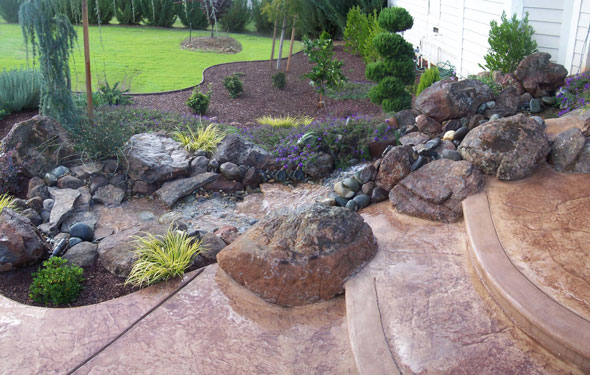 Capital Landscape Design & Installation
"You like us, you really, really like us"; not to steal from Sally Field but there is nothing better than being recognized by the loyal readers of Style Magazine as the #1 Landscape Contractor in the area! To show our appreciation, for a limited time, we are offering a 50% discount on any newly signed Landscape Design agreements. Contact us today at 916-783-5080 and find out how you can qualify for this one of a kind offer.
THANK YOU!
---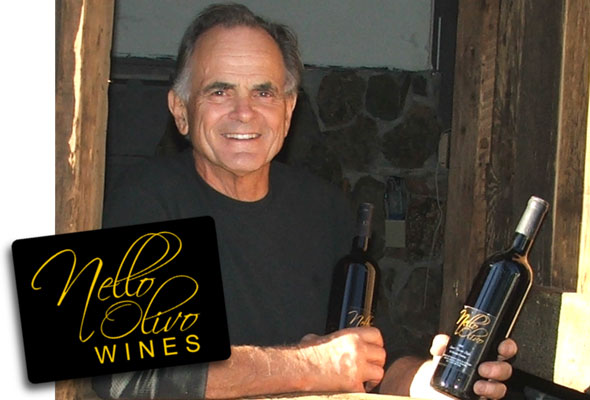 Nello Olivo Wines
Favorite Winery, Favorite Best Kept Secret, Favorite Local Business, Favorite Wine Bar, Favorite Local Business Person. It was only 3 years ago that Nello Olivo sprang onto the local wine scene with his delicious line of Italian-style wines. In only 2 years of competing, Nello has won 61 medals in major competitions, including more Gold Medals than any other winery in the El Dorado Region. People love these refreshing, well-balanced, smooth wines. Nello handcrafts them to be especially good paired with foods. Visit the tasting room for Complimentary Wine Tasting. Open until 7pm, Tue-Sun.
---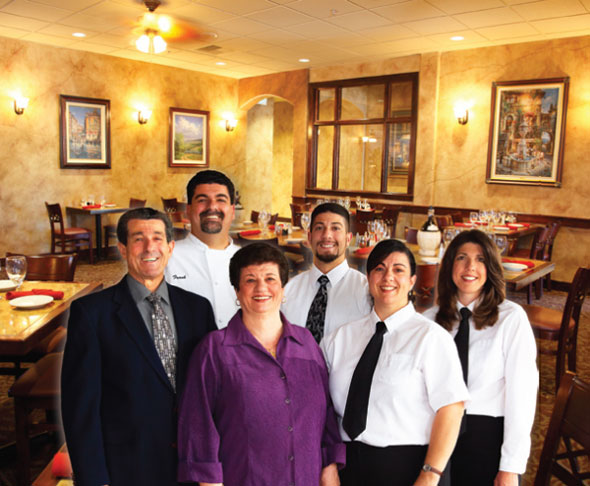 Visconti's Ristorante
2700 East Bidwell St., Ste. 700  |  Folsom
916-983-5181
The Visconti family would like to thank our loyal friends and neighbors from Folsom and El Dorado Hills and other surrounding areas for voting us Favorite Italian Restaurant. This means a lot to our family because there is so much history and tradition that we are proud of that goes into every dish. Our success is due to all our guests who enjoy that very same thing. Thanks again for making our family meals a part of yours.
2012: Overall Restaurant, Italian Restaurant, Bartender (Tista Visconti)
2011: Italian Restaurant, Bartender (Tista Visconti)
2010: Italian Restaurant, Chef (Frank Visconti), Bartender (Tista Visconti)
2009: Italian Restaurant
---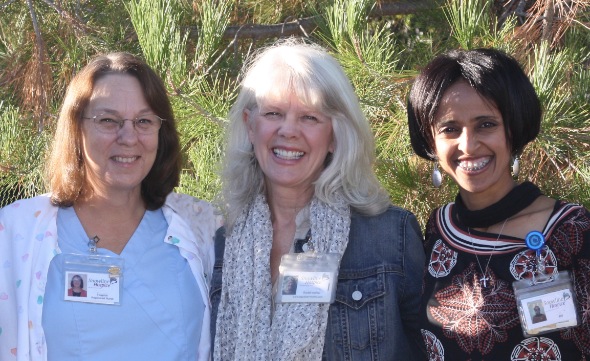 Snowline Hospice
Serving the Western Slope to Greater Sacramento
530-344-4416  |  www.snowlinehospice.org
"From all of us at Snowline Hospice, thank you for voting us your Favorite Charitable Organization for the sixth year in a row. Our mission to care for patients at the end of their lives and to support their families through the grieving process is what drives us each day. However, we could not succeed without your support. Your generous donations and shopping visits to our stores ensure that we are able to help everyone in need of our services regardless of their ability to pay. We are so grateful to be a part of this compassionate community."
---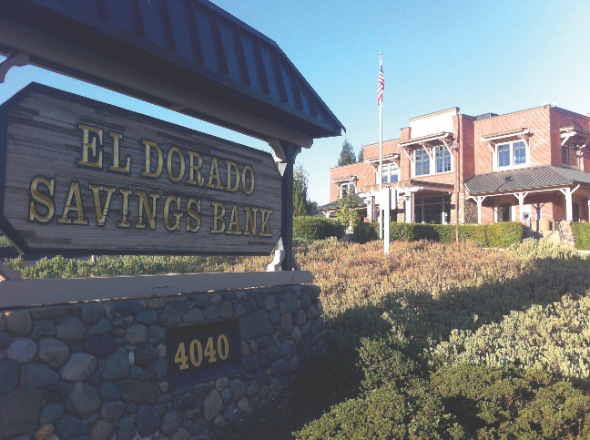 El Dorado Savings Bank
El Dorado Savings Bank has been serving our local communities for over 54 years. El Dorado is one of the most respected banks in the area with 35 offices serving Northern California and Northern Nevada.  Consistently awarded the highest 5 Star rating by Bauer Financial Reports as one of the safest and strongest banks in the United States since 1993, El Dorado emphasizes friendly customer service  along with checking,  real estate loans, internet banking  and mobile banking, to name just a few of our many services available. For more information stop by any branch or go to eldoradosavingsbank.com.
---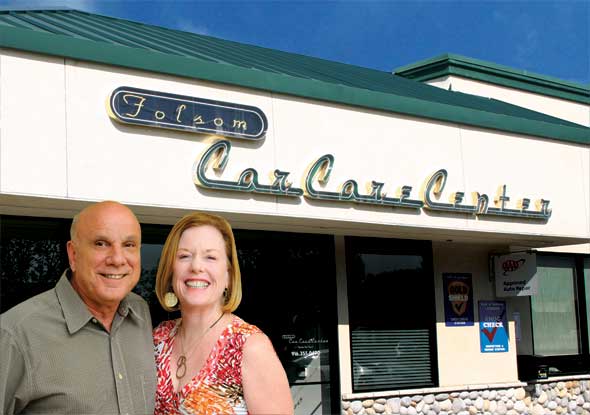 Folsom Car Care Center
Folsom Car Care Center
520 Natoma Station Dr.
Folsom
916-355-0490
www.folsomcarcare.com
Folsom Car Care is very proud to have been chosen the regions "favorite auto repair" business for the 8th year in a row. Be sure to check out our new Loyalty RPM program, where you can earn loyalty reward $$ on all purchases. At Folsom Car Care Center we are redefining the way you choose automotive repair. Visit us at www.folsomcarcare.com.
---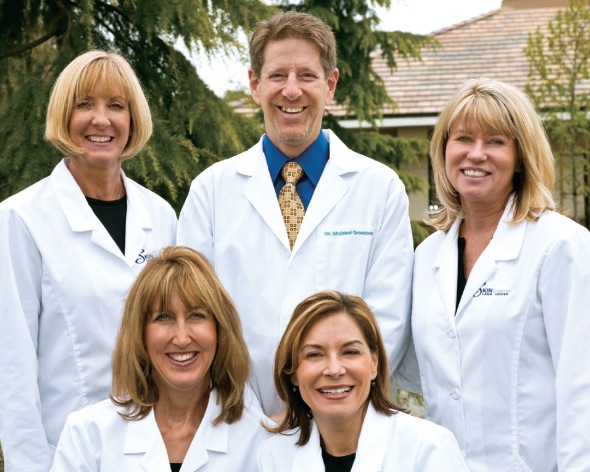 SKINovative Laser
Dr. Michael Greenberg and the staff at SKINovative Laser Center sincerely thank the entire Style readership for voting us one of your Favorite Skin Care Centers. From skin rejuvenation, quality skin care products, Botox, to laser hair removal, our goal has always been to give our clients natural looking results. Thank you again! Readers' Choice Award Special: 15% off all services and products.
2012: Med Spa
2011: Med Spa
2010: Skin Care Center
---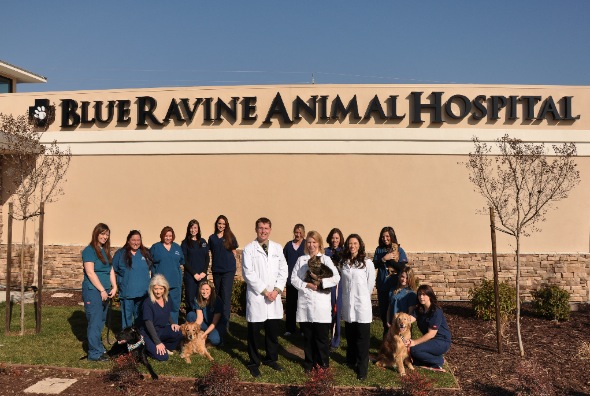 Blue Ravine Animal Hospital
Thank you for voting us Favorite Veterinarian for the 3rd year in a row! At Blue Ravine Animal Hospital, our goal is to provide our clients with a friendly, professional, and caring atmosphere, and to treat our clients' pets as though they were our own. We are honored by being voted favorite veterinary hospital in our community. Our doctors practice the highest quality of medicine and provide your pets with excellent care. Please visit our state of the art facility, ask for a tour or call for an appointment.
---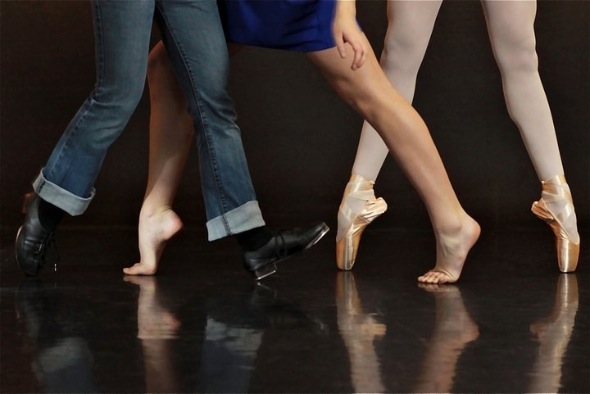 Runway Boutique
Montano de El Dorado Shopping Center
1000 White Rock Rd.  |  El Dorado Hills
916-933-6300     
www.Runway-Boutique.com
Thanks you for voting us #1 Favorite Boutique!
We provide ageless fashion that appeals to all generations, and styles that fit a variety of body types. Stop by and let our stylists help you design a wardrobe that fits your everyday lifestyle or find the perfect dress for that special occasion. Brands include: Michael Stars, Free People, Ella Moss, Velvet, Hudson, Big Star and Sanctuary.
And, when you're in Folsom, visit our other store, Button Up Boutique, in the Palladio Shopping Center.
---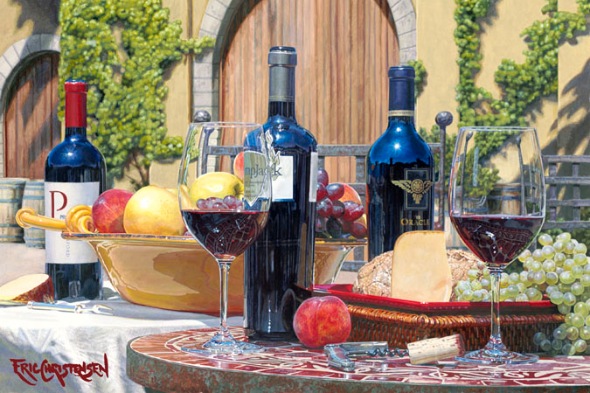 American Visions Art Gallery
705 Sutter St.  |  Folsom
916-351-1623  |  800-548-8446
www.AVartgallery.com
Thank you to Style Magazine readers for voting American Visions as Favorite Art Gallery. We are honored. We invite you to attend one of our monthly artist's receptions at the gallery. We carry your favorite artists - June Carey, Michael Godard, Thomas Kinkade, Eric Christensen and many more! We have been in business for years offering a friendly, knowledgeable customer focused staff that can answer all your questions. See our calendar of events at our website.
 Art is an Escape Without Leaving Home
---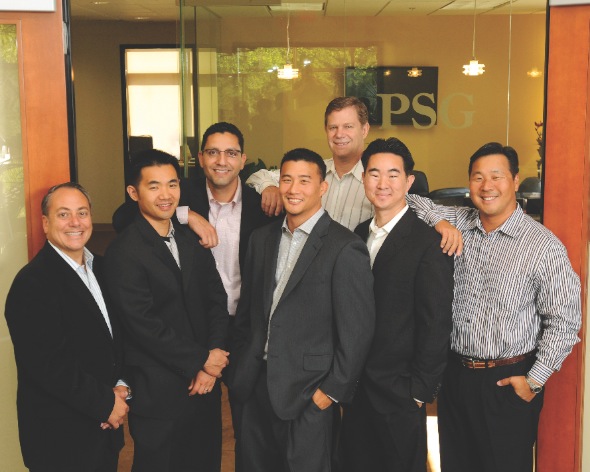 PSG
9257 Sierra College Blvd., Ste. B  |  Roseville
916-791-3120
www.psgcpas.com
We truly want to say Thank YOU to all the Style readers for choosing PSG as your Readers' Choice Accounting Firm for 2012.  We are grateful to have such an outstanding team that contributes to our success in serving our client's needs.  We work closely with our clients to understand their needs, and tailor the appropriate solutions to achieve them. PSG's partners have previously owned several successful businesses outside of the tax arena. This gives us practical experience which enables us to see things from our clients' perspective.  We like to think of ourselves as business people who happen to be tax experts.
---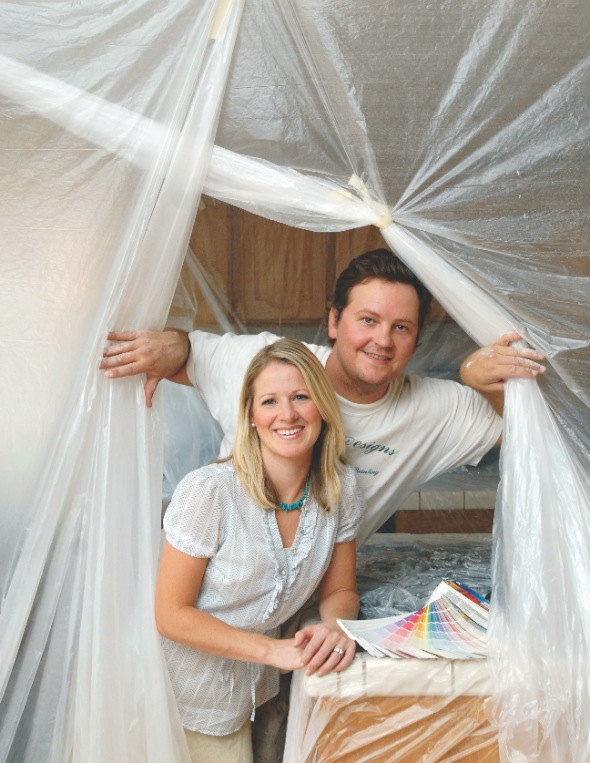 Destiny Designs
Thank you to our devoted clients and friends. We are honored to be voted Best Interior Designer, Painter and Home Remodel company. Being noticed for our work and dedication is a great accomplishment.  We offer a unique team that works with you through the planning and design stage to the painting and contract finishing work. It's been a pleasure working with our clients to give them a fresh new paint job, dream kitchen or even a complete new dental office. We love our work and are glad you do as well.
---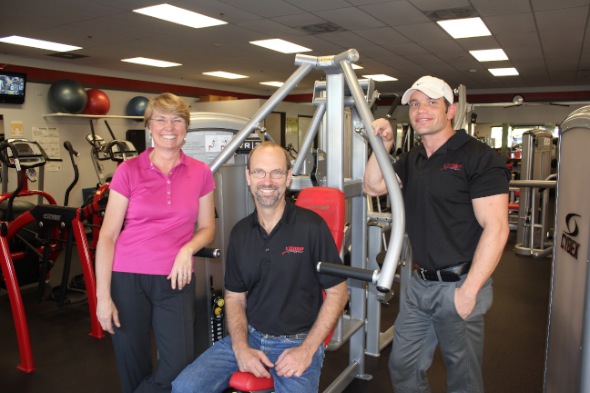 Left to right: Cynthia & Robert Breazeale – Owners,
Steve LeBlanc – General Manager
Snap Fitness - El Dorado Hills
2222 & 2203 Francisco Dr.  |  916-933-9448
Corner of Green Valley Blvd. and Francisco Dr.
www.SnapFitness.com/ElDoradoHills
Our heart-felt gratitude for voting owner Cynthia Breazeale as #1 Favorite Local Business Person and Zumba instructor extraordinaire, Brandy Gill, as #1 Favorite Dance Instructor.  At Snap Fitness/EDH, we strive to provide community members with the highest quality service, outstanding workout equipment, a line-up of the best group fitness classes, and a team of dedicated, results-oriented Personal Trainers  to 'help members improve their overall wellness in order to celebrate life to its fullest'.  Snap Fitness/EDH  features the lowest dues in the region, childcare, and a full line-up of Group Fitness classes such as Bootcamp, Zumba, Yoga, Pilates, Cardio Kickboxing, Senior Classes, and more.
---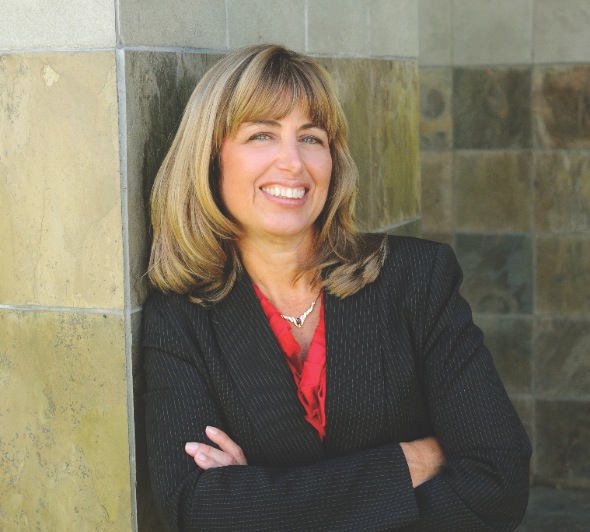 Darla Colson, CPA, MST
Gilbert Associates, Inc.
101 Parkshore Dr., Ste 100  |  Folsom
2880 Gateway Oaks Dr., Ste. 100  |  Sacramento
916-646-6464 x117  |  www.gilbertcpa.com
I am grateful to the readers of Style for voting me Favorite Accountant. I take care in meeting the tax and accounting needs of my clients. It is important for businesses and individuals to have confidence that their accountant is knowledgeable, honest, and dedicated to looking after their financial interests. As a working CPA for over 27 years with a Masters in Taxation who has lived in Folsom for nearly my whole life, I understand the issues that impact the people of this area. Contact me at 916-646-6464 to discuss you or your company's particular tax or accounting needs.
---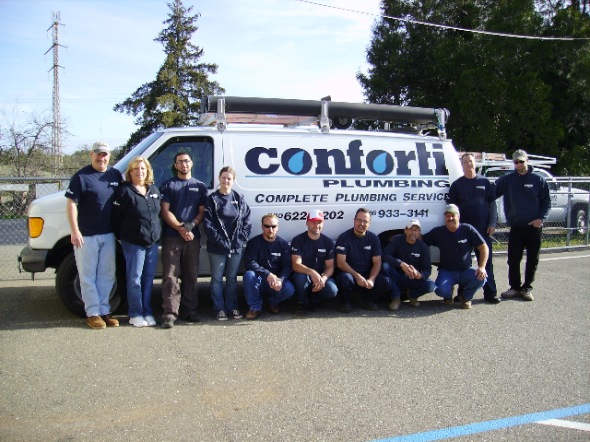 Conforti Plumbing
530-622-0202  |  916-933-314
A special thanks to all our customers for voting us #1 again.  We pride ourselves on providing prompt, professional service at reasonable rates. With stocked service vehicles and a warehouse of repair parts and water heaters, we have the resources and expertise to resolve all your plumbing needs. We offer "Service You Can Trust." Our plumbers are background checked and experienced. The quality of our work is excellent and our customer service is exceptional. That's why most of our work comes from repeat customers and referrals.
2009-2012: Plumber
---
SPECIAL PROMOTIONAL SECTION
---
If you would like to be included in one of Style's Special Promotional Sections, please contact Debra Linn at 916-988-9888 x114 or [email protected].
---
SPECIAL PROMOTIONAL SECTION
---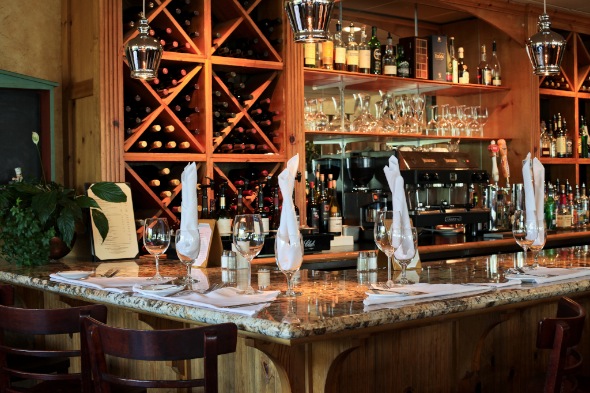 Bidwell Street Bistro
Thank you for voting us #1 Favorite Overall Restaurant along with all the other Readers' Choice Awards. Owner Richard Righton and Chef Wendi Mentink have created a bistro in the true sense of the word. Join us for lunch or dinner, enjoy the patio, relax and have a drink at the bar. You've tried all the new places now come home to the Bistro.
---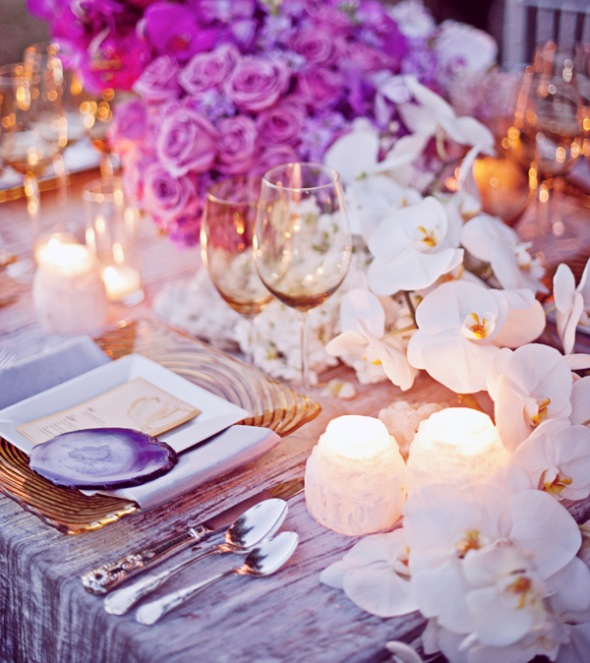 Kate Miller Events™
Kate Miller Events™ is an event-planning boutique in Sacramento, CA. We reflect your unique tastes in every extraordinary detail, while staying organized, working within budget and thinking outside the box.
2012: Wedding Planner
2011: Wedding Planner
---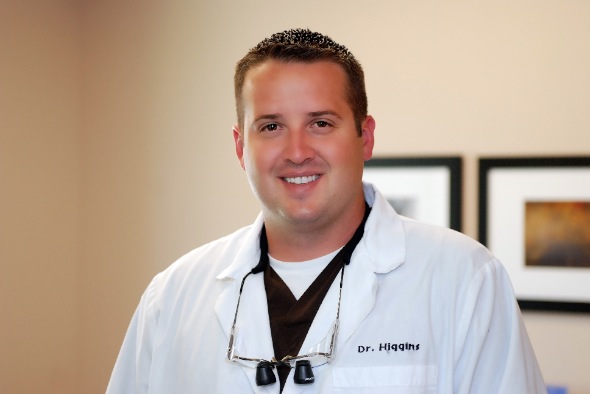 Ryan Higgins, D.D.S.
2180 E. Bidwell St., Ste. 150
Folsom
916-984-9933
www.dentistinfolsom.com
Dr. Higgins is thrilled to have been chosen one of the Favorite Dentists for the Folsom and El Dorado Hills area. We pride ourselves on creating a comfortable environment where quality family dentistry meets a high cosmetic result.  Customer service is of paramount importance to us as well as offering the best possible treatments available. We hope to see you soon.
---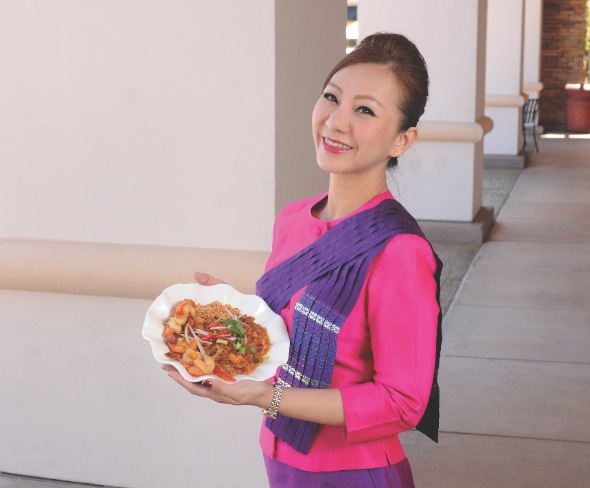 Thai Paradise
Thank You to all our loyal customers who have made us the number one Thai Restaurant in the Folsom - El Dorado Hills Area for the fourth year in a row! Coming this fall - Thai Paradise is expanding! We are excited to announce that we will have a new larger dining room in the next few weeks. Same fabulous food, new romantic ambiance. Come taste for yourself why Thai Paradise is consistently voted the BEST Thai food in town!"
---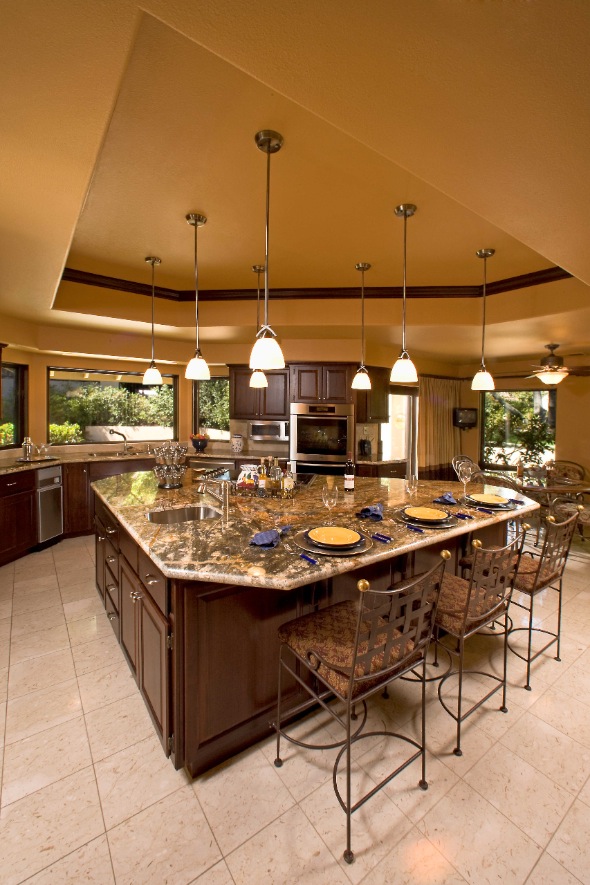 Eberle Remodeling
Eberle Remodeling, a full-service, Design/Build, residential remodeling company, would like to thank all those who voted us their #1 Favorite Remodeler in the Roseville, Granite Bay, and Rocklin communities.  Now in business for 28 years, we've won 53 NARI CotY awards. Please visit our website at www.EberleRemodeling.com, and also check out the link to "GuildQuality", our independent, customer satisfaction survey company.
Lic # 659954
---
Not Too Shabby
We want to Thank Everyone for voting for Not Too Shabby as one of Style Readers' favorite Home Décor Stores! Please join us for our 7 year Anniversary Celebration on Saturday, October 13, in our fabulous new location 729 Sutter Street (right next to Snooks!). Check out www.nottooshabbyshop.com and facebook for all of our latest treasures.
---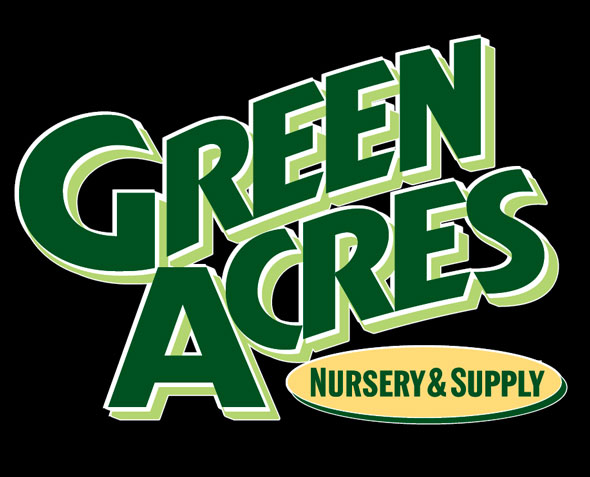 Green Acres Nursery & Supply
We are proud to be a locally and family owned business that sells quality plants at the most competitive prices. Customer service is king at our stores and we will help you choose the right plants for the right place in your yard. New at Folsom – CUSTOM patio furniture and barbecues!
---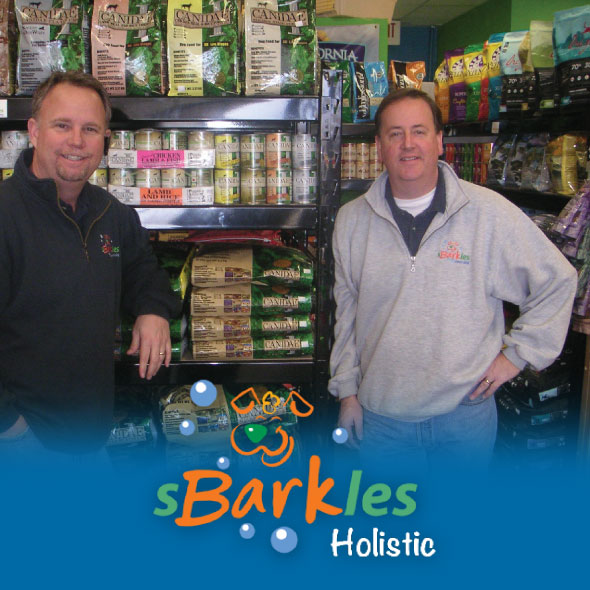 sBarkles
850 E. Bidwell St., Ste. 150
Folsom
916-984-0102
www.sbarkles.com
Thank you to our terrific devoted dog and cat owners, we appreciate your business and we look forward to serving you and all you pet needs in the near future! Thanks for voting us favorite pet shop 4 years in a row! Do-it-yourself Dog Wash, Super Premium/Holistic Dog/Cat Food, High Quality Treats & Chews, Medicinal Products & Supplements, Grooming Products, Toys, Leashes & Collars.
---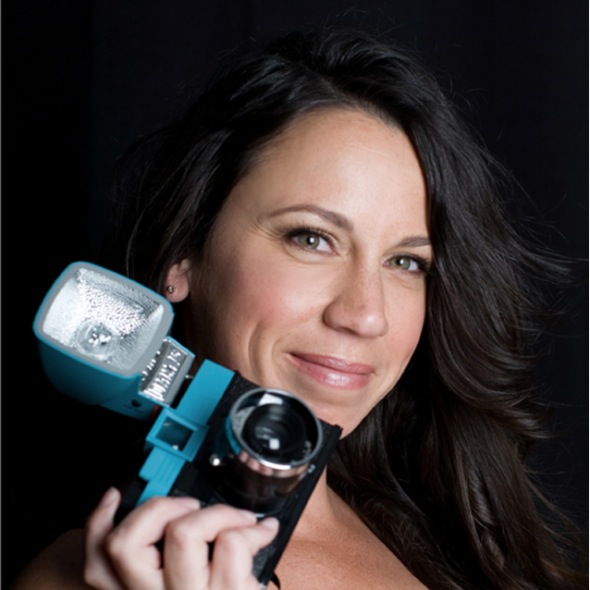 Shoop's Photography
"We are proud to be a part of the Folsom/El Dorado Hills community. Thank you for choosing us as your favorite wedding and family photographer, trusting us to capture your most special moments. We look forward to serving the community with the best quality and service for years to come!"
---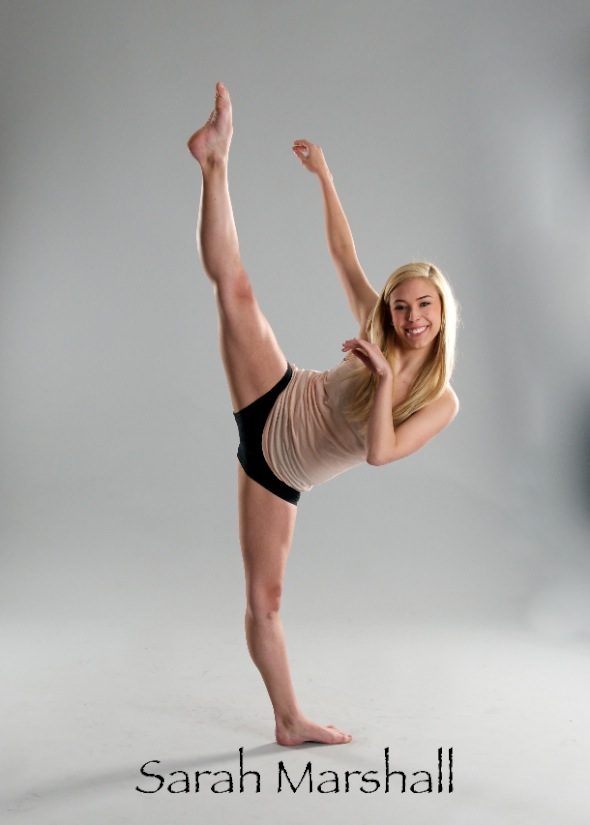 Center Stage Dance Academy
2203 Francisco Dr., Ste. 150
El Dorado Hills
916-939-7222
www.csda.info
Center Stage Dance Academy of El Dorado Hills offers quality instruction in all styles of dance including ballet, contemporary, lyrical, hip-hop, jazz, tap, break-dancing, and more. Wonderful programs are available for both the recreational and serious dancer, and all students learn technical and performance skills in a fun, non-competitive atmosphere.
---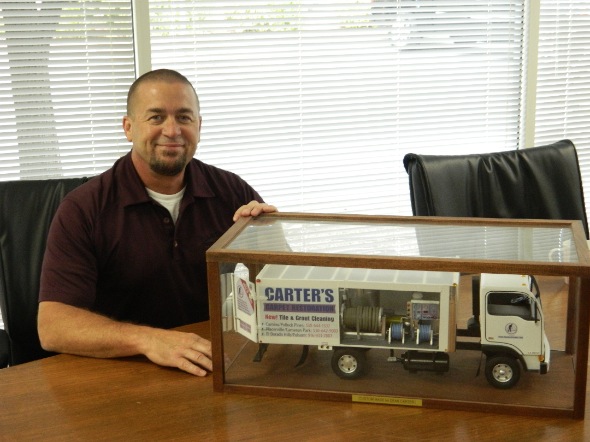 Dean Carter
Carter's Carpet Restoration
Thank you for voting us #1 Favorite Carpet Cleaning Service in Folsom, El Dorado Hills and the Foothills! Carter's offers the best residue free, safe and non-toxic carpet cleaning available. Guaranteed or your money back!
2012: Carpet Cleaning Service
2011: Carpet Cleaning Service
2010: Carpet Cleaning Service
2009: Carpet Cleaner Service
---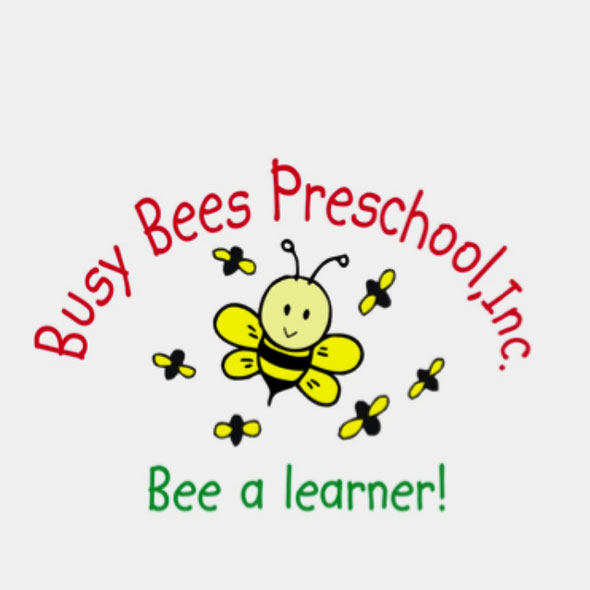 Busy Bees Preschool, Inc.
1261 Hawks Flight Ct., Ste. F
El Dorado Hills
916-933-3797
www.busybeesedh.com
Lic. #093615280
THANK YOU for voting Busy Bees Preschool #1 Favorite Preschool, what an honor!  The dedication of our teachers and the support of many wonderful families over the years are what makes us shine.
---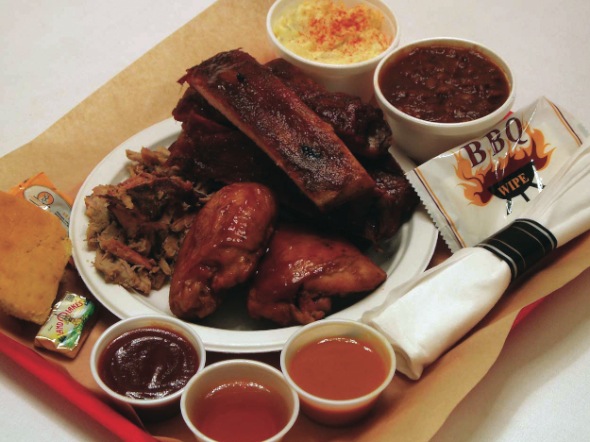 Sierra Smokehouse BBQ
2533 Merrychase Dr., Ste. 400
Cameron Park
530-672-7477
www.sierrasmokehousebbq.com
Sierra Smokehouse BBQ & Custom Catering has been serving award winning, Southern style, competition BBQ "with a California twist" in Cameron Park since 2008.  We've successfully catered personal and corporate events for groups of 50 to 1,250 BBQ enthusiasts.  Most rubs and sauces are Gluten Free and are available for purchase.
---
SPECIAL PROMOTIONAL SECTION
---
If you would like to be included in one of Style's Special Promotional Sections, please contact Debra Linn at 916-988-9888 x114 or [email protected].