Works of Public Art
Aug 31, 2012 10:11AM ● By Style
Photos by Dante Fontana, © Style Media Group.
Public art is a delicate balance of artistic expression – harmonizing the need of the community with the voice of the artist – in hopes the end result will express an idea of who we are.
You. Us. But it needs you to notice it. Next time you're wandering around town, take the time to observe or even spend some time with the public art. "We don't know where it is!" you might cry. "Don't cry," we say. "Come with us, and we'll show you."
Every piece of public art has a story. Some of the artists and contributors behind some of our most renowned pieces of public art granted us the pleasure of sharing the stories behind their creations. Welcome to "Public Art Appreciation 101." But the greatest secret to appreciating public art is you really don't need the "why" for it to come alive. Like any masterpiece, all it really needs is you. (We just blew your mind, didn't we?)
MOSAIC ART
Roseville Sculpture Park
At Roseville's Sculpture Park, beneath the massive red Cosmos sculpture, which marks the trailhead for Miner's Ravine Trail, four concrete pedestals emblazoned with colorful mosaics stand. From 2001 to 2010 these pedestals displayed bronze plaques created by local third and fourth graders, but in 2010 the pedestals were vandalized and 33 of the beloved plaques stolen.
Thanks to a joint undertaking by the City of Roseville, Blue Line Gallery – Roseville Arts, and the Boy Scouts of America, the pedestals have been revived for the community with new, bright mosaics. "We decided that a mosaic project would be appropriate because it's colorful, it enhances the space, and it's a nice art project," says Julie Hirota with Blue Line Gallery – Roseville Arts. The project was initiated by Hirota and an eager 13-year-old Eagle Scout named Tyler Tate, who might best be described as a force of nature. An idea quickly became reality with Tate calling on any school willing to accept his request for student participation and promotion of the project, arranging for donations of mosaic tile, and coordinating with businesses, community partners, children and Boy Scouts throughout the entire project.
Local children submitted 220 mosaic tiles, which were narrowed down to 96 – with the help of the original jurors for the bronze plaque project, along with community partners and Mayor Pauline Roccucci. Tate and Hirota coordinated four workshops where the student finalists constructed their mosaics, and in May 2012 the mosaics were installed with the help of a local professional concrete mason.
Says Hirota, "Tyler Tate did a remarkable job leading the children and the Boy Scouts. It was just really a remarkable effort by a community partner, the Boy Scouts of America, a non-profit agency (Blue Line Gallery – Roseville Arts) and the City of Roseville; all coming together to collaborate on a public art project."
A dedication plaque showing all the children's names, plus Tyler Tate's, and all of the City and community partners, should be installed sometime soon. Says Hirota, "Now that it's all up there, we get tremendous feedback. It's something the community is going to have for a really long time."
CLAUDE CHANA STATUE
Old Town Auburn
The 14-foot-high crouching Claude Chana statue greets all who exit eastbound I-80 at Maple Street, the gateway to Old Town Auburn. In fact, you don't even have to exit to be greeted by old Claude; he's pretty hard to miss and is easily visible from the freeway in both directions – if you know where and when to look (just north of the Auburn Ravine railway bridge that crosses I-80).
The sculpture measures a whopping 14' x 10' x 16' and is constructed of a rebar and wire mesh framework, covered in concrete. Anticipating great tourism value for the city, the Auburn Chamber of Commerce Board of Directors purchased the Chana statue from local sculptor and practicing dentist Dr. Kenneth Fox in 1972.
Dr. Fox's handiwork is well known around Auburn – his famous Coolie statue at the Chamber of Commerce on Lincoln Way and his war memorial Why at the County Administrative Center on Fulweiler are notable Auburn landmarks. Swing by Dr. Fox's office on Auburn Ravine Road to see the impressive 42-foot-high Amazon Archer, as well as Amazon Warrior, Chains of Bondage and Freedom's Prayer.
So, for those who don't know (or are too afraid to ask), "Who is Claude Chana?" The story goes that Claude Chana discovered gold in the Foothills on May 16, 1848 – the second major gold strike in California. Chana's strike led to the establishment of a mining camp called North Forks Dry Diggings. A year later the camp changed its name to Auburn.
As the Claude Chana statue continues drawing tourists to Old Town Auburn, what seemed true to the Auburn Chamber Board of Directors 40 years ago still proves true today. One only has to do a Google image search for "Claude Chana sculpture Auburn" to find photos of happy ant-sized tourists waving beneath Chana's concentrated stare. Fox's sculpture is still "larger than life" today as it was in 1972.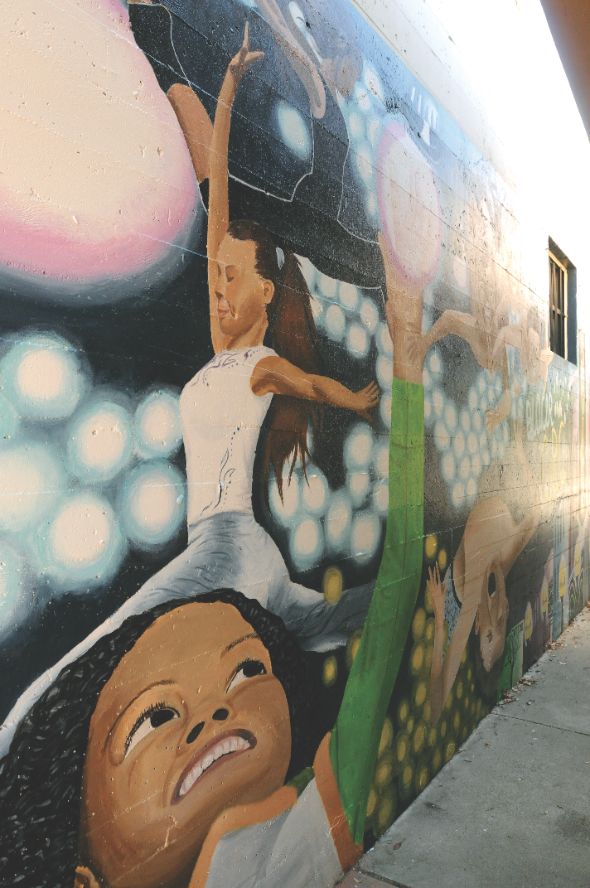 PLACER ARC MURAL
Downtown Roseville
Some of the best art experiences are ones involving discovery. This can definitely be said of 16-year-old Casa Roble High School student Samantha Swain's mural.
A delightful discovery hidden along a narrow Vernon Street walkway, Swain' mural emblazons the wall of Placer ARC offices. At 22 feet long and 10 feet wide, it's Swain' largest piece of artwork to date. "I'd painted a picture before, but only one, in school." Swain, however, felt her beloved art teacher Mr. Buckley had prepared her for the undertaking, which itself speaks volumes about the value of art education – that an art teacher can bring out the kind of confidence a 16-year-old student needs to independently undertake a full-scale mural. Needing community service hours for school and interested in art, Swain decided on a mural project and contacted local entities including Placer ARC, who was intrigued enough by her idea, so to speak, to "take a shot on a young up and comer."
With the help of her two "worker bees," friends Lauren Anderson and Robin Guillo, Swain enjoyed her own journey of discovery in completing the mural. She says, "It turned out different than what was on paper. We encountered problems and had to fix them other ways than what I expected. I learned a lot." What was the inspiration behind the imagery? "It's supposed to be fun and lighthearted; swimming through the sky and lighting up the City of Roseville."
Aaron Davis, community outreach coordinator for the City of Roseville, describes the mural's impact. "Our mural is unique in that it lives in a very tight alleyway and is somewhat hidden; it isn't immediately visible like some community art. So when people stop to view it, it's almost a double-take situation, where foot traffic on Vernon Street will notice it in passing and stop to have a look – almost like they have found a small buried treasure. It always makes us smile when we see people duck into the alley to view it. The response has been excellent, and community art like Swain' mural is a tremendous stepping stone as Vernon Street becomes more lively and vibrant."
What's in store for Samantha Swain, the art world's new ingénue? AP Art with Mr. Buckley: 24 pieces in 36 weeks. (Even art has boot camp!) Swain says she's nervous. We're not.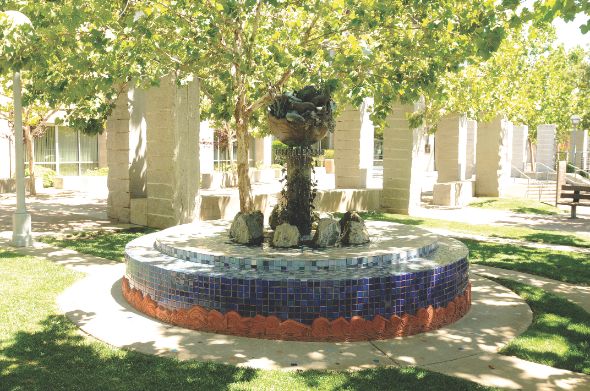 RENAISSANCE FOUNTAIN
Roseville's Civic Center Plaza
Yoshio Taylor's Renaissance fountain in Roseville's Civic Center Plaza is a perfect example of art in harmony with community.
Completed in 2002 as part of Roseville's Civic Center Plaza redevelopment, the fountain comprises a large bronze half-sphere spilling over with a cornucopia of native flora and fauna atop polished granite twined with roses, all above a circle of brilliant blue tile. Taylor, a renowned Sacramento public artist since 1985 and teacher at Cosumnes River College, aimed to tell a holistic story of Roseville, nature and history together. "I came up with the idea of the fountain sculpture to be educational, as well as a reference to the history of Roseville." The detail is remarkable – from the exterior, relief-carved locomotive to the historic post office peeking out from behind trout, mountain lion and deer, in amongst California poppies and bulrushes, all brimming with life.
The fountain has obtained a beautiful patina over time, but Taylor says sometimes he wishes it didn't do that. "I did have colors on each creature; each had a certain beautiful patina when I installed it. Over time I knew it was going to change, but sometimes I wish I could show you what it was when it was first installed."
Mark Wolinski, now government relations analyst with the City of Roseville, sat on the selection committee that chose Taylor's fountain and still speaks passionately of it today. "...It [not only] works at representing the community, both from the history of the community and its connection to the past and what created Roseville, but also how that connection made us who we are, which allows us to move forward and continue to be a great community."
It's a testament to the harmony at work in Taylor's fountain that it will now become a focal point of the Town Square redevelopment, currently underway adjacent to the Civic Center Plaza. Says Wolinski, "One of the things that always is very pleasing to me is to watch families come to the civic center and see young children go up to the fountain and look at the different figures; I see how much people are still enjoying and getting pleasure out of it." Is there any greater feedback?