Works of Public Art
Aug 31, 2012 10:17AM ● By Style
Photos by Dante Fontana, © Style Media Group.
Public art is a delicate balance of artistic expression – harmonizing the need of the community with the voice of the artist – in hopes the end result will express an idea of who we are.
You. Us. But it needs you to notice it. Next time you're wandering around town, take the time to observe or even spend some time with the public art. "We don't know where it is," you might cry. "Don't cry," we say. Come with us, and we'll show you.
Every piece of public art has a story. Some of the artists and contributors behind some of our most renowned pieces of public art granted us the pleasure of sharing the stories behind their creations. Welcome to "Public Art Appreciation 101." But the greatest secret to appreciating public art is you really don't need the "why" for it to come alive. Similar to any piece of art, all it really needs is you. (We just blew your mind, didn't we?)
GOLDORADO
Plaza Goldorado, Cameron Park
For roughly 15 years, Bob Bennett's Goldorado has been a constant in an ever-changing suburban landscape. Located off Cameron Park Drive on Highway 50, on a quiet corner next to Walgreens, its surrounds are nondescript. No plaque, no dedication. Here, the sculpture does the talking. Its unique bronze "arms" are rough, pale as stone, almost petrified – yet they give off radiant flashes when the sunlight strikes the polished bronze just so.
The real estate developer at the time, Dick Smith, was a friend, says Bob's wife Debi. "They wanted something to represent the mountains and Gold Country, and that's what that sculpture represents – the shape of the four sides coming together of the Sierras, and then the gold nugget represents gold being discovered in the area."
But it also has a deeper significance. Roseville-born Bob Bennett and his identical twin, Tom, built a sculpting empire, welding coat hanger sculptures at the back of a gas station in 1969. Coat hangers gave way to bronze and after establishing their own foundry, the Bennett's were producing as well as marketing their own bronzes; they opened their first gallery in Carmel in the early '70s, expanding to more than 20 galleries across the U.S. However, the late '90s saw the closure of the Bennett foundry, and the galleries were soon to follow. Then in 2003, Bob Bennett passed away.
Goldorado was Bob Bennett's final public monumental, but the Bennett legacy thrives at Bennett Gallery & Awards in El Dorado. Run by Bob Jr., his wife Alice, along with Debi and the Bennett clan, the Gallery showcases Tom's work along with other local artists' and friends' pieces, and provides custom awards to celebrities and business all over the world.
But close to Debi's heart is the brand new Bennett Sculpture Gallery in Carmel. Says Debbie, "...The legend continues! Our daughter is doing beautiful paintings for the walls, and Terry Bennett, Tom's daughter, is carrying on the legacy too." Fittingly titled Imagine, Carmel will also be home to her husband's last monumental in existence. "There's several other nice pieces of Bob's that I'm having cast right now. I'm pretty excited about seeing pieces I haven't seen in a very long time." Through so many incarnations, the Bob Bennett legacy has found yet another home.
For more information on Bob and Tom's bronzes, local artists, awards and more, visit bennettgallery.net; for more information about the new Bennett Gallery in Carmel, visit bennettsculpturecarmel.com.
SNOWSHOE THOMPSON MURAL
Downtown Placerville
Snowshoe Thompson is why murals are painted. Norwegian-born, Placerville-local Jon Torsteinson-Rue, also known as "Snowshoe Thompson," skied the mail route between Placerville and Genoa, Nevada from 1856 to 1876, using then unheard of cross-country skis from his native Norway to deliver mail. Legend goes that he carried neither blanket nor gun and was never paid. It was Snowshoe Thompson who aligned the stars for local Placerville artist Oran Miller and retired local businessman Pat Blackwell – bringing about the mural that now stands at Main and Sacramento Streets in Downtown Placerville.  
Miller's Snowshoe Thompson connection began when he painted the signage for Snowshoe's Spring, a bar opened by friends back in 1997 in the old post office building, now the mural's location. Says Miller, "The bar closed after a few years and eventually the sign had to be covered up as well. Until that point, I felt I 'owned' the corner of Sacramento and Main. Afterwards, you can say I wanted it back. Badly." The opportunity came, ironically, through the owner of the post office building, Pat Blackwell. An avid Snowshoe Thompson enthusiast, Blackwell had attended the 2001 dedication of the Snowshoe Thompson statue in Genoa, and returned to Placerville determined to get a mural honoring Snowshoe. He wrote a letter to the Mountain Democrat, and through funding from Placerville Community Pride and the Placerville Downtown Association the mural became a reality.
Instead of showing samples of his previous work to the selection committee, Miller wowed with a large mock-up of his intended Snowshoe Thompson mural, and won back his "rightful corner." Almost 10 years after completion, Miller's passion for his subject and attention to detail still shines in the mural – from the period-accurate buckles and bootlaces to the gold-leaf detail on the antique copperplate script, Snowshoe is as vibrant as ever; thanks in part as well to the high-quality lacquer enamel Miller used to paint the mural, and the UV-protectant coating to protect the west-facing mural from the sun's damaging rays.
The mural stands as a testament to the dedication and passion that Snowshoe Thompson can still inspire strangers, like Pat Blackwell and Oran Miller, almost 150 years later. With the mural's 10-year anniversary approaching in 2013, Miller has plans to undertake some slight restoration work, and poses a tantalizing question: "Don't you think it would look great with a few lights overhead…?" The more light on Snowshoe Thompson, the better.
For more information about Oran Miller, visit oranmiller.com.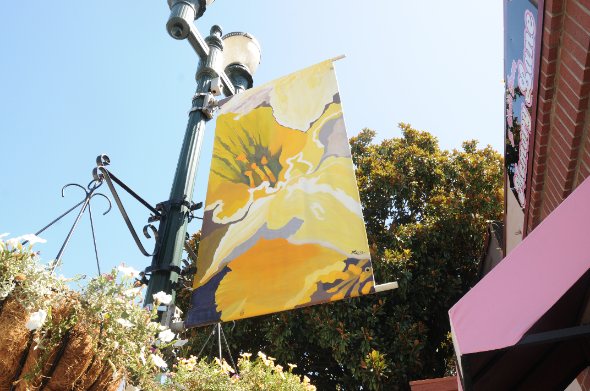 PLACERVILLE BANNERS ON PARADE
Downtown Placerville
Hopefully by now you've noticed the brightly colored banners decorating the light poles lining Placerville's Main Street. It's a celebration known as Placerville Banners on Parade, part of the Art On Parade program, and they're on display from June through September. It is public art in its purest form – created by the community, for the community, to beautify the community.
Art on Parade began in 2005 with decorated wheelbarrows, then in 2006 with decorated wine barrels; in 2007 it was banners, and it has been Banners on Parade ever since. Bill Robinson, president of the Art on Parade Committee – a nonprofit organization under the auspices of the Placerville Downtown Association – says, "It's gotten more attention each year; we have a lot of people who really look forward to seeing them. It gives a lot of color to Main Street, along with the flower baskets. People just really like it."
Submissions are open to the general public. One of the locals and a regular contributor of banners is Kayla Grace, whose day job is assistant manager of creative arts at Motherlode Rehabilitation Enterprises (M.O.R.E.), a private Placerville non-profit organization dedicated to supporting persons with disabilities. Banners on Parade has become a perfect showcase for Something MORE (their gallery and group project arm) and their vibrant brand of "outsider art." Says Grace, "The artists in Something MORE love this competition and exhibition because they are treated just like any other artist in the community. The judges don't know the names of the artists when they judge. Several of our artists have received honorable mention, and in 2011 third prize went to a Something MORE artist."
The majority of funding for Banners on Parade comes from a silent auction, held this year on October 20 at the Art and Wine Festival on Main Street. While Robinson hopes to obtain grant funding, the reality is Banners on Parade needs every dollar of public support to continue beautifying Main Street. Support the arts, and your community, and help to make 2012 their biggest fundraising year yet!
---
To download the Banners on Parade brochure and walking guide, visit placerville-downtown.org/Banners2012/BannersPg1.html. To make an online donation, visit placerville-downtown.org/ArtonParadeDonations.html or bid on a banner at the Art and Wine Festival on October 20.