Lake County
Aug 30, 2012 08:37AM ● By Style
Photo courtesy of Barbara L. Steinberg.
Harvest days are cooler and internal clocks are winding down, making this the perfect time to retreat.
Autumn leaf lovers should head north to Lake County for a restful and multihued ride. Avoid Interstate 5 by setting your GPS to tranquil country roads; meander up Highway 16 to Esparto, through the Capay Valley and Cache Creek Canyon, then turn left on Highway 20 and follow winding roads to Lake County.

Kayaking at Rodman Slough Preserve
Photo courtesy of Barbara L. Steinberg.
DISCOVER
Black, golden and red oaks, dogwoods, cottonwoods and red maples deliver a colorful display through mid-November. According to locals in the know, Cobb Mountain – as well as vineyards and orchards – put on a beautiful show this time of year. The Big Valley of Kelseyville is also recommended. Autumn colors are weather dependent, so don't be disappointed if fall foliage deities don't provide. Lake County has plenty of attractions to fill your days. Be among the first to hike Mount Konocti, Lake County's largest park. Newly acquired, this dormant volcano provides stunning views from an elevation of 4,300 feet. Rodman Slough Preserve offers surreal kayaking or boating through sensitive wetland areas and oak woodlands, which shelter a variety of wildlife including great blue heron, great egrets and double-crested cormorants. Kayak tours from Kayak Adventures, located in Lucerne, include equipment and top-notch interpretive talks on the history and nature of the Preserve. On Saturdays, check out the Nature Education Center's guided walks.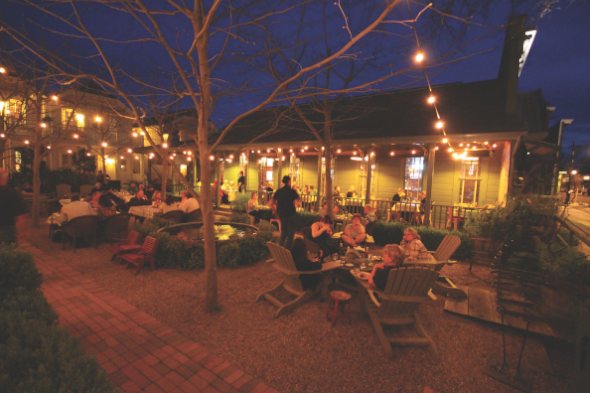 Tallman Hotel Garden Dining
Photo by Jim Warren
DOZE
Camping isn't for everyone, but Clear Lake State Park might convert you. RV or tent camping is great for groups and features ADA-accessible facilities and Kelsey Creek Trail's 1,500-foot boardwalk. The largest freshwater lake in California, Clear Lake fosters stress-reducing and family-friendly recreational opportunities, including hiking, boating, biking, fishing, bird-watching or relaxing in the shade. Can't completely disconnect? There's Wi-Fi access.
In Upper Lake, the historic Tallman Hotel is beautifully restored and LEED green; lodging includes an expanded continental breakfast featuring fresh fruits, homemade granola, jams and scones. The Tallman's heating systems are delivered from geothermal sources. To learn more about this natural process, visit The Geysers in Middletown, the largest geothermal power plant in the world. You'll find heaps to do in this tiny hamlet. A bustling Main Street has wine tasting and interesting local shops including Gracious Ladies – selling items handmade by Lake County craftspeople. Enjoy fantastic fare, libations and live blues at Blue Wing Saloon.
Clear Lake Bed and Breakfast has stellar views – its namesake is literally just beyond the front door. Historically reminiscent of Mt. Vernon (George Washington's home on the Potomac River), luxury suites pay homage to some of our founding fathers. For something completely different, Featherbed Railroad Bed & Breakfast Resort's nine caboose guest rooms contain full baths and comfortable featherbeds. Relax and enjoy great outdoor adventures.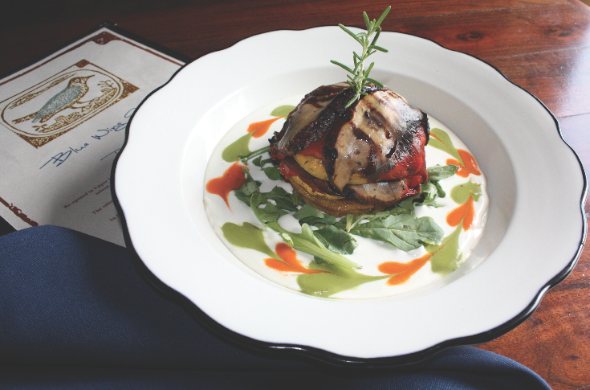 Vegetable and Polenta Napoleon at Blue Wing Saloon
Photo courtesy of Tallman Hotel
DEVOUR
Local farms plus seasonal farm stands and farmers' markets provide fresh fruits and vegetables, farm eggs, goat cheese and wine. The vineyards are especially pretty during the fall. Sustainably farmed wines at Ceago Vinegarden and Vigilance Winery boast breathtaking views of Clear Lake or Anderson Marsh State Historic Park. Restaurants focusing on fresh ingredients can be found countywide. Local favorites include Angelina's Bakery & Espresso, Park Place Restaurant, Saw Shop Gallery Bistro and Studebakers Café & Deli.
If it's family-owned and operated businesses, beautiful views, color-draped landscapes and fresh air you're seeking, escape to Lake County.