A Breed Apart
Aug 01, 2012 08:24AM ● By Style
Vet photos by Dante Fontana, © Style Media Group.
Veterinarius humblius, or "vet superstars" as they are more commonly known, are a hardworking, humble breed.
They have no bright plumage, and no loud bark or squawk. This quiet breed goes about their daily business without fanfare – cleaning ears, clipping toenails, treating all manner of illnesses and nobly resisting the urge to run into their crowded waiting rooms and shout, "Hey, you guys! I totally just healed that dog/cat/bird/iguana!"
Aside from considerable skill in their chosen field of expertise, it's actually their humility that earns them the superstar status for which they are known. They just won't tell you that they're superstars themselves. So, we thought we'd tell you on their behalf, and show you what makes this group of veterinarians truly a breed apart.
CAROLYN STANDEN, D.V.M.
CAT CLINIC OF FOLSOM
Dr. Carolyn Standen has lived in Folsom since 1996, and has been working at the Cat Clinic of Folsom since its opening in 2001, providing care, attention and medical treatment to feline friends all over Folsom and the Sacramento region.
The past 11 years have given Dr. Standen an appreciation for the breed. "Many people don't appreciate their many personalities. They are like little people. If you're lucky enough to share your life with several of these little creatures, you can really see the individuality of each one," she says. Their individuality requires a certain approach, and there are some general do's and don'ts. "Cats are very smart. In handling them, less is generally better, and accomplishing treatment without delay can keep them from becoming too stressed. A quiet, calm environment helps too." As far as what is required of a veterinarian, Dr. Standen recommends patience, empathy, compassion and a good sense of humor.
Sometimes the cats themselves provide the humor, unintentionally. Dr. Standen recalls a time when a young cat was brought to the Cat Clinic for vomiting and not eating for several days. "X-rays showed an unusual pattern in the intestine and stomach, which prompted an exploratory surgery. What did we find? Twenty-one elastic headbands! Once removed from the stomach and intestine during surgery, the cat returned to normal!" (You might think this contradicts the "cats are smart" theory, but the cat was smart enough to know when to stop. See?)  
To help avoid "elastic-band-ectomies," Dr. Standen says it helps if owners get to know their cat's day-to-day habits. "Any subtle change can indicate a potential problem. Seek a veterinary exam yearly to catch illness in its early stages."
It's easy for Dr. Standen to tell us the best part about her job. "Knowing that our team at the Cat Clinic played a part in improving the lives of owners by maintaining the health of their feline companions. My staff keeps me smiling, too." The Cat Clinic of Folsom keeps cats and cat owners smiling. It's the circle of life.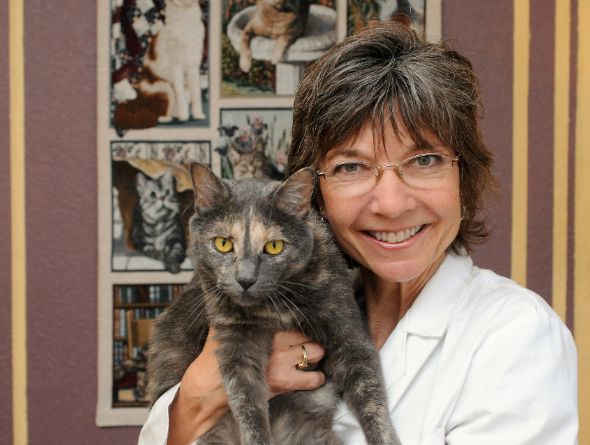 Q&A
Favorite charity: Make-A-Wish Foundation
Perfect happiness is: Learning to be grateful for and appreciate every little thing in life
Favorite local restaurant: Sutter Street Grill
Favorite movie: Fried Green Tomatoes
Guilty pleasure: A glass of red wine and dark chocolate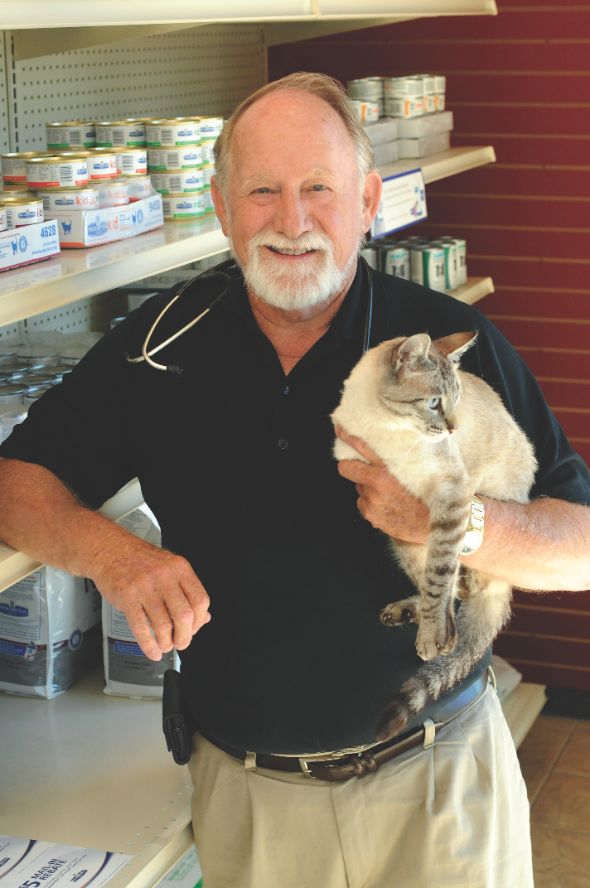 MARVIN FRACE, D.V.M.
MARKETPLACE VETERINARY HOSPITAL
Dr. Marvin Frace has a way with animals. Apparently the sound of his voice on a local TV news segment caused one owner's dog to run excitedly around the house looking for him! "There are a lot of people that can gain trust…like the horse whisperer. I think it's mostly because you give off a sense that you're their friend and you're not going to hurt them," Dr. Frace says.
With 45 years of experience, the past 10 at Marketplace Veterinary Hospital, Dr. Frace has made more than his fair share of (furry) friends. From his earliest days working in Iowa "being kicked by bulls and run over by cows," Dr. Frace says he's never been afraid of any animal. Just ask him about the Nile River monitor (a large and very carnivorous member of the monitor lizard family) he tangled with in southern California!
Thrilling tales aside, Dr. Frace says that to be a good vet, the small daily tasks need to be just as important as the big ones. From ear to teeth cleaning, details are important; as well as a good patient history. "I can't tell you how many times [the client] practically tells you what's wrong with the animal…just because of the history," Dr. Frace says. This is also where his knack with people comes into play: "I've always been able to get people to talk to me and tell me everything." Animal and people whisperer!
When asked to give pet advice to our readers, Dr. Frace doesn't hesitate. "Annual exams. Essentially one year in a dog or cat is similar to five or seven in a human. One year seems too close to look at them, but monitoring that pet, making sure they don't have any issues like heart murmurs or dental disease, can get an early diagnosis, so you can put them on appropriate medication to keep them around longer. Having your pet examined on a regular basis is probably the most important thing."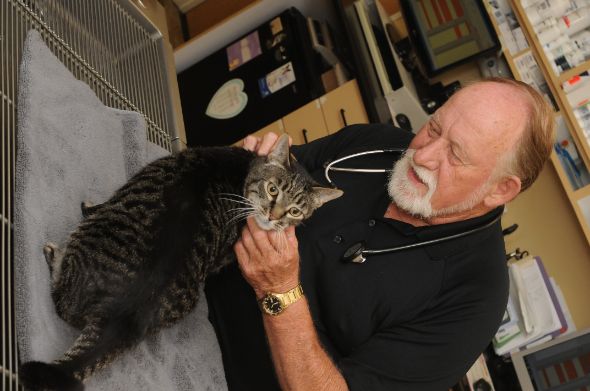 Q&A
Favorite charity: March of Dimes
Perfect happiness is: Being outdoors, gardening, enjoying the scenery and the wildlife
Best piece of advice you've EVER been given: Be patient and persistent.
Motto: Live life to the fullest.
Favorite local restaurant: The Purple Place
Favorite local LANDMARK: Mount Diablo
secret passion/obsession/hobby: Sailing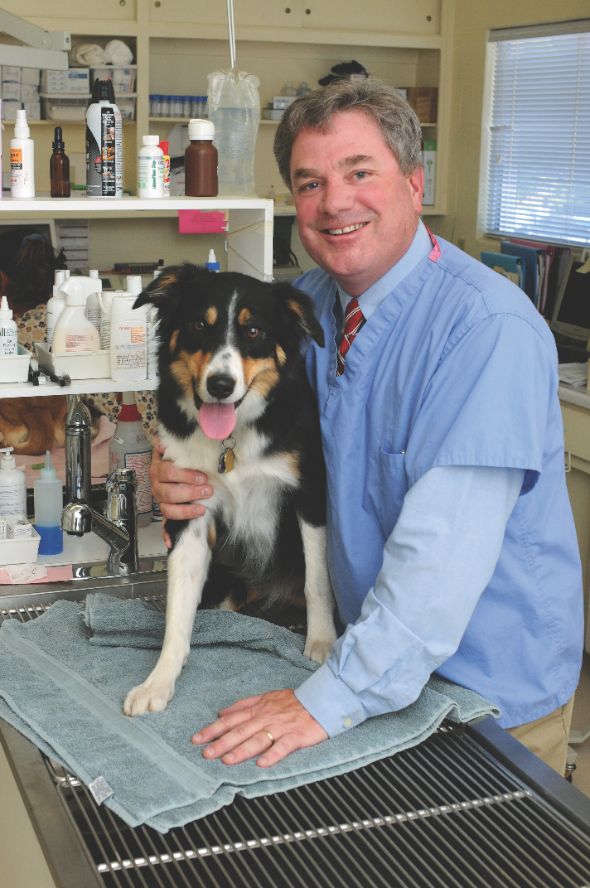 STEPHEN SPELLMAN, D.V.M.
GREEN VALLEY ANIMAL HOSPITAL
Now don't laugh: Dr. Stephen Spellman is allergic to rabbits. "Clients seem to find that amusing," Dr. Spellman says. (We promise we won't laugh.) Luckily for Dr. Spellman, rather than rabbits, dogs and cats are the order of the day at Green Valley Animal Hospital (along with occasional pet ducks and chickens).  
As a UC Davis graduate, Dr. Spellman initially started veterinary life working with large animals, then dogs and cats as well as livestock, before eventually moving on to work exclusively with small animals (sans rabbits).
After 11 years at his own hospital in Sonoma, Dr. Spellman moved to El Dorado Hills in 1997, earning his master's degree in epidemiology at UC Davis before purchasing Green Valley Animal Hospital in 2000, where he has stayed happily since. "It's a beautiful area, and we have made great friends living here. We moved here when our children were young, and it has been a wonderful place for them to grow up. I like that my 'commute' is only a couple of miles," Dr. Spellman says.
When we think of the day-to-day life of a veterinarian, most of us picture animals all day, every day. But our vets are dealing with us almost as much as their furry patients! That initially came as surprise to Dr. Spellman, too. "I didn't realize how much I would be dealing with people." Over time those daily interactions bring familiarity and compassion. "Compassion for the pet and owner, and patience. You can't just love animals; all pets come with an owner!"
Since our furry family members can get expensive Dr. Spellman has practical advice for owners. "Set aside a fund to cover emergencies, or get pet insurance. Prevention can save you a lot of heartache and money."
"It's rewarding to save a really sick or injured pet, and return them happy and healthy to their family. It's also hard to beat a day filled with new puppy and kitten visits. The whole staff loves those days!" We can hear the "awws" from here!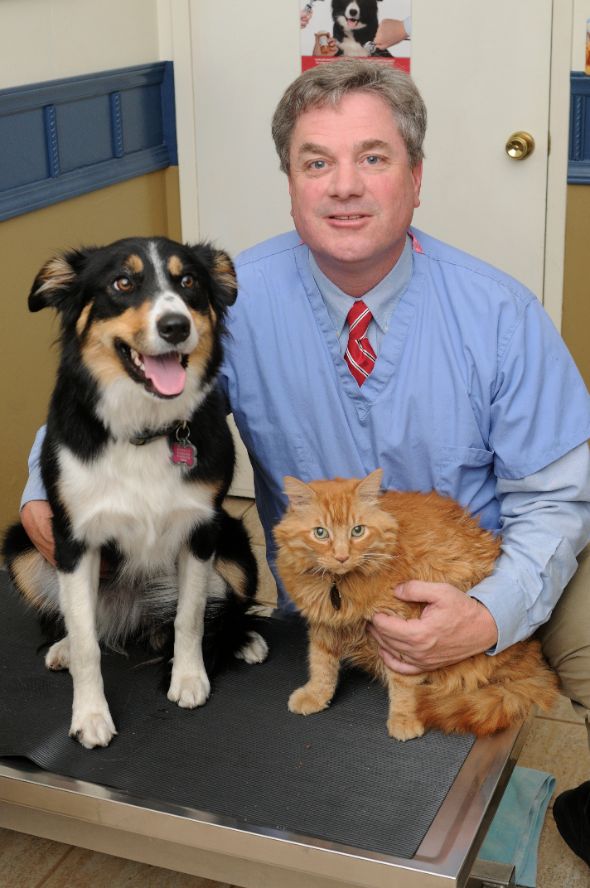 Q&A
Favorite charity: Red Cross, United Way
Perfect happiness is: A day at the lake with my family and dog
Best piece of advice you've ever been given: No one ever learned anything while they were talking.
Favorite local restaurant: Bistro 33
Favorite local landmark: Folsom Lake
Guilty pleasure: Chips Ahoy and milk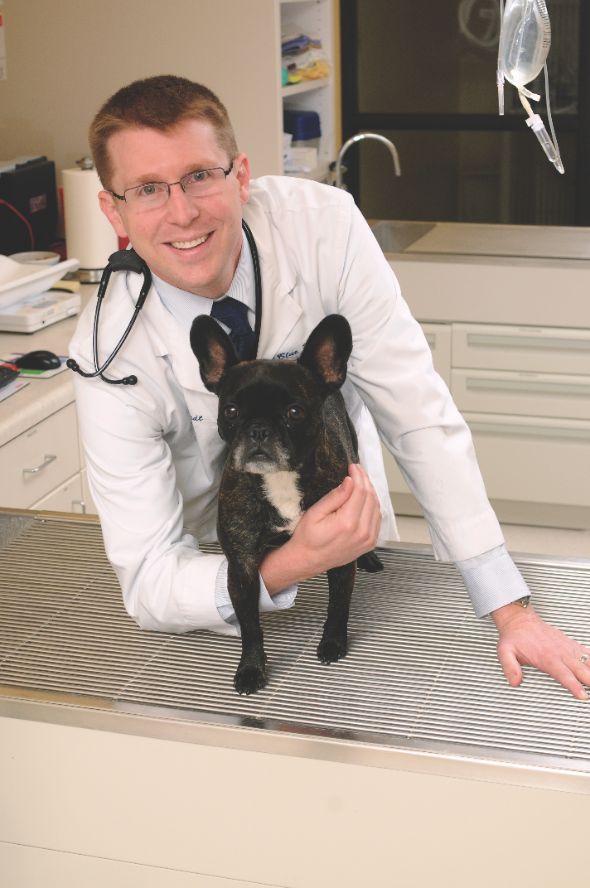 NATHAN FYNAARDT, D.V.M.
BLUE RAVINE ANIMAL HOSPITAL
Dr. Nathan Fynaardt graduated in 2008, and has been at Blue Ravine Animal Hospital for three years. But don't get the impression that he's "new" to the veterinary world. A Los Angeles transplant, Dr. Fynaardt actually spent many years working for his veterinarian father, as well as a private practice technician. However, that didn't make vet school a cakewalk. As Dr. Fynaardt puts it, "They say veterinary school 'is like trying to take a sip of water from a fire hose.'
After graduating, Dr. Fynaardt spent a year as an intern at VCA Sacramento Veterinary Referral Center in Rancho Cordova. The long emergency shifts paid off, as he now finds he can switch into emergency mode when the situation requires. "It's a learned skill and I was fortunate to be at one of the best places in Sacramento to learn it."
Keeping the owners in the picture is Dr. Fynaardt's focus. "Dogs don't bring themselves here. It's the people who bring them to us." He also thrives on the challenges that each new patient brings. "I could have a day that others might call boring where every patient who comes in has itchy skin. Well, every patient that has itchy skin may have a different disease. I have yet to meet a dog or cat that read the textbook and does it right. It's always fun."
Dr. Fynaardt's advice for pet owners is simple: pick up the phone. "Before you do anything, whether it's as simple as putting on new flea medicine, to as complicated as the decision to euthanize your pet – call your veterinarian. We have gone to school, spent the long hours and gone into practice to be here to provide information for you. Whether you choose to use it or not is [your] decision. But any decision you make should be an informed one. Sometimes we can surprise you."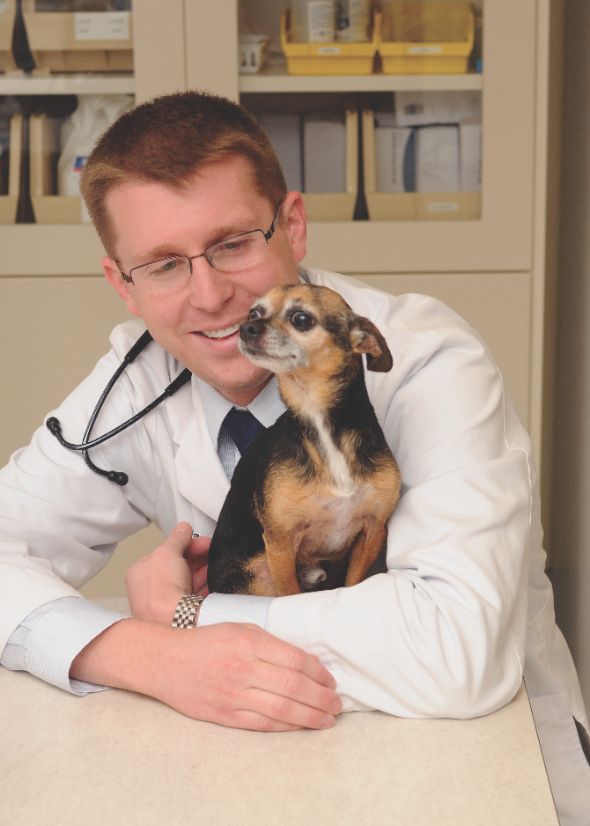 Q&A
Favorite Charity: Operation Homefront
Perfect Happiness is: A day on the beach in Santa Barbara with my wife
Best Piece of Advice You've Ever Been Given: No one goes to their grave wishing they worked harder. Enjoy life.
Favorite Local Landmark: Lembi Park
Favorite Local Restaurant: Krua Thai
Favorite Movie: Casablanca
Secret Passion/Obsession/Hobby: Target shooting