A Breed Apart
Jul 30, 2012 07:08AM ● By Style
Vet photos by Dante Fontana, © Style Media Group.
Veterinarius humblius, or "vet superstars" as they are more commonly known, are a hardworking, humble breed.
They have no bright plumage, and no loud bark or squawk. This quiet breed goes about their daily business without fanfare – cleaning ears, clipping toenails, treating all manner of illnesses and nobly resisting the urge to run into their crowded waiting rooms and shout, "Hey, you guys! I totally just healed that dog/cat/bird/iguana!"
Aside from considerable skill in their chosen field of expertise, it's actually their humility that earns them the superstar status for which they are known. They just won't tell you that they're superstars themselves. So, we thought we'd tell you on their behalf, and show you what makes this group of veterinarians truly a breed apart.
RICK PARSONS, D.V.M.
PLACERVILLE VETERINARY CLINIC
Dr. Rick Parsons has been at Placerville Veterinary Clinic since 1976. He's seen it all – from bull elephant castration in vet school, to kicking emus, to a pair of boa constrictors with colds, and everything else in between. With 36 years under his belt he has witnessed a great deal of change as well, not only in the community, but in veterinary practice too.
Take for example, heartworm in dogs. "When I studied it in vet school, it was thought of as an exotic disease, found mainly in the South; I never thought I was going to see it because I knew I was going to be a California vet." Imagine his surprise when he showed up in Placerville. Just a few years previous, in 1972, one quarter of all heartworm cases reported in California were being diagnosed at Placerville Veterinary Clinic. "We're the clinic that found heartworm in the Foothills. I had to bone up quickly, but we were seeing 5-10 cases a month so that didn't take long," Dr. Parsons recalls.
Raising awareness was a slow process. "Nobody knew about heartworm; getting people and vets to recognize it, and getting animals on heartworm medication took a good 10 years," Dr. Parsons says. As time has passed, the techniques used to diagnose heartworm have become more effective, and awareness is at an all-time high. "It's still serious, but we aren't seeing a problem as much because people are giving the heartworm medicine and it works. Now when puppies go in for their first exam, vets make sure they are on heartworm medicine right off the bat." Times have definitely changed.
From the big achievements to the day-to-day accomplishments, Dr. Parsons is still "high on the profession," as he puts it. "I'm real proud of our profession. I think our profession is one of the best."
Dr. Parsons is also a big fan of Placerville (after 36 years how could you not be, right?). "The people here are wonderful. I have a strong bond to the town and wouldn't want to live anywhere else, that's for sure." We're pretty sure the town of Placerville wouldn't want you to go anywhere else, Dr. Parsons.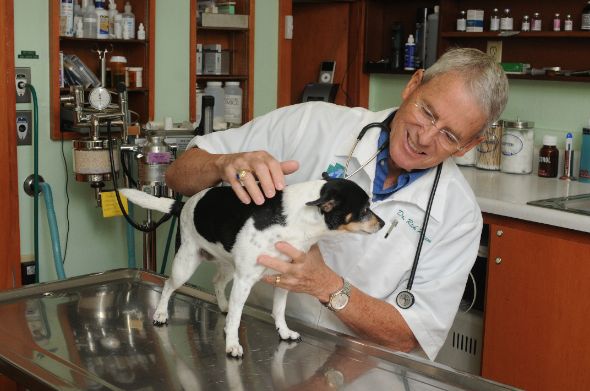 Q&A
Favorite charity: CASA
Perfect happiness is: Sun and water
Best piece of advice you've ever been given: Be a good listener.
Motto: "Do unto others as you would have them do unto you."
Favorite local restaurant: Heyday Café
Favorite local landmark: Placerville's Bell Tower
Favorite book: The Bible
Guilty pleasure: A good black cup of coffee and dark chocolate cake
Secret passion/obsession/hobby: Following Christ, but I would hope that's not a secret.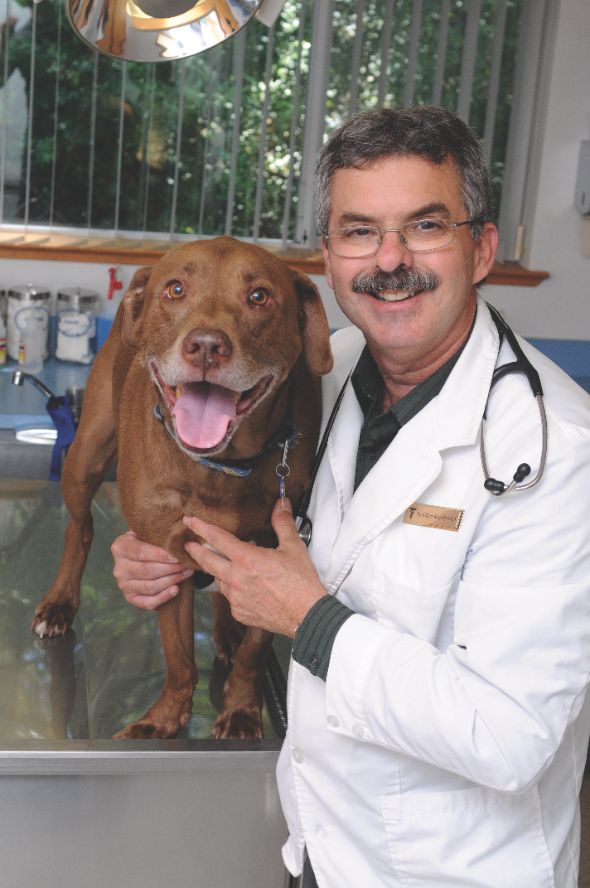 WILLIAM KENNEDY, D.V.M.
SMITH FLAT ANIMAL HOSPITAL
The childhood urge to become a vet is a common trait among veterinarians, and Dr. William Kennedy of Smith Flat Animal Hospital is no different. "I probably would have wanted to be Flipper's veterinarian, or a veterinarian with Jacques Cousteau. It didn't turn out quite that way but it's almost as good."
Before settling in Placerville nine years ago, Dr. Kennedy purchased a sailboat, and with his wife and two children in tow, took a two-year sailing trip to New Zealand, trading his veterinary services at tropical locales like the Cook Islands and Tonga along the way. Ahoy, Dr. Cousteau!
While on land, there's something of the Dr. Dolittle spirit in the way Dr. Kennedy approaches his role at Smith Flat Animal Hospital. "The pet is telling the owner things and the owner doesn't always know what they're saying. We're there to be the interpreter," Dr. Kennedy says. A dog's limp tells him it is experiencing enough pain to change its gait, Dr. Kennedy says, a sign an owner might not recognize because the dog doesn't "cry out." The same with dental disease, which is growing more common among the dogs he sees today. "People say 'I didn't think his teeth were hurting because he was eating okay.' But that's a myth. They'll still eat, even with rotten painful teeth."
That's why Dr. Kennedy stresses the importance of a yearly exam. With dogs and cats aging five years or more for every human year, even if they don't need shots, the yearly exam gives Dr. Kennedy a chance to translate the signs that you, the owner, might be missing and catch the danger signs before they develop, helping you and your pet enjoy as much healthy time together as possible.
The people of Placerville make his job a lot easier in that regard, Dr. Kennedy says. "They live closer to nature, so they totally get that animals are important. My job is partway done." Just don't get too good at it, people of Placerville. We think you should keep Dr. Kennedy around.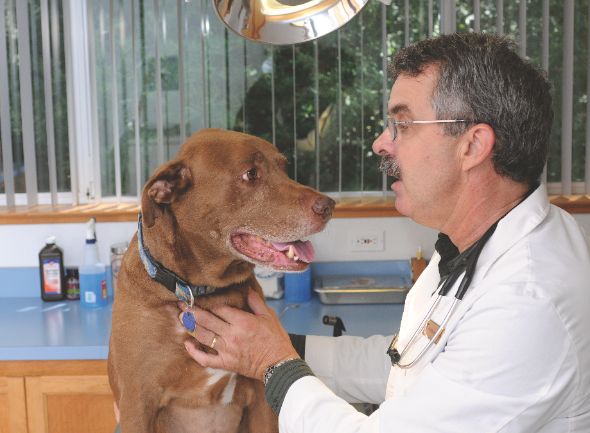 Q&A
Favorite charity: UNICEF
Perfect happiness is: A sailboat, back out in the tropics again.
Best piece of advice you've ever been given: Do something that you like, and don't worry so much about the financial thing. If you continue to enjoy doing it, the finances will follow.
Motto: I don't have one. Life tends to be more complex than that.
Favorite local restaurant: Los Hermanos
Favorite local landmark: The Sierras – I love being able to see the Crystal Range.
Favorite book: Master and Commander series by Patrick O'Brian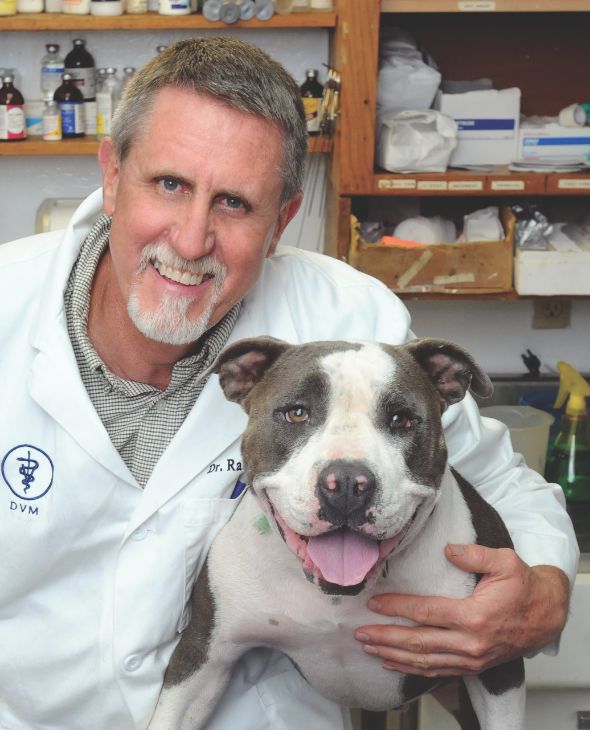 RANDY ROBINSON, D.V.M.
MISSOURI FLAT PET CLINIC
Inside every vet is a superhero waiting to get out. Missouri Flat Pet Clinic owner and veterinarian Dr. Randy Robinson is an outright crusader. What's the object of his crusade? Bully breeds, which include American pit bull terriers, American Staffordshire terriers, bulldogs, bullmastiffs and Staffordshire bull terriers. Why bully breeds? "There's a lot of fallacies about the breed; it's the most abused and neglected breed. They're the ones that need the most help," Dr. Robinson says. Some owners want them for the wrong reasons, he says, and will often punish the animal to make them meaner, or for not being mean enough. However, the perception of bully breeds being a "naturally" mean dog is false. "The only thing that makes a pit bull (or bully breed) different to any other dog is they're strong. Mentally, they're just as loving as any other dog."
Sadly, the bully breeds Dr. Robinson sees are the ones with severe medical problems, coming via the County pound/animal shelter or rescue. But there are success stories. Set on fire by a local dog-fighting ring, Hope came to Dr. Robinson in 2011; burned, raw flesh covered her entire back.
Thanks to Dr. Robinson, Hope was nursed back to health and adopted into a loving home. She is now a certified burn therapy dog, going into hospitals and visiting children that have severe burns. "It's really satisfying to find wonderful homes for dogs that were homeless and suffering. When you make the right connection it makes it all worthwhile," he shares.
Dr. Robinson wants readers to know three things. First, be aware that not every animal that goes into a shelter or turned over to animal control will get adopted. "The number of animals that get destroyed, especially pit bulls, is very high," he says. Secondly, "Judge all animals on their own individual merits, and not because of breed, media bias or hearsay."
With 23 years under his belt at Missouri Flat, Dr. Robinson says he feels very blessed to work in El Dorado County. "My colleagues are incredible." We wholeheartedly agree!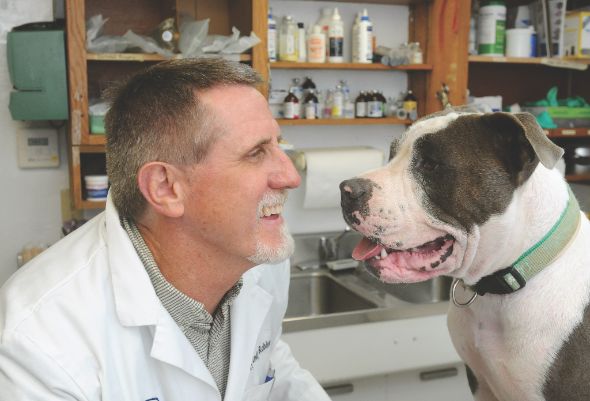 Q&A
Favorite charity: Chako Pit Bull Rescue
Perfect happiness is: No more homeless pets.
Best piece of advice you've ever been given: Hard work is the best reward.
Motto: No pain, no gain.
Favorite local restaurant: Café Luna
Favorite local landmark: Lake Tahoe
Favorite book: Shogun by James Clavell
Favorite movie: The Watchtower
Guilty pleasure: Rocky road ice cream
Secret passion/obsession/hobby: Dog rescue, riding my Harley, winemaking, and spending quality time with my wife.