The Forgotten Soldier Program
Apr 30, 2012 05:31AM ● By Style
Photos by Dante Fontana, © Style Media Group.
Driving through Old Town Auburn, it's hard to miss the building that houses the Forgotten Soldier Program.
With its cheerful blue paint and surrounding greenery, The Healing Light Institute could easily be mistaken for a bed and breakfast or spa. Acupuncture and massage therapy are in fact offered within its walls, but for clients like Marine Corps veteran Jonathan Cullifer, the Institute provides a deeper form of rejuvenation.     
Cullifer, who enlisted in 1992 and served combat tours in Iraq and Afghanistan, sought treatment through the Forgotten Soldier Program at the recommendation of his VA doctor. His first impression of its practitioners and their unique approach to treating the wounds of war was mixed. "I saw the most non-military building possible trying to assist military veterans," Cullifer explains. "I am a no nonsense type of person, and was very skeptical about the way that the program wanted to help me deal with the majority of the issues that I have."
According to its mission statement, the Auburn-based non-profit aids veterans of all wars by "bringing the 'Soul' home through an integrative approach of holistic healing, life skill tools and education." Executive Director Donna Arz, Ph.D., an accomplished lifestyle and health consultant, says she was inspired to found the program in December 2008 when she discovered a common thread connecting those seeking treatment at her private practice. "A lot of people were veterans," she says, "and weren't getting the help they needed."
A fact sheet produced by the Vietnam Veterans of America & Veterans of Modern Warfare Newsroom reveals approximately 300,000 veterans of the Iraq and Afghanistan wars alone are likely to suffer from post-traumatic stress disorder (PTSD) or major depression. There is no cure for PTSD, but early detection and treatment of symptoms can improve sufferers' quality of life.  
To that end, Arz and her handpicked  team of specialists embrace Eastern approaches to healing the mind, body and spirit. The program's extensive list of available services include family and marriage counseling, reiki healing, craniosacral therapy, yoga and meditation, all of which are offered free-of-charge with the help of grants and donations. Many of the program's therapies utilize the power of touch. "Touch is healing," Board Treasurer Phyllis Ingmire, a certified accupressurist and Swedish massage therapist, says. "Simple touch can help them."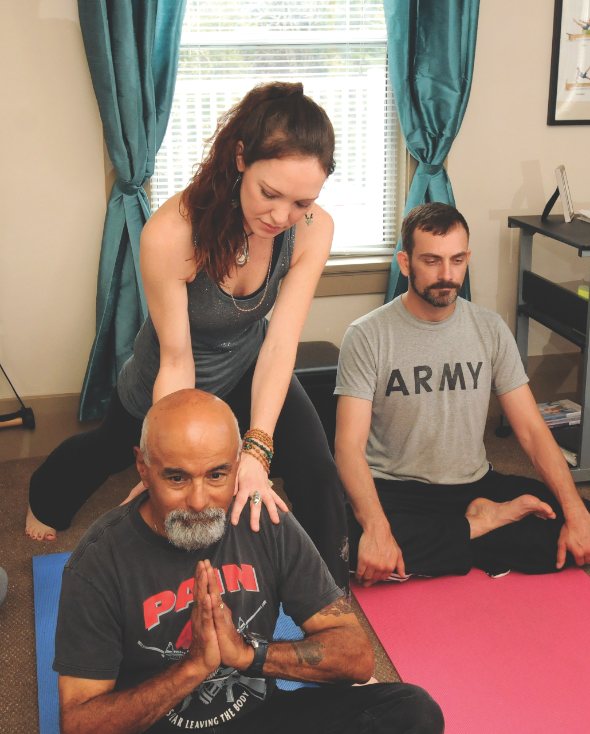 Cullifer, now a firm supporter of the program's methods, says he finds weekly  sessions with Arz most beneficial. "She enables me to ground my intense emotion and feelings and helps me to better control the many emotions and feelings associated with my type of service," he says. "If you want to find some balance to your life and remember what it is that you fought for and bled for, then you need to get in touch with Donna and let them at the Forgotten Solider Program begin to help you find a new path to that balance."
The emotion in Arz's voice as she reflects on her service to the veteran community reveals that she too has been healed. "To not do this wouldn't be good for me," she says. "It's a calling. What (veterans) are doing is a calling, too. We need to give back to them. I respect them, I'm honored to be in their presence, and they need help."
---
Visit forgottensoldierprogram.org for more information.