6 Stories - 6 New Bodies
Dec 29, 2011 05:35AM ● By Style
After photos by Dante Fontana, Before photos courtesy of the respective persons.
Whether you're trying to maintain a healthy body weight or struggling with obesity, the uncomfortable truth is that weight loss takes work…hard work.
It also takes commitment, focus and willpower.
When we're presented with so many weight loss shortcuts every day, it's hard to accept that there's work involved, some of it quite slow. We get so focused on the end result that we want to skip past the work itself and jump right into those skinny jeans. But when it comes to lifelong transformations, my grandmother's old saying proves true: "Hard work is its own reward."  It's time to celebrate the hard work of weight loss!  
With that in mind, we're presenting Style's local "little engines that could" – mild-mannered individuals who, with the help of their neighborhood fitness centers, have succeeded in losing weight and are, on a daily basis, becoming healthier versions of themselves…inside and out. Tempting as it is to hold them up as heroes – that would make their success seem somehow out of reach. So we celebrate them as hard workers; we celebrate them so that maybe their stories can become your stories. We'll show you the ways that our hard workers are people who faced doubts and obstacles too, but who decided that enough was enough. Maybe you'll see some of yourself in one of these success stories, enough to inspire the desire for your own transformation. Let's hear it for hard work!
---

AFTER
ROBERT AND ROSE CHILCOAT
Training Camp: Snap Fitness, Placerville
(Bob) Starting Weight:   252; Current Weight:   213
(Rose) Starting Weight:   173; Current Weight:   155
Robert and Rose Chilcoat are thriving on their new journey, which started when their daughter joined the Air Force, leaving them "empty nesters."
Rose's weight loss ride began with a subscription to Runners World, and a discovery that she really enjoyed running; she began hitting the pavement four days a week and lifting weights three days a week. But when faced with the challenge of being laid off from her job in 2010, the absence of structure and routine in her life made it difficult to stay motivated. "I found myself going to the gym for a week or two and then not going for a week or two…off and on. I finally decided that I needed a goal and so I registered to run the Folsom Four Bridges Half Marathon on October 30, 2011." After grueling 5 a.m. training sessions, spurred on by her friend and running partner Colleen, says Rose: "I am happy to say that we crossed the finish line together!" Rose has now run two full marathons.
"One of the best pieces of advice I ever received about whether or not I could actually complete a marathon is this: '80 percent of it is mental and 20 percent is physical training.' If we tell ourselves we CAN do something, guess what? WE CAN!"
 Bob on the other hand, has become what Rose playfully calls a "workout-a-holic". As much as Rose likes a workout at the gym, Bob says, "She just isn't excited about working out for two or three hours like me." Bob joined Snap Fitness in 2006, starting out with basic cardio 90 minutes every day, and by the end of the month was seeing weight loss. Three months later he introduced strength training, which yielded both additional weight loss and the start of real muscle building.
The transformation has made a difference in how Bob sees himself, saying: "I now like what I see when I look in the mirror. It has helped my self-esteem." Bob currently does weight lifting four days a week and HIT (high-intensity interval training) twice a week.
The motivation to start originally came from trying to work out with his daughter after she joined the Air Force. "What a joke! I wasn't even able to keep up with her!" But eventually, he simply grew tired of not feeling good physically and realized he wanted to be healthy for his grandkids, his family and himself. He maintains his motivation through the many friends he has made at Snap Fitness, Rose by his side every step of the way, and their son in southern California, who shares his workout programs with Bob, too. And as pleased as Bob is with his own transformation, no one seems to be more pleased than his very own Rose. "We now have a lot of energy when we are with our grandchildren. We want to be physically active when we are in our 50s, 60s, 70s...and on! And by the way, did I say my husband is HOT?"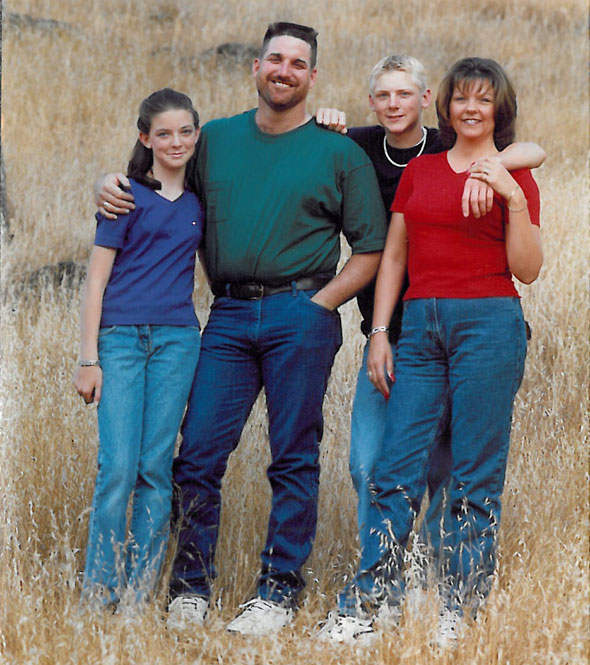 BOB AND ROSE BEFORE

AFTER
PENNY SNELL
Training Camp:  California Family Fitness, Rocklin
Starting Weight:   270
Current Weight:   124
Penny's journey began in March 2010, with a familiar pattern – a last minute diet motivated by her daughter's wedding in April. "As always when starting a diet, I would wait until the last minute, so I would have an excuse for my failure." Penny joined a Group Interval Training class at California Family Fitness and met her new muse, trainer Claudette. At first, Penny was uncomfortable, afraid that the people around her were judging her. But with Claudette's help, Penny was immediately made to feel comfortable. Claudette seemed to know exactly how to keep her motivated – working around the things she couldn't do. Penny soon followed Claudette into their Body Fit Challenge where she joined a team with other members, still benefiting from the one-on-one with Claudette but now also gaining additional support from team members. Penny says, "Now after meeting so many new friends, we have workout times to keep us motivated and accountable to each other."
As anyone who loves food can attest, learning to eat in moderation is hard. Shares Penny, "Most social occasions revolve around food so you learn to enjoy by overeating." Through Claudette, Penny started a food log and her eyes were newly opened. Paired with her fitness training, the transformation began taking effect. For most of her life, Penny sat on the sidelines at amusement park rides, too embarrassed that she wouldn't fit. Penny's big moment came when she went to Six Flags for her birthday. "As we were standing in line, I began shaking, scared I wouldn't fit; my daughters talked me into staying. When the time came, I fit fine…with room to spare. After enjoying my first roller-coaster ride in years, I danced my way down the exit." After a lifetime of food cravings, Penny had a breakthrough: this  "aha" moment felt better than any food tasted.
These days, Penny's Body Fit team has a name: Team Penny. She and her team members do everything from boot camp, group strength training and more, all the way down to simple walking groups. But the biggest change for Penny seems to have been dropping the word "can't" from her vocabulary. "I was never able to skip as a child, but the sports instructor worked with me along with some friends from my team, and now I can skip. Instead of saying 'I can't do it,' you need to try it. At Cal Fit, I'm in a safe place to learn where no one will make fun of me." Penny is truly working hard...and loving every minute of it!

BEFORE

AFTER
ASHLEY WARRINGTON
Training Camp:   Debra Skelton, Motivative Health and Fitness
Starting Weight:  327
Current Weight:   186
Ashley started out her journey in January 2010. Having been heavy most of her life, she approached her new weight loss program much the same as she had approached the others – "let's try this again." But this time Ashley started with a friend, doing Weight Watchers but being competitive about it, which helped her motivation. By June she had lost 50 pounds and through her mom, began working with Deb Skelton atMotivative Health and Fitness in her mom's garage with her mother and three other women. "(Debra) worked my tail off way more than I was expecting. She catered to my strength level and exercise abilities at the time, while slowly pushing me and encouraging me to keep reaching for the next level workout."
Ashley's biggest challenge has been cooking for her three daughters and husband, including dining out, while still maintaining her new lifestyle change. "It's hard to find new foods and ideas that are healthy and that everyone will eat!" But much of her motivation still comes from her daughters who are always on hand to compliment her successes, and a caring husband who allows Ashley her "exercise time." And trainer Debra is motivation personified, says Ashley. "Knowing I have to answer to her keeps me very motivated!"
Mentally embracing exercise became part of Ashley's transformation. Initially her exercise routine was no exercise at all. She originally made a promise to herself that she would walk 20 minutes every day, "which I had to force myself to do," says Ashley. "Giving up my time for exercise was not something I was used to doing nor liked doing. As time went on, I began to enjoy the experience and the pride I felt knowing that I was doing something good for myself."
As far as advice for others, Ashley is firm. "Never give up! You can do it! I always have heard people say, 'If I can do it, anyone can.' Now, I really feel I can say that. I don't mean to make it sound easy because it's not, but if you set your mind to it, it works!"

BEFORE

AFTER
ALEX RODRIGUEZ HAYES
Training Camp: Broadstone Racquet Club, Folsom
Starting Weight:   190
Current Weight:   135
Juggling being a stay-at-home parent with time for your own health and well-being is all too common, and as the saying goes, the needs of the many often outweigh the needs of the few. "There is never going to be a perfect time to get started; that day will never come. You have to commit, whether it is at the very start of your day before the kids get up or as late as 9 p.m. when they have all gone to bed. That's how I started out, because I felt guilty about taking time out for myself," says Alex. Sound familiar?  
Alex started her journey in May of 2011. Before beginning her weight loss program, her lifestyle was, as she puts it, "tiresome." She had just had her third child, but the pregnancy weight did not come off like it had before. Coupled with being physically older and the demands of keeping up with her three active boys was a general feeling of depression. "I had totally lost my identity from where I had been before…wondering how I went from the lively happy person to a shy, embarrassed person."
Faced with the reality of outgrowing one of her favorite clothing stores, Alex returned to the gym and managed to lose 40 pounds independently, in spite of a frustratingly slow first month, and even tackled her own food issues head on with some success. When she found herself slowing down again and discouraged, she decided to work with a trainer. That trainer being Maureen, who Alex had seen working with other clients at Broadstone Racquet Club. Maureen started Alex out slowly to avoid injury, but the routines then became more complicated as Alex's fitness improved. Alex found Maureen helpful in choosing a program that suited her, as well as changing the routine regularly to keep her interested and challenged. Most importantly, Alex sees that Maureen wants her to succeed; and along with friends and family, Alex calls Maureen one of her biggest cheerleaders.
Alex goes to the gym during normal hours now (with occasional crazy hours) and takes advantage of Broadstone's child-care program – a huge weight off her shoulders. "I have seen a lot of great changes in my strength, endurance, and of course my body, and that keeps me coming back for more. As time progressed I realized that I wasn't only helping myself, but I was helping my family by being  more interactive, energetic and happy – it was benefiting everyone." A happy, healthy, energetic mom is truly the "gift that keeps on giving."

BEFORE

AFTER
TERY AYERS
Training Camp:   Roseville Health and Wellness Center
Starting Weight:   290
Current Weight:   175
Sometimes the forces that drive us to make a change are external; sometimes, as Tery Ayers so eloquently says, it's an "inside job."
Tery's transformation began as a result of the sudden loss of her son at the age of 26. "Many times in that first year of grieving, I felt that I would die from sadness. It is a foreign concept to have to bury your child." After a year and a half of mourning and therapy, Tery saw the ways in which she had neglected caring for herself – emotionally, physically and spiritually – and in July of 2009 she made a choice. "I decided to change my lifestyle, to not start another diet but to love my life and live it more fully. I allowed myself the grace to not do it perfectly."
With the help of the fine folks at Roseville Health and Wellness Center (RHWC), she began with water aerobics and low-impact cardio, and in a few short months completed a boot camp with Suzanne Moen. "At that first boot camp, I could only do five sit-ups, was scared of the spin bikes, and I couldn't run, but Suzanne believed in me; she encouraged me when I was scared, and I started believing in myself. I was hooked."
Tery lost 50 pounds in her first year, but eventually hovered around the 240-pound range. In January 2011, she began working with Dr. Ed Hendricks of The Center for Weight Management in Roseville to learn more about nutrition and a different way of eating. Coupled with her continued workouts at RHWC, Tery's weight is now down to 175, and as she says, "I feel better than I have felt in years." These days Tery can run and skip with her grandkids, and she even has push-up contests with them! (How many grandmas can do military push-ups?)
Tery found that the mental hurdles to transformation were the hardest to overcome, but the most rewarding to defeat. "My advice to anyone trying to lose weight is to wake up and get honest with yourself; remember you are not a failure. Life is a journey. For a time you have chosen to live your life in a larger body. You can choose differently today. If you are able to, start moving! Talk to a friend instead of eating, or journal your feelings about your crummy day. Find community and support. It takes a village."

BEFORE