Disneyland
Dec 05, 2011 09:32AM ● By Style
Photos courtesy of Disneyland Resort.
As we made our way to Disneyland, my husband and I could barely hide our kid-like giddiness.
We were en route to pulling off the biggest surprise ever for our three children, ages eight, five and three; we were going to Disneyland and they had no idea. We decided to fill the day with suspense, and enjoy the car ride to our big surprise. As the Fairy Godmother says, "Even miracles take a little time." Upon our arrival to southern California, my husband and I shouted: "We are going to Disneyland!" Fairy tales do come true.
As we made our way through the entrance, we were pleasantly surprised when the Disney bag checkers didn't care about the snacks and water we brought ­– a relief for a family of five on a budget. We continued our way down Main Street, U.S.A., pondering the big question of the day: "Where do we start?" Map in hand, we decided to head toward New Orleans Square. If you are like me and have only been to Disneyland as a kid, a map is essential for devising a game plan to get the most from the park. It also conveniently lets you know the height requirements for each ride. It may be a small world, but Disneyland is big!
The first ride on our docket: Pirates of the Caribbean. Since we arrived at Disneyland early, we were thrilled that we only had to wait in line for five to 10 minutes. And since Pirates of the Caribbean no longer offers "Fast Passes," this was especially good news. To all the Disneyland novices out there, a Fast Pass enables you to scan your ticket and get a specific time to come back and ride the ride…without having to wait in line. There are rules and regulations for using the Fast Pass and it is only available on certain rides – so do a little research before you go to optimize your Disney experience.
As we trotted through the majestic park of all parks, we decided to go through each "land" before moving on to the next. From New Orleans Square, we headed to Adventureland to go on Splash Mountain. Gallivanting through Critter Country, Frontierland, Tomorrowland, Fantasyland and Mickey's Toontown, we wondered how we could experience everything in one day. Having not been to Disneyland since my husband and I were children ourselves, we commented on how everything was top-notch – from the organization to the customer service.  
As our trip to the wonderful world of Disney came to an end, we stared up beyond Sleeping Beauty's Castle and marveled at one of the best fireworks displays we've ever seen. You could actually feel the magic in the air as Tinkerbell buzzed about and fireworks blasted in every direction, while familiar Disney songs danced in our ears. As I looked around to see my three tired, but happy children watch the sky, I thought: "This really is 'Where Dreams Come True.'"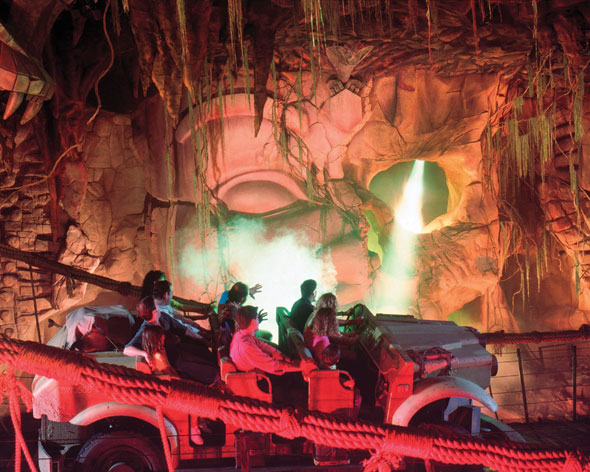 Indiana Jones Adventure
35 Hot Insider Tips to Visiting Disneyland
by Juliane Elliott (trifter.com)

If you are planning on going to Disneyland in Anaheim, California this summer here are some tips from a seasoned veteran about how to make the most out of your trip.

    •    If you can afford to stay in one of the three Disneyland Hotels, you will have early admittance at 7AM to Disneyland, an hour before everyone else. Family packages include passes to both parks and you can skip the ticket booth before you enter and go right to the entrance line. In the morning you can catch the "Monorail" in Downtown Disney or the Disneyland Hotel and it will take you directly into "Tomorrowland" before the general public is admitted.
    •    Get to the park as soon as it opens and hit as many rides first thing in the morning. Even with a fast pass, early is still best. When we visit Disneyland we hit all the rollercoaster rides first thing. We usually start with "Space Mountain" and hit that four times in about an hour, then "Indiana Jones" at least twice. "Splash Mountain" is one ride we usually take "Fast Passes" to ride and sometimes the line is moving well enough on "Thunder Mountain Railroad" that we get on that ride quickly. All the coasters are manageable before 11 AM. After that, I suggest that you get a "Fast Pass' for the coasters or be prepared to wait at least an hour or more to board them.
    •    Always take some time to plan your trip and what you want to do and see. It will save you time at the park. Create an itinerary and map your route so you know where you are going.
    •    There are parades twice a day at Disneyland in the summer. (Afternoon and Evening). If parades are important to you, you must camp out somewhere along the route over an hour ahead of time.
    •    If you want to eat at the "Blue Bayou Restaurant" (inside the "Pirates of the Caribbean" ride), I suggest a reservation made weeks ahead (Phone: 714-781-3463) Otherwise, stop by the restaurant in the French Quarter first thing in the morning to see what is available. Dinner for four adults is about $125-$150.
    •    Once you notice the park filling up and the lines exceeding 30 minutes of wait time, definitely grab some "Fast Pass" tickets
    •    The Fast Passes are set up at kiosks close to the rides. The next time available is posted. All you do is insert your park ticket and out pops a "Fast Pass" good for that specific time. You can only have a "Fast Pass" for one ride at a time per person. Once you exit that ride, go grab another "Fast Pass."
    •    A "Fast Pass" allows you to come back at a designated time and bypass all the people waiting in line
    •    If watching the parades is not important to you, this can be a good time to hit some rides without "Fast Passes" that normally might be really crowded, but be prepared to wait in line when the park is packed regardless
    •    Pack some snacks to munch in line and bring some water. Food is pricy in the park and you can save money bringing in snacks and water although you will inevitably have to buy a meal. A fast food type lunch for a family of four runs about $35-$40!
    •    The bathrooms along Main Street are usually less crowded and more hidden from the crowds. They are by the" Carnation Café" (behind it) on your left as you walk east down Main Street.
    •    Bring sunscreen, hats and anything else you must have for a warm day at the park. Anything you buy in the park is expensive.
    •    The Disney Characters enter and exit through one area off Main Street. It is located before the Plaza Inn Terrace restaurant if you are walking east. It is a hidden area and sometimes you can see a character emerge before the crowd mobs them. Also in this area are a "Baby Center" for parents, tots and babies; a "First Aid Station" and a "Lost and Found." I have been to all of these handy places throughout my life as a child and a parent.
    •    California Adventures opens at 10AM and closes around 8PM in the summer. It is a smaller park and not nearly as popular as Disneyland. It is less crowded even on the busiest days. You might want to try to catch this park in the late afternoon and then head back to Disneyland in the evening if you buy a Park Hopper Pass.
    •    Always keep the Disneyland Web site handy. 
    •    Last summer, we waited 45 minutes at 7AM to ride the new "Nemo Submarine." So be prepared for lines, masses of humanity and aggressive people pushing strollers. It can get crazy.
    •    Hit the shops in a lull when you are tired of rides or the lines are too long. Don't waste your time in the shops during the morning hours when the ride lines are shortest. "Small World" is usually a laid back easy wait and good break between the outside madness in mid-afternoon.
    •    The park hours in the summer are 8AM until midnight for visitors who are not staying in the Disneyland Resort Hotels.
    •    If someone in your party needs a wheelchair you will have a much faster way to get on the rides. You simple wheel up to the line with your party and everyone rides. I know people who rent a wheelchair for the day and take turns using it, just to get on the rides ahead of everyone else!
    •    Sometimes it just makes more sense if you are traveling with a group of diverse ages to split up for half of the day. One adult can take the little ones into "Fantasyland" which is packed after noon and another adult can steer the older kids over to the more sophisticated rides. Note: "Fantasyland" rides do not have "Fast Passes" and the lines are very long in the middle of the day, so early again is best.
    •    "Splash Mountain", "Matterhorn" and "Big Thunder Railroad" do break down more frequently than the other rides. Try to ride them earlier in the day. You will get wet in "Splash Mountain." If you want to get very wet, put your heavier people towards the front of the car.
    •    Downtown Disney also has many shops and restaurants. But again you may want to book reservations if you can plan ahead as it is very crowded during the dinner hours and evening there also.
    •    If you are staying at "Grand Californian Hotel" it is faster to walk than rely on the Matterhorn in early evening to take you into the park. The Matterhorn Station in Downtown Disney is a nightmare during the summer from late afternoon until evening.
    •    Your purse/backpack will be searched as you enter the park, so be prepared. Security is on alert at Disneyland and they are very serious about keeping it a safe place for all.
    •    There are photographers mulling around who will ask to take your photo. They will take the photo at no cost, but if you choose to purchase them that is another story. We have had some nice family pictures taken this way. You only pay for the pictures you want.
    •    Summer is the park's busiest seasons. If you hate crowds hit the park from mid-September to May.
    •    Always go to Disneyland in the middle of the week whenever you go. Tuesdays and Wednesdays are less crowded than Friday and weekends.
    •    Super Bowl Sunday is supposed to be the least crowded day. I know a family that goes every year on that day.
    •    Realize that some rides will be closed during off-season for repair.
    •    Always check the website for last minute and up-to-date info.
    •    If you have young children, a two-day trip affords you the luxury of going to the park in the morning, then heading back to the hotel in the heat of the day and returning again at night.
    •    If you only have one day and you don't have much time I would focus only on Disneyland and skip California Adventures.
    •    There are Disney employees walking around California Adventures incognito and giving away "Fast Passes" that can be used on any ride at any time in either park at around 10AM each morning. A friend scored free passes after getting off the "Mulholland Madness" ride. With these special passes you can just walk up and ride any of several popular rides. But these passes do have a limited use. I heard that Disney was handing out these special tickets in "California Adventures" to attract more visitors to that park, yet the tickets are for selected rides in both parks.
    •    The newest ride this summer is "Toy Story Mania" in California Adventures.
    •    Fireworks happen every night over "Sleeping Beauty's Castle" in Disneyland at 9PM.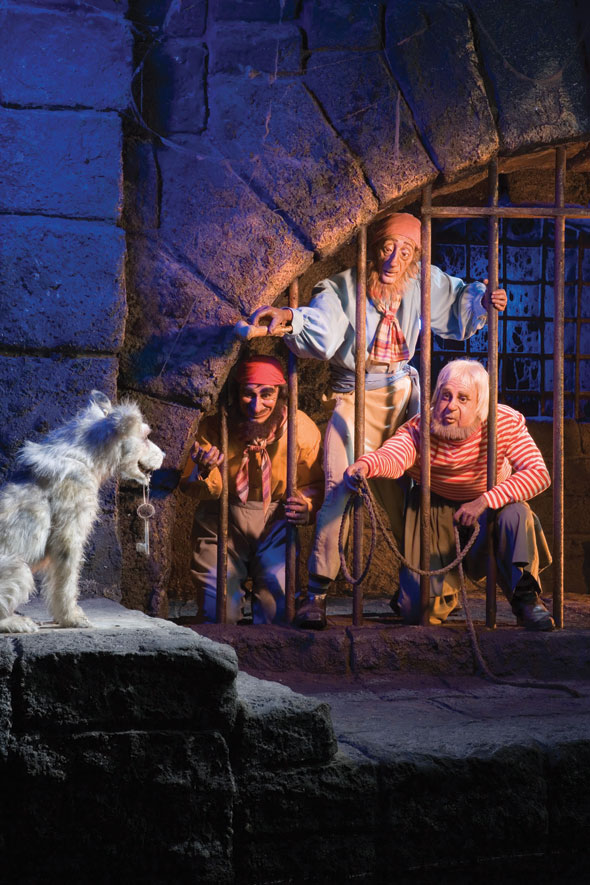 Travel Dates: January 2 – February 29, 2012
Disneyland has released special room only rates at the three Disneyland Resort Hotels for stays during the travel dates listed above. Guests can save up to 35% off their resort room.
At Disney's Paradise Pier Hotel:
    •    Save 35% on most stays Sunday through Thursday
    •    Save 30% on most stays Friday through Saturday
At the Disneyland Hotel or Disney's Grand Californian Hotel & Spa:
    •    Save 25% on most stays Sunday through Thursday
    •    Save 20% on most stays Friday through Saturday
This offer must be booked by February 29, 2012, and travel must be completed by March 1, 2012. Availability may be limited for some dates and at some hotels. This discount is not valid with any other discount offer. This discount is also being advertised as a $500 savings package by Disneyland, it is the same discount.
Tickets may be added to this package. Guests checking in between January 4 and February 29, 2012 will also receive 2 Fast Pass tickets per person to use during their stay.