Recipes Remembered
Oct 31, 2011 06:01AM ● By Style
When it comes to family dinners, there's nothing better than the aromas of the kitchen and sounds of laughter and chatter as friends and families convene together. Regardless of the miles we traverse to enjoy and celebrate our loved ones, or the time of the year we do it, the food that surrounds us always makes the occasion more memorable. This month we celebrate good food, friends and family with some of Style readers' (and staff's) favorite recipes and their most thankful thoughts for 2011.
PUMPKIN BUNDT CAKE WITH BROWNED BUTTER GLAZE
Submitted by DOROTHY KERN
(Recipe adapted from Betty Crocker)
For the cake:
1 box  yellow cake mix (I use Betty Crocker Supermoist Yellow Cake)
1 (15-ounce) can pumpkin purée
4 eggs
1/3 cup sugar
1/3 cup vegetable oil
1 1/2 tsp. cinnamon
1 1/2 tsp. pumpkin pie spice
For the glaze:
1/3 cup butter
2 cups powdered sugar
4 tbsp. milk
1/4 tsp. vanilla
Preheat oven to 350 degrees. Grease and flour a 12-cup bundt pan. Using a hand mixer, blend all of the ingredients in a large bowl on medium speed. Pour into prepared bundt pan and bake 40-45 minutes until a toothpick inserted in the center comes out clean. Let cool completely before glazing.
To make the glaze:
Heat butter in a medium saucepan over medium heat. Stir constantly until butter has browned. Remove from heat and add powdered sugar, milk and vanilla. Stir until no lumps remain. Pour immediately over top of cooled cake, allowing it to drip down the sides. Yields 12-15 slices (or less if you're like me and like big slices).
Thanksgiving Thought:
"This year, I am most thankful for my husband and my daughter. They are the best part of my life!"
—Dorothy Kern
Mulled Wine
Submitted by Greg Walker
This is a long-time family favorite. The first pot goes on around Halloween and we toast in the New Year with the last! The secret is to get a good mulling spice mix – I get mine from World Spice Merchants in Seattle, but any good, fresh mulling spice mix will work well. If mulling spice is not available, you can use a mix of cinnamon, cloves and allspice to excellent effect, but it will not have the same depth of flavor as a good mulling spice.
2 tbsp. freshly crushed mulling spice per fifth of dry red wine
Juice of 1 lemon or orange
1/4 to 1/2 cup brown sugar
Wrap the spices in a cheesecloth or a large tea infuser ball. Put everything in a large, non-reactive saucepan. Warm over a very low flame for about 20 minutes, being very careful not to boil. Serve in large warm mugs with a cinnamon stick for a stirrer.
Thanksgiving Thought:
"I have been richly blessed with family and friends for which I am thankful every day of my life. This year I am especially thankful for new friends whom I am sure will be old ones one day, and for rekindling relationships with wonderful old friends through the miracle of the Internet."
—Greg Walker
Grandma's Green Bean Casserole
Submitted by Gena Wiskus
4 tbsp. butter, melted in a saucepan
4 tbsp. chopped onion, slightly sautéed in butter
Mix in:
4 tbsp. flour
2 tsp. sugar
2 cups sour cream
6 small cans French-style greens beans, well-drained
1 lb. grated Swiss cheese
Corn Flake crumbs or crushed potato chips
Layer 1/2 of the beans, then sour cream/onion sauce and a little of the cheese. Finish with another layer of beans, sauce and cheese; sprinkle with the potato chips or Corn Flakes. Bake at 400 degrees for 20 minutes until bubbly and hot!
Thanksgiving Thought:
"I am especially thankful for our family's health and that our children have found happiness and success in their adult lives!"
—Gena Wiskus
Broccoli Cheese Quiche
Submitted by Kimberly Horg-Webb
Great with fruit on the side and a mimosa!
1 piecrust (thawed)
5 slices of bacon
1/2 of an onion, peeled and chopped
1/2 cup broccoli
1 cup of shredded cheese
3 eggs
3/4 cup low-fat milk
1/2 tsp. salt or black pepper
1/4 tsp. nutmeg (optional)
Preheat oven to 425 degrees and bake piecrust 5 minutes, then reduce oven to 375 degrees. Cook bacon and chop in small pieces. Drain most of bacon grease except 1 tbsp., then cook onion and broccoli in bacon drippings. Combine bacon, onion and broccoli. Sprinkle half of the cheese over piecrust. Add bacon, onion and broccoli. Beat eggs, milk, salt and pepper in bowl. Pour mixture over bacon, onion and broccoli and then top with the rest of cheese. Bake for 30 minutes.
Thanksgiving Thought:
"I am most thankful for my wonderful daughter who is everything I could have ever asked for in a child!"
—Kimberly Horg-Webb
Penne Pasta with Pumpkin, Sage and Prosciutto
Submitted by Troi Frankhuizen
Cooked shell pasta (al dente)
1 tbsp. butter (for sautéing)
1 tsp. chopped garlic
1⁄4-inch cubes blanched pumpkin
1 tbsp. brown sugar
1⁄2 cup thinly sliced Prosciutto
Freshly chopped sage
1⁄2 cup white wine
1-2 tbsp. heavy cream
1 tbsp. shaved Parmesan
Salt and pepper to taste
Melt butter in a sauté pan.  Add garlic, pumpkin and sugar, and sauté for about a minute and a half. Add Prosciutto and sage, then deglaze with wine and reduce by half. Add pasta and cream; bring to a simmer, and check seasonings. Finish with shaved Parmesan on top. Serve immediately.
Cathy Carroll's Famous Stuffing
Submitted by Cathy Carroll
1 1/2 bags stuffing mix
1/2 medium onion, chopped
4 stalks of celery
1 1/2-2 boxes (14-ounce) chicken broth
2 sticks butter, melted
2 tbsp. poultry seasoning
2 tbsp. garlic power
Red and black pepper, to taste
Combine all ingredients together in a bowl. Mixture will be moist. Put in a 9x13 pan and bake for 60 minutes at 350 degrees.  Cover with foil until the last 15 minutes.
Thanksgiving Thought:
"I am thankful for my children, my grandchildren and my family. I am thankful for good health. I am thankful that I live in a nation where I have inalienable rights, my voice is heard, and that I am able to freely worship God."
—Cathy Carroll
Grandmother's White Fruit Cake
Submitted by Bev Sipple
5 eggs
1/2 pound butter (do not substitute)
1 cup sugar
1 3/4 cups all-purpose flour
1/2 tsp. baking powder
4 cups chopped nuts
1 lb. pineapple (candied)
3/4 pound cherries (candied)
1/2 ounce bottle of vanilla
Chop fruit and nuts into bite-size pieces and mix with part of the flour. Cream butter and sugar; add eggs, vanilla and flour (sifted with baking powder). Combine with fruit mixture. Mix well and pour into tube pan. Bake at 250 degrees for about 3 hours. Start cake in cold oven; do not pre-heat.
Thanksgiving Thought:
"First off, I am most thankful for my good health. Also, I'm thankful for my family – three daughters, one son-in-law, seven grandchildren and four great-grandchildren – and the joy they bring to my life with their unconditional love and support."
—Bev Sipple
Baked Brie Appetizer
Submitted by Maria Garcia
I always serve this for the holidays and it is always a big hit!
Crescent rolls, 1 tube (I use low-fat)
1 round Brie cheese (I use low-fat)
1/2 cup dried cranberries
1/2 cup of your favorite nuts (I like to use candied nuts for more flavor)
1/4 cup of your favorite jam or jelly
1/2 tsp. dried rosemary (optional)
Cut top rind of Brie off and discard. Open up crescent rolls and press seams together to create square. Spray baking dish with nonstick cooking spray and place crescent roll sheet in dish. Place Brie on top of crescent roll sheet. Spread jelly over Brie; sprinkle cranberries, nuts and rosemary (if using) over jelly. Neatly fold sides of crescent roll sheet over top of cheese to create a little "package." Bake at 400 degrees for 20 minutes until golden brown and cheese is slightly melted. When cool enough to eat, cut wedges and spread on crackers – or sometimes, I just eat with a spoon!
Thanksgiving Thought:
"I am very thankful for my three beautiful, healthy kids, and my wonderful husband who works so hard to provide for us and has allowed me to be a stay-at-home mom for 11 years!"
—Maria Garcia
Grandma Bettye's Thanksgiving
"Puffy Mallow Sweet Potatoes"  
Submitted by Morgan cásarez    
4 or 5 medium sweet potatoes (or yams)
1 cup orange or pineapple juice
1/4 cup butter
1 egg, slightly beaten
1 tsp. salt
1/4 tsp. ground cinnamon
10-ounce package large marshmallows
Optional: add toasted pecan pieces to taste.
Peel sweet potatoes and cut into large chunks. Place in medium saucepan. Pour orange juice over potatoes (may add more juice if needed to cover potatoes). Cover pan and cook over medium heat for 20 to 25 minutes, or until tender. Drain, reserving juice.
 Heat oven to 350 degrees. Mash cooked potatoes well; add butter, egg, salt, cinnamon and about 1/3 cup of reserved juice. Beat until creamy. Add pecan pieces (if using).
 Put mixture into 8-inch round or square baking dish. Press marshmallows on top. Bake uncovered about 30 minutes (until marshmallows are golden brown). Yields 6 servings. Note: Recipe may be doubled, but do not double salt!
Thanksgiving Thought:
"I am thankful for good health, a loving family and old age (considering the alternative!)"
—Grandma Bettye
Chicken Divan
Submitted by Diane Berardi
3 (10-ounce) packages frozen broccoli
2 chickens (2 fryer chickens or one large roasting chicken)
3 cans cream of chicken soup
1 1/2 cups mayonnaise
1/2 cups milk
1 1/2 tsp. curry powder (or to taste, I use a lot more)
Cheddar cheese (approximately 3/4 lb., shredded)
1 cup of bread crumbs (I use Progresso Italian flavor)
8 tbsp. (1 stick) butter

Boil chickens until done, let cool a bit; remove all the meat. Break up chicken pieces if too large. Cook broccoli first then arrange it in a large baking pan. Layer chicken on top of broccoli. Mix together chicken soup, mayonnaise, milk and curry powder then pour over chicken. Sprinkle shredded cheese on top. Melt butter in a pan and then add bread crumbs and mix by hand; sprinkle over cheese.
Bake uncovered at 350 degrees for approximately 30 minutes or until good and hot. Serve over egg noodles, rice or whatever you prefer.
Thanksgiving Thought:
"We are most thankful for our family's love and the time spent together."
—The Berardi Family
Mom's Pumpkin Bars
Submitted by Aimee Carroll
4 eggs
1 2/3 cups granulated sugar
1 cup oil
1  can of pumpkin (16-ounce)
2 cups flour
2 tsp. baking powder
2 tsp. ground cinnamon
1 tsp. salt
1 tsp. baking soda
1 3-ounce package softened cream cheese
1/2 cup of softened butter
1 tsp. vanilla
2 cups sifted powered sugar
For the cake:
In a mixer bowl, beat together eggs, granulated sugar, oil and pumpkin until light and fluffy. Stir together flour, baking powder, cinnamon, salt and baking soda. Add to pumpkin mixture and combine well. Spread batter in ungreased 15x10x1-inch baking pan. Bake at 350 degrees for 25-30 minutes and then let cool.

For the icing:
Mix together cream cheese and butter. Stir in vanilla. Add powdered sugar by increments, while beating well until mixture is smooth. Spread over cooled cake.
Thanksgiving Thought:
"I'm most thankful for my incredible family. My husband and I just had our first baby this past March. It has completely changed our lives in the most amazing way. I've never felt so in love, so happy and so grateful as I do right now. I'm so appreciative of my loving husband, our sweet baby boy and the support of our entire family. I can't wait to celebrate our baby's first Christmas this year. We are truly blessed."
—Aimee Carroll
Creamy Mushroom Risotto
Submitted by Danielle Massari
 
1 1/2 cups Arborio rice
4-6 cups chicken broth (I use low-sodium)
1 bunch green onions, chopped
4 tbsp. butter
1 cup freshly shredded Parmesan
1/2 cup freshly shaved Parmesan
1 bundle mushrooms (any type; I like to use cremini)
Salt and pepper to taste
White wine
Bring the chicken broth to a boil in a saucepan. Meanwhile, melt 2 tbsp. of butter in a pan. Add chopped green onions (chop the green part only). Cook until wilted but not brown. Add Arborio rice and mix. Add a large splash of white wine (I prefer "two-buck Chuck" Sauvignon Blanc from Trader Joe's). Stir until most of the moisture is absorbed. Add 1 cup of chicken broth and stir on low. Stir occasionally until the moisture is absorbed. Continue adding cup by cup, letting each cup of broth absorb before adding the next. While you're cooking the Arborio rice, sauté the mushrooms in another pan. Once all of the broth is finished being absorbed and the mushrooms are sautéed, combine. Add remaining 2 tbsp. of butter and stir. Add shredded Parmesan, salt and pepper to taste. Top with shaved Parmesan and serve immediately.
Thanksgiving Thought:
"I am, and continue to be, most thankful for my children who are happy and healthy and bring me more joy than I thought possible. I am especially thankful for my family and close friends for helping me navigate through a rough 2011. I am so grateful for the blessings in my life."
—Danielle Massari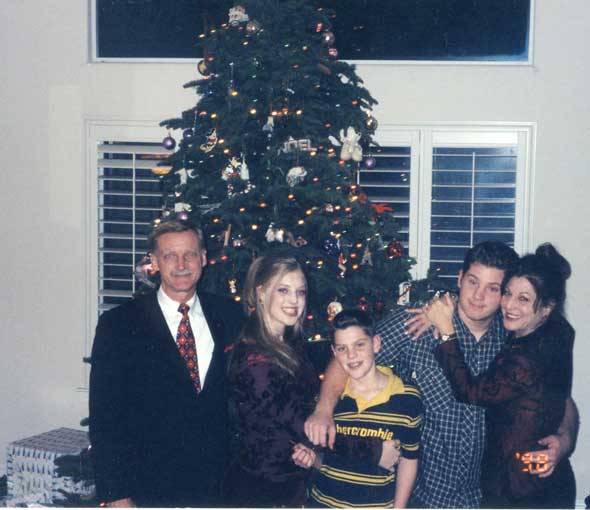 Brussels Sprouts and Pearl Onions in Horseradish Cream
Submitted by Debra Linn
(Recipe adapted from Bon Appetit)
1 bag (10-ounce) very small (1/2- to 3/4-inch-diameter) white pearl onions, unpeeled  
1 1/2 lbs. small Brussels sprouts, trimmed
3 tbsp. (or more) prepared white horseradish  
2 tsp. all-purpose flour  
1/8 tsp. ground allspice  
3/4 cup whipping cream  
3 tbsp. butter  
1 tsp. chopped fresh thyme  
Fresh thyme sprigs (optional)
Cook onions in large pot of boiling salted water until tender, about 5 minutes. Using large strainer, transfer onions to bowl and set aside to cool. Return water to boil; add more salt. Add Brussels sprouts and boil until just tender, about 6 minutes. Drain well; cool. Peel onions, leaving core intact. Cut Brussels sprouts in half through root end. (Can be prepared 1 day ahead. Combine vegetables in medium bowl; cover and chill.)
Whisk 3 tbsp. horseradish, flour and allspice in small bowl to blend; whisk in whipping cream. Melt butter in large heavy skillet over medium heat. Add chopped thyme and stir 30 seconds. Add vegetables and sauté until heated through, about 4 minutes. Add cream mixture and cook until vegetables are coated and cream mixture is reduced to glaze, stirring often, about 3 minutes. Season to taste with salt and pepper, adding more horseradish by 1/4 teaspoonfuls, if desired. Transfer vegetables to bowl. Garnish with thyme sprigs, if desired.
Thanksgiving Thought:
"This recipe was in the November 2002 issue of Bon Appetit. I love the combination of sweet and savory in this dish. I added more horseradish and a bit more allspice for more zing! Also, it's good with just the sprouts without onions. I am thankful that my family lets me have the leftovers!"
—Debra Linn
Black-Eyed Pea Gumbo
Submitted by Paula Dula
1 tbsp. olive oil
1 medium onion, chopped
1 medium green bell pepper, chopped
5 stalks celery, chopped
2 cups chicken broth
1 cup brown rice
4 (15-ounce) cans black-eyed peas with liquid
1 (10-ounce) can diced tomatoes and green chilies
1 (14.5-ounce) can diced tomatoes
2 cloves garlic, finely chopped
Heat the olive oil in a large saucepan over medium heat and cook the onion, pepper and celery until tender. Pour in the chicken broth and mix in rice, black-eyed peas with liquid, diced tomatoes and green chilies and diced tomatoes and garlic. Bring mixture to a boil; reduce heat to low and simmer 45 minutes, or until rice is tender. Add water if soup is too thick.
You can also put all the ingredients in a Crock Pot or slow cooker and cook for 6 hours (or overnight). Yields 8 servings.
Thanksgiving Thought:
"I am grateful for my wonderful son, daughter-in-law and grandson."
—Paula Dula