It's Showtime!
Sep 30, 2011 04:25PM ● By Wendy Sipple
Some people attack home projects with a DIY (do it yourself) mentality…others get some help from the DIY Network!
El Dorado Hills residents Holly and Ryan Grohs first ran into Ahmed Hassan, host of the network's hit show Yard Crashers, while shopping at Lowe's. Though close to getting on that program, they instead got a call from Turf War, another DIY Network show, due to the fact that they were able to find another neighbor willing to have their yard overhauled for TV. "It took awhile to finalize, but the rest is history!" says Holly.
Here's how the show works: the Grohs' and their neighbor were each given a landscaper and a $50,000 budget. After creating a list of "wants," they were given two days to build their dream backyard.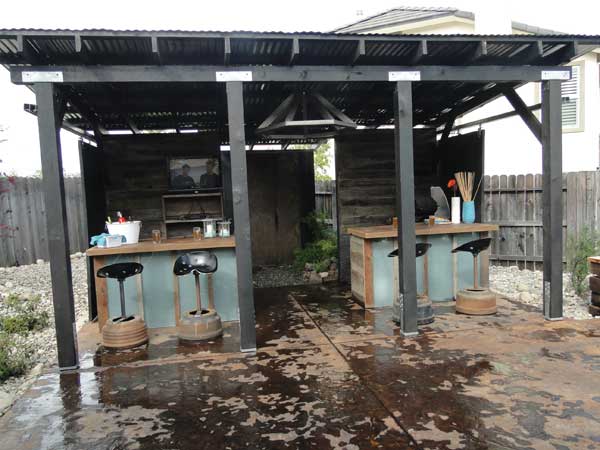 Holly describes her backyard prior to the renovation as bland and desolate. "It was what I call death," she muses. Luckily, her new yard was assigned to Sacramento-based landscape designer Jake Moss. "He is the God of landscaping," says Holly. On their list of "wants" was a low-maintenance, kid-friendly yard with a bocce ball setup. They also hoped for an eclectic and inspired space that would be ideal for parties. "It's safe to say Jake accomplished it all," she beams. "We're mildly giddy with the results!"
They also had a large crew backing them up, including Holly's brother-in-law Corey who flew in from Portland. Doug Tolson headed up construction; Tommy Herron handled lighting; and Terrence Martin acted as the "Einstein" of metalwork. As for Holly and Ryan's special request, "Bocce Ball Paul" of tuffgrass.com made their dream a reality.
In the end, the couple got an outdoor kitchen with concrete countertops, a fireplace, and a water feature made from an old air landing strip and fuel tank from a winery.
"I never knew, never understood how much people can accomplish in 48 hours when they work that hard, pull together and have an insanely giving group of family, friends and sheer talent around them," shares Holly. "I have never done so much physical labor in my life, but it was one of the best experiences I have had. Bottom line? We love it and feel so blessed." •
---
View the episode "Rustic Bocce Oasis vs. Tree Trunk Pavilion" on DIY Network.