Toast of the Town
Sep 01, 2011 05:27AM ● By Wendy Sipple
Photography by Dante Fontana
Five wineries, one day. It was a tough job, but this month after visiting some fabulous area winemakers and their digs, we discovered many great new wines to keep stocked at home as well as some intoxicatingly passionate philosophies from the winemaking elite. Want to take a no-hassle wine-tasting day trip? No sweat, follow Style's tipsy trail for a great day of vino indulgence, complete with logistics for lunch and snacks. Let the sipping begin…
---
sip stop 1:
Wise Villa Vinery, 4100 Wise Road, Lincoln
916-543-0323, wisevillawinery.com

Wise Villa Winery, a 14-acre award-winning estate vineyard with picturesque views of the surrounding Sierra Foothills and Sutter Buttes, grows nine different varieties of grapes, including: Cabernet Sauvignon, Merlot, Petite Sirah, Syrah, Tempranillo, Touriga National, Sangiovese, Zinfandel, Pinot Noir and Chardonnay.
The microclimate of the vineyard, which lies in an "inversion layer," makes for warmer winters (helps the grapes to avoid frost) and cooler summers (slows the sugar accumulation) – resulting in wines with robust and balanced flavors. The state-of-the-art facility utilizes the latest in winemaking technology and takes great care and detail in their production from beginning to end.
In addition to their newly opened tasting room, Wise Villa also offers private pairing parties (for groups of 20 or more) at their Tuscan-style estate – complete with gourmet food prepared by the winery's private chef and interactive tastings presented by Winemaker Dr. Grover Lee.

Their Philosophy:  "Our wines are made to be enjoyed with food and bring people together. 'Ohana'!"—Allison Speece, wine pourer and daughter of Proprietor and Winemaker Dr. Grover Lee

Favorite Tastes:
Nocturnal Light – 2010 Torrontés: The number one white wine served in Argentina, Wise Villa is only one of a few wineries producing Torrontés in our region. Crisp and aromatic with notes of peach, tangerine and grapefruit.

2009 Cabernet Sauvignon:  Estate grown and bottled, this is Wise Villa's most popular red wine. Aged in French oak barrels and full of rich fruity flavors (blackberry, black cherry), chocolate and spice tones. Won a gold and "Best of Class" for the Sierra Foothills appellation at the 2011 California State Fair. 
---
sip stop 2:
Pescatore Estate Vineyard & Winery
7055 Ridge Road, Newcastle
916-663-1422, pescatorewines.com

Family owned and operated, Pescatore ("fisherman" in Italian) Estate Vineyard & Winery is nestled minutes from downtown Newcastle at an elevation of approximately 900 feet. The 15-acre property affords spectacular canyon views and produces four varietals of grapes: Syrah, Petite Sirah, Zinfandel and Barbera; all of their wines are estate grown except for the Cabernet Franc. To ensure their wines are complex, Pescatore takes a great deal of time and effort in matching appropriate barrels for each variety. Most are stored and aged in different varieties of American and European oak casks.
Their moderately priced wines can be found in local retailers and restaurants, such as Raley's, Bel Air, Grocery Outlet and Bangkok City Thai. Along with holding special dinners throughout the year, the vineyard also hosts events, such as the Constable Jack's and Pescatore Vineyard and Winery Charity Golf Tournament… coming up on October 8 at Auburn Valley Country Club! All proceeds benefit the Newscastle School Scholarship Fund and the event will include dinner, drinks, golf and great prizes.

Their Philosophy: "We strive to make a premium, estate-bottled wine and sell it at a reasonable price."—David and Patty Wegner, Owners

Favorite Tastes:
2006 Barbera:  Italian varietal that has high levels of acid. Won a gold in the Appellation America wine tasting competition in March of 2008. Best with rich, spicy foods. Available at Auburn's Thai Garden Restaurant.

2007 Petite Sirah: "Not so petite," but rather robust with powerful tannins…a food wine. Notes of cassias (black currant) and cherry. Won the gold in the San Francisco Chronicle Wine Competition in 2009.
---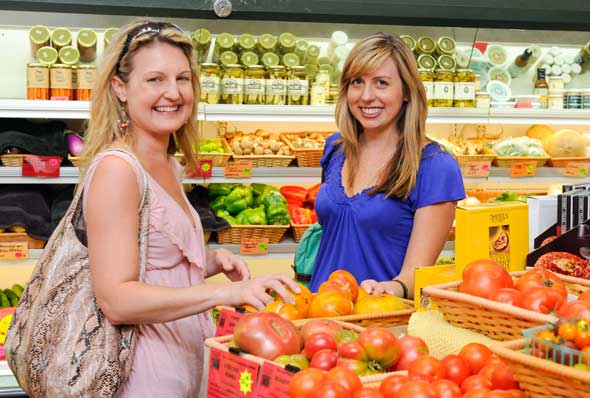 lunch break!
While you're in Newcastle, and after you've tempted your taste buds with delicious wine, follow our lead with a stop at Newcastle Cheese Shop on Main Street and Newcastle Produce. You cannot go wrong with Newcastle Cheese's infamous "Rat Trap" sandwich, loaded with just about everything and oh so delicious. The Veggie sammy is just as good with the avocado stealing the show. Just around the corner, Newcastle Produce offers a number of artisan foods and fresh deli creations such as freshly marinated olives, great salads and pastries. We packed our picnic selections and headed to the next sip stop to devour them…
---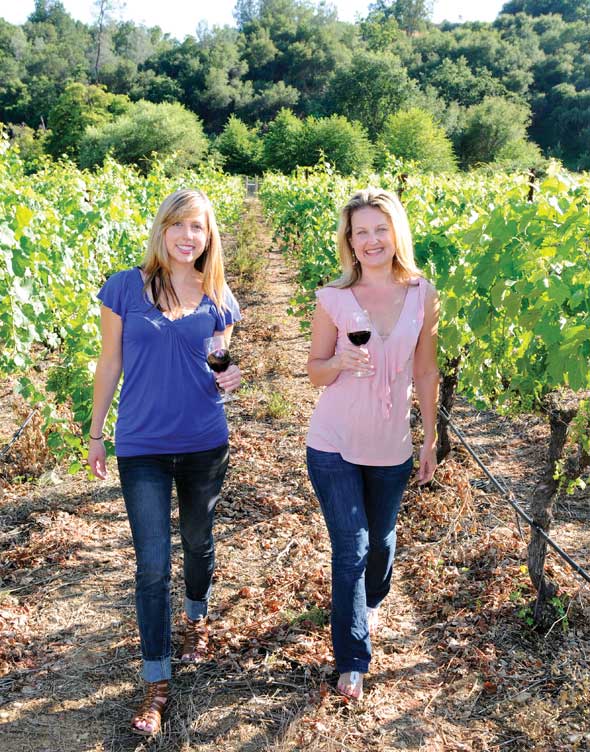 sip stop 3:
Mt. Vernon Vineyard and Winery
10850 Mt. Vernon Road, Auburn, 530-823-1111, mtvernonwinery.com
The largest and most award-winning winery in Placer County, Mt. Vernon Winery, is also one of the most unique. Their gorgeous tasting room – which pours 16-18 estate-bottled wines – lies in a restored 1950s milk barn.
Grapes grown on the property include Old Vine Zinfandel, Syrah Port, Barbera, Merlot, Cabernet Sauvignon, Gold Country Nectar, and a sur lie aged barrel fermented Chardonnay (joining the collection soon). The wine cave is filled with oak barrels and stainless steel tanks to store the spectacular handcrafted wines.
In addition to their surplus of national and international awards, Mt. Vernon is the only winery in the world with exclusive rights to wear the official Breast Cancer Research Stamp (BCRS) on their wine bottles. Two "Global Journey" wines have recently been released and with every purchase, the winery gives 12.5 percent of the proceeds to breast cancer research.
Mt. Vernon holds numerous events throughout the year, including concerts, wine cave dinners and more! In addition, their estate grounds offer beautiful areas overlooking the vineyards with tables, chairs and big umbrellas: the perfect setting to enjoy a picnic lunch from one of the area's delicious delis or markets.

Their Philosophy:  "We strive for excellence. Grape wise, everything is going to be the best in the region."—Ryan Taylor, Winemaker

Favorite Tastes:
2007 Amador Old Vine Zinfandel: With ripe and jammy characteristics coupled with a super silky finish, this one will delight anyone with Zin-loving tastebuds. The Old Vine Zin is hand-harvested off 60-80 year old vines and less than 200 cases are produced.

2010 Cuvee Blanc: A blend of 50-percent Rousanne and 50-percent Viognier. Ripe banana aromatics and tropical notes with a creamy finish.

2008 Expression: The winery's newest Bordeaux blend consists of 50 percent Petit Verdot and equal parts of Merlot, Cabernet Sauvignon and Cabernet Franc. The result is a big and fruity flavor with a perfect balance between acidic and tannin.
---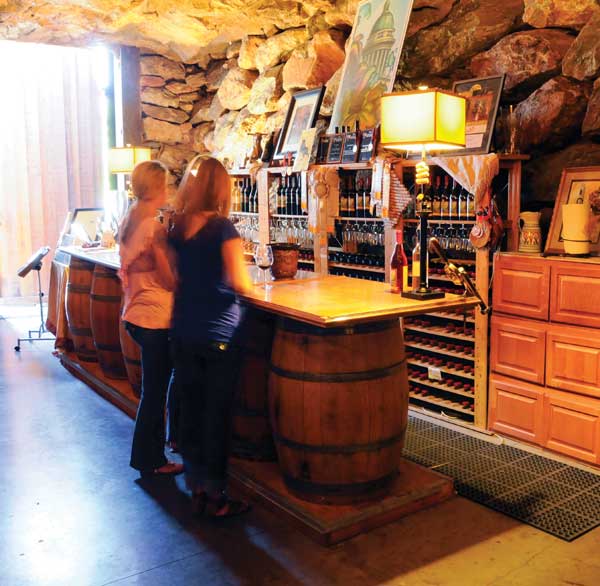 sip stop 4:
Viña Castellano
4590 Bell Road, Auburn
530-889-2855, vinacastellano.com

This eight-acre Sierra Foothill vineyard sits amid the Mendez Family Ranch at an elevation of 1,300 feet – providing unsurpassed views of the stunning Foothill scenery. The temperate weather and Mediterranean-like soil make for true Spanish-style wines: intense, full-bodied and complex…designed for food consumption.
The family strongly believes that quality wine starts in the vineyard and they take great pride in their land by carrying out various sustainable agricultural practices, utilizing all of the elements that nature supplies their estate.
Viña Castelanno boasts an impressive list of awards: They've never gotten below a silver medal at the San Francisco Chronicle Wine Competition and recently won a gold at the 2011 California State Fair.
Influenced by their Spanish upbringing and clearly passionate about the culture, the winery incorporates many of these customs into their events. "Tapas and Tastings," allows groups to sip various wines before and after tasting a myriad of tapas (small-plate foods).

Their Philosophy:
"We believe in wine drinking from a convivial and cultural perspective, as opposed to a connoisseur perspective." —Teena Wilkins, Co-owner and Manager

Favorite Tastes:
2006 Abuelita: Translates to "little grandmother" (the owner's grandmother's picture can be seen on the label). Excellent acidity with well-integrated tannins and flavors of dried red fruit; pairs well with roasted foods. Available at Costco in Roseville.

2005 Tempranillo: Viña Castellano's flagship wine. Took a gold at the 2005 San Francisco Chronicle Wine Competition. Available at Costco in Roseville. Fruit forward, spicy and soft.
---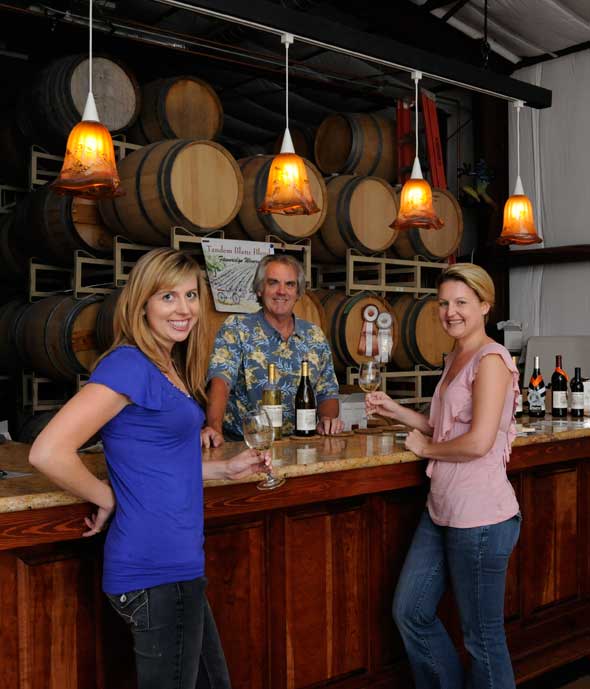 sip stop 5:
Fawnridge Winery
5560 Fawnridge Road, Auburn, 530-887-9522, fawnridgewine.com
Owners Stewart and Stephanie Perry take great pride in their all-organic, very distinctive and award-winning wines. The seven-year-old winery sits in Auburn and overlooks the Sacramento Valley with views stretching to Mount Diablo. Two varietals are grown on the property: Barbera – planted on a fertile hillside, giving the Italian grape the appropriate amount of sun exposure – and Syrah, a French grape located on another hillside and grown to perfection with careful tending.
While tasting, peruse sculptures, paintings and other unique works of art from local PlacerArts members, including a recently added chandelier created by Nicholson Blown Glass. And don't miss trying their Port Chocolate Sauce!
As president of the Placer County Vintners Association (PCVA), Stewart Perry and Fawnridge Winery often host and participate in various local events, including the upcoming "Holidays in the Hills" on the Placer County Wine Trail.

Their Philosophy: "We offer hand-crafted premium wines made available to patrons at a reasonable price. We stress that a visit to our friendly tasting room will provide you with an enjoyable experience while tasting our fine award-winning wines and admiring our display of local art." —Stewart Perry, Owner

Favorite Tastes:
2009 Sauvignon Blanc:  Refreshing…perfect to drink on a warm summer's day or with Thai food. A touch of orange Muscat gives it notes of orange blossom on the nose and a citrus finish. Won a bronze at the 2011 San Francisco Chronicle Wine Competition.

2007 Red Table Wine: Also called "Le Bon Temps Rouler" – a Cajun expression for "let the good times roll!" A blend of 80-percent Syrah, 15-percent Petite Syrah and five-percent Zinfandel gives it aromas of toasted vanilla oak. Took a gold medal at the 2010 Indianapolis International Wine Competition and a silver at the 2011 San Francisco Chronicle Wine Competition.
---
To round out the day and keep the spirited mood going, check out locals' favorite, The Club Car Bar & Restaurant in Auburn on your way home for delicious appetizers and live music on the weekends! •