Saving Graces
Aug 01, 2011 10:37AM ● By Style
Photos by Dante Fontana
Domestic animals depend on us for their safety and lives.
We take animals into our homes for so many reasons and once we do…we must take on that obligation for life. However, there are some who feel differently about the furry friend they have adopted. Instead of giving love, food and affection, they inflict pain and despair – leaving a trusting animal wounded, starving or abandoned.
According to the Humane Society of the United States, nationally, more than eight million unwanted animals enter shelters, and half of those are put to death. This is due to lack of funds, space and resources, or health issues. The rest are adopted by new families or reclaimed by their owners.
Animals cannot speak for themselves, it takes someone to come to their aid and speak up against their suffering; they need humans to be their champions. We found some wonderful folks and welfare groups that did the humane thing and helped a few lucky animals find a new, bright and happy future.
OODLES A.K.A. SEGEN
"You couldn't even tell what breed she was," says Tiffany Smith, admissions and adoptions manager for the Placer SPCA. "Her entire body was impacted with feces, it was tragic." That is how Oodles first arrived at the shelter. Thank goodness for some well-meaning neighbors who called animal control to report her situation. When officers arrived, they found her locked in a plastic kennel baking in the full sun in the back of an abandoned house. The interior of the kennel was also completely coated with feces and urine. She was severely malnourished and about 20 pounds underweight. The initial examination revealed that she had lost more than 90 percent of her fur and was covered with skin infections. Also infected were her eyes and ears. Even through all of this, she maintained a great personality. They named her Oodles because of the enormous amount of energy and love she gave her new caretakers.
Once safe, she needed a lot of medical attention and had to be spayed. So, Placer SPCA put her story up on their Guardian Angels Web page. This is a very special and personal way to donate to the Placer SPCA. The program is for animals with special medical needs, such as dental work, tumor removal, or medical procedures that could make the animal more adoptable. And Oodles needed help. "She was bald and covered with infections," Smith explains. "She needed a lot of medical care." A donor saw her story on the organization's Web site and sponsored her treatments. Oodles immediately responded to treatment; however, her fur was slow to grow. She was doing so well and shelter staff decided she was ready to go up for adoption.
Gary Laurich's daughter, Jennifer, was perusing the Placer SPCA Web site for adoptable dogs, spotted Oodles, and told her dad right away. "I had German shepherds growing up," Gary says. "I just love the breed." He and his wife Lisa went to the shelter to meet the dog and fell in love. "For the first several months, she couldn't stay outside alone," Lisa says. The family's love and support for her is apparent. With her new name Segen, German for "blessing," she is thriving. She is in perfect health, has a luxurious coat and bounces with boundless energy and affection for everyone. A very happy life indeed!
THUMBELINA
What was the thought process of the person that dumped a beautiful velveteen rabbit in a Red Robin restaurant parking lot? We will never know. All we are sure of is that a lovely rabbit was petrified and hopping wildly amid parked cars and dodging moving ones on the hot asphalt one late September afternoon. "People think rabbits can revert to the wild and take care of themselves," says Kim DeWoody, president of Leaps and Bounds Rabbit Rescue. "They can't." Thankfully, a good samaritan captured the frightened hare and took her home.
They quickly contacted Leaps and Bounds. The bunny was evaluated and found to be in pretty good shape. Before being put up for adoption, she had to be spayed. "Rabbits are so unique," DeWoody says. Just like cats and dogs, it is imperative that rabbits also get spayed or neutered. 
"Easter used to be a huge time for us," DeWoody explains. "Now it is year-round." That's why DeWoody, along with friend Nola Williams, started Leaps and Bounds Rabbit Rescue in 2008. The nonprofit operates out of a 300-square-foot room within the Petco on Douglas Boulevard in Roseville. The cheerful room holds 16 large cages with individual or bonded pairs living the good life in peace. They are all happy, healthy and ready for a permanent home. Every Saturday, the rescue group holds adoptions from 12 to 4 p.m. "Rabbits are the gentlest creatures," DeWoody admits. "Every successful adoption is heartwarming."
Josh Graham had always wanted a rabbit. In March, this precocious 11-year-old and his mom Michele ventured to the weekly rescue event at Petco. He sat with a couple of bunnies and decided that the newly named Thumbelina was the best fit. "She clicked with me," Josh says. Now the happy rabbit shares a room with Josh and his hamster Blaster. Thumbelina's elaborate condo takes up nearly one-third of Josh's room, but he doesn't mind. "She is his baby," Michele admits. Josh gets up at 5 a.m. every morning to feed Thumbelina her greens and make sure she is happy. "Josh does a great job," Michele explains. "He takes such good care of her."
Thumbelina is flourishing in her new home. "It is important to consider rescue when thinking of getting a pet," Michele says. "They worked with us to determine which animal would be the right fit for our home."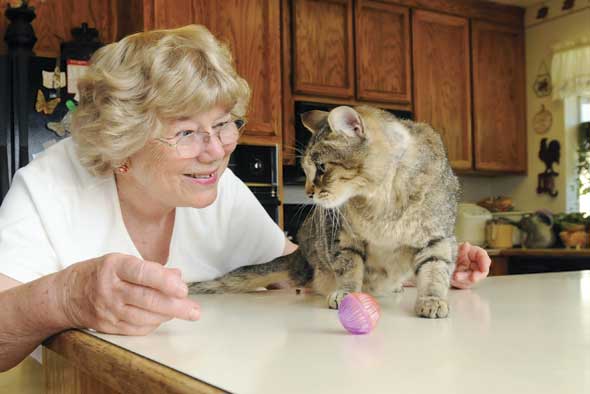 OSCAR
No one really knows how Oscar got on to the back porch of Cindy Hagman's country home. He was emaciated and his right hind leg was mangled. Oscar, starving, was desperately eating the cat food left out for their household cats. As Oscar was gulping kitty kibble, the resident cats tried to defend their dinner, but Oscar fought them off with his wounded leg. When Hagman came out to investigate the mayhem and first saw him, she thought his injuries would require euthanasia; however, this feisty little brown tabby proved her wrong.
When she approached Oscar, despite his excruciating pain, he started purring and rolled over on his back for a tummy rub. Hagman was moved, but knew she could not take on another pet. She remembered FieldHaven Feline Rescue in Lincoln. They had assisted her by spaying her kitten through their Spay Neuter Assistance Program. "They do great work," Hagman says.
Sisters Jann Flanagan and Joy Smith founded FieldHaven in 2003 to provide a safe place for cats and k
ittens while they are awaiting permanent homes. The not-for-profit group works because of the army of 125 volunteers who selflessly give their time, money, sweat, and tears caring for felines that have been abandoned or abused. FieldHaven is also a no-kill shelter, which means a cat has a home for life, even if they aren't adopted.
Oscar went directly to the vet and his leg was amputated at the hip. His general health was good so he only needed post-operative care and lots of food and love, which he received in massive doses when he moved in with the 24 other cats at the FieldHaven shelter. Volunteer Board Member Sabina Pellissier is honored to work among the unpaid staff. "Our volunteers make me humble," she says. "No matter what they are doing…they never complain."
This is where Oscar met Suzy Miller and both their lives changed. Miller volunteers at the shelter and fell in love with Oscar at first sight. "He's beautiful," Miller says. After a few weeks recuperating at the shelter, Miller was able to take her new buddy home. "Special-needs animals seem to appreciate a nice home," Miller says. And she is right. Oscar joined Miller's menagerie of rescued animals in her Lincoln home. "He's happy," Miller delightfully explains. And Oscar, purring loudly, agrees.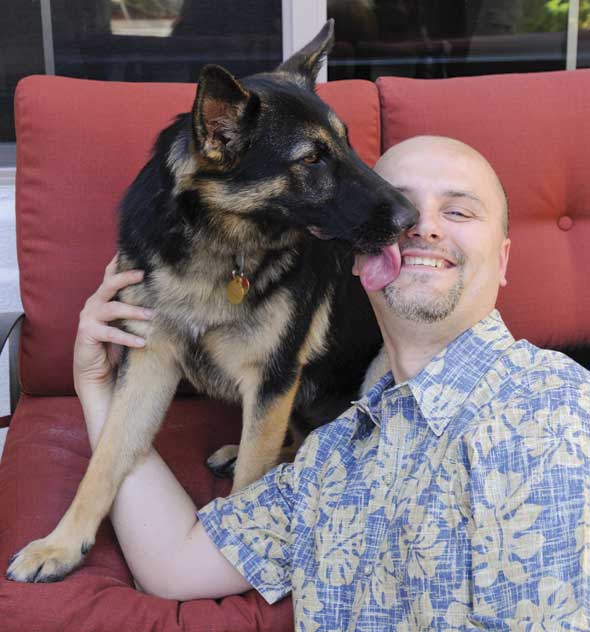 AREA Animal Shelters & Rescues
Placer County:
Field Haven Field Rescue
2754 Ironwood Lane, Lincoln. 916-434-6022
fieldhaven.com
Placer SPCA
150 Corporation Yard Road, Roseville. 916-782-7722;
1482 Grass Valley Highway, Auburn. 530-885-7387
placerspca.org
Leaps and Bounds Rabbit Rescue
P.O. Box 466, Roseville. 916-782-8669
leapsandboundsrabbitrescue.cfsites.org
Wildlife Rescue
215 Maple Street, Auburn. 530-885-0862
goldcountrywildliferescue.org
Friends Forever A Cat Sanctuary
P.O. Box 8113, Auburn. 530-885-4228
ffacs.org
Friends of Placer County Animal Shelter
13420 Lincoln Way, Auburn. 530-823-6828
animalplace.com
Small Dog Rescue
Serving Chico, Sacramento, Roseville and Lincoln areas
smalldogrescue.org; email: [email protected], 530-230-4610.