Destination Rejuvenation
Jul 01, 2011 07:08AM ● By Style
Photos courtesy of their respective organizations.
We could all use a "spa day," but how about a "spa weekend?"
Sometimes it's necessary to venture out of our comfort zone to find true solace. And like most, one's comfort zone usually lies within the city limits of their residence. However, this month Style has crossed county and state lines to find the best "destinations" for extended pampering! Enjoy the following menu of spas worth trekking to this year.
 HALELE'A SPA AT THE ST. REGIS PRINCEVILLE
Located on the lush green island of Kauai, known as the "garden island," The St. Regis Princeville is the epitome of luxury. Bordering Hanalei Bay, the resort offers guests top-tier amenities and access to the beautiful beaches and ocean waters of the North Shore. The property, formerly known as The Princeville Hotel, underwent an extensive multi-million dollar renovation – designed to bring a more residential feel to the property and incorporate the island's beauty – and reopened in the fall of 2009.
And, of course, one of the gems of the property is their spa. Featuring beautiful design esthetics incorporating native Hawaiian materials, the 11,000-square-foot Halele'a (House of Joy) Spa is the quintessential luxury spa destination.
During a visit to the spa, guests are personally tended to by a wellness consultant who is devoted to the guests' mind, body and spiritual rejuvenation. The spa features 12 treatment rooms including a couple's room and a VIP room, steam room, cascading waterfall showers and a tranquil relaxation lounge. On our visit, my husband enjoyed their Hawaiian Lomi Lomi Massage – a unique healing massage utilizing continuous flowing strokes, which was extremely relaxing; and I got to luxuriate in the Kaua'i Taro Clay Wrap – a full body massage treatment featuring "wild crafted Kaua'i clay infused with taro, organic aloe, noni, kava and blue green algae." Needless to say, we were in a state of complete bliss, relaxation and calm after visiting this house of joy.
—W.S.
---

TRILOGY SPA AT SQUAW VALLEY

Olympic Valley, CA
530-584-6125, trilogyspa.com 
A trip to Tahoe is typically a time for skiing (snow or water), vegging and soaking in the gorgeous mountain views. So even as a non-skier, I recently escaped to The Village at Squaw Valley with a friend, thrilled to hide away in Trilogy Spa, a 4,000-square-foot spa featuring award-winning treatments for individuals, couples and groups.
My gal-pal relaxed in the Lava Lounge, sipping on Champagne and experiencing her first-ever paraffin wax treatment, while I indulged in Trilogy's signature Lehua Honey Escape. In three words, it was bliss. The 50-minute "drench" began with a plumeria body wash exfoliation followed by a citrus salt scrub. My semi-sensitive skin turned red, but my masseuse confirmed it wasn't feeling irritated. Next, she drizzled and massaged in warm coconut and macadamia nut oils, which soothed and nourished my thirsty skin. A warm honey drizzle and massage followed. With cucumber slices on my eyelids, I was then draped with a thermal blanket from shoulders to feet as the Vichy rain bar provided steam, helping my skin absorb the moisturizers. In the meantime, my hair and scalp received the most ahh-inducing attention. When unwrapped and rinsed, I headed to a serene room for the final touch – a 30-minute massage. Even as I returned to the hustle and bustle of life, the post-treatment Zen lingered for at least a week while my skin remained silky smooth for more than a month.
—K.J.

SPA TERRA AT MERITAGE RESORT & SPA

Everyone knows that Napa is all about wine, but the Meritage and their world-famous Spa Terra have upped the ante for the respite-seeking, wine lover's ultimate getaway experience. Here's their secret recipe: combine charming, rolling vineyard landscape, one grand estate wine cave, and a luxury spa offering relaxation, rejuvenation and invigoration, swirl them around…and voila, you've found the only resort in the country with a spa located entirely underground, and one that exudes a tranquil Tuscan ambiance and an Old World charm that has you feeling like royalty. Within the serene walls of this 22,000-square-foot wine cave, located behind the resort, you'll discover the full-service Spa Terra. Truly offering refined pampering, the spa includes amenities available to any guest who books a treatment, such as steam grottos, soaking pools and whirlpools, a relaxation room, fruit-infused waters and a spa lunch menu.
On my visit to this four-diamond spa, I indulged with their Terra Massage, a 50-minute European treatment focused on deep relaxation, perfect for those looking to relieve muscle aches after wine sipping (or gulping in my case) and lollygagging around the completely revived Downtown Napa and riverfront. Mine was divine, and it was the fastest 50 minutes of my life. Next time, I plan to go for the Vino Bello – a grape seed scrub followed by a wine and rosehip mud wrap, finished with a lavish application of grape seed lotion. Oh…and in the spirit of relaxation, there is no cell phone reception once you're underground!
—D.P.
---

SPA ATLANTIS AT ATLANTIS CASINO RESORT SPA

Reno may be known as a gambler's haven, but spa aficionados will hit their own jackpot after heading up to the third floor at the Atlantis Casino Resort Spa. It's here where the 30,000-square-foot Spa Atlantis lies, along with a full-service salon and the newly added Spa Escape rooms.
A day at Spa Atlantis is guaranteed to revive body, mind and soul. Slip into the provided plush robe and comfy slippers; unwind in the locker room's herbal lavender steam room and cedarwood sauna; then nibble on light snacks or hydrate with infused water in the Tea Lounge.
With 15 lavish treatment rooms and an extensive spa menu ranging from unique body wraps and couples' experiences to a myriad of massage and facial options, the hardest part is deciding which service(s) to be pampered with. For 80 minutes of complete serenity, I recommend the Pantai Luar® massage. As heated sachets of quality herbs, coconut and limes are passed over your body several times, essential oils and exotic scents release onto the skin, and the masseuse's therapeutic touch works out any tension. "Zen"sational.
After, rinse off in the Nature Experiential Shower, heat up and detoxify in the Laconium Relaxation Lounge, and enjoy the Brine Inhalation Therapy Room, where a rainbow of calming colors reflect over a Brine cascade. Spa amenities also entail access to the Aqua Spa Lounge (multiple Jacuzzi pools with varying temperatures), Cardio Theater and Fitness Center, and the locker rooms extensive selection of Aveda products and beauty tools. You can't lose here if you're banking on a blissful experience. 
—M.W.

SPA CLAREMONT AT THE CLAREMONT HOTEL CLUB & SPA

Overlooking the Bay from its nestled perch in the Berkeley Hills, The Claremont Hotel Club & Spa is a symbol of elegance and class, a historic retreat reinvented with modern touches. Nearing 100 years in business, the resort reminds us that some things definitely do get better with age.
When this prestigious resort opened in 1915 it was the largest of its kind on the Pacific Coast, hosting not only various living quarters, but a private school and a radio station, too. A lot has changed over the years, but the one thing that endures is first-class service, and Spa Claremont is no exception.
You can't go wrong with this blissful escape for the senses, consistently named one of the nation's best spas. Spa Claremont is devoted to wellness and relaxation and encourages guests to enjoy pre-treatment amenities, such as a steam room, whirlpool, deluge shower, and relaxation lounge. On my visit, I tried the transformational Tibetan Sound Massage, a full-body experience combined with sound waves from sacred Tibetan bowls placed on your body. The massage was spot on, with the perfect amount of pressure, and interestingly, the sounds from the Tibetan bowls actually quieted the chatter in my ever-churning brain. Departing Spa Claremont, I felt delightfully relaxed and looking forward to a future return.
—W.S.
---

THE SPA AT TERRANEA RESORT

Rancho Palos Verdes, CA
310-265-2800, terranea.com
Perched on a Peninsula overlooking the Pacific, Rancho Palos Verdes seems worlds away from nearby Los Angeles. This gorgeous coastal stretch dazzles with mustard-covered hills, rocky cliffs and crisp ocean blue waves. It's also home to one of the newest and most elegant resorts in the region, Terranea. A sprawling compound that mixes a hotel, residences, fine dining, and a first-class spa, Terranea blends beautifully with its natural setting and utilized a "green" approach during its development. The result is nothing short of breathtaking, and the spa may be the best place to enjoy the sand-meets-sea journey.
Covering a 50,000-square-foot space, the oceanfront spa looks grandiose on paper, but offers a truly intimate experience. Both the ladies and gentlemen get their own private retreat, with a whirlpool, plunge pool, sauna, steam room and relaxation area. Beyond the waiting room, treatments are offered in a comfortable chamber with ocean views and a fresh breeze wafting in from the sea. Divine. Treatment highlights include the El Segundo Blue – a slow, rhythmic massage of sensuous, aromatic botanicals, a blissful cocoon of revitalizing sea blue mineral clay, and a head and scalp massage; and the Tempest, an invigorating ritual combining cycles of alternating temperatures to stir your inner ocean.
—D.E.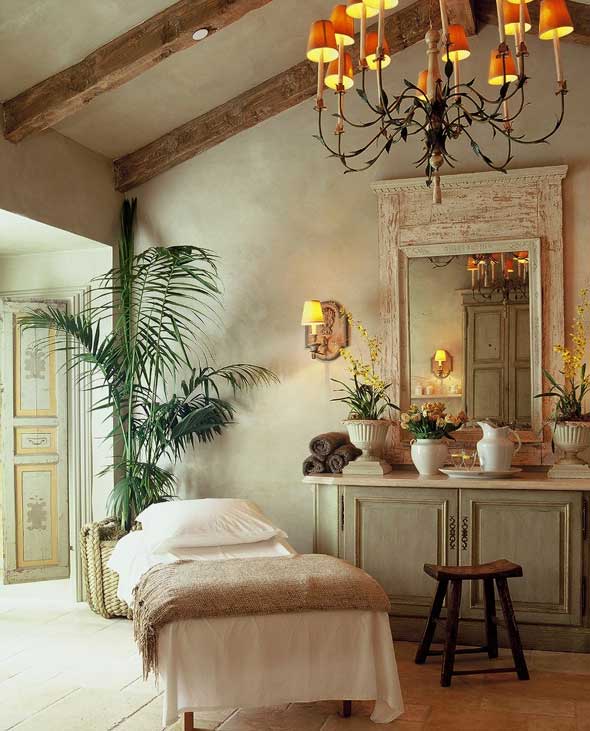 CAL-A-VIE HEALTH SPA

Just north of San Diego in Vista, the Cal-a-Vie Health Spa may be southern California's best spa secret. Lavender-covered fields, stone fountains, tree-lined patios and total peace and quiet – you'd be hard-pressed not to be instantly transported to a charming Provençal setting. If its natural assets aren't enough, they reconstructed both a French L'Orangerie and a chapel, brick by brick, for visitors to enjoy.
Here's how it works. Guests check in for a three-night, four-night or weeklong stay. The resort hosts only a conservative number of participants per week, accommodating each with either a guest room by the pool or a larger suite. The goal here is wellness – body, mind and soul.

Every morning at breakfast, you are given a suggested itinerary for the day. This includes a selection of intimate fitness programs from cardio and weight training to yoga and Tai Chi. Treatments at the spa including facials, massages and body treatments are also in the mix. Three meals and a couple snack breaks are provided each day, prepared in delicious spa-style by chef Jason Graham – sometimes with a cooking demonstration.
To boost your performance, you also get a one-on-one nutritional and fitness evaluation. But it's difficult to get stressed out with so much soul-stimulation around – like the candlelit acoustic concert in the chapel on my last night. Don't worry, be happy.
—Darren Elms