A Royal Escape
Jun 30, 2011 12:10PM ● By Style
Photos by The Memory Journalists
"Do you want to go to England and Scotland?" my sister asked.
I had not been to Europe yet, and she knew I had always wanted to go. So along with our hubbies, we set the dates and bought our plane tickets. Our adventures started in London, and as luck had it, the recent Royal Wedding took place the day after we left. We considered staying to participate in the royal day, but decided that the throngs of tourists and locals were not our cup of tea.
From London, we took a train to York and watched the wedding with locals at a pub. Everyone was ecstatic when Prince William and Catherine kissed exactly as planned on the balcony of Buckingham Palace. We hopped the train one more time to Edinburgh for another few days, and then rented a car and drove through Scotland. Our stops included staying in Inverness, the Isle of Skye, and in a castle near Oban; ferrying over to the Isle of Mull; and eventually heading back to Edinburgh where we caught a plane home on the 18th day.
Planes, trains, automobiles and ferries could sum up our trip. There are a variety of ways that you can travel throughout the United Kingdom, and we tried them all. Driving around on the wrong side of the road with the steering wheel on the wrong side was fun, too. Our husbands were the only brave ones; us girls were the mother hens who kept chanting, "Stay to the left!"
Below is our list of favorites – places to visit and things to do. Of course, the locals told us that we experienced their best two weeks of summer weather, which may have played a role in the favorites listed!
FAVORITE CITY
While York is larger than one may think, it feels less touristy due to the compactness of the city and the historic cobbled streets, where cars aren't permitted. One can walk the Shambles – one of Europe's oldest shopping streets – lined by many independent shops, or choose to stroll along the longest complete medieval city walls in the UK. The walls allow for an amazing view of the city and if you're up for the entire length, it can take close to two hours. Of course, your visit won't be complete without seeing York Minster, northern Europe's largest Gothic cathedral. This turned out to be one of the very few places that allowed us to take photographs on the inside.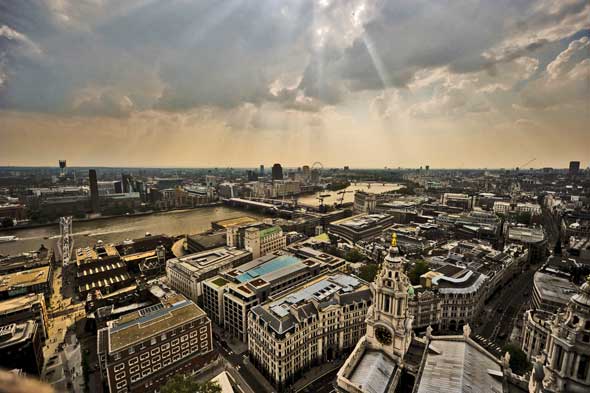 FAVORITE CATHEDRALS
The dome of St. Paul's in London is one of the largest in the world. We climbed up the dome steps to the Whispering Gallery where our hubbies tried out its unique acoustics; a whisper on one side can be heard clearly on the opposite side at least 100 feet away. Continuing upwards for a total of 528 steps, we reached the Golden Gallery at the very top. While this hike raised our heart rates, it was well worth the breathtaking panoramic views across London.
While technically Westminster Abbey in London is not a cathedral, it was fun to see the preparation of the Royal Wedding already occurring while we were there. Some of the most significant people in the nation's history are buried or commemorated in the Abbey, and I was in awe of the number of famous authors such as Chaucer, Dickens and Kipling.
St. Giles in Edinburgh is recognized as having one of the finest organs in Europe and while we were there, the organist was playing; one could just sit in the pews and listen to the beautiful music.
FAVORITE B&Bs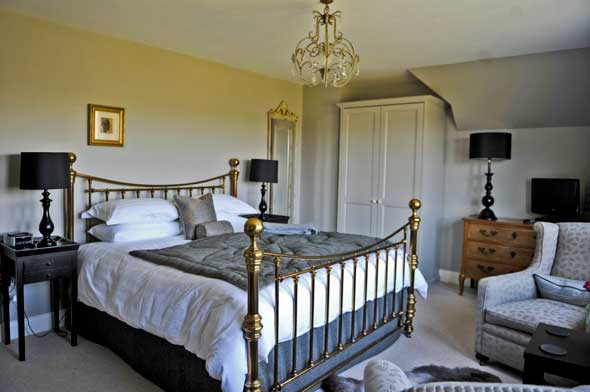 The Spoons, located in the Scottish Highlands of North Skye amongst farmland and built in 2009, is quiet, clean and was voted best bed by all four of us. Ian and Marie, the proprietors, were super friendly and created a sumptuous homemade breakfast using local fresh organic produce including eggs from their own hens.
A close second was Barcaldine Castle near Oban Argyll in Scotland. A "real castle" by our husbands' definition of a fortified stronghold position; all four levels are accessed via the one and only entrance, and all rooms off of the spiral staircase. Upon our arrival, we sat with tea in front of the fireplace as Ronnie told us the history of the Black Castle, as it's known. We were shown the secret passageways that allowed those in the Great Hall on the second floor the ability to escape unseen to the first or third floors in the event of attack. Liz and Ronnie made us a wonderful dinner of locally grown beef after serving appetizers of smoked duck, venison and beef.
FAVORITE CASTLES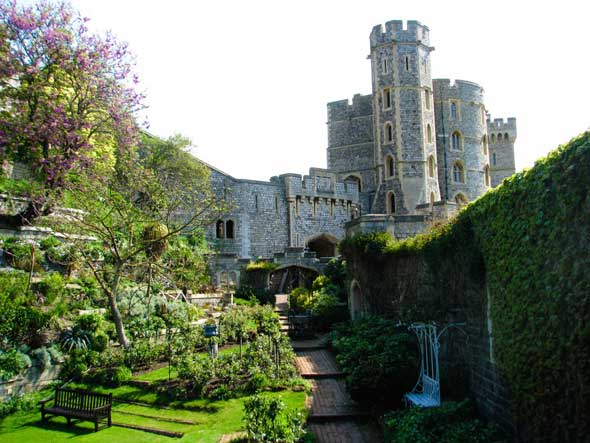 Windsor Castle is the oldest and largest occupied castle in the world and the official residence of Her Majesty The Queen, of whom we happened to catch a glimpse! St. George's Chapel is the heart of the order of the knights of the garter, and is the burial place of 10 monarchs, including Henry VIII. This is what anyone who has ever dreamed of living in a castle would picture. We were lucky to hit it so early in the morning and get right in, thanks to Harry Norman Private Tours knowing the crowds and queues.
Another favorite was Eilean Donan Castle – one of the most beautiful castles in Scotland and recognized by many for its role in the movies Highlander and The World is Not Enough. Interestingly, Eilean Donan can be rented for your wedding!
On the Isle of Mull we visited Duart Castle, the ancestral home of the Clan Maclean. Similar to Eilean Donan, Duart Castle sits at the intersection of important lochs atop a crag at the end of a peninsula; its position was well chosen for defense. You may have seen Duart Castle in the movie Entrapment.

FAVORITE THINGS TO DO IN LONDON
Buckingham Palace is not open for tours year-round, only a few weeks in April and then again for a few months in the summer when the Queen is vacationing either at Windsor or in Scotland. The Buckingham Palace Tour is very intimate – our group was 20 people – and ended with a glass of Champagne. Being escorted out the front gates where the masses had started to camp out for the Royal Wedding was especially exciting!
The Tower of London is a great place to spend an afternoon. See the crown jewels and be sure to wait for guided tours by the witty Beefeaters to learn about the Tower's history. And plan ahead to get tickets for the "Ceremony of the Keys," a nighttime visit where the Tower of London is locked up…it's been occurring every night for the last 700 years! To attend this free 30-minute event, you need to request an invitation by mail.
Stonehenge was a pleasant surprise. I can't say seeing the actual stones was fantastic, but I can say I thoroughly enjoyed the day outside of London in the countryside. The weather was perfect and our private guide Harry made it entertaining.
The Eye of London, the world's highest observation wheel, was a great way to see the London skyline.
The Globe Theatre, first built in 1599, is where Shakespeare once worked and the site where many of his plays were first performed.
FAVORITE ACTIVITIES IN SCOTLAND
One can't go to Scotland without trying some Scotch. Edradour Distillery in Pitlochry is the smallest handcrafted whiskey distillery in Scotland, only making 12 casks a week.
Culloden Museum & Battlefield, outside of Inverness, used GPS units to narrate what happened while we walked around on the grounds. I don't know if I would have enjoyed it as much had it been raining like it usually does.
Driving around the Isle of Mull seeing deer, turkeys, pheasants, bunnies, the famous hairy cows, and of course all the little lambs was fantastic.
Both the war memorials at Edinburgh Castle and at Stirling Castle were impressive and very moving. In Edinburgh, you can read name after name in books that line the walls of soldiers who have lost their lives in war since WW1, and at Stirling Castle you can see drawer after drawer of medals that the Argyll and Sutherland Highlander men won during several wars. The eyewitness story accounts in the Stirling Museum brought me to tears.
FAVORITE RESTAURANTS
Old School Restaurant and Three Chimneys were both found on the Isle of Skye and used fresh ingredients, fresh fish and the best beefsteak of the trip. Typical meals found in London included bangers and mash, fish and chips with peas, and the traditional Scottish dish of haggis with "neeps" and "tatties," which I finally found out were turnips and potatoes. Despite the fried pub food we ate, I found we didn't eat much processed food – everything was very fresh. Breakfast seemed rather important, and I think we had eggs of some sort every day. The traditional Scottish breakfast consisted of eggs, sausage, bacon (which is more like thin ham), black pudding, grilled tomatoes, mushrooms, baked beans and toast. And surprisingly, the train food was delicious (much better than plane food)!
POSTCARD FROM ENGLAND & SCOTLAND TOUR
Cathedrals:
stpauls.co.uk
westminster-abbey.org
stgilescathedral.org.uk
B&Bs:
thespoonsonskye.com
barcaldinecastle.co.uk
Castles:
Harry Norman Private Tours, londonstours.com
royal.gov.uk
eileandonancastle.com
duartcastle.com
Favorite Activities in London:
hrp.org.uk/toweroflondon
stonehenge.co.uk
londoneye.com
shakespearesglobe.com
---
WHERE WE STAYED
Park Plaza Westminster Bridge London
200 Westminster Bridge Road, London SE1 7UT, United Kingdom, +44-0844-415-6780
York Marriott Hotel
Tadcaster Road, York, YO24 1QQ, United Kingdom, +44-1904-701-000, marriott.com/hotels/travel/qqyyk-york-marriott-hotel/
Marriott Dalmahoy Hotel in Edinburgh
Kirknewton Edinburgh, Scotland EH27 8EB, United Kingdom, +44-0131-333-1845
Moyness House in Inverness
6 Bruce Gardens, Inverness, Inverness-Shire IV3 5EN, United Kingdom, +44-0146-323-3836
Spoons on Isle of Skye
75 Aird Bernisdale, Skeaboat Bridge, Isle of Skye IV51 9NU, +44-0147-0532-217, thespoonsonskye.com
Barcaldine Castle near Oban
Benderloch, Oban, Argyll PA37 1SA, Scotland, 44-0163-1720-598, barcaldinecastle.co.uk/
Glengorm Castle on Isle of Mull
Tobermory, Isle of Mull, Argyll PA75 6QE, Scotland, +44-0168-8 302-321, glengormcastle.co.uk/
---
10 TRAVEL TIPS
Many castles, palaces and museums do not allow for any photography indoors. Once I discovered this tidbit, I left my larger camera in the hotel on those days and carried just a point-and-shoot in my purse.
If you have never traveled on a train before, leave plenty of time to learn their last-minute system of announcing gates. 
Plan for good and bad weather. Note that most hotels don't have AC.
Consider hiring a private tour guide such as Harry Norman Tours to get more local flavor. (londonstours.com/index.html)
Plan months ahead for special activities such as the "Ceremony of the Keys" at the Tower of London, or the limited tour dates at Buckingham Palace. Even castles allow for advance purchase to avoid lines. (hrp.org.uk/TowerOfLondon/WhatsOn/ceremonyofthekeys.aspx; royalcollection.org.uk/default.asp?action=article&ID=30)
Rent the GPS for your car and have exact zip codes on hand for your destinations.
England uses the British pound for their currency, and it's accepted in Scotland. Convert money before leaving the U.S. and get 20/10/5 pound notes, as smaller bills are most handy.
Street signs are located on the buildings and are often hard to find.
When in doubt look right AND look left before crossing streets.
Keep some change for pay toilets – you never know when you may need it.