Cool Drinks
Jun 08, 2011 05:02AM ● By Style
Photos by Robert M. Peacock
Porch Parties: Cocktail Recipes and Easy Ideas for Outdoor Entertaining
By Denise Gee; photos by Robert M. Peacock
(Chronicle Books, 2009, $16.95)
Tipsy Tea with Homemade Sweet Tea
Sweet tea never tasted so good—especially for those bent on unwinding after a long workweek. Try it with a lunch of fried chicken and deviled eggs and see if you don't agree.
2 ounces orange-flavored vodka, chilled
6 ounces Sweet Tea (recipe follows), chilled
Garnish: ½ orange wheel (optional)
Add the vodka and tea to a tall glass filled with ice; stir well. Garnish, if desired. Serves 1.
Sweet Tea
10 cups cold water
2 family-size or 8 regular tea bags
3/4 cup sugar
Boil 3 cups of the water, then add the tea bags; continue boiling for 1 minute. Cover and set aside to steep for about 15 minutes.
Remove and discard the tea bags. Add sugar, stirring to dissolve.
Pour the tea mixture into a 1-gallon container, then add the remaining 7 cups cold water. Stir to combine. Makes 2 1/2 quarts.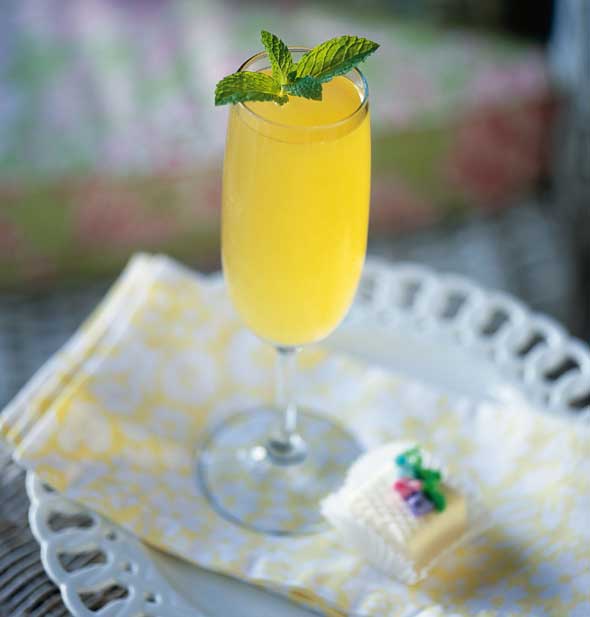 Pear Mimosa
Pear nectar is much smoother than orange juice and a delicious twist on the standard mimosa. Try this for a dressy porch-side reception.
1 (750-millileter) bottle Champagne or sparkling wine, chilled (see note)
2 cups pear nectar, chilled
Garnish: Mint sprigs (optional)
Combine sparkling wine and nectar in large pitcher; keep chilled.
Pour into champagne flutes. Garnish if desired. Serves 4
Note: Substitute sparkling white grape juice for those who might not enjoy traditional bubbly.
Do Tell: If you feel like you're puttin' on the Ritz while drinking this, in essence, you are. The mimosa cocktail was reportedly invented around 1925 at the Ritz Hotel in Paris.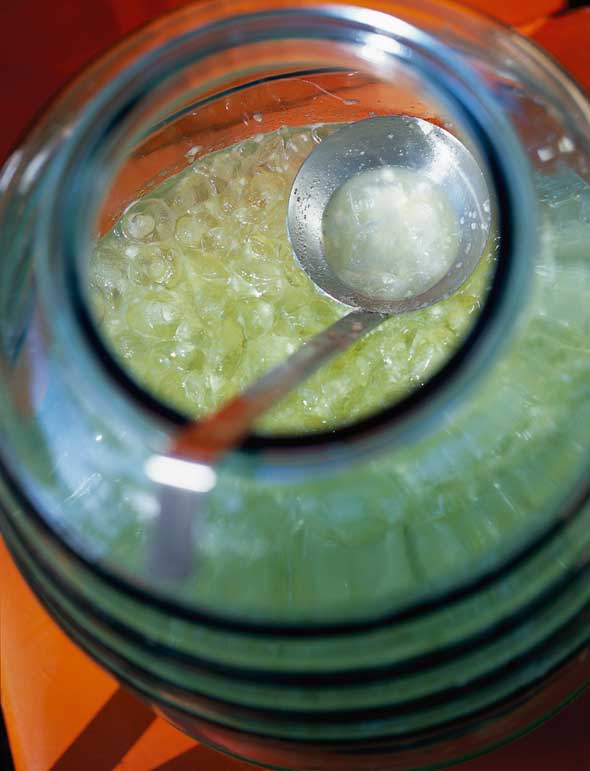 Agua Fresca De Honeydew
Agua fresca, meaning "fresh cold water" in Spanish, is truly one of the coolest drinks you can enjoy. The icy fruit drinks are most often served in one of the tall, rippled glass jars that you see in taquerias – jars that make a great centerpiece for a party (and I just had to have one). This recipe serves a crowd, but can easily be divided in half for a smaller group.
10 cups peeled honeydew melon chunks, from about 2 melons (see note)
1 cup fresh lime juice
1 cup sugar
8 cups water
1 10-pound bag of ice
Garnish: Fresh honeydew or lime wedges (optional)
Add the melon in batches to a food processor or blender and puree until smooth, stopping to scrape down the sides. Add the lime juice and sugar and process again.
Pour the melon mixture into large serving container. Add the water and ice to the desired consistency and mix well. Serve in small cocktail glasses. Garnish, if desired. Serves 12 to 16.
Note: Substitute watermelon or cantaloupe.