Sydney
Apr 04, 2011 07:37AM ● By Style
Photo courtesy of Tourism Australia.
My passport was collecting dust, just yearning for a stamp, and the travel bug had infected me yet again.
What better cure than a getaway to the only continent that is a country, to one of the world's most spectacular cosmopolitan seaside cities: Sydney. Surrounded by glittering harbors and world-class beaches, Sydney also boasts internationally acclaimed restaurants, award-winning wines, sunshine aplenty and some of the friendliest folks you'll ever meet. After packing my "bathers," "sunnies" and camera…I was off!
The 14-hour plane ride from San Francisco sounds more dreadful than it is. Between the meals (and yes, I am a part of the miniscule percentage who enjoys airline food) and on-demand movies, time literally flies when you're going to the land down under.

Observatory Hotel Swimming Pool
Adjusting to an entirely different time zone can do some serious sleepy-time damage, but when vacationing in a city like Sydney there's no time to waste. A stay at the centrally located, five-star Observatory Hotel didn't leave me awake counting sheep or kangaroos! Reminiscent of a 19th century Australian home, this Orient Express property offered superior luxury and service without being stuffy. I especially enjoyed sipping tea and savoring scones at the afternoon high tea offered in the exquisite Globe Bar and swimming laps at the indoor pool...fiber optic lights resembling the Southern Hemisphere's constellations illuminated the ceiling above!
A quick walk from my hotel room and I was at two of Sydney's most iconic landmarks: the Opera House and Harbour Bridge. Sure I could've marveled at their wonder from afar or even from a ferry, but instead I experienced the BridgeClimb, where I walked along the outer arch of the bridge 439 feet above the Sydney Harbor and enjoyed a live performance at the Opera House. Both had my loved ones back at home beyond jealous.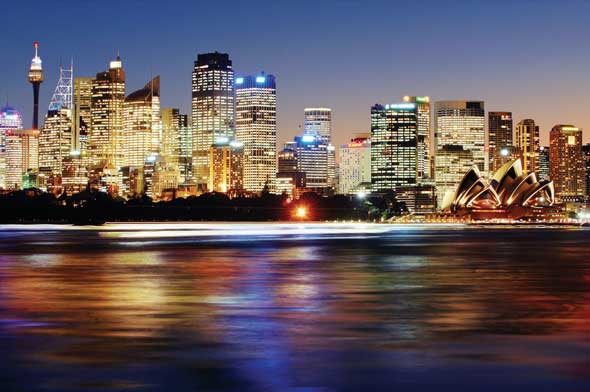 Sydney Skyline
I couldn't come halfway across the globe to Sydney and not experience the beaches Hollywood always depicts as being filled with tan, toned lifeguards and in the more despondent films, sharks. Enter Bondi Beach. One of Australia's most decorated and talked about beaches, it is a haven for surfers, sunbathers and those just looking to soak up some of the laid-back Australian culture. The 3.7-mile Bondi to Coogee Beach walk allowed me to take in the splendor of the sea with its dramatic cliff sides, bluer-than-blue waters and breathtaking views. When hunger hit, I stopped for some Aussie-style fish and chips and a cold one (Toohey's New is a local favorite) at one of the many beachside cafés and pubs I passed along the way.
Since time permitted, I also ventured two hours north to the Hunter Valley wine region for a taste of the lush countryside and some delicious Semillons! Think Napa Valley without all of the commercialism and tasting fees. For dinner, I dined al fresco overlooking vineyards at Margan Restaurant. The locally sourced Australian cuisine left my taste buds in an utter state of bliss.
Lucky for me, I had months to explore Sydney, but even after a 5- or 10-day visit, the city is sure to capture your heart and leave you with a multitude of new "mates." And if you're anything like me, you'll also depart with a strong sense that you must, and will, return.
---
Australian Lingo
G'day Mate=Universal hello greeting.
Lollies=Sweets/Candy
Bonnet=Car hood
Brekkie=Breakfast
Chips=French fries
Arvo=Afternoon
Bloke=A man
Sheila=A woman
Walkabout=Aboriginal term meaning "to go on a wander."
Sunnies=Sunglasses
Bathers=Swimsuit
Jumper=Sweater/Sweatshirt
Postcard From Sydney
The Observatory Hotel
89-113 Kent Street, Sydney
02-9256-2222, observatory.com.au
Sydney Opera House
2 Macquarie Street, Sydney
02-9250-7111, sydneyoperahouse.com
BridgeClimb Sydney
3 Cumberland Street, Sydney
02-8274-777, bridgeclimb.com
Quay Restaurant
Upper Level Overseas Passengers Terminal Circular Quay West, Sydney
02-9251-5600, quay.com.au
Harry's Café de Wheels
730-742 George Street, Haymarket
02-9281-6292, harryscafedewheels.com.au
Darling Harbour
(Aquarium; Chinese Garden; Museums; Theatres; Dining; Entertainment; Shopping)
darlingharbour.com.au
Bondi Beach
For general information:
bondivillage.com
Let's Go Surfing!
128 Ramsgate Avenue, Bondi Beach
02-9365-1800
Icebergs Dining Room and Bar
One Notts Avenue, Bondi Beach
02-9365-9000, idrb.com
The Original Fish & Chip Company
163 Glenayr Avenue, Bondi Beach
02-9130-4582
Ravesi's Hotel
118 Campbell Parade, Bondi Beach
02-9365 4422, ravesis.com.au
Hunter Valley
For general information: winecountry.com.au
Hunter Valley Wine Tasting Tours
205/2 Birtley Place, Elizabeth Bay
02-9357-5511, huntervalleywinetastingtours.com.au
Margan Restaurant
1238 Milbrodale Road, Singleton
02-6579-1372, margan.com.au/margan_restaurant.php