The Great Outdoors
Apr 04, 2011 04:24AM ● By Style
Photo courtesy of the Folsom Tourism Bureau.
Public parks are a uniquely American idea. And as most great ideas, the concept started right here in California.
President Theodore Roosevelt, the champion and mastermind of our National Park System once said, "Leave it as it is. The ages have been at work on it and man can only mar it." Our 26th president knew the importance of preserving wild land and important historical areas for future generations. It was Roosevelt's vision that all parks are "for the benefit and enjoyment of the people."
However, we Californians have always proved to be progressive, and our state's leaders were debating the importance of saving open spaces way before Roosevelt came into office. On May 17, 1864, California Senator John Conness introduced a bill to the U.S. Congress that proposed something that people thought was crazy…something that had not been done throughout human history. He proposed setting aside a large tract of natural land and scenery for the future enjoyment of everyone. On the last day of June of that year, our 16th president, Abraham Lincoln signed an act of Congress ceding the Yosemite Valley and the Mariposa Grove of Giant Sequoias to the state of California. Both areas were deemed national parks in the early 20th century to provide federal protection of the lands.
Roy Stearns, deputy director of communications for California State Parks enthusiastically states, "California has the most diversity in parks of the lower 48 states." Today, the state manages 278 park areas, encompassing nearly one-third of our coastline, 1.3 million acres of state land, and hosted more than 80 million paid visitors in 2010. Our state's park system has many types of parks to offer its citizens. Whatever your mood or desire, there is a state park right here for you. From boating, hiking, whitewater rafting, horseback riding, mountain biking – whatever you want to do – the parks in our area can accommodate your whim. "We have diversity here in the area," Gold Fields District Superintendent Scott Nakaji says. "Each park brings a unique experience."
There are many types of state parks. Each is designated to provide the most out of what the area and terrain has to offer. A State Recreation Area or SRA is just that, a place that offers recreation in abundance, a place to celebrate our state's most wonderful and protected natural resources. Another type is a state historic park, a locale that honors a specific event or time in our history. These areas are set aside to preserve the location, while allowing people from around the world to visit, discover, and sometimes relive the time.
Within a few minutes drive from our home are three wonderful opportunities to play and learn – whether alone, with your significant other, or with the kids in tow – about one of the most defining moments in world history. The Auburn and Folsom SRAs offer their own special way to get outside and enjoy the great outdoors right in our own backyard. Marshall Gold Discovery State Historic Park celebrates the discovery of gold in the tiny town of Coloma.
MARSHALL GOLD DISCOVERY STATE HISTORIC PARK
January 24, 1848 was the day the world changed. At this very spot, James Marshall discovered shiny flecks of yellow in the water of the South Fork of the American River. He tried to keep the gold discovery a secret…however it didn't last long. State Park Ranger Mark Michalski explains that once word got out the world came rushing in. "The park offers a rich history and tells the story about the beginnings of modern California," Michalski says.
Located within the town of Coloma, the park was acquired by the state in 1942 and offers year-round visitors lots to see, do and learn. There is the Gold Discovery Museum that tells the story of John Sutter and Marshall and how the discovery of the precious metal changed the lives of hundreds of thousands of people from around the world. The wonderful array of exhibits starts with the lives of the native people and tells the story of the area. Also, there is a theater with a selection of very informative short films on the history of area.
Many historic buildings with displays of artifacts from the Gold Rush, cemeteries, churches, and the replica of Sutter's sawmill are situated throughout the many acres of the park. Volunteer docents, in period dress, roam the grounds and offer an interpretative view of what life was like in those times.
Mixed among the wooden and stone miner's structures are ancient Nisenan and Miwok Indian sites where the natives ground acorns for food. You can also try your hand at gold panning.
Solo:
Meander on the four-mile loop trail and see where gold was discovered, Marshall is buried, and revel in the beautiful views. If your idea of hiking alone includes your four-legged buddy running free, you are out of luck. Dogs are allowed only on designated trails and must always be on a leash. Discuss the latest news and events of 1849 with one of the many docents.
Couple:
Tie the knot! The Park offers many lovely opportunities to get married on the grounds. There are two historic churches and other venues to get hitched.
Family:
Grab a picnic basket and hike up to the numerous picnic tables in the shadow of Marshall's monument. The kids will love trying to find their own fortune by gold panning in designated areas.
---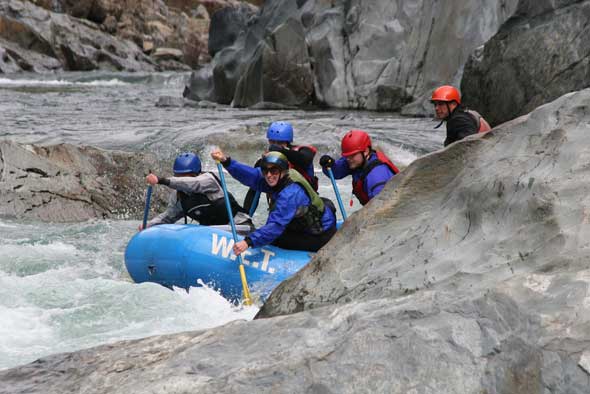 Whitewater Rafting at Auburn State Rec Area
Photo by Megan Wiskus.
AUBURN STATE RECREATION AREA
Auburn SRA is wet, wild and wonderful. At the heart of the Gold Country, this gorgeous area covers 40 miles of the North and Middle Forks of the American River from Colfax all the way to the confluence of the two forks near Auburn. The area, set aside for the possible Auburn Dam, has some of the most spectacular scenery in the state.
Once inhabited by the Southern Maidu (Nisenan) Indians, it was one of the primary Gold Rush locations. Just imagine the whole area teaming with men and ancient machines searching for gold by digging, panning and dredging without a thought to what they were doing to the land. Luckily Mother Nature has been successful in healing some of the environmental wounds from the past.
More than 120 miles of established mixed-use trails, ample animal and plant life, tons of historic sites and lots of varied activities await you. The 42,000 acres of park is the closest wilderness area to Sacramento. "Right off Highway 80," Park Superintendent Mike Lynch explains, "is a wild fabulous canyon area."
Whitewater rafting is the main attraction here with more than 30 private outfitters to get you rip-roaring in the waves on some of the most beautiful rivers in the Sierra. Depending on your nerve and expertise you can take Class II, III and IV runs. Huge boulders, rabid rapids, pristine waters and drop dead gorgeous scenery are there to enjoy as you bob or blast down through the river's boiling rapids.
If you are not whitewater inclined, there are hiking, mountain biking, horseback and motorcycle riding trails and so much more. Gold mining and rock hounding are also allowed. Non-commercial gathering is permitted (be sure to check the posted rules) just like the 49'ers did more than 160 years ago.
And just as the gold miners lived in the outdoors you too can camp at the few "primitive" campsites available. There are very limited amenities offered at these areas; you need to pack your own drinking water and live without flush toilets and showers. Mineral Bar has a very narrow paved road leading to 17 campsites and Ruck-a-Chucky has five sites accessed by a dirt gravel road. All campsites are available on first-come-first-serve basis and roads can be inaccessible in inclement weather.
Off Foresthill Road, about two miles from Auburn, you will find Lake Clementine. Surrounded by steep canyon walls, this lovely little lake (only 25 boats are allowed on the lake at any time) has boating, waterskiing and a marina during the summer months. There are also boat-in campsites available, but again these are primitive sites.
Solo:
The Auburn SRA park brochure warns people not to hike or swim alone. So, if you are heading out on your own, chose a group activity. Biking, horseback riding, fishing and gold panning are the way to go here.
Couple:
Head out and try your hand and hiking boots at all the SRA has to offer. What a fun date – strolling along the American River enjoying the smells and sights of one of the most impressive areas on earth!
Family:
Get the kids a gold pan and dream about how to spend your fortune. There are gold panning programs in the summer; or try you hand the old-fashioned way. Rock hounding is also allowed…just follow the rules.
---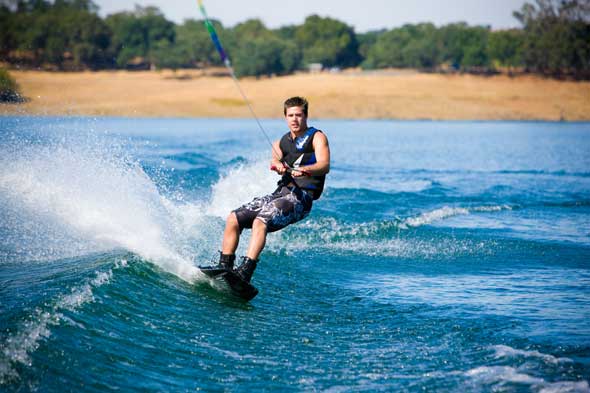 Wakeboarding on Folsom Lake
Photo courtesy of Folsom Tourism Bureau.
FOLSOM STATE RECREATION AREA
Folsom SRA offers Folsom Lake's water sports and so much more right in your backyard. It is truly our very own urban playground. A place, just minutes from home, that seems to be hundreds of miles away. Ted Jackson, superintendent for the Folsom SRA invites you to join the millions of visitors to the park each year. "It is the best flat water recreation in the country," he says. There are 19,500 acres of rolling foothills, grasslands, two reservoirs (Folsom and Natoma), and beautiful vistas that offer panoramic views all the way to the Bay Area's Mount Diablo.
Concessions abound at the park offering everything from equipment rentals for kayaking and canoes to food. There are lots of camping facilities with comfortable amenities – some are even equipped with RV hook ups. Hire a horse from Shadow Glen Family Stables and head out to ride. Granite Bay and Beal's Point offer beaches that vary in size and availability depending on the lake's water level. Both areas have snack bars that not only serve great food, but also offer all the equipment rentals you will need for a perfect day at the beach. Relax in the grassy shaded areas and cook up your meal on one of the many public barbecue pits; sunbathe on the warm sand with a cool drink in hand; or get an education on water conservation at The American River Water Education Center. Waterskiing to fishing, the reservoirs have so much to offer every activity and energy level.
There are 95 miles of trails for walking, biking and horseback riding. The trails link into the American River Bike Trail and there are portions of the trail that are part of the Western States/Pioneer Express Trail linking Sacramento to Carson City, Nevada.
Folsom Lake Marina, located in Brown's Ravine, is one of the largest inland marinas in California and is open year round. Visit the Brown's Ravine marina store along with the other concessions in the area to get everything you need for a great day or weekend on the water. Slips, both wet and dry, are available for rent. Get your fishing gear at the tackle shop.
Solo:
Hire a personal trainer for the many multi-sport classes such as swimming, biking and running at Granite Bay, Nimbus Flats and Rattlesnake Bar. Total Body Fitness Multi-Sport Training & Racing (totalbodyfitness.com) offers numerous sport clinics tailored to the outdoor activities of this area, including biking, running, swimming, as well as a bike repair class.
Couple:
Relax and spend the day at the beach!
Family:
Plan a family reunion at one of the group campsites on Negro Bar on the north shore of Lake Natoma. Reserve one of these large campsites and have a great time.
For more information and details on hours of operation, visit parks.ca.gov.
---
STATE PARK SAFETY
Before heading out alone or as a group, always follow these important safety rules:
Always hike and/or swim with a buddy.

Bring plenty of water.

Tell someone you are going hiking or swimming and when you expect to return.

Wild areas = wild animals. Give our wildlife a wide berth.

Watch out for poison oak.

Fires are only allowed in designated picnic and camping areas.

On a boat? Lifejackets are required for everyone.

Always be aware of your surroundings.