Supercharged Breakfast
Mar 07, 2011 04:43AM ● By Style
Images courtesy of Chronicle Books
Blackbird Bakery Gluten-Free
By Karen Morgan; photos by Knoxy
(Chronicle Books, 2010, $24.95)
Apple-Pumpkin Muffins
(shown above) Makes 18 to 24 muffins.
1 cup sorghum flour
1/2 cup cornstarch
1/2 cup tapioca flour
2 teaspoons guar gum
2 tsp. baking powder
1/4 teaspoon kosher salt
1 cup granulated sugar
1 tbsp. dark brown sugar
1/2 cup packed light brown sugar
2 1/8 tsp. ground cinnamon
1/2 tsp. freshly grated nutmeg
1 1/2 tsp. ground ginger
3/4 cup (1 1/2 sticks) unsalted butter at room temperature
2 large eggs, beaten
One 15-ounce can solid-pack unsweetened pumpkin
1 tbsp. pure vanilla extract
1 Golden Delicious apple, peeled, cored, and finely diced
Position an oven rack in the center of the oven. Preheat the oven to 350ºF. Line muffin cups with paper liners.
In a medium bowl, combine all the dry ingredients, including the sugars and spices, and stir with a whisk to blend.
In a stand mixer fitted with the paddle attachment, cream the butter on medium-high speed until soft. Add the dry ingredients all at once and mix on low for about 2 minutes. Add the eggs, pumpkin, and vanilla and mix on medium-high speed until light and fluffy, stopping to scrape down the sides of the bowl several times. Stir in the apple. Using an ice-cream scoop, fill the prepared muffin cups three-fourths full with batter and bake for 25 minutes, or until cracked on top and browned on the edges. A wooden skewer inserted into one of the muffins will come out clean.
Blackbird Bakery Tip:
I recommend using organic canned pumpkin. It is less watery than the non-organic variety.
To store: Place in a sealable container and refrigerate for up to 3 days.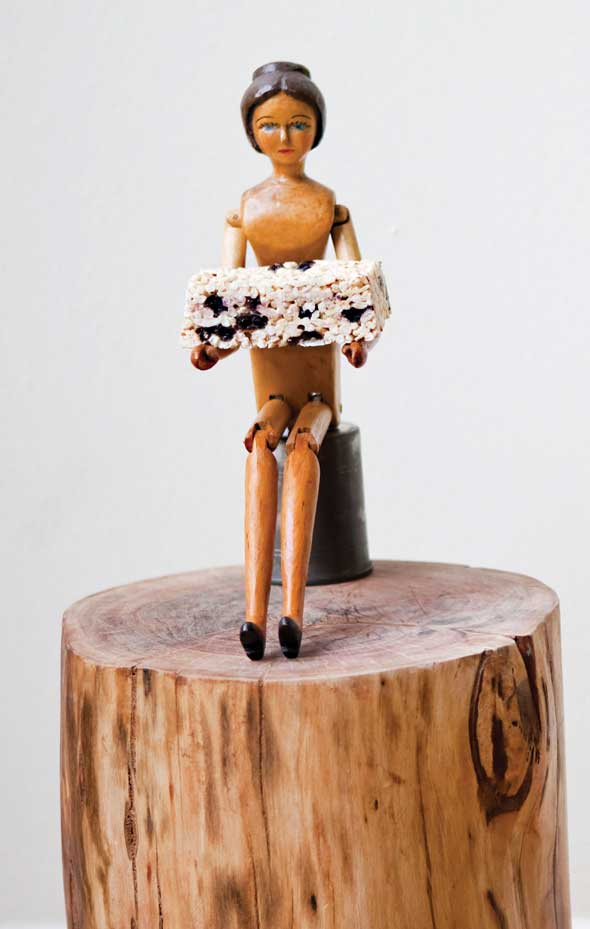 Millet Power Bars
Packed with a superabundance of nutrition, these bars are high in protein thanks to the millet and brown rice, loaded with omega-3's thanks to the almonds, and teeming with antioxidants thanks to the dried blueberries and dried cherries. Makes 12 bars.
Non stick cooking spray
1 1/2 tbsp. unsalted butter
1 tbsp. orange blossom honey
One 1-pound bag small air-puffed marshmallows
1 cup sliced almonds
1 cup slivered almonds
1 1/4 cups dried sour cherries
1 1/4 cups dried blueberries
5 cups puffed brown rice cereal, such as Arrowhead Mills
5 cups puffed millet cereal, such as Arrowhead Mills
Lightly coat a jellyroll pan with nonstick cooking spray and set aside.
Set a large stainless-steel bowl over a saucepan filled with 2 inches of simmering water (don't let the bottom of the bowl touch the water). Add the butter and honey to the bowl and melt the butter. Stir to blend. Add the marshmallows and stir to evenly coat each one. This will encourage the marshmallows to melt more evenly, and thus more rapidly. Cook, stirring every 5 minutes or so, until the marshmallows have melted, 20 to 25 minutes.
While you are waiting for the marshmallows to transform, combine the two kinds of almonds and the dried fruit in a medium bowl and stir to blend. Combine the millet and puffed rice in a large bowl and stir to blend.
When the marshmallows have melted completely, remove the bowl from the pan, being careful as the steam can be extremely searing, and place it on a kitchen towel on a large work surface. Add the cereal and the dried fruit and nuts to the marshmallows. Spray your hands with nonstick cooking spray and begin mixing the ingredients together until blended; the marshmallows should not be so hot that they burn your hands but still warm and melted. Using a plastic dough scraper, transfer the sticky mass to the prepared pan. Spray a rolling pin with nonstick cooking spray. Press the ingredients as evenly as possible into the pan with your hands. Take the rolling pin and press on the mixture, going from the corner of one end to the opposite corner on the other end. Now, do the same thing beginning with the other corner. Roll down the center of the pan several times until it is perfectly flat. Loosely cover the pan with a cloth and let the mixture stand for at least 15 minutes or up to 24 hours. To cut the bars, run a knife around the edges of the pan, or insert a metal spatula between the bars and the edges to release the cake from the pan. Unmold the cake on a cutting board. Using a serrated knife, cut into 12 bars.
Wrap in plastic wrap and store in an airtight container for up to 2 weeks.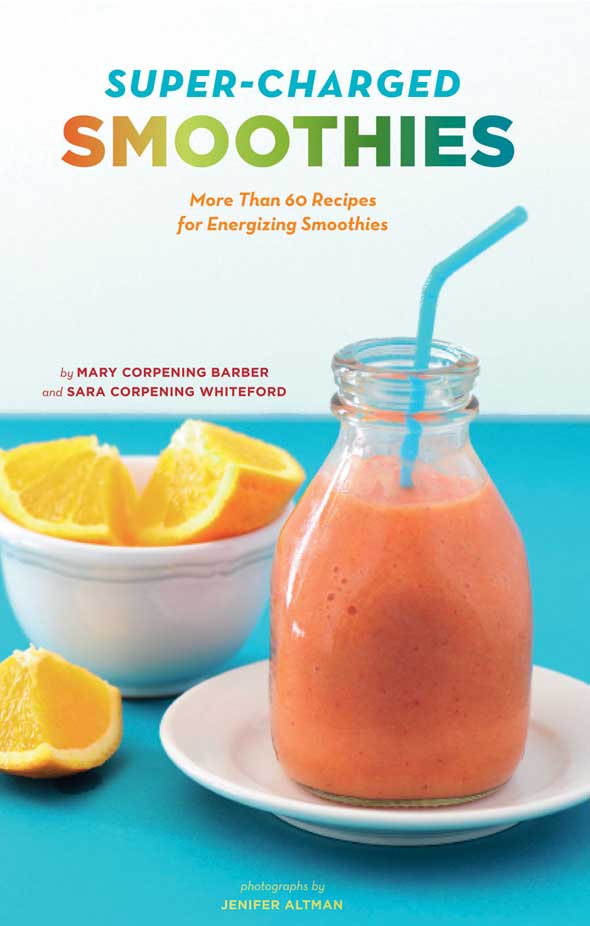 Super-Charged Smoothies: More Than 60 Recipes for Energizing Smoothies
By Mary Corpening Barber and Sara Corpening Whiteford
(Chronicle Books, 2010, $19.95)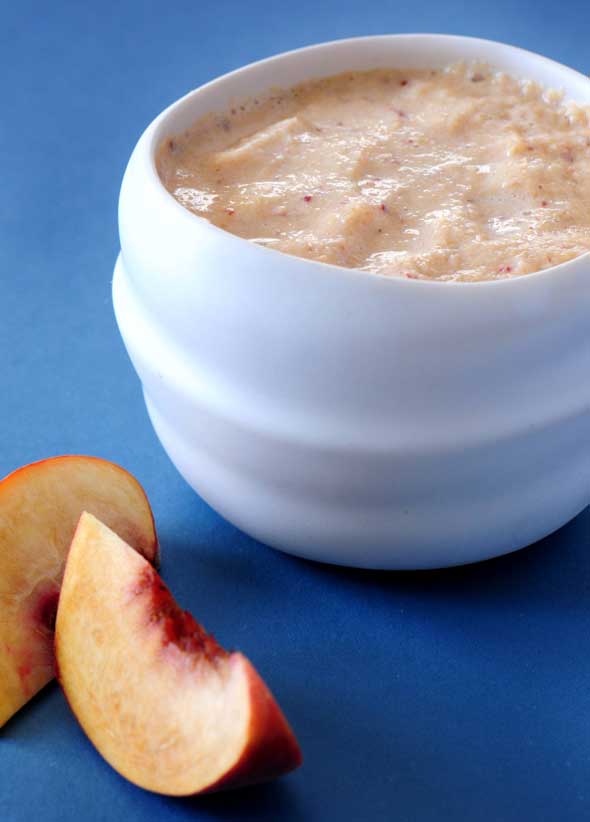 Jasmine Honey Lassi Smoothie
Sara adds a spoonful of bee pollen granules to this flowery smoothie, which she thinks turns it over-the-top sublime. Bee pollen is a storehouse of all naturally occurring multi-vitamins, proteins, minerals, amino acids, enzymes and hormones. Mary, however, is not wild about bee pollen's sweet-but-raw earthiness and chalky texture. With or without a dash of pollen, the BEE-ootiful combination of jasmine and pure raw honey calls to mind the rare deliciousness of wild honeysuckle. Remember, the floral splendor of this smoothie lies in the quality of honey that you use. If you prefer a fruitier flavor, mango-peach tea works well, too. Feel free to use frozen peaches as a substitute when fresh peaches are out of season. Makes about 2 1/2 cups; serves 2.
3 tbsp. raw honey
1/2 cup warm strong-brewed jasmine tea
1 1/2 cups diced peaches
3/4 cup low-fat Greek yogurt
4 to 6 ice cubes
Dissolve the honey in the warm tea. Refrigerate until chilled. Combine the sweetened tea, peaches, yogurt, and ice in a blender. Blend until smooth.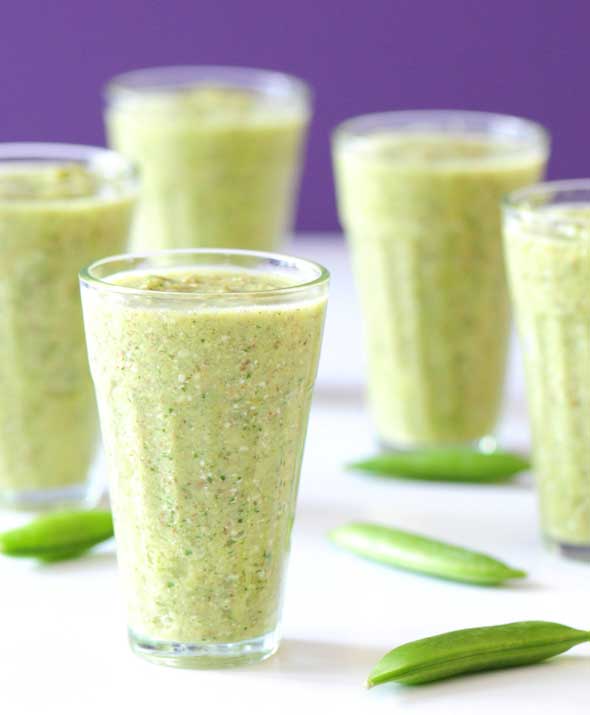 Orange, Sugar Snap Pea, Pumpkins Seed Smoothie
After a celebratory weekend, a Monday-morning cleanse is often what the doctor ordered. After a work-your-booty-off winter boot camp, we blended vitamin-C packed navel oranges with fresh mint and, for a fresh twist, sugar snap peas. A handful of raw pumpkin seeds and a drizzle of extra-virgin olive oil add a dose of healthy fat as well as a burst of antioxidants. And a dash of cayenne, considered a warming ingredient, may boost the metabolism. Though this ingredient list is unusual, this light, hydrating, and nutrient-dense smoothies is perfect to get you back on track after a splurge of a weekend! Makes about 3 cups; serves 2.
1 cup orange segments with their juice, chilled
1 cup raw sugar snap peas, stems and strings removed
1 cup fresh-pressed apple juice
3/4 cup filtered water
1/2 cup firmly packed fresh mint leaves
3 tbsp. raw pumpkin seeds
2 tbsp. chia seeds
1 tsp. extra-virgin olive oil
Pinch of cayenne pepper
Combine the oranges and their juice, the peas, apple juice, water, mint, pumpkin seeds, chia seeds, olive oil, and cayenne in a blender. Blend until smooth.