Raise Your Glasses!
Dec 02, 2010 04:00PM ● By Style
Liven up your holiday party this year with spirited beverages…Cheers!
Holiday Cocktails Deck: 50 Drinks to Celebrate the Season
by Jessica Strand

(Chronicle Books, 2005, $13.95)
Candy Cane Martini
shown above

1 1/2 ounces vodka
1 tsp peppermint schnapps
1 oz club soda
Mini candy cane, for garnish
Pour the vodka, peppermint schnapps and club soda over a handful of ice in a cocktail shaker. Shake once, stir then pour into a chilled martini glass. Hang a mini candy cane over the lip of the glass. Makes 1 drink.
---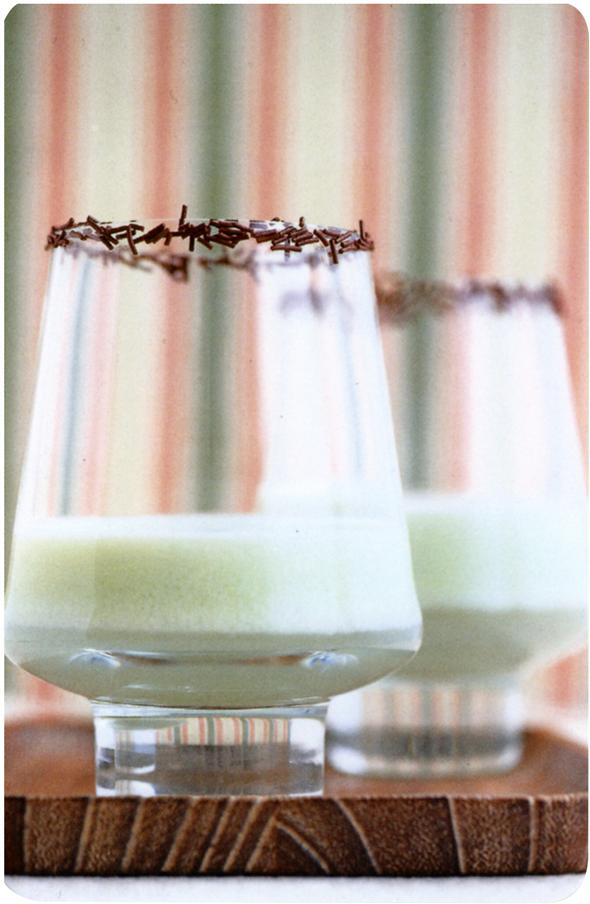 The Evergreen
Simple Syrup (recipe below)
Chocolate sprinkles, for rim
1 oz tequila
1 oz heavy whipping cream
1 oz crème de cacao
1/2 oz crème de menthe
 Simple Syrup
Combine the sugar and water in a saucepan and bring to a boil over medium heat, stirring continuously as the sugar dissolves. Reduce the heat to medium-low. Dip a brush in hot water and wipe down the sides of the pan where crystals may be clinging. Boil for another 3 minutes, and then remove from heat. Let the syrup cool and refrigerate in a covered container. The syrup will last indefinitely.
Wet the rim of a chilled martini glass or other footed glass with simple syrup, and dip in chocolate sprinkles to coat. Pour the tequila, cream, crème de cacao, and crème de menthe over a handful of ice in a cocktail shaker. Shake until very cold, and then strain into prepared glass. Makes 1 drink.
---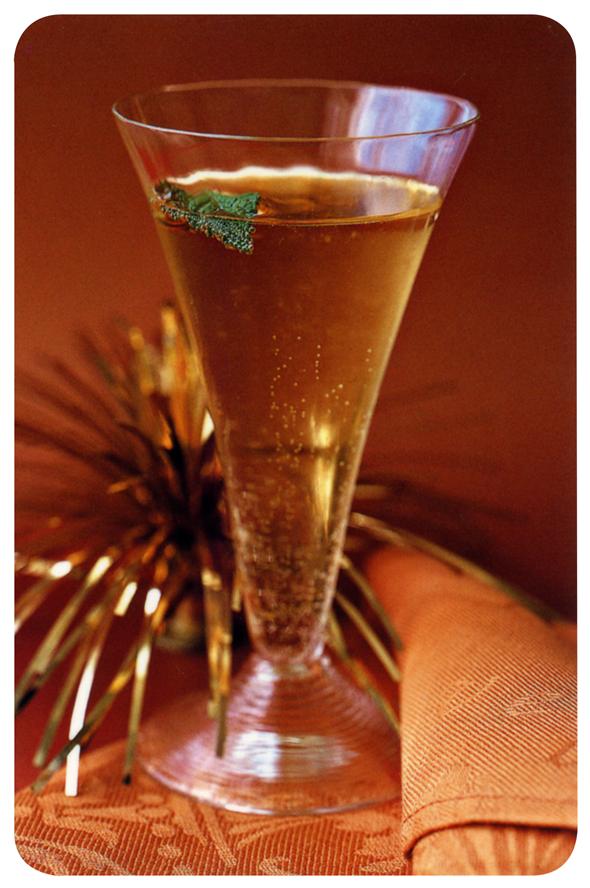 A Peachy Present
1/2 ounces peach liqueur
5 ounces champagne
Mint sprig, for garnish
Pour the peach liqueur into a red wineglass or trumpet flute, then add the Champagne. Stir gently. Garnish with the mint sprig. Makes 1 drink.