Vintners & Wineries
Sep 27, 2010 05:18AM ● By Style
From Merlot to Chardonnay, and everything in between, wine has a variety of reasons to be enjoyed.
Fortunately, you don't have to go too far to experience the aromas and flavors distinctive of California vino. Whether you're looking for that special blend to make your family or romantic dinner a bit more special, the area's finest vintners and winemakers are just around the corner! Style invites you to get a taste of what the Sacramento and Sierra regions have to offer.
Miraflores Winery
2120 Four Springs Trail
Placerville, CA 95667
530-647-8505  |  www.mirafloreswinery.com
Experience fine hand-crafted wines—Experience Miraflores!
Nestled in a quiet canyon in the Sierra Foothills stands the breathtaking vineyards of Miraflores Winery. We are passionate in our pursuit of wines which reflect both the terroir and the vision of Miraflores.
At Miraflores Winery we strive to emulate the old world tradition of crafting memorable wines, while also being attentive to the creation of gracious surroundings. Miraflores is open daily 10 a.m. to 5 p.m. for wine tasting. Visit our new tasting room opening October 2010!
Join us for our fun-filled weekend events, music, cooking classes, art shows, grape stomp, concerts, and more. Please call for more information.
---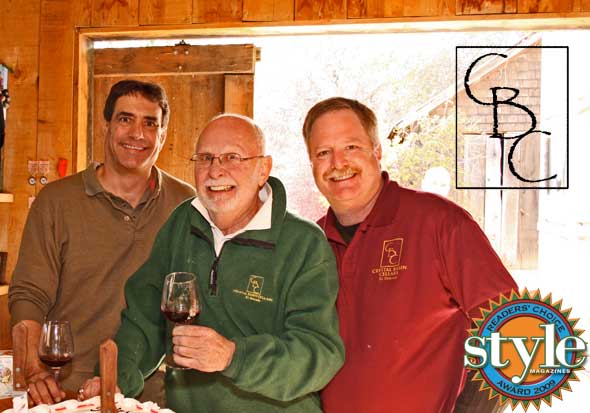 Owners: Peter Zimmerman, Bob Kershaw & Mike Owen
Crystal Basin Cellars
3550 Carson Road
Camino, CA
530-647-1767  |  www.crystalbasin.com
At Crystal Basin, it is all about having fun while enjoying our great wines.
That's all! Great juice, legendary hospitality and easy access to Highway 50 make CBC a continual local favorite. Ask our fans about our rockin' social events and find more reasons to visit the winery in Camino. We host barrel tastings most weekends and we're open seven days from 11 a.m. to 5 p.m. We ship wine to over 25 states.  Best of All - Tasting is Free!
---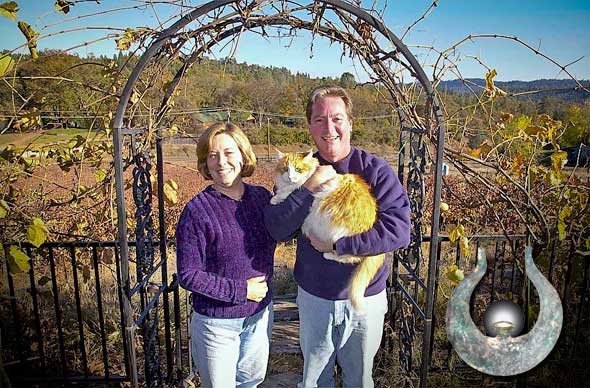 Founders, Richard and Diane Stading
Auriga Wine Cellars
3500 Carson Road  |  Camino, CA
530-647-8078  |  www.aurigawines.com
Auriga Wine Cellars, founded by Richard and Diane Stading, are best known for their award winning Zinfandels, Syrahs, and white wines. The 2010 Awards are in:
2008 Cabernet Franc – 95 points, Gold Medal, California State Fair, Best of Sierra Foothills Appellation. Gold Medal, El Dorado County Fair.
2006 Syrah – 95 points, Gold Medal, California State Fair, Best of Sierra Foothills Appellation.
2008 Zinfandel – Gold Medal, El Dorado County Fair. 89 points, Silver Medal, California State Fair.
2007 Zinfandel – Silver Medal, El Dorado County Fair.
---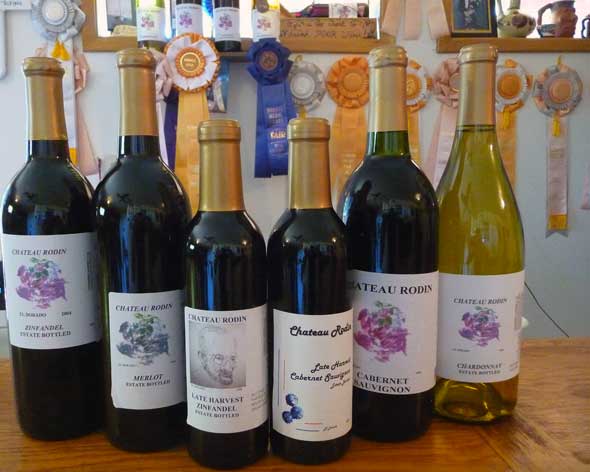 Chateau Rodin
4771 Greenhills Road, Placerville, CA
530-622-6839  |  www.chateaurodin.com
Traveling through Placerville, in 1974, Raymond and Barbara McKay discovered 20 acres of preferred agricultural soil for grapes.
Clearing the property, Raymond and Barbara first planted Chardonnay and Zinfandel. Following the initial planting, Merlot, Barbera and Cabemet Sauvignon were added. With the first bottling came the beginning of multiple competition awards. Chateau Rodin boasts a 100 mile view, an ideal location for weddings, luncheons, dinners, picnic, or company functions.
Come, enjoy the camaraderie, and sip.
---
SPECIAL PROMOTIONAL SECTION
---
If you would like to be included in one of Style's Special Promotional Sections, please contact Debra Linn at 916-988-9888 x114 or [email protected].