Picture Perfect
Aug 30, 2010 05:00PM ● By Style
Nothing provides better ambiance – wherever you may be – than a picture perfect view.
Thanks to the flashy passions of fine art photographers (undeniable masters of their craft and "momentary" preservationists), we can enjoy moments of beauty over and over again. This month Style celebrates the art of photography with a look through the lenses of nine area fine art photographers.

Top: "Here's Looking at You Kid." Above right: "Approaching Storm." Above left: the Artist.
Bud Bradley
Somerset's Bud Bradley received his first camera (a "Brownie") as a gift from his dad when he was eight years old and was instantly hooked. According to Wikipedia, the Brownie was an inexpensive camera built by Eastman Kodak. It was very popular from the early 1900s to the 1960s and introduced the concept of taking snapshot photos. He dallied with the lens throughout school and was named the photographer for his high school newspaper. "I got the job," Bradley admits, "since I was the one with the camera."
He headed to Korea to serve our country and was assigned as a photographer during the war. There he really developed a deep love of the art form. After returning home, he started a successful career in the food service industry and photography became a hobby – mostly capturing large scene landscapes. He also dabbled with special occasions and was the go-to-guy for family and friends' weddings.
Then Bradley met Ernie Braun and his life and art changed forever. Braun, a world-renowned environmental photographer and teacher, opened Bradley's eyes to a much smaller, yet bigger world. "I had been looking at things my whole life," Bradley says, "Ernie taught me to see." Bradley calls this "wet belly photography" because you get the best shots at dawn while lying on your stomach in wet grass. "I credit Braun with teaching me to photograph what is inside the scene." Bradley says. He admits he can not simply stroll down a road any longer. "I just take a walk," Bradley says, "and find tiny pieces of the world." This style of close-up photography is formally called "macro photography." One of Bradley's examples is a series of photos titled "Breakfast with Bud," depicting an adorable chipmunk eating. With each frame, you can see his cheeks fill up. His work also features insects, flower petals, droplets of dew in the morning light, and so many other wonderful, detailed images.
Although he now shoots in digital, he still packs his 35mm camera with him wherever he goes. Bradley loves the traditional way of photography but admitted "digital is so darn handy." He also does not enhance his photographs via the computer and still uses a viewfinder for every shot. "I search for the inside," Bradley says, "and I find peace, beauty and intellect."
Bradley's son Gary and grandson Griffin are following in his artiste footsteps — they all love getting together to snap pictures as a family event. Bradley is passing along his wisdom in the art form...although the camera snaps quickly, it doesn't make snap judgments.
Bradley's "
For more information visit goldcountryartistsgallery.com/2d/Bradley.html.
---

Top: "Anastasia" Above right: the Artist. Above Left: "Nature's Way."
Shelly Thorene
Look upon Cameron Park resident Shelly Thorene's photographs and you can feel the peace and tranquility they radiate. One lovely series of three photos depicts a stone Buddha and an exquisitely huge praying mantis. It moves from fingers to hand to finally stretching out an arm to touch Buddha's heart. Viewing this grouping and Thorene's other images, it is immediately evident why she named her photography business Sacred Heart Photography.
The Buddha once said: "The way is not in the sky. The way is in the heart." When you contemplate Thorene's pieces and her subjects you will see that the heart is a consistent theme. "I keep running into images that express love or the nature of the heart," Thorene explains. She believes this is true because she admits, "I am a heart-centered person."
In her native Minnesota, she was raised in a family where art was held in high esteem. Thorene credits her uncle Howard, a professional artist, with teaching her color, composition and the concept of abstraction. His wife and Thorene's aunt, Miriam, was severely disabled by arthritis and was unable to use any of her body except very limited use of her hands. Howard designed and built a device so Miriam could hold a pen. With this assistance she was able to create incredibly beautiful drawings. This finished out Thorene's childhood education with the knowledge that artwork can feed your heart.
Although she put her photography career on hold while raising her children, this single mother of three decided in 2002 that she needed to pursue her passion. So, this self-described "old school photographer" had to learn all the new tools of the trade. She did and now teaches others. In addition to her fine art, she offers event and commercial photography services.
She uses her art to capture the joyful and beautiful images on Earth. It is important to Thorene that she's able to celebrate these by sharing with others. She also knows that being a photographer teaches you to live in the moment. "When I am photographing something that moves me," Thorene says, "I am completely outside myself, totally unaware of my surroundings." The ability to capture peace in an image is truly a work of art. Thorene will teach her next workshop, "From the Heart," at the El Dorado Arts Council this coming November 5-6.
For more information and to see Thorene's work, visit goldcountryartistsgallery.com, sacredheartphotography.blogspot.com or go to the Gold Country Artists' Gallery on Main Street in Placerville.
---

Top left: "Nevada Central Railway." Top right: "Sawmill Pond." Bottom left: the Artist. Bottom right: "Great Reno Balloon Race."
Karen Schmautz
Fifth generation Californian and Placerville native Karen Schmautz has deep roots in her community. Her grandfather Merle Thomas served as Old Hangtown's mayor in the 1950s. She credits him to getting her into photography. "[He] took pictures of everything," says Schmautz. With her faithful Brownie in hand she cultivated a lifelong love of photography.
For Schmautz, taking photos was fun but she couldn't quite get her camera to capture what she was seeing in person. So, she sought out formal education at Folsom Lake Community College and the New York Institute of Photography. It worked; National Geographic Magazine has recognized Schmautz's work, and her photograph of Sawmill Pond is currently featured on the 2010 map guide for the El Dorado County portion of the Sierra Nevada. The breathtaking image is of the pond, a fishing pole, and a lovely pink cloud floating just above. It took her nearly an entire day to get just the right shot. "I followed that cloud around for hours," Schmautz explains.
She established her business, Sierra Springs Photography, about three years ago. It is built on the motto, "If you could see what I see." Schmautz is a storyteller and uses photos instead of words to portray the feel of a scene. She works with her human or landscape subjects to tell the whole story of the countryside. "When I am shooting," Schmautz says, "I get the beginning, middle and the end, all while focusing on my subject."
On July 24, 2010, Schmautz and more than 31,000 other shutterbugs joined together in nearly 1,100 cities across the world for the Scott Kelby's Third Annual "Worldwide Photowalk." Schmautz and about 30 other local photographers descended onto the California State Railroad Museum. She was anxious to capture the history, detail, and feel of an era of luxury train travel. "I would have never thought to photograph trains," Schmautz says, "but they were beautiful." The museum opened early to allow them full access to the antique and unique railroad equipment. It was a fun experience for all. "I am like a crow," Schmautz admits, "I shoot anything that is shiny."
For more information visit sierraspringsphotography.com or sierranevadageotourism.org.
---

Monroe's "With Eager Hope" featured in opening image at top of page. Above right: "Endless Battle." Above right: the Artist.
Judith Monroe

Camera:  4x5 Speed Graphic and Nikon P90 digital
"I'm a fifth generation native Californian. The first few of those generations lived on valley farms and ranches, so I feel like the California landscape is part of my heritage," says mixed media artist Judith Monroe of Antelope. Born in Roseville, she got her BA in Journalism with an emphasis in photography and graphics at Sacramento State in 1987, then worked with a commercial photographer before deciding to become a graphic artist. "I didn't like the idea of clients telling me how to produce my art and swore if I did it again for pay it would be my way," she shares. After some time abroad during her husband's service in the Army, she returned to California in the early 90s and began creating new work — selling and showing her art while raising two children. "I really needed a creative outlet to be a decent human being," she adds.
Monroe describes her mixed media art as a modern landscape, a blending of representational and abstraction. "It often has a dreamy feel, or evokes a sense of memory," she says. Her process always begins with photography, journaling, sketching, and collecting ephemera — usually natural objects or man-made ones that have an organic feel. "I still print photos in the darkroom," she says, "but I'm starting to work a little in digital as well. I always revert to black and white, so I can work the whole piece with the palette of my emotions." With layers of color through pencils and acrylic glazes and sometimes crayons or pastels, Monroe begins to collage and add texture but keeps the look transparent so the details of her photograph come through in the final piece. "Somewhere in the process I usually add text, from my journal, a shared story or scripture," she reveals. "Story is an important aspect of my work. Even if the viewer can't really read the text, I want them to have an idea of the story and fill in the blanks with their own experience or imagination."
Monroe's work has been shown in galleries throughout Northern California, Oregon, Texas, Georgia, and even New York. Currently her art is featured at Hang It Up Gallery in El Dorado Hills, Kennedy Gallery Art Center, her studio space in midtown Sacramento, and the Auburn Old Town Gallery, where she will be the featured artist for the month of September. View her work at judithmonroe.com.
---

Top: Hiker in the Dolomites, Italy. Above left: the artist with son Tate.  Above right:  "Awakening."
Keith Sutter
Camera:  Canon 1Ds Mk 3
"I am not good at communicating with words. That's one of the reasons I believe I became a photographer," says Auburn resident Keith Sutter, who shares an 80-year-old home on the edge of the American River Canyon with his family. "Photography was a lifeline that I grasped hold of while studying at UC Berkeley...photography fit like a glove and I never looked back."
Born in Chicago, Sutter moved to Northern California in 1975 and spent his summers enjoying the Sierras. After graduating from Berkeley, he received the "Mountain Photographer of the Year" award from The Exploration Society and Summit Magazine. It was at the awards banquet in London that he was asked to be the official photographer of the Royal Geographical Society's crossing of the Taklamakan Desert in Western China. "We made the first ever crossing of the second largest desert in the world, covering 780 miles in 59 days," shares Sutter. In 2001, he was honored to be the photographer for the National Geographic Research Expedition where he studied the Volcanic Hazards of the Baja Peninsula. That same year, he was a finalist in "The Million Dollar Moment" competition and was featured on the CBS Early Show.
Sutter describes his work as a dramatic portrayal of nature and/or inspirational people, but rarely composed of just a landscape. "The combination of an inspiring landscape and an inspirational person is what I dream of in a photograph," he says. One of his current favorites, "Awakening," is of two ballet dancers on Mt. Tamalpais under an oak tree. "It's very strong graphically, has a clean and simple composition, and I think captures the natural beauty of the world as well as the beauty and emotion of humanity," explains Sutter.
The photographer describes his process as an open one, letting current circumstances inspire how and what he photographs and often ignoring the "rules" of photography. "As Ansel Adams advised, I always try to previsualize the final image. Having some skill and knowledge of the different techniques used to capture images and how to adjust them during post-processing has greatly enabled me..." Sutter says.
Sutter's work is frequently printed in magazines and newspapers, including National Geographic, Outside, Real Simple, The Men's Journal, Sunset and The Sacramento Bee. He's photographed for clients that range from Costco to the North Face to UC Davis Health. Currently, you can view his work in person at the Sacramento Ballet and Carpe Vino in Auburn. View his work at sutterphoto.com.
---
 
Left: "Passages."  Right: the artist.
Larry Brenden
Camera:  Canon digital
You could say Larry Brenden is a modern Renaissance man. The Auburn resident is a former design engineer in the computer industry, an avid world traveler, a teacher of Native American culture to children, and a sailboat racer. But, it's photography he distinguishes as his primary compulsion.
"I am driven to photograph nature," he says. "It is a need as basic as breathing, and it is unrelenting." Brenden's photographs capture fleeting moments of natural wonder in a variety of powerful places — from the Sierra Nevada, to Antarctica's ice floes, to the dry sandstone cliffs of our country's Southwest.
A native of western Washington state, Brenden experienced a "love and curiosity" for the great outdoors at an early age, deepening his connection through life-long travels. "As a young man, I experienced a profound awe for untouched wilderness while rafting the Colorado River in the Grand Canyon," he says. "This life-changing event left me with a hunger to see other remote and primeval lands, and from that time on, I sought out the wilds."
After seeing an exhibit of Robert Glenn Ketchum's photographs, he took one of the artist's workshops in Albion, California. "It opened it up," remembers Brenden. "The workshops taught me to see different qualities in light, form and color. Even now, I'm continually expanding my way of seeing."
While Brenden credits Ketchum in "transforming" his perspective, he acknowledges another group of men with refining his way of printing. "I was never satisfied with the way others did my printing," he says, "so I took classes and workshops from men such as Charles Cramer, John Paul Caponigro, Mack Holbert, Bill Atkinson and Galen Rowell. The amount of knowledge I was exposed to by these men was phenomenal."
Brenden's work is part of private collections and has been shown at numerous fine art galleries, including Appell Gallery and View Point Gallery in Sacramento and Old Town Gallery in Auburn. He also exhibits photography at his home gallery and will offer a free Open Studio October 16-17, from 10 a.m. to 5 p.m., with other artists on the Loomis Art Loop. View his work at larrybrenden.com.
---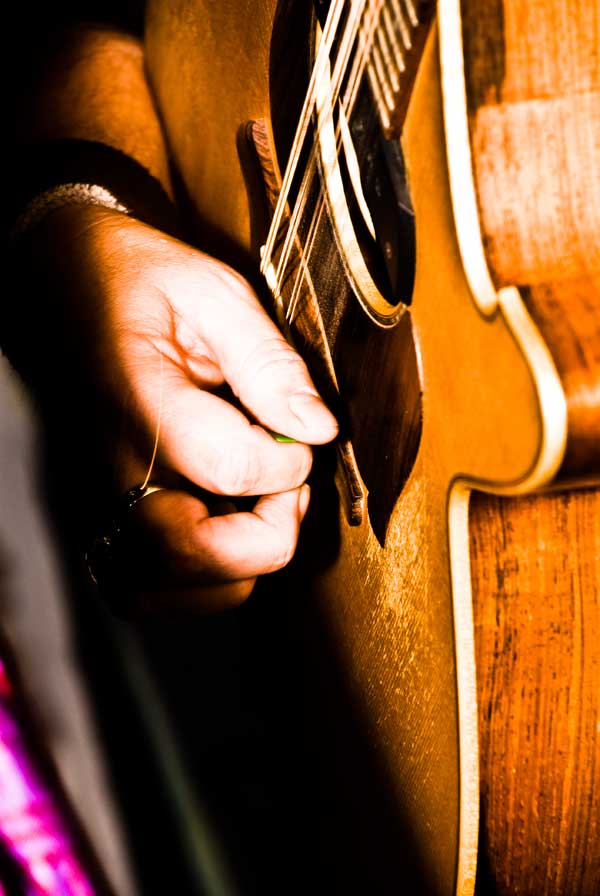 Top: "Amador Oak." Below left: "Music Maker."Below right: the Artist.
Mike Ryan
Camera: Nikon D-300s
Photographer Mike Ryan, a Chicago native, enjoyed a successful career in the U.S. Air Force, a path that took him to many unusual places around the world. "I always remember liking photography," he shares. "While a young airman, I purchased some camera gear and was fortunate to have been given a great deal of expensive equipment. Unfortunately it was all stolen out of my van while traveling." He says it wasn't until he really retired three years ago that he picked up the art again.
Fifteen years ago, Ryan changed focus and became a Youth Corrections Counselor with the California Department of Corrections, Juvenile Justice Division. In 1998, he was diagnosed with throat cancer (though a non-smoker) and given eight months to live. Twelve years later, Ryan embraces life with full force, completing several marathons, including a 125-mile trek in the Peru Andes, and finding a passion in photography.
"My photography is simple, straight forward and is as honest as it can get," he says. "I try and get the image correct in the camera and I do not rely on Photoshop. I shoot what interests me, which is a variety of subjects. Ryan's photos capture people or things you might look at every day or in passing, like an oak tree, a child or a piece of fabric. It's what you don't see every day that's of interest to him. "Simple things, like a cowboy's well-used boots or vintage bathtubs from an old prison," he explains. "To be honest, what inspires me is the information I receive from people that buy or just admire my work. When they share with me why they like a piece, it means a great deal to me."
Ryan's work is or has been displayed in businesses, restaurants, and art galleries all over the Sacramento region. His photography was on view at the California State Fair, Sacramento County Fair, and San Joaquin County Fair, the last of which he was selected as Best in Show.
Galleries to feature his work include the Croma Gallery in Fair Oaks, 404 Gallery in Roseville, and American Visions Gallery in Historic Folsom (currently on view). You can also see his photographs now at The Wine Gallery, (home of the Sutter Street Artists) in Historic Folsom. One of Ryan's Hot Wheel sculptures was recently juried into the 55th International Open Exhibition "Bold Expressions" and will be on display from October 5 through October 30 at the Sacramento Fine Arts Center. For more information on Michael Ryan, visit him at mryanimages.com.
---

Top: "Pink Rose Reflection." Below right: "Mauve Iris" Below left: the Artist.
Edward Haskell
Camera: Canon 1D Mark III
"One of the first photos taken of my wife working in the flowerbed is my favorite," says 17-year Folsom resident and photographer Edward Haskell, who celebrates 51 years of marriage this year. "It is framed and hangs on the living room wall. When I feel sorry for myself, I can look at it and realize together how far we have come on this journey and how I'm blessed."
Haskell enjoyed a 20-year Naval career before putting in another 22 in the commercial insurance business, a job that brought he and his wife to California. "Although both careers required extensive travel, I never took the time to enjoy the beauty that surrounds us," he shares. In 1999, he was diagnosed with Parkinson's disease, which advanced rapidly and found him wheelchair bound by 2003. "The tremors had become quite severe and I became a recluse," he says. Then came that pivotal morning in July when Haskell spotted his wife working in the flowerbed. "The sun and color of the flowers reflected off her face. It was a beautiful scene, he recalls. "I remembered we had a 2 MP camera in the closet that had never been used. I wheeled in the house and rapidly read the instructions and started shooting. When I put them on the computer, I was amazed."
Soon Haskell's work caught the attention of the president of the Parkinson Association of Northern California, who exhibited his work at a "Living with Parkinson" seminar. "I soon discovered helping others with Parkinson's was rewarding and gave me a purpose in life," he says. In 2004, Haskell took a brave step and had Deep Brain Stimulation (DBS) surgery, a procedure where an electric probe is inserted into two drilled holes in the brain. "DBS significantly increased our quality of life," he explains. "The tremors [were] almost eliminated and mobility increased."
Haskell continues to photograph, looking for objects that stand out from the image. "Due to dexterity problems, I rarely use a tripod," he says. "In order to compensate for shaking, I shoot at a fast shutter speed and in bursts...and what inspires me is to discover an object that I was not aware of in the image." In addition to his photo contribution at the World Parkinson Congress in D.C. and The Parkinson Disease Foundation Gala Gallery in New York, Haskell's work was recently a part of the 2010 El Dorado Hills Art Studio Tour.
His photos are currently on display at Folsom City Hall and Procissi Wine Gallery. Edward Haskell can be reached at 916-353-1361.
---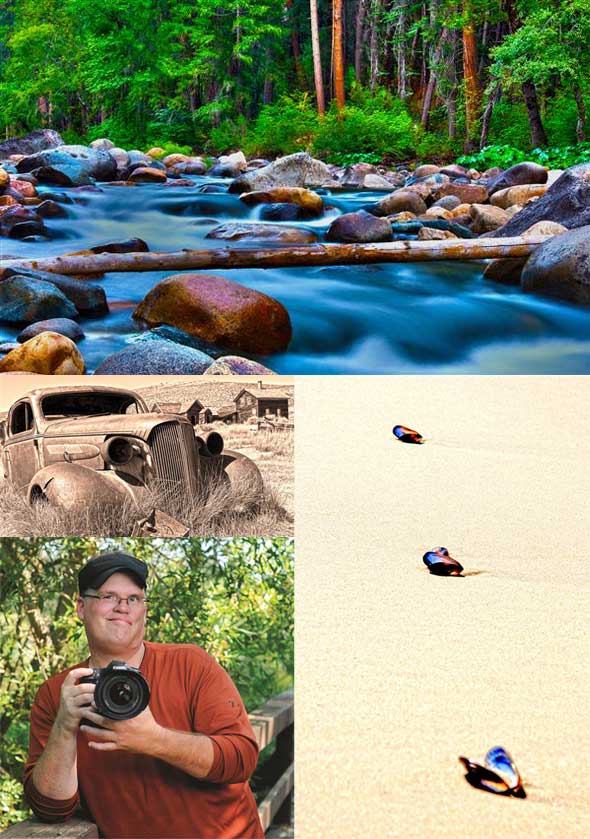 Top: "American River." Right: "Point Reyes." Middle left: "Bodie." Bottom left: the Artist.
Philip Wood
Camera: A pair of Canon 40Ds
"I began photographing in, I think, 1980 when my grandparents bought me my first SLR camera," shares Philip Wood, a Folsom resident who's lived here on and off since 1982. Over the years, his work has been featured in the Auburn Journal, the Folsom Telegraph, the Roseville Press-Tribune, the Elk Grove Citizen, the Galt Herald, Celebrate Magazine and other publications. Wood says the natural world and its vivid colors – the waterscapes, the oceans, the rivers, the creeks – are his favorite things to shoot. "I also like to photograph old abandoned places, such as Bodie, California and making the images look old-timey with cyan and sepia tones," he says.
For this photographer, finding the right subject is rarely premeditative – he just knows it when he sees it. "The first thing that gets my attention is color vibrancy," he describes. "Then I'll study it – how the light hits it and different ways to compose it." For inspiration, Wood journeys to natural places of beauty in locations that most people never get to. "I'll hike miles to get to a subject if I have to," he says. Some of his adventures to often-rugged territories have paid off visually – including visits to the Painted Dunes in Lassen Volcanic National Park.
When asked if he has a favorite shot from his encounters, Wood describes the difficulty in singling out one image. "The previous work doesn't fall out of favor, but I move on trying to make a better image than the one before. If I were to choose a favorite, it would probably be one of my waterscapes, or maybe fall leaves, or maybe the line of country mailboxes in sepia tones…you see, it's very difficult to choose."
Wood easily identifies a handful of photographers whose work he admires, including Ron Coscorrosa, Marc Adamus, Schmoo and Awais Yaqub. "I love photographs you can just marvel at – as a photographer that is," he reveals.
You can view Wood's work at philipwood.net.
---
WEB EXCLUSIVE!
MEET STYLE STAFF PHOTOGRAPHER DANTE FONTANA…
What made you choose photography as a profession?
I didn't choose it, it chose me. The first camera I purchased was a point and shoot camera that I got just for basic photos. Very soon, I found myself naturally exploring all the dynamics the craft had to offer. I was so instinctively drawn to do whatever I could to take better images that before I knew it, photography started taking over my life.
Where and when did you get your education?
I am still getting my education. Officially I earned my BA in photography from Sacramento State University in 2007. I continued my internship with Style until 2008. Now as the Style staff photographer, I still consider myself a student of photography…and I think I always will.
What's your philosophy when it comes to photography?
No other representation looks and feels as real to me as a photographic image. One usually assumes when they see a photograph that what they are seeing existed as reality at one time. Truthfully, photography is a process of transformation. A photograph is a two-dimensional illusion, based on the real world. The illusion represents and implies reality. Through the transformation is the power to not only represent, but also prevaricate, and even transcend what is photographed.
What is your most memorable photo shoot?
Photographing at Francis House, a Sacramento counseling center for people in poverty. I had to photograph people who were facing hard times in their lives, some of which were one step from being homeless. Francis House offered them hope. I had to convince people to let me photograph them (those who didn't really want the exposure) to complete my assignment at school and to benefit the charity.
Who's work do you admire most and why?
Stephen Shore – because he created such amazing images from the ordinary world.
What is your goal with each photo you take?
That really depends what I am photographing and what the photo is being used for. My ultimate goal, if I can, is to elicit an emotional response from the viewer. For example, if I'm photographing food, I want to take an image that makes the viewer crave the particular food.
If you could photograph any one or any thing for fine arts purposes, who/what would it be?
Before I graduated and had to start making money, my last school project was photographing the webs of certain spiders. Not for the webs themselves, but for the suspended arrangements of leaves and other things that were caught in them as if they were floating architectural sculptures. I did this in traditional black and white medium format film. In addition, photographing the ghost towns in the deep desert in Nevada.
Words of wisdom for those just starting out in the business?
It's said that a writer who writes more then they read is an amateur, I think the same goes for photographers. You should be looking and appreciating more photographs then you take, and you should compare your work to that which you respect the most.