Home Reinvention - Granite Bay
Feb 03, 2010 11:07AM ● By Wendy Sipple
Photos by Crystal Petersen Photography
Style asked homeowner Donna Gifford a few questions about her Granite Bay kitchen renovation by Precision Cabinetry and Design.
Q: What is your favorite part of your kitchen renovation?
Overall, I would say it is the layout. The old layout was inefficient and wasted about 20 percent of the usable space. Our kitchen is now very open and inviting. We have entertained some large groups and the kitchen accomodates them perfectly. We even had about six cooks at one time preparing Thanksgiving dinner!
More specifically, I would have to say my favorite part is the surfaces we chose. I love the leather-finish granite and the butcher block is amazing. I also like the fact that all of the surfaces, including the backsplash, cabinets & floors are fairly different yet work so well together.
Q: What advice would you give to other homeowners considering a kitchen renovation?
I'd say try to go with what you really want. The custom-made butcher block was something I wanted from the start, but almost eliminated due to cost. We were going to settle for an alternative but my husband convinced me we should get it because he didn't want us to walk in the kitchen for the next ten years thinking, "We should have...". On the other hand, we went with what we wanted while still considering resale. 
Q: How were were expectations met/exceeded through the renovation process?
We had some ups and downs. It took a long time. We did a lot of the work ourselves and had to use the weekends for much of that effort. The design plan that Michie provided helped us to pull it all together so everything fit just right.
All in all, when we look at the end result, we couldn't be happier.  It is exactly what we wanted and suits our lifestyle perfectly.
BEFORE: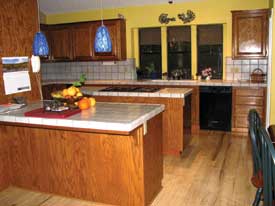 AFTER: