Home Reinvention
Jan 31, 2010 04:00PM ● By Wendy Sipple
These days, more than ever before, savvy homeowners have discovered that renovating their house is an exciting way to get a new, upgraded home – without changing their address.
Especially when it comes to resale values, experts say updating a kitchen or bathroom could be the best money you ever spend on your place.
A Room without a View
Homeowners and husband and wife team, Hal Eilersen and Nancy Woods, have lived in their Granite Bay home 15 years and love the natural setting of their property. "The house is located on a really pretty piece of land, with lots of oaks and granite and redwoods around," says Eilersen.
But, he says, the home's original construction didn't take advantage of those beautiful views. In fact, he says, the view to the outside was mostly blocked from the kitchen, dining room and living room.
From an aesthetic standpoint, the Eilersen/Woods home needed updating as well. The kitchen counters and backsplash were covered in small white tile, and the cabinets were a dark wood. Without much natural lighting, the living space felt small and dark.
Yet Eilersen says the decision to remodel their home in spring 2008, wasn't just as much about fashion as it was about function. "My wife and I are vegetarians, so the cooking that we do takes a lot of time," he says. "The kitchen wasn't laid out very well for two people to cook at the same time. We were always bumping into each other and fighting over who got the sink," he laughs.
In turn, Eilersen and Woods decided they needed a change. "We basically wanted to opened up the whole area, improve the views and improve the functionality of the kitchen."
A Lesson Plan in Remodeling
Enter Kent Eberle, owner of Eberle Remodeling in Sacramento. Since 1985, Eberle's firm has handled strictly residential remodeling, which after 25 years in the business, includes mostly repeat customers and referrals.
Once a physical education teacher by trait, Eberle says remodeling a home is a lot like following a lesson plan. "It really boils down to details, you have to get from point A to point B and the more you can spell out, the better you'll be," he says.
Eberle says that for most homeowners, the decision to remodel is largely financial. "In addition to the costs associated with moving, if they've been in their home for any amount of time, they've got equity built up in the home. It's always better to upgrade a home rather than change tax brackets with a new one."
With the Eilersen/Woods project, Eberle says the opportunities for improvement were obvious. "There was very little view out of the back or sides of the home," he says. "When you first walked in there was a large brick column and wall that separated the family room from kitchen."
"We basically just gutted the whole area and opened it up, creating more of a great room effect," he says. "Then we added large picture windows with casements on either side, exterior doors and for even more lighting using recessed can lights and low voltage under-cabinet lights." Even with decades of projects under his belt, Eberle admits, "It was really quite a dramatic change."
Details Make the Difference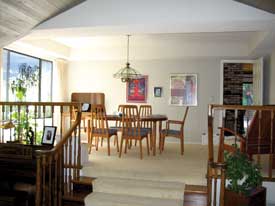 In addition to structurally opening up the living space, the remodel included upgrades to the kitchen, living room, dining room, entryway and guest bath. Along the way, custom details personalized the project.
The kitchen cabinets were made of red birch with a unique wider-than-normal frame and Durango-style doors. The extensive granite countertops were a feature Eilersen says took forever to pick out. "We went to every granite shop in the area to find one we liked and there was enough of for the job." In finishing the kitchen, stainless steel fixtures were added.
As part of the remodel project, new wood flooring was extended from the kitchen into the family room, the entryway was tiled and a hand railing from family room to living room was redone. Another special touch for the cooking couple was the addition of two full size sinks in the kitchen versus the typical main sink and prep sink.
Eilersen agrees the kitchen is now the major attraction of the home, but says the whole house just seems brighter and more youthful. He admits that when it comes to their new view, they had no idea what they were missing all those years. "I'm not sure we ever anticipated how nice it would be to have the house more open to the views of the outside. We just love it now; it's been such a nice change."