Dinner Date
Dec 29, 2009 11:16AM ● By Wendy Sipple
Narsai David Estates
2004 Napa Valley Cuvée Venus
• San Francisco Bay Area gourmand, food and wine editor at KCBS radio, Macy's culinary expert and true Berkeley-ite, Narsai David is about as positively diverse as one can be in the gastronomic world. A number of years before Chez Panisse, his Narsai's Restaurant was serving up some of the finest meals around and was also recognized by the New York Times as having "one of the 10 finest wine lists in the world." Of course, David still finds plenty of time for wine. His family has been growing grapes on their estate for 30 years.
David's vineyard is located just outside of St. Helena on Napa Valley's east side. The 97-percent Cabernet Sauvignon and 3-percent Cabernet Franc in this wine were vinified together, then aged for 23 months in a combination of French barrels. The result is an elegant wine rich in dark berry fruit with notes of chocolate and finely balanced velvety tannins. Perfect for the table when a good red is needed, and perfect for when a fine red is just desired.
—Rick Mindermann
Rick is a 31-year veteran grocer with Corti Brothers in Sacramento, personal assistant to Darrell Corti, and "The Good Taste Guy" for oodleboxtv.com
---
Zinfandel-Braised Lamb Shanks
Simply Organic by Jesse Ziff Cool
• Braised meat is the perfect dish to prepare for dinner guests. These lamb shanks can be cooked hours in advance and kept warm in a low-heat oven. Or, prepare them the day before and reheat before serving. Serve on a bed of warm polenta or mashed potatoes. 
4 lamb shanks (about 3 pounds), cut across the bone by your butcher into 3-inch slices
1/2 tsp. salt
1/2 tsp. freshly ground black pepper
1 bottle (750ml) hearty Zinfandel
4 carrots, cut into 1-inch pieces
1 large onion, sliced
1 whole head of garlic, cut into thick slices
1 tsp. whole mustard seeds
5 juniper berries (optional)
3 tbsp. unsalted butter
1/4 cup chopped fresh rosemary
Preheat the oven to 500 degrees Fahrenheit. Put the lamb in a heavy roasting pan and sprinkle with 1/4 teaspoon of the salt and 1/4 teaspoon of the pepper. Roast for 30 minutes, or until browned, turning once.
 
Reduce the oven to 350 degrees Fahrenheit. Add the zinfandel, carrots, onion, garlic, mustard seeds, and juniper berries, if using. Roast for 2 hours, or until the lamb is very tender and nearly falling off the bone, turning the shanks and basting with sauce every 20 minutes. Remove the lamb, carrots, and garlic to a large platter. Keep warm.
 
Strain the sauce through a cheesecloth-lined sieve into a small saucepan. Bring to a boil over high heat. Cook for 5 minutes, or until reduced by half. If the sauce seems too thin, lower the heat to medium and reduce it to the desired thickness. Whisk in butter. Add the remaining 1/4 teaspoon salt and 1/4 teaspoon pepper, or season to taste. Pour the sauce over the meat and carrots and sprinkle with Rosemary.
Recipe from:
SIMPLY ORGANIC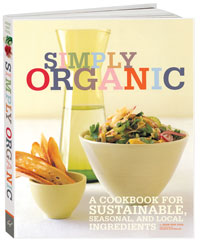 by Jesse Ziff Cool (Chronicle Books, 2008, $24.95)