Turkey Three Ways!
Nov 02, 2009 07:15AM ● By Wendy Sipple
Makeover your holiday leftovers and continue to delight your family with these 3 leftover turkey recipes from The New Thanksgiving Table by Diane Morgan.
Turkey Enchiladas with Creamy Tomatillo Sauce
(seen above)
The New Thanksgiving Table by Diane Morgan
Photo by Leigh Beisch
(Chronicle Books, 2008, $25)
2 cups shredded roast turkey
2 green onions, including tender green tops, thinly sliced
3 tablespoons cream cheese, at room temperature
1 1/3 cups (5-1/2 ounces) shredded Monterey Jack cheese
2 cans (7 ounces each) salsa verde, or 1 can (13 ounces) tomatillos, drained
2 tablespoons canned, chopped green chiles, drained
1/2 cup fresh cilantro leaves
2/3 cup heavy (whipping) cream
1/4 cup canola oil
8 corn tortillas
Preheat the oven to 350 degrees. In a medium bowl, combine the turkey, green onions, cream cheese, and 1 cup of jack cheese and stir to mix thoroughly. Set aside.

In a blender or food processor, combine the salsa verde or tomatillos, chiles, cilantro, and cream and process until smooth.

Heat the oil in a heavy, 6-inch skillet over medium-high heat. Using tongs, carefully place 1 tortilla at a time in the hot oil and fry just until softened, 5 to 10 seconds. Flip the tortilla and soften the other side. Drain over the skillet, and then place on a plate lined with a paper towel. Place another paper towel on top and press to absorb the oil. Repeat until all 8 tortillas are softened and drained.

Divide the turkey mixture among the tortillas (about 1/2 cup each), mounding it in a line down the center. Roll tightly and place, seam side down, in a 7-by-11-inch baking pan. Pour the tomatillo-cream sauce over the enchiladas, and sprinkle 1/3 cup of the jack cheese down the center. Bake until heated through and bubbly, about 20 minutes. Serve immediately. Serves 4
Do Ahead
The enchiladas can be made up to 1 day in advance. Cover and refrigerate. Remove from the refrigerator 45 minutes before baking. Plan on 30 to 35 minutes until the casserole is heated through and bubbly.
---
Yankee Turkey Pot Pie
The New Thanksgiving Table by Diane Morgan
Photo by Leigh Beisch
(Chronicle Books, 2008, $25)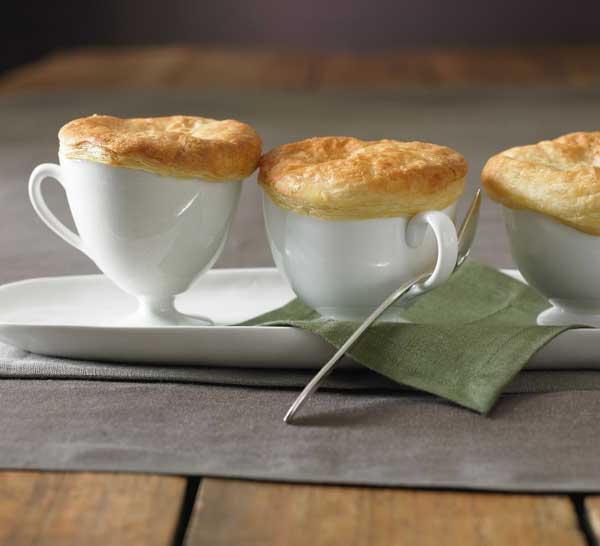 1 sheet frozen puff pastry dough (from a 17.3-ounce package)
1 1/2 cups After-Thanksgiving Turkey Stock (page 190, The New Thanksgiving Table) or canned low-sodium chicken broth
1 large carrot, peeled, halved lengthwise, and thinly sliced
3 tbsp. unsalted butter
2 tbsp. canola oil
1 small yellow onion, diced
8 ounces cremini mushrooms, wiped or brushed clean and quartered
2 tbsp. all-purpose flour
1/2 cup heavy (whipping) cream
3 cups diced roast turkey (1/2-inch dice)
1/2 cup finely chopped fresh flat-leaf parsley
Kosher or sea salt
Freshly ground pepper
Remove 1 of the pastry sheets from the package and let thaw at room temperature for 30 minutes. Tightly seal the remaining pastry and freeze for another use.
Meanwhile, make the filling: Preheat the oven to 400°F. Have ready an 8-cup round baking dish about 2 inches deep, or use a 10-inch cast-iron skillet with 2-inch sides, and make the filling right in the skillet.
In a saucepan over medium heat, bring the stock to a boil. Add the carrot and cook until crisp-tender, about 10 minutes. Using a slotted spoon, transfer the carrot to a plate and set aside. Remove the stock from the heat and set aside.
In a 10-inch skillet, melt the butter with the oil over medium heat until the butter foams. Add the onion and sauté until it begins to soften, about 2 minutes. Add the mushrooms and sauté until they just begin to brown, about 3 minutes longer. Sprinkle the flour over the onion-mushroom mixture and stir to blend in. Slowly stir in the stock, bring to a simmer, and cook, stirring, until smooth and thickened, about 2 minutes. Add the cream, stir to blend, and bring to a simmer. Add the carrots, turkey, and parsley. Stir to combine. Return the mixture to a simmer, then season with salt and pepper to taste. Remove from the heat. Spoon the filling into the baking dish, or leave it in the cast-iron skillet you cooked the filling in.
Unfold the sheet of puff pastry and lay it flat on a lightly floured work surface. Roll out the puff pastry to an 11-inch square, trimming the edges with a paring knife to form a circle. Cut three 2-inch-long slits in the center of the dough. Carefully place the dough over the filling, centering it. Firmly press the edges of the dough against the sides of the baking dish or cast-iron skillet. Bake until the dough is nicely browned and puffed, about 25 minutes. Serve immediately. Serves 6
---
Cast Iron Skillet Turkey Hash with Soft-Cooked Eggs
The New Thanksgiving Table by Diane Morgan
Photo by Leigh Beisch
(Chronicle Books, 2008, $25)
4 tbsp. (1/2-stick) unsalted butter
2 lbs. red-skinned, Yukon Gold, or Yellow Finn potatoes, peeled and cut into ½-inch dice
1 large yellow onion, cut into ½-inch dice
2 ribs celery, halved lengthwise, then cut crosswise into 1/2-inch-thick slices
1 large red bell pepper, seeded, deribbed, and cut into ½-inch dice
1 tsp. Kosher or sea salt
½ tsp. freshly ground pepper
3 cups coarsely chopped roast turkey
3 tbsp. chopped fresh taragon, plus extra for garnish
1/3 cup chopped fresh flat-leaf parsley
6 large eggs
Tabasco or favorite hot sauce
In a 12-inch skillet or sauté pan, preferably cast iron, melt the butter over medium heat and swirl to coat the pan. Add the potatoes and onion and sauté for about 1 minute until just coated with butter. Cover and cook for 7 minutes to steam the potatoes, stirring once. Add the celery, and bell pepper, stir briefly, then cover and cook for 3 minutes longer. Uncover the pan, raise the heat to medium-high, and add the salt and pepper. Cook, stirring frequently, for about 10 minutes until the potatoes are lightly browned.
Gently fold in the turkey, tarragon, and parsley and cook for about 2 minutes just until the turkey is heated through. Using a large spoon, make 6 shallow depressions in the hash, spacing them equally around the pan, with one in the center. Carefully crack an egg into each hollowed-out spot. Cover the pan and cook the eggs for about 5 minutes until the whites are set and the yolks are still runny. Serve immediately, garnishing the top of each egg with a sprinkling of tarragon. Pass the hot sauce at the table.
Do Ahead
The potatoes and vegetables can be cooked and the potatoes browned up to 2 hours in advance. Set aside at room temperature.
---
Champagne Cocktails for the Holidays – Try these sparkling recipes from The Bubby Bar by Maria C. Hunt…they take classic combinations and add a little pizzazz, perfect for holiday parties!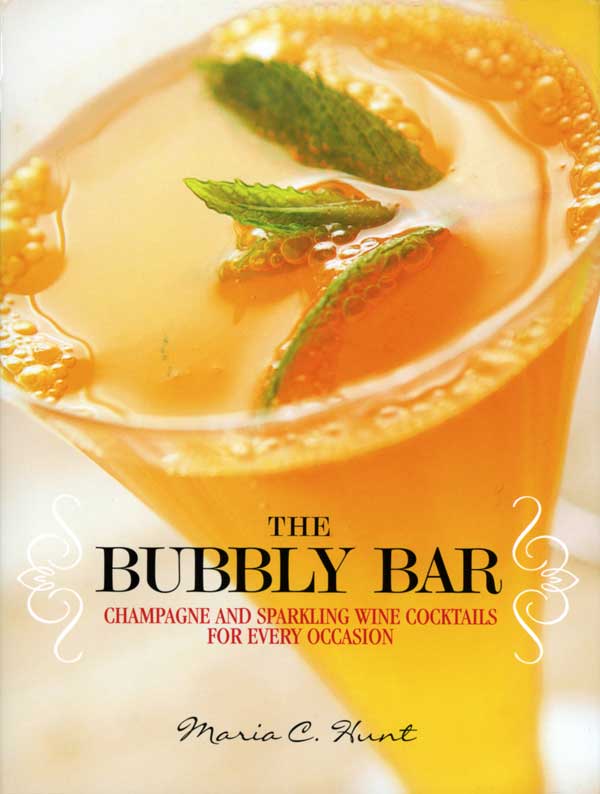 The Bubbly Bar by Maria C. Hunt
(Clarkson Potter, 2009, $17)
Champagne Julep
8 fresh mint leaves
2 tsp. sugar
1 ounce brandy
4 ounces Champagne
Sprig of fresh mint, for garnish
Bruise the mint leaves by rolling them between your fingers. Add the sugar, bruised mint leaves, and brandy to a rocks glass. Stir to dissolve the sugar. Fill the glass three-quarters full with crushed ice. Pour on the Champagne. Garnish with a sprig of mint. Make one cocktail.
Big Apple
1/2 ounce Calvados
1/2 ounce Frangelico
5-6 ounces brut sparkling wine
1 very thin crosswise slice of apple
3 fresh grates of nutmeg
Add the Calvados and Frangelico to a martini glass. Top it off with the brut sparkling wine. Garnish with the apple slice, top with the grated nutmeg, and serve. Makes 1 cocktail.
Ginger Snap
3 thin slices of peeled fresh gingerroot
1/2 ounce Homemade Sour Mix (see below)
1 ounce Domaine de Couton ginger liqueur
4 ounces dry sparkling sake, such as Zipang
2 slivers of candied ginger, for garnish
Add the ginger and sour mix to rocks glass and muddle until the ginger is bruised and begins to smell. Strain the ginger and sour mixture into a Champagne flute. Top with the ginger liqueur and sparkling sake. Garnish with the candied ginger. Makes 1 cocktail.
Homemade Sour Mix
1 cup sugar
1 cup combination of fresh lime juice and lemon juice
Add 1 cup water and the sugar to a non-reactive 2-quart pot and bring to a boil. Let cool slightly, then ad the lemon-lime juice and stir. Let cool, then pour through a funnel into a sterilized bottle. Store in the refrigerator for up to 1 week. Make 1-1/2 cups.