Art and Wine Festival
Sep 22, 2009 11:46AM ● By Wendy Sipple
Take in the sights of local art, and sips of over 35 foothill wineries at the Placerville Downtown Association's 12th Annual Art & Wine Festival on October 17, 2009.
Taking place on Historic Main Street, the soiree will include wines from Amador, Nevada and Placer counties, but the majority will come from none other than El Dorado County. Merchants will also offer a variety of hors d'oeuvres to complement the outstanding vino.
Placerville Downtown Association Marketing Director, Lisa Crummett, points out that this event is an opportune way to sample wines from wineries all over the region, "What could take days of driving and visiting can be achieved in one night and in one convenient setting," she says. "It is a great event to meet friends at and enjoy art, shopping and dining."
In past years, the event has seen nearly 2,000 people. "It is a fun and popular event for locals and visitors, and it showcases our award-winning wines and artists in our region," says Crummett. Various art will be exhibited in the galleries and businesses on Main Street, including such mediums as oil and acrylic paintings, water colors, lithographs, sculpture, jewelry, photography, woodwork, leather, needle work, glass and much more.
Also at the festival will be a display of the "Banners on Parade" community art project. Brightly painted banners hanging from light poles on Main Street this past June through September will be auctioned for sale. The proceeds from the auction will benefit next year's project, with a portion to go to the participating artists.
After you've selected your favorite bottle of local wine, and have taken in the sights of all sorts of art – grab a seat and enjoy the music! The band, Aftershock, will play at the Bell Tower for all to enjoy throughout the night (6-9 p.m.). Crummett sees families enjoying the event together every year, she says, "Children can often be found dancing in front of the band. It is also a great opportunity to preview what the stores may be stocking for the holidays."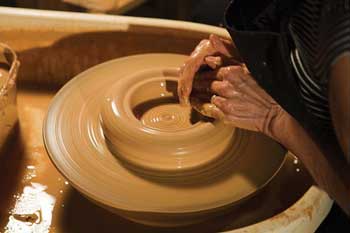 There are a limited number of tickets, so it is recommended to buy them in advance. They can be purchased in Placerville at River City Bank, Tony Matthews, and The Wine Smith, or online (for an additional $5 handling fee) at placervilledowntown.com. Tickets are $30 for the wine tasting (which includes a souvenir glass). There is no charge for designated drivers who will not be participating in wine tasting.
---
The Placerville Downtown Association is a non-profit organization. For more information, call 530-0672-3436 or visit placerville-downtown.org.