Then & Now
Aug 24, 2009 12:00PM ● By Wendy Sipple
CDs
THEN:
Exile on Main St., The Rolling Stones
The Stones have been around so long it's hard not to think of them as a cliché. But dig back to 1972, and you'll clearly see them at their musical best. No flash, no poses, just old school rock and roll. Casual fans might not find the singles they're familiar with, but I defy anyone to be left wondering why Mick and Keef were, at one time, the greatest.
NOW:
Before the Frost, The Black Crowes
It's hard to believe that The Black Crowes are coming up on their 20-year anniversary. It seems like only yesterday they burst onto the scene with their old school blues. The album features 11 new songs recorded over a series of five nights in front of a small group of their devoted fans, vibing electricity that can only come from live performance.
—Sharon Penny
BOOKS
THEN:
The Name of the Rose by Umberto Eco
A sprawling, epic murder mystery set in a 14th century monastery...but so much more than a pulpy "whodunnit." With the "price of admission" you also get a wonderful insight into history, theology and philosophy. As a reader you will find yourself completely swept into the pages of history.
NOW:
The Lost Symbol by Dan Brown
Dan Brown fans are in for yet another exciting thrill-ride as the new sequel to the international bestseller The Da Vinci Code hits the shelves mid-September. And with the recent success of the movie adaptation of Angels and Demons, Brown is almost certainly guaranteed yet another bestseller with this new thrilling installment.
—Sharon Penny
DVDs
THEN: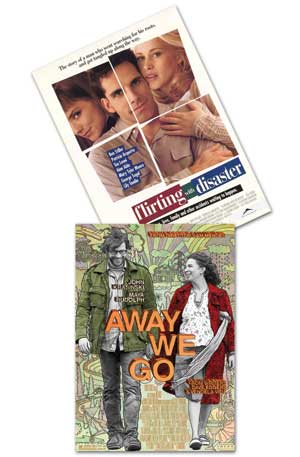 Flirting with Disaster
David O'Russell's cult comedy about a man (Ben Stiller) and his wife (Patricia Arquette) who travel across the country to locate his birth parents is hilarious, daring, and somehow moving. Supporting performances by Mary Tyler Moore, Alan Alda and Tea Leoni, elevate the film from average to outstanding.
NOW:
Away We Go
Fans of the indie darling Juno will love this road comedy about a quirky but committed couple – Burt and Veronica – forced to mature when they learn that they are expecting a baby. John Krasinski and Maya Rudolph both give performances with energy and heart, and Sam Mendes, of American Beauty fame, deftly directs.
—Jenn Thornton