Freshly Picked
Jul 31, 2009 05:00PM ● By Wendy Sipple
Brazilian Rock Shrimp Burger
From Burger Bar
by Hubert Keller with Penelope Wisner
(John Wiley & Sons; $22.95)
1/3-inch piece peeled fresh ginger
1 garlic clove
2 tbsp. plus 1 1/2 tsp. unsweetened coconut milk
Sea salt and freshly grated black pepper
1 1/2 lbs. rock shrimp, chilled
1 tbsp. finely chopped fresh cilantro
2 tbsp. olive oil, plus more for brushing
8 slices brioche bread
About 1/4 cup mayonnaise (optional)
4 to 8 slices ripe tomato, preferably in different colors
2 handfuls salad mix
Grilled Avocado-Mango Salsa
Place the ginger and garlic in a food processor and process until finely chopped. Add the coconut milk, 2 teaspoons of salt, and 1/2 teaspoon of pepper and pulse to combine. Add the shrimp and cilantro and pulse until well chopped and the mixture is just shy of a puree. Make sure to leave some texture; do not puree.
To shape the burgers, use wet hands since the patty mixture is sticky. Handle lightly to keep the texture light and juicy, shape the shrimp into 4 evenly sized burgers about 1-inch thick. Cover and chill for at least 30 minutes to let the flavors develop or as long as several hours.
When ready to cook, heat 2 tablespoons of olive oil in a large, nonstick skillet over medium-high heat until very hot or build a medium-high heat fire in a barbecue. Brush the burgers on both sides with olive oil and season generously with salt and pepper. Cook until golden brown and cooked through, about 8 minutes total. Regulate the heat as needed so the burgers can cook without burning. To grill, oil the grate, and cook the burgers, covered, as above. Be careful not to overcook or the burgers will be dry.
While the burgers cook, toast the bread in a toaster oven or under the broiler, about 5 inches from the heat, until lightly toasted. Or toast the slices on the outer perimeter of the grill rack. Brush the toast with mayonnaise (optional).
To build the burgers, arrange tomatoes and salad mix on 4 pieces of toast, top with the burgers, and then spoon a little salsa on top. Cover with the remaining toast and serve immediately with remaining salsa on the side.
---
Cranberry & Fruit Punch
From Cool Drinks for Hot Days
with recipes by Louise Pickford
(Ryland, Peters & Small; $16.95)
2 pints mixed fresh berries, such as strawberries, raspberries, and blueberries
1 orange, sliced
2 quarts cranberry juice
1 small cucumber, peeled, seeded, and sliced
sparkling water or clear sparkling
lemonade, to top off
ice cubes, to serve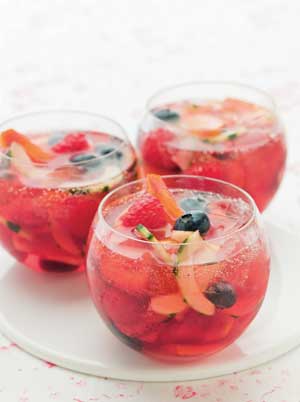 Put the berries, orange slices and cranberry juice in a large pitcher and chill for 1 hour.
When ready to serve, add the cucumber and some ice and top off with sparkling water. Pour into tall glasses or tumblers to serve. Yields 12 servings.
This colorful, fruity punch will delight children and adults alike. Of course for those who just love a little extra pizzazz, you could always add a couple shots of vodka! •